How to Fax from Yahoo Email
Some people might think that things like fax and yahoo mail are a thing of the past. However, then there are people like you and us who are in love with these things and understand their value.
Well, we realize your needs and this is why we have combined these two things- yahoo mail and fax, to create something that you'd love- sending and receiving a fax just by using Yahoo Mail.
This might sound undoable but by the end of this guide, you would be able to send and receive fax through yahoo mail within seconds. No investment, no paper, no ink, nothing! It is just as simple.
Part 1: How to Send and Receive Fax from Yahoo Email
Sending and receiving fax using Yahoo mail is a child's play, you just need to know-how. Generally, Yahoo mail does not provide fax services by default. Yet, it is very possible and very easy to send and receive fax through Yahoo mail.
If you are knowledgeable about faxes, you might find it hard to believe. Email clients operate on a digital platform and faxes operate on electronic lines. Then how can email send a fax?
Well, they cannot. This is where third party fax services come into play. In order to send or receive faxes through Yahoo mail, you would have to register with these third party fax services.
Don't worry, we have a fax service in store for you that will provide you with a free fax number. Now you can send and receive faxes to your heart's content. Don't get limited by the availability of electricity to run fax machines or telephone cables to send and receive a fax.
Therefore, without further ado, let us learn about the process of sending and receiving mails through Yahoo mail.
1.1 CocoFax for Yahoo- Fax from Anywhere
CocoFax is one of the most popular online fax service providers around the globe. It lets you send a fax to any fax machine anywhere in the world. Not only that, you can receive your faxes 24x7 without the need for a fax machine.
This is why it is the method of trust of countless people globally who are looking forward to using fax as their preferred method of communication.
There are no hard requirements if you want to send or receive a fax through Yahoo mail using CocoFax. You don't have to invest in any hardware like a fax machine, paper, toner, ink, etc.
Further, with CocoFax for Yahoo mail, you can now fax on the go. You could be taking a walk in the park and your fax machine would be right in your palm.
1.2: How to Send and Receive Fax from Yahoo Email
To send or receive a fax from Email is an easy job if you have CocoFax. All you have to do is follow the below steps:
Sending a Fax through Yahoo Mail
Step 1: First things first, you will need to get a CocoFax account. Don't worry, you can get one for free to try it out. CocoFax will also give you a free fax number as well. You can also choose your own fax number with CocoFax.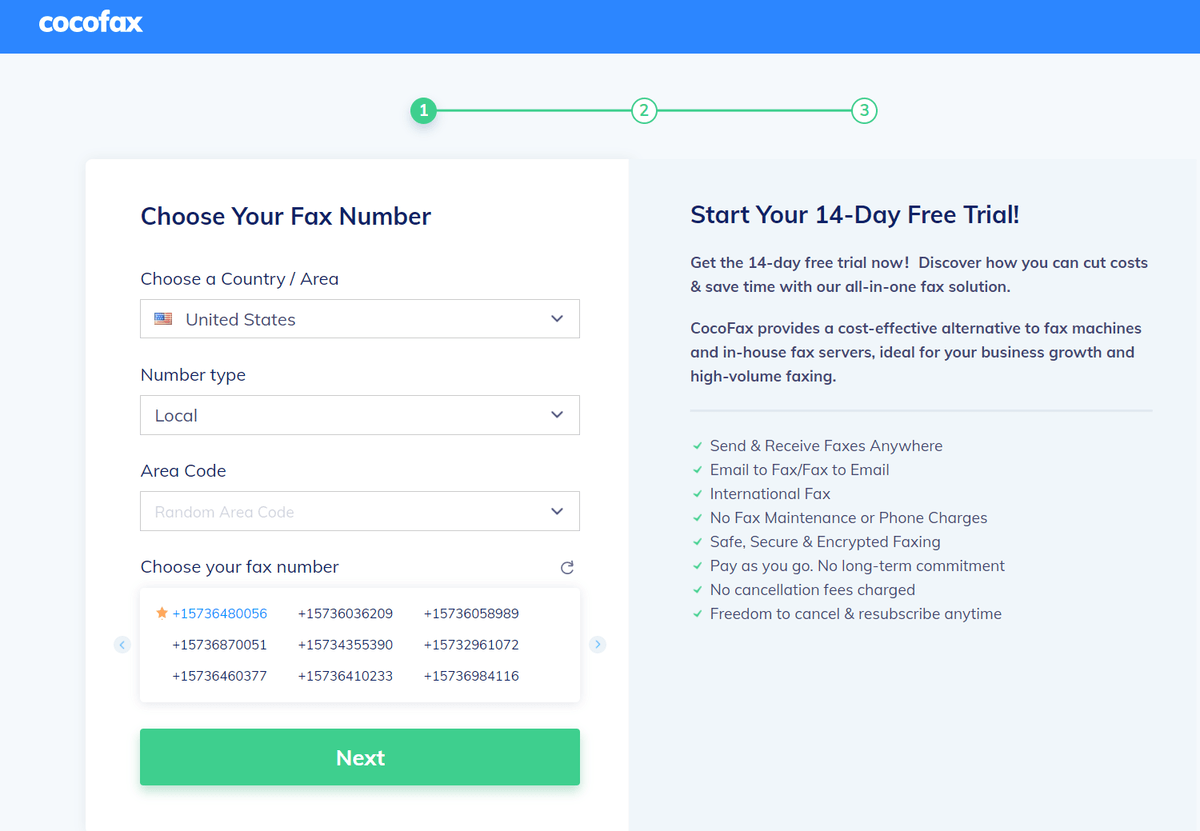 Step 2: Register your Yahoo mail with CocoFax. Make sure that this is the mail ID that you will use to send and receive faxes.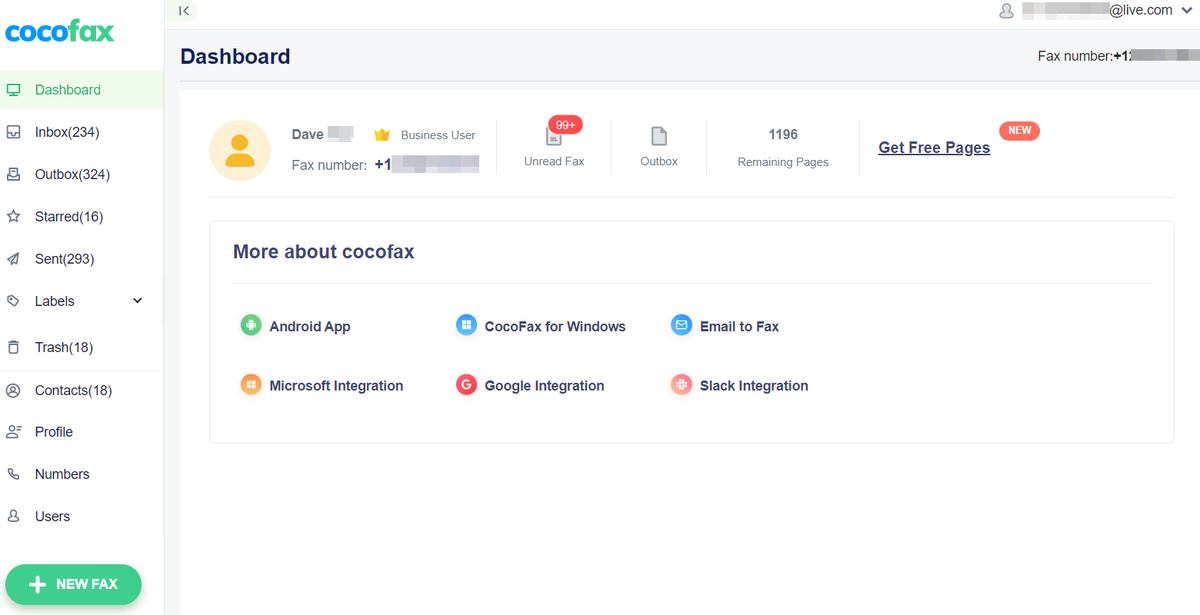 Step 3: Now that your Yahoo mail is registered with CocoFax, you can send faxes from it. Open the compose email option on your email client.
Now comes the important part. In the 'To' option where you generally enter the email ID of the person, you will have to enter their fax number followed by '@CocoFax.net'.
For example, if their fax number is 123456, the address you would be entering is: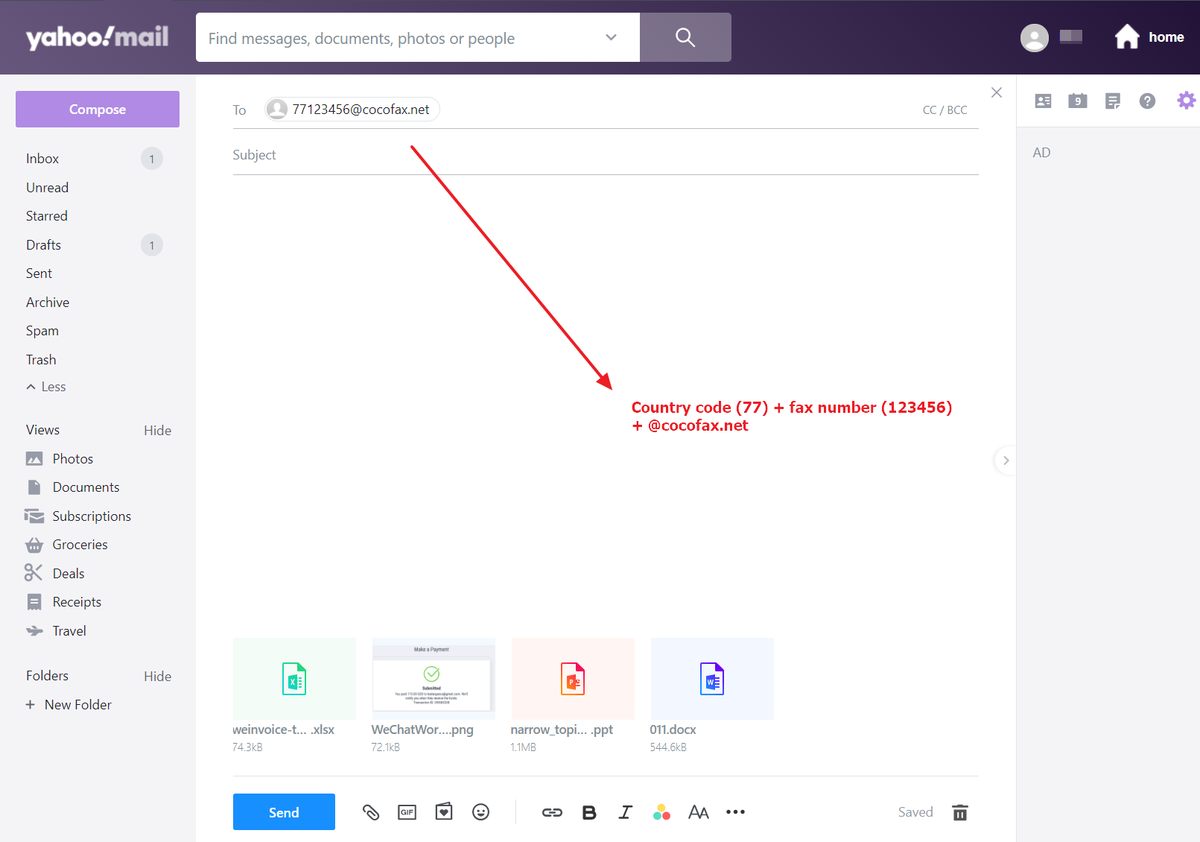 Step 4: You can also add the subject line in the email. This will be added as a note to the fax that you will send. Further, if you enter text in the body of the email, it will be added as cover page to the fax.
Now the document that you wish to fax can be attached to the email as an attachment file. The formats that are supported include: pdf, doc, docx, xls, xlsx, png, jpg. (Yes, you can even add images to the fax!).
Step 5: Hit on send and wait for the email to send. CocoFax will translate the mail to something that is readable by the fax and dial the fax machine of the receiver.
If the fax was successful, you will get a successful notification in your email inbox. Even if the fax was unsuccessful, you will get a log of the attempt in your inbox.
Remember that the fax number that CocoFax assigned you?
**The possible reasons for fax being unsuccessful are that the receiver's fax machine is busy or it is turned off.**
Receiving a Fax through Yahoo Mail
To receive a fax through Yahoo Mail, you won't have to do anything at all! If you followed step 1 in the previous section, your email ID would be already registered with Yahoo Mail.
Now Yahoo mail will automatically collect received faxes on your behalf. You don't have to stay online for it.
People can send you faxes through the free fax number that CocoFax provides you. Once you receive a fax, you will get an email notification in your inbox. The fax that you received will be attached with it as an attachment.
You have the option of opening it on your phone, computer, laptop, or any other device!
Also Read: How to Fax from Outlook
Part 2: Frequently Asked Questions
Let us discuss some of the common questions that come up in the mind of users, as well as their answers:
🤔 Can I use CocoFax fax service only on Yahoo mail?
You can use CocoFax fax services for ANY email client be it Yahoo or Gmail or anything else. Just replace Yahoo in the steps above with the email client you use. You can also check how to send fax from Gmail here >>
🤷 What should I enter in the 'To' field of Yahoo mail while sending a fax?
A: In the 'To' field, you should enter the fax number of the person, followed by '@cocofax.net'. For example, if their fax number is 123456, the address will become:
🧐 How much does it cost to get a fax number from CocoFax?
CocoFax offers you free of cost fax numbers! You can try the service for one month and then choose a CocoFax plan.
👩🏼‍💻 What will I need to use fax on Yahoo mail?
Nothing that you don't already have. You will just need a device that can open your emails and an internet connection. Additionally, you need a fax number which CocoFax will give you for free.
❓ Will I know if the receiver received the fax that I sent through Yahoo mail?
Absolutely! If the fax was delivered to the user, you will get an email in your inbox saying the transmission was successful. Even if the fax wasn't received by the user, you will get a mail about the transmission attempt.
Endnotes
Using fax on Yahoo mail is the easiest thing to do, whether you are sending a fax or receiving it. Just follow this guide closely and you are going to love the entire process.