How to Fax from Yahoo Email
Technology has come a long way from the days of traditional faxing, but we still can't seem to let go of the past. Faxing from Yahoo Email is an integral part of several companies even today. Fortunately, CocoFax has a quick and easy solution for faxing from Yahoo email! With our email to fax services, you can now send a fax through Yahoo Mail - without a fax machine! 
Benefits Of Faxing Through Yahoo Mail
CocoFax is revolutionizing the way we think about fax services. By allowing you to send faxes through Yahoo Mail and other email clients, CocoFax enables you to enjoy a great number of advantages:
1. International coverage
With CocoFax , all you need is the internet to send a fax. Therefore, you can send a fax to anyone on the planet, even if you are traveling or out of your office!
2. Android, iOS, and mobile apps
CocoFax eliminates the need for you to invest in hardware equipment required for fax services. You do not need any ink, any paper, or even a fax machine or in-house fax servers. All you need is their mobile app and an internet connection!
3. No limitations
Before, it was necessary to wait for electronic lines and telephone cables to be available to send a fax. But with CocoFax , the possibilities are endless, and you can send as many faxes as you want any time of the day! 
4. Super simple and easy
CocoFax is a straightforward way to bring the digital platform of email and the electronic platform of faxes together. It takes care of all of the backend processes so that you can send faxes quickly and easily.
5. Free local or toll free number
Take advantage of CocoFax free fax number to get up and running with your email to Fax services.
6. Save costs
Our secure cloud infrastructure enables you to increase efficiency while reducing costs drastically. 
7. Secure unlimited storage
Store all your confidential files and data without having to worry about privacy and security.
8. 24/7 customer support
Are you stuck anywhere or facing a glitch? CocoFax is backed up with a team of highly responsive customer care representatives to assist you day in and day out.
Step-By-Step Guide On How To Send And Receive Faxes Through Yahoo Mail
You might be wondering, "How is it possible for Yahoo Mail and faxes to work together?" After all, email exists on a digital platform while faxes exist on electronic lines, right? 
The good news is that services like CocoFax make it easier to send and receive faxes through Yahoo Mail.
Here is a step-by-step guide on how to send and receive faxes through Yahoo Mail. 
Step 1: Choose your fax number here and select the type of account you want. Alternatively, you can also choose your fax number by going to cocofax.com and clicking on the big red "Start Faxing" button in the middle of the page or the green "Start Faxing" button in the top right corner of the page. 
Step 2: Register a CocoFax account with your Yahoo email. Ensure that this is the mail ID that you wish to use for sending and receiving faxes.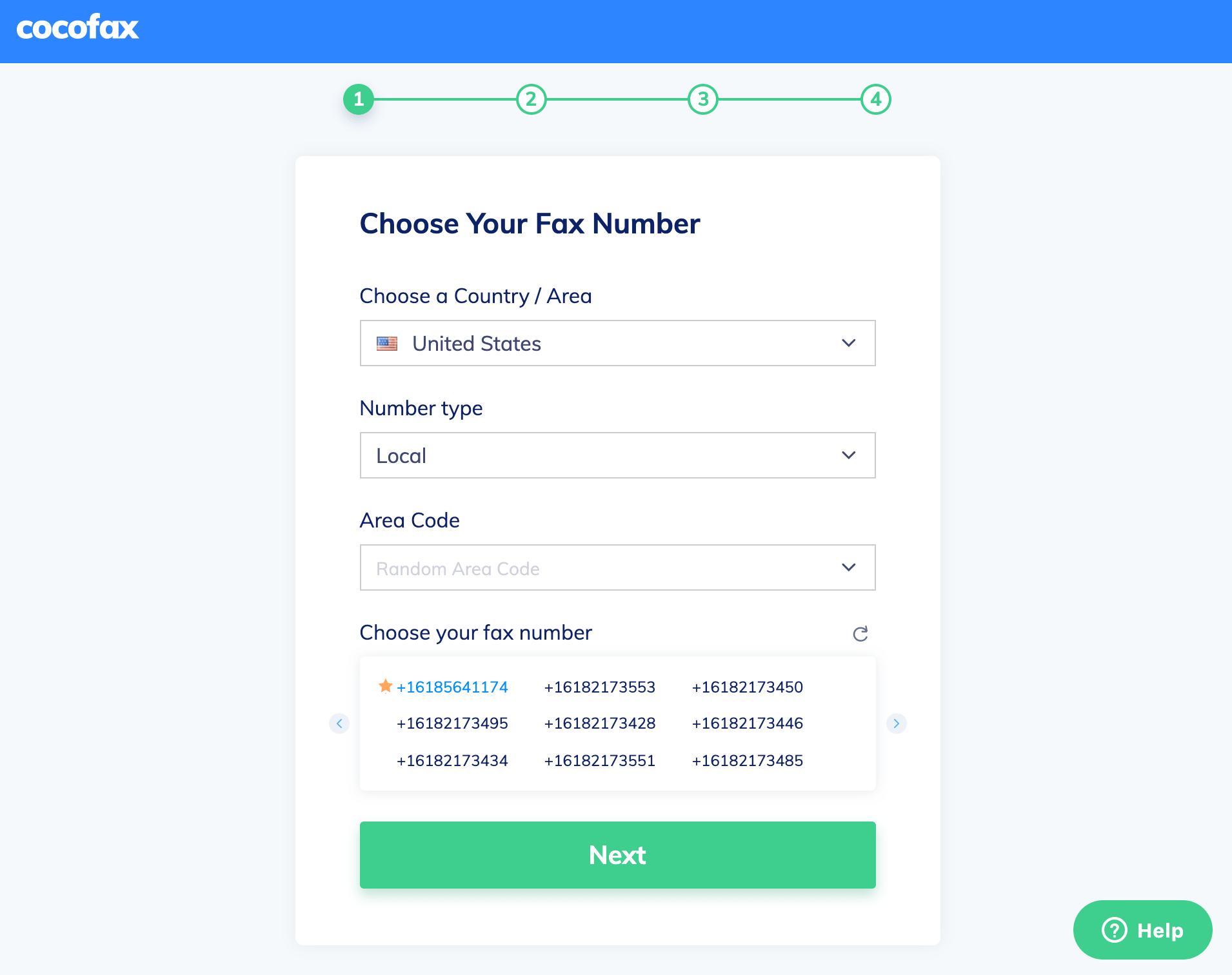 Step 3: Head on over to Yahoo Mail and choose the "Compose Email" option.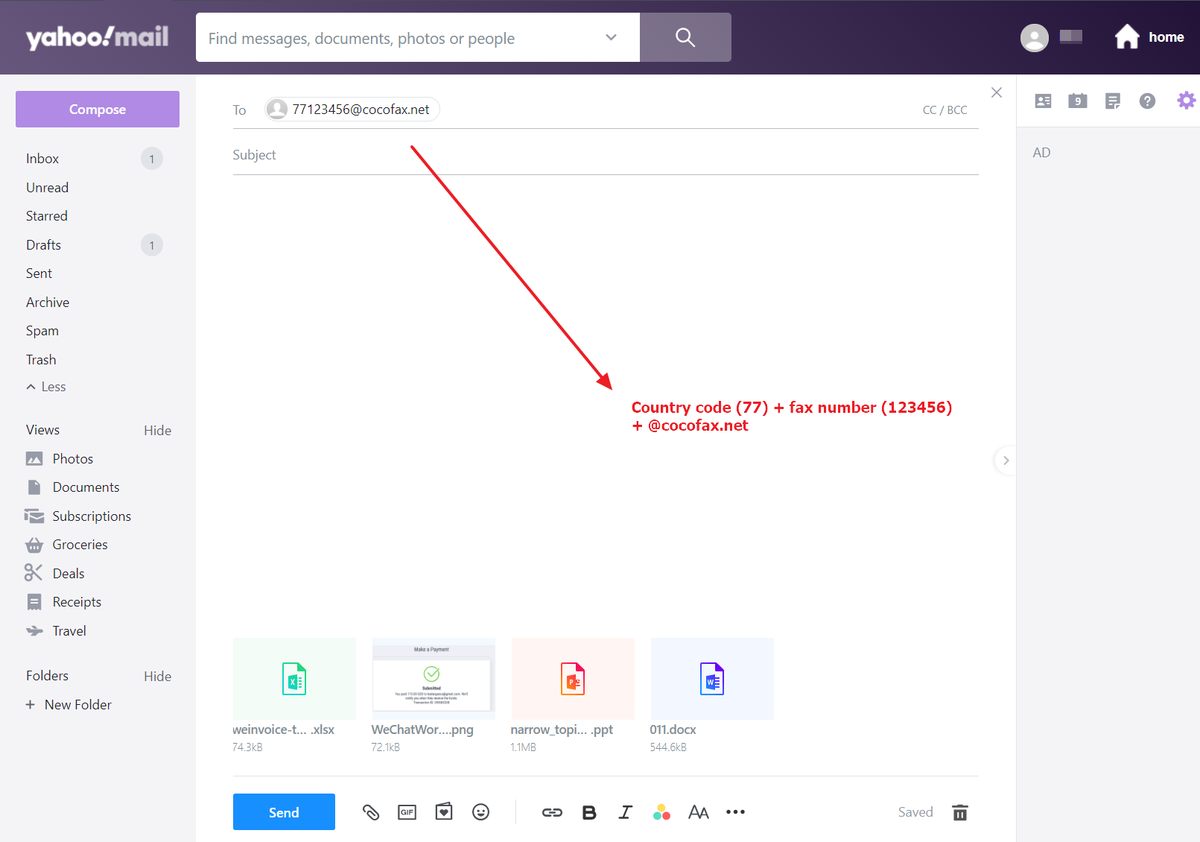 Step 4: In the "To" section, instead of entering an email address of the person, you need to enter their country code and fax number followed by "@CocoFax .net."
For instance, if the fax number of a person in the United States (country code - 1) is 123456, then the address you would be entering in the "To" section is: 
Country code + Fax number +  @cocofax.net
1 + 123456 + @cocofax.net
Even if you send the fax to a person in the same country as yours, you still need to add the country code. 
Note: Ensure that you are adding @cocofax.net after the fax number and NOT @CocoFax .com.
Step 5: Enter the subject line and body in the email if you wish to. This information will show up as a note and cover page respectively in the fax you send. 
Step 6: Attach the document you wish to fax to the email. The supported formats include: pdf, doc, xlx, xlsx, png, jpg.
Step 7: Hit "Send" - and sit back and relax! CocoFax will translate your email into something that is readable by fax and dial the receiver's fax machine. 
Finally, you will receive a notification in your inbox saying that your fax was successful. In case the attempt is unsuccessful, then you will get a log of the delivery status in your inbox. Possible reasons for an unsuccessful attempt include the receiver's fax machine being busy or turned off.
You can also watch the video below:
Receiving A Fax Through Yahoo Mail
Receiving faxes through Yahoo Mail is a piece of cake with CocoFax . You don't have to do anything other than registering your email.
As long as your email is registered, Yahoo Mail will automatically collect faxes on your behalf. You don't even have to stay online for this. 
People will be able to send you faxes through the free fax number that CocoFax provides you. As soon as you receive a fax, you will get an email notification in your inbox. The fax will be attached, and you can open it on your phone, tablet, desktop, laptop, or pretty much any other device! 
Other Amazing Features You Can Use At CocoFax
CocoFax does a lot more than just sending and receiving faxes through email. Some of the other high-end features of CocoFax include:
With CocoFax , you can choose several enterprise-ready plans for multiple fax numbers and users. Take advantage of features such as centralized management, billing, and user hierarchies for your company.
CocoFax allows you to fax any document to multiple recipients.
You can use the archive folder to check (and export) the statuses of all your faxes.
Collaborate with your team
Invite as many team members as you want to your CocoFax account at no additional cost! 
Purchase additional fax numbers from a wide range of toll-free, local and international numbers and allocate each of them to your team members.
Multiple numbers and multiple members
You can assign multiple numbers to a single team member or assign the same number to multiple members. 
CocoFax is HIPAA compliant with multilayered protection for all its users. Our advanced cloud infrastructure allows you to send faxes through the web, mobile, or any other device in a highly secure and reliable manner.
CocoFax allows you to transfer existing fax numbers with zero downtime! Enjoy the same benefits and features that you get with CocoFax fax numbers.
CocoFax allows you to seamlessly integrate your faxing solutions with Google Products, Slack, and thousands of other apps.
The Enterprise CocoFax allows you to fax as many documents as you wish to, quickly and efficiently. 
Dedicated customer support
CocoFax provides you with a dedicated customer support team to guide you through the entire process from start to finish. 
Endnotes
Quick, simple, and easy, CocoFax Email to fax services is the next best thing for your organization. Send and receive as many faxes as you want through the convenience of email and reduce costs with CocoFax.