Home  > 
HelloFax Alternative
CocoFax: A More Versatile Alternative to HelloFax
CocoFax is a top-notch HelloFax alternative with lower pricing. Even though HelloFax seems reasonably priced, it is certainly not feature-packed. CocoFax is as budget-friendly as HelloFax while also excelling in features, clear-cut pricing, customer support, and security.
30-Day Money-Back Guarantee
Features
CocoFax Beats HelloFax with More Features
While CocoFax is less expensive than HelloFax, it's packed with more advanced features. CocoFax allows users to fax with a mobile or desktop app, schedule faxing, customize fax cover settings, and more. HelloFax offers none of these. It also doesn't allow Microsoft Office or Chrome integration, without which, you'll need to constantly switch tabs, windows, and even your focus.
Feature By Feature Comparison
What HelloFax's Customers Say About Its Features
Less cost-effective and limited functionality
Billing
CocoFax Promises 100% Transparent Billing
Unbelievably, HelloFax is still charged with billing fraud in 2021. Quite a lot of HelloFax's users were caught off guard by the hidden costs they owe the service. It's evident that it needs to ramp up price transparency efforts. A far cry from it, CocoFax promises complete billing transparency and freedom. There are absolutely no hidden costs and unidentified charges that bewilder people
What Customers Say About Its Billing
Customer Support
CocoFax Wins More Love From Users
HelloFax has received 88% negative reviews from its end-users on Trustpilot, mostly targeting its poor customer support. HelloFax only provides one single channel to troubleshoot its users—email and takes forever to reply. By contrast, CocoFax has optimal 24/7 customer support that attends to your inquiries in One minute through three platforms, including email, live chat, and Zendesk.
What Customers Say About Customer Support
Security
CocoFax Cares More About Security
CocoFax meets, or exceeds, industrially leading security standards like GDPR, HIPPA, and PHIPA, enabling you to fax without any compliance concerns. However, HelloFax does not reference any compliance issues, so you should err on the side of caution when handling business-critical or other important faxes. Besides, allowing users to enable 2-factor authentication is CocoFax's another decided plus.
Get the most out of online faxing
CocoFax provides a plethora of benefits. You have the luxury of Google fax, API fax, and email to fax technology, enabling seamless collaboration for a remote workforce. With Slack integration, you'll be aware of any fax that comes your way. All your sent and received faxes will be synced to Google Drive automatically, purging tangible paperwork massively.
Get a bang out of free fax service
Though HelloFax allows you to send up to five outbound faxes for free, CocoFax is more generous with the limits. You can start with 10 free faxes without signing up for our service plans. CocoFax doesn't require your credit card details to start the trial, so don't worry you won't get charged a penny. Make your occasional faxing quick and painless.
Get the ball rolling by porting fax numbers
You don't have to bid adieu to your existing HelloFax or other fax numbers. Simply port your original fax number to CocoFax to enjoy our robust fax system quickly, cutting down the faff of updating your business card or sales flyers.
Get you in the loop of fax updates
CocoFax is always on the lookout for you, monitoring your new inbound faxes and sending notifications when they come in. Fax updates will not only be sent via e-mail and SMS but also through the Slack platform if you integrate CocoFax with it. You will never miss a single fax!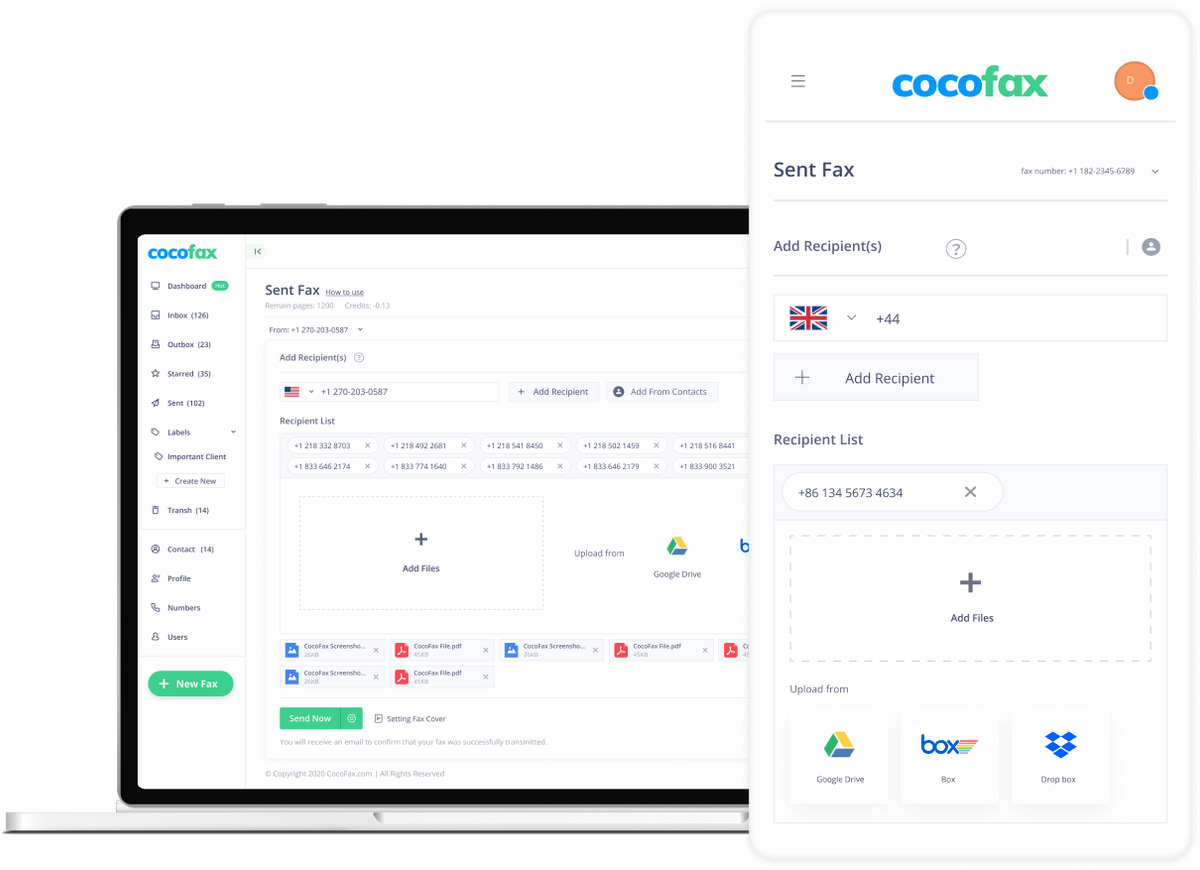 Get Started with CocoFax Now!
Onboard CocoFax today! No more bear the limited functionality and poor customer support of HelloFax. CocoFax gives you the utmost faxing convenience you desire.
30-Day Money-Back Guarantee