How to Fax Without Phone Line
Traditionally, faxes were sent over a phone line. In order to fax, homes and businesses were required to get a separate fax line. And in many cases, that's still how it works today. However, the number of organizations dropping landlines has been growing for decades now. Many businesses are learning how to fax without a phone line.
If you are running a business that operates without a phone line, you may be puzzled about how you can easily exchange documents with fax-loving organizations. In this guide, you'll learn the details on how to fax without a phone line. Let's dive in.
Part 1: Faxing without a Phone Line with CocoFax
You have the option to go to an office or printing store that will send or receive a fax for you. But it's time-consuming, insecure, inconvenient, and not necessary anymore. With technology coming of age, internet faxing solutions provide a secure, convenient and affordable way to exchange fax documents with those customers, suppliers or partners who demand them without a phone line.
CocoFax is a cloud-based faxing solution used by businesses worldwide to fax their documents without a phone line. It easily operates with an internet connection without cables, fax machines, paper, or ink.
It offers you many ways to fax anyone, including an app, email, and web browser. You can get a free fax number at the time you register with CocoFax. All the faxes you sent will be stored in the cloud and can be accessed via the CocoFax dashboard.
CocoFax user interface is straightforward and intuitive, with no need for advanced technical skills. It also caters to big enterprises that send and receive a high volume of faxes. Even better, with a paid CocoFax account, users can explore a variety of value-added features.
Let's explore different ways of faxing without a phone line with CocoFax.
Part 2: How to Fax via Browser Without Phone Line
CocoFax web browser fax service is the fastest and the most convenient option. All you need is a computer/phone with an installed browser and an uninterrupted internet connection. Once you input the documents and messages you want to be faxed to a number, CocoFax will fax those documents on your behalf. Here are the steps:
Step 1: Create a CocoFax account, and you'll get the option to choose your free fax number.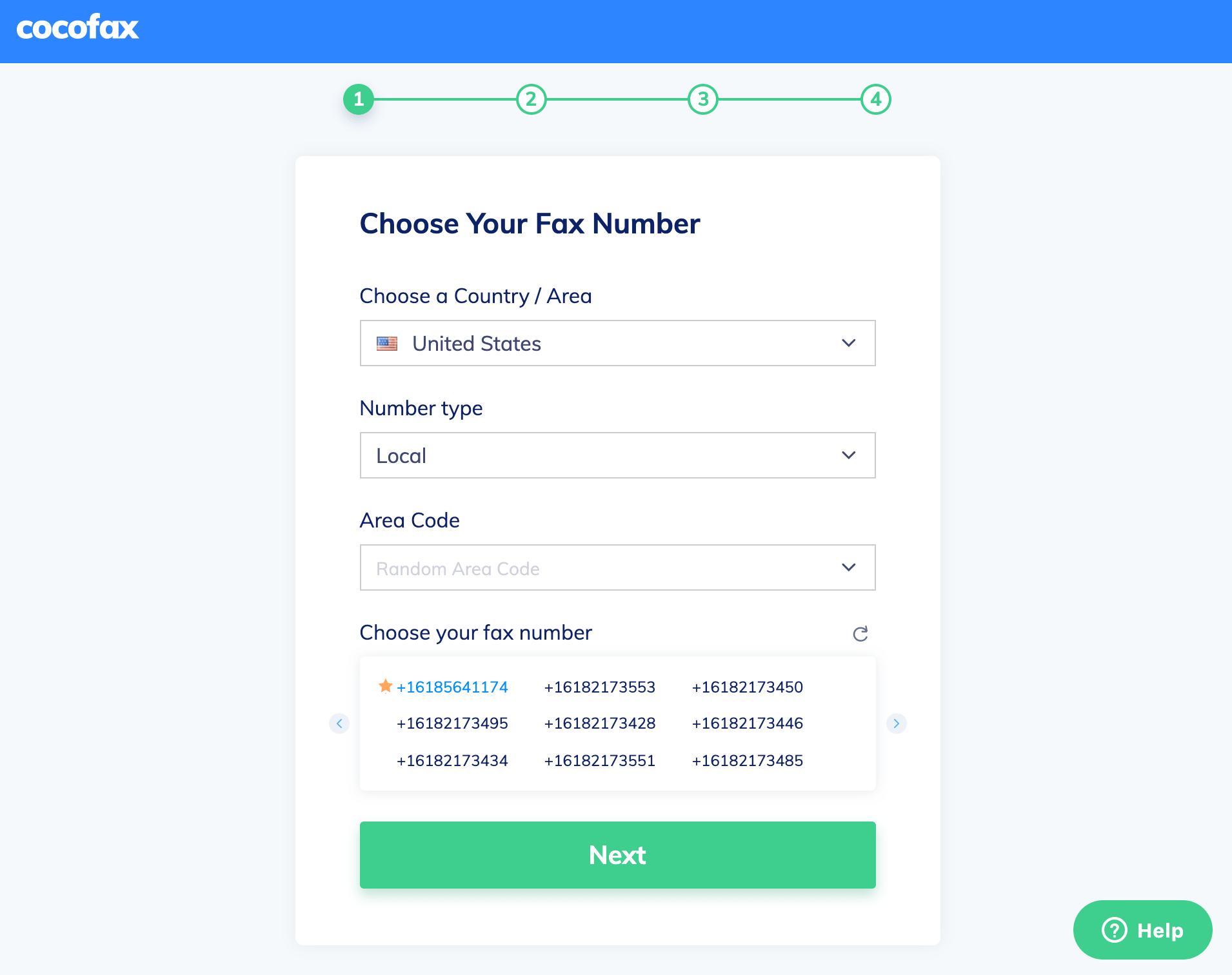 After completing the sign-up process, you will be directed to the CocoFax dashboard.
Step 2: On the dashboard, click on the 'New Fax' button at the corner of the dashboard to create a fax. This will open up a new fax composition window where you write your fax message.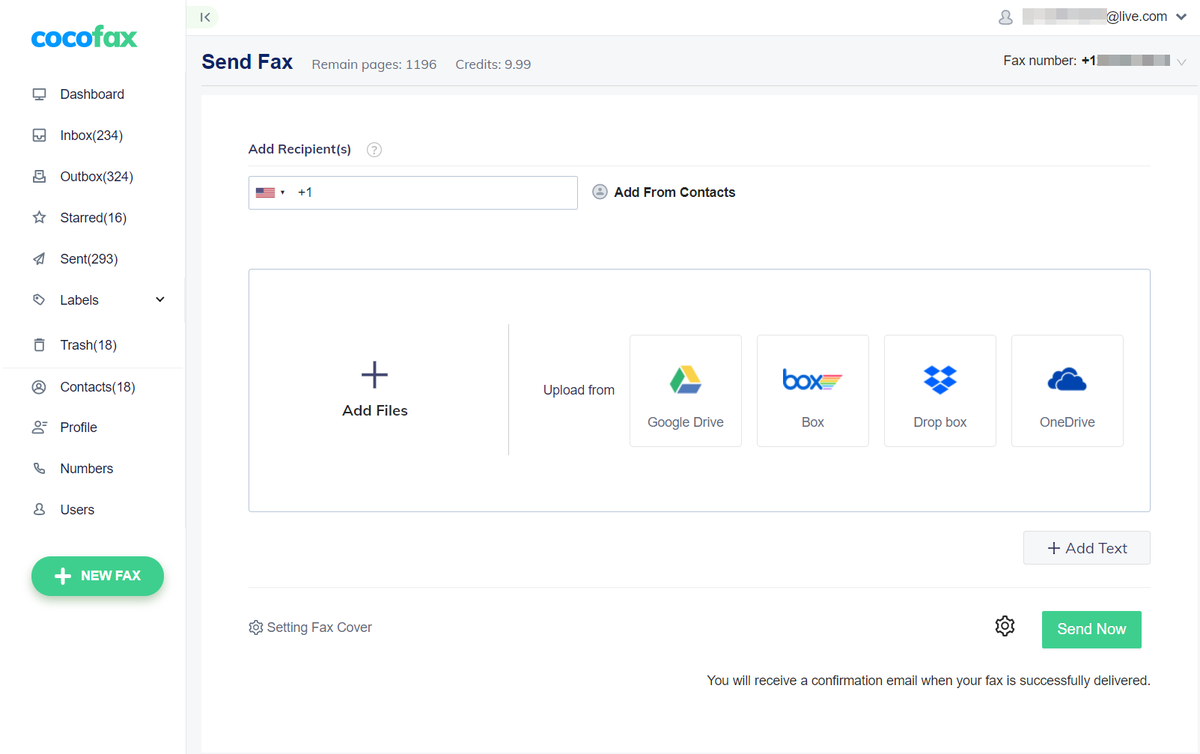 Step 3: Enter the recipient's fax number. All the faxes can be sent to both local and international phones. In the 'Subject' section, it's optional to include a subject line. If you do so, it will be printed at the top of the fax document.
You can also create a cover page, which will be the first page of the fax on the receiver's end. Lastly, you can attach the fax document in digital format, including Pdf, Doc, Docx, Xls, Xlsx, Png, Jpg.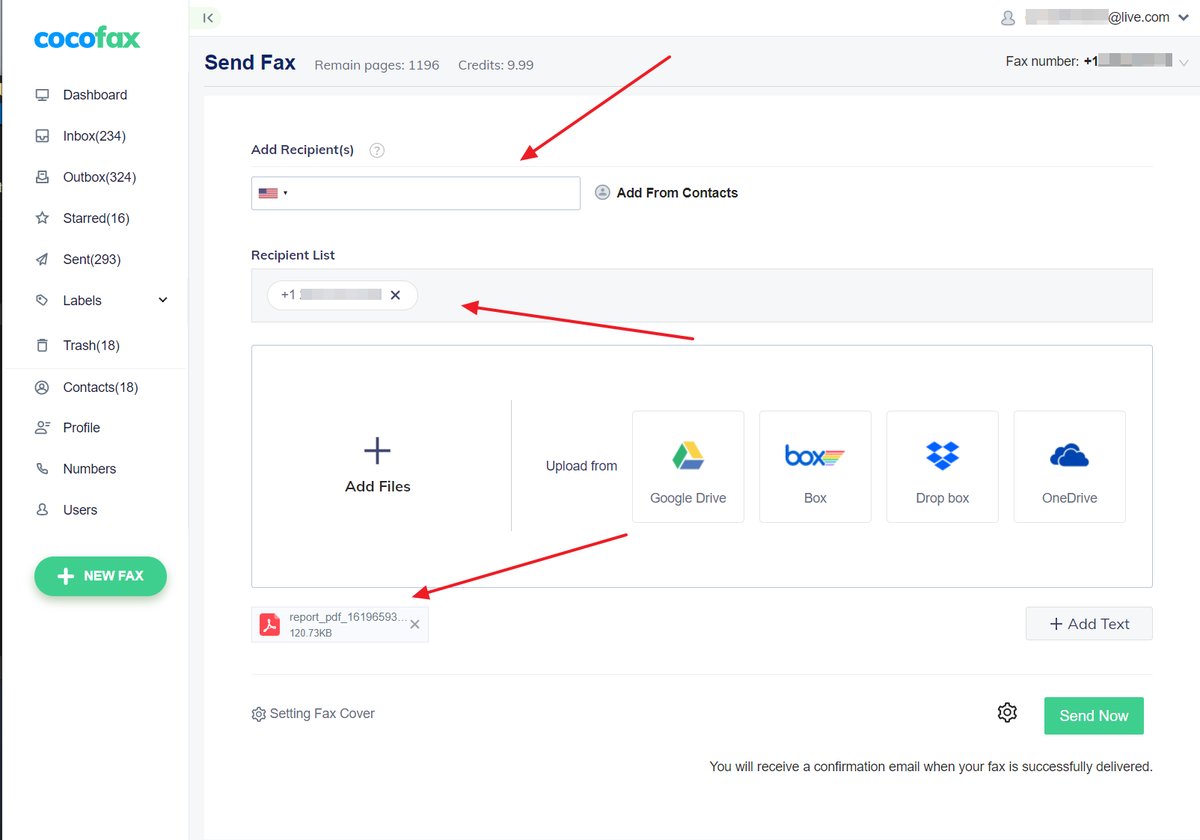 Step 4: Click on the 'Send' button after composing the fax and attaching the necessary document. CocoFax will now dial the recipient's fax machine for you and transmit the fax.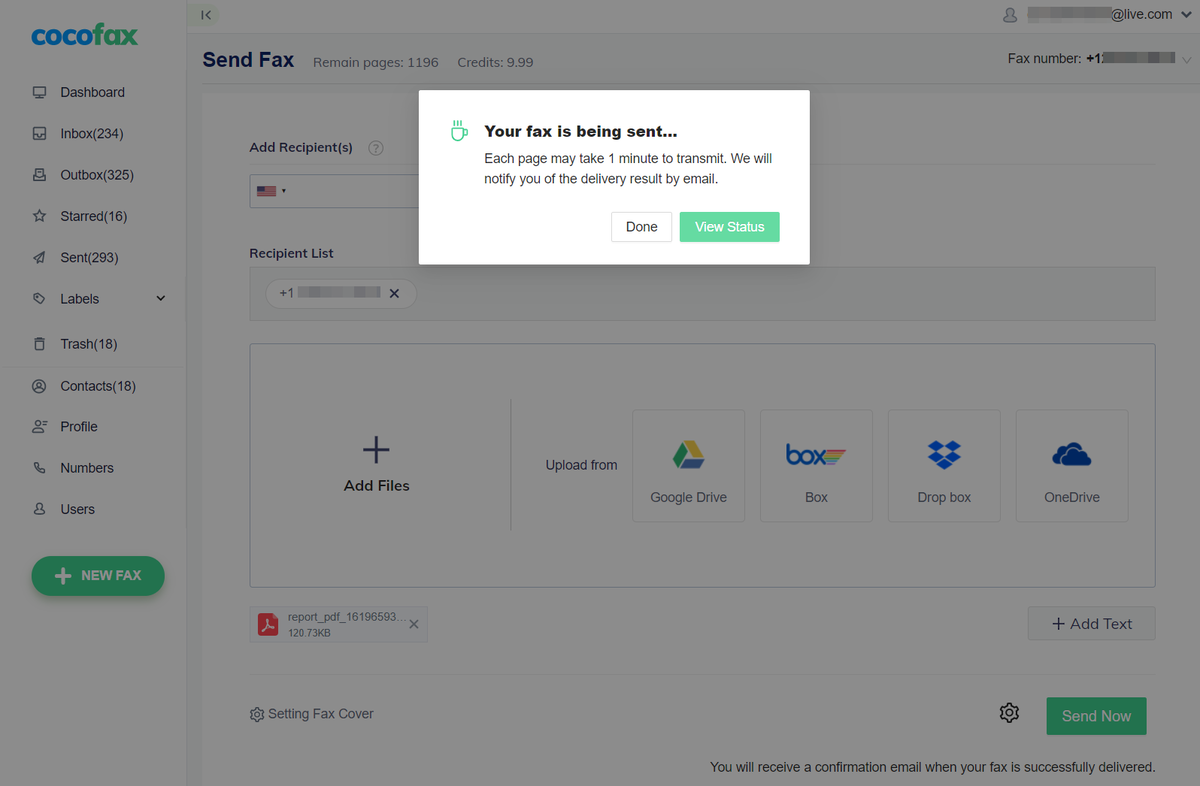 You'll receive a confirmation message in your registered email whether the transmission was successful or not. If the fax fails, it's likely due to the recipient's fax machine is busy, or a powered-down. Or you may have entered an incorrect fax number. In this case, you can try to send the fax again later.
You can also watch the video below:
Part 3: How to Fax Without Phone Line through Email
Sending your fax through email is another way to send a fax without phone lines. How is it possible? CocoFax has found a way to bridge these two different platforms with its cutting-edge design.
Its robust features allow you to send any fax document through your email, and it will be printed on the receiver's fax machine. You'll also receive all the faxes directly in your email. To get started, simply follow the steps outlined below.
Step 1: Sign up for a CocoFax account with an active email address that you will utilize to send and receive faxes.
Step 2: If you are using Outlook to send a fax, open your email client and then create a new message and insert the recipient's fax number followed by "@cocofax.net" in the 'To' option. Don't forget to add your country code at the beginning of the recipient fax number.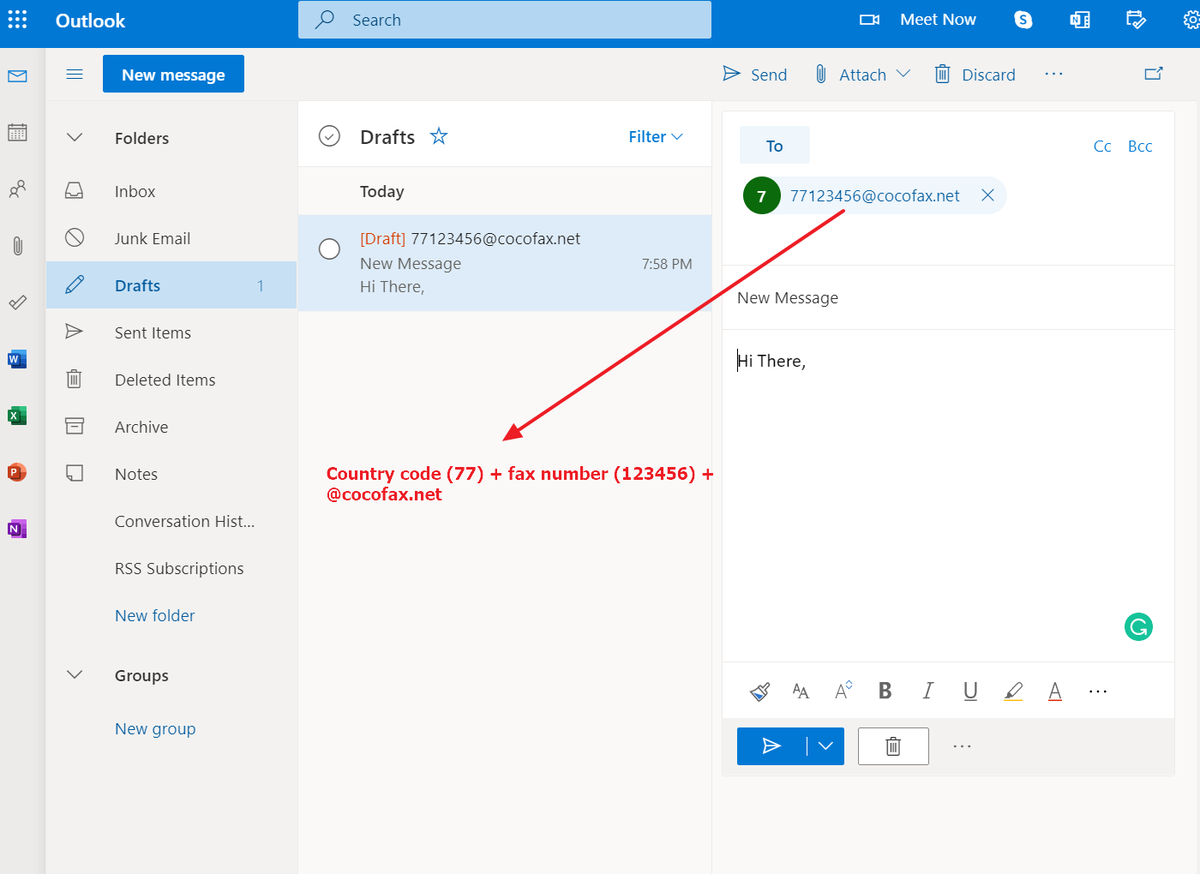 Next, attach the documents you wish to send as a fax. You can also enter the note in the subject field.
Step 3: Once you have cross-checked everything, hit the 'Send' button. CocoFax will receive the fax, translate and send it to the receiver's fax machine.
You can also watch the video below:
Receiving fax from email is quite easy. CocoFax will automatically forward you all the faxes you receive at your email address. You don't need to log in to the CocoFax dashboard to check them.
Endnotes
To summarize, you can indeed fax without a phone line if you use CocoFax. With the help of this online fax service, you can easily send or receive any fax via the web browser or your email. You will no longer need a fax machine to do so.