How to Send Fax from Gmail
It is no secret that you can send faxes from Gmail. One of the most convenient ways of doing so is using an online fax service provider like CocoFax. Just when people think that the world of communication is moving away from fax, they get quite a huge shock when they realize the possibility and popularity of sending fax directly from their Gmail account. So how do you take advantage of this safe mode of communication despite not having a fax machine? Take a look.
What Do You Need to Send Fax from Gmail?
In faxing from Gmail, you probably expect something similar to a fax machine, but that's far from the truth. On the contrary, these are what you need to get started:
Gmail Account
CocoFax Account
Stable internet connection
Note: The Gmail account to use should be the same as the one you used to sign up for the CocoFax account.
How to Send Fax from Gmail
Follow these steps to send faxes from Gmail. It only takes seconds to go through the complete process.
Step 1: Register with CocoFax
This applies if you don't have a CocoFax, and it is as simple as this:
Visit CocoFax official page
Tap on Signup to get started
Upon registering successfully, CocoFax will send you an email to welcome you aboard and also send you login credentials.
Upon logging in, CocoFax will prompt you to choose a fax number. In case you want to use your original fax number, simply hit the tab Port Numbers and transfer it to CocoFax services.
Step 2: Send Fax from Gmail
Follow these steps to proceed:
Click on Compose
Fill in the required fields
To: Fax number of your recipient followed by @cocofax.net
Subject: What the Fax is about but can be optional
Body: Additional details such as salutation and more about the fax. Again, it is optional.
Attachments: The documents you intend to send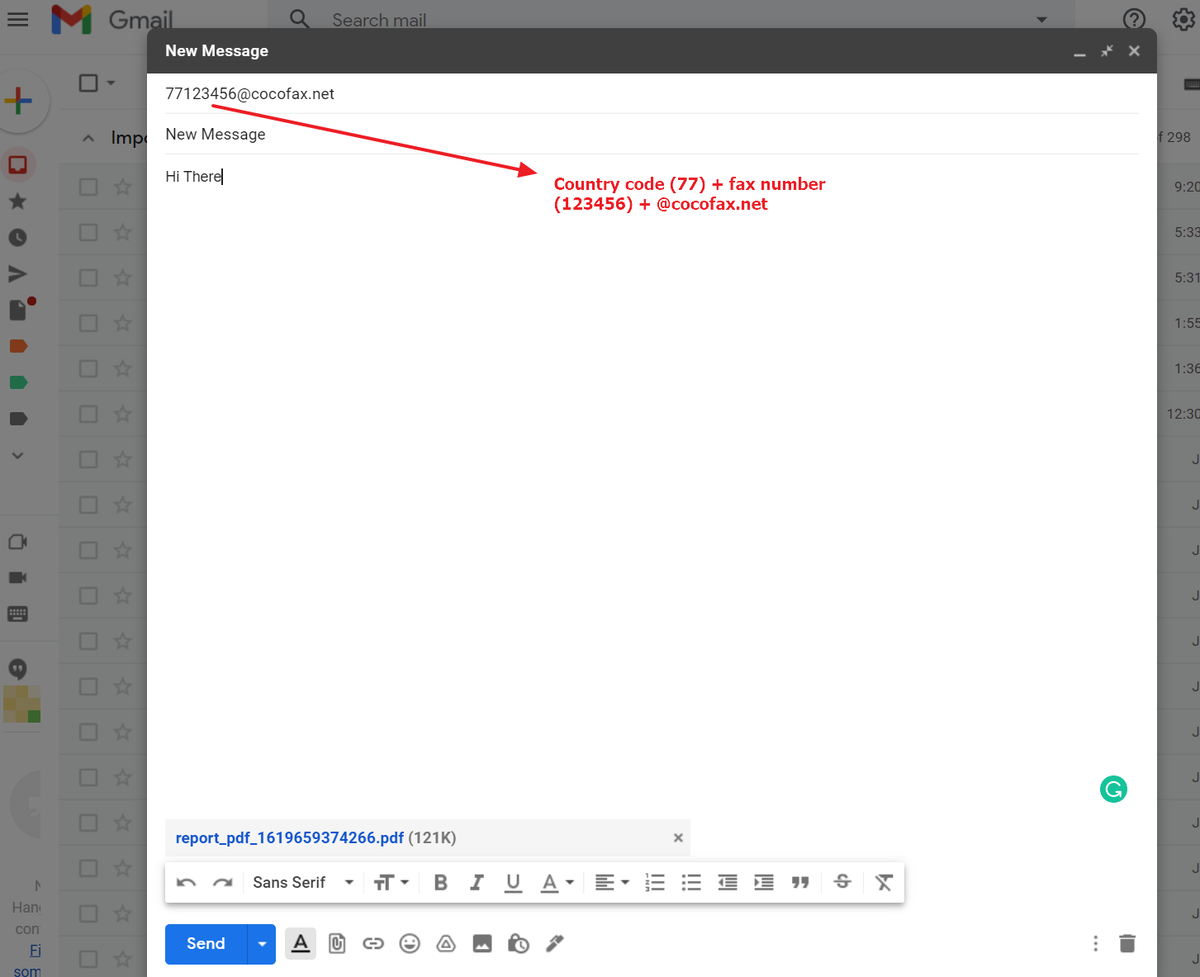 Click on Send and leave the rest to CocoFax
You can also watch the video below:
How to Receive Fax on Gmail
As far as you have registered your Gmail account with CocoFax, you will receive your fax just like any other email. However, its source will be CocoFax, and the attachments will always be in PDF format.
Other features of Fax from Gmail with CocoFax
Other than simply sending a fax from Gmail, you can make it easier and better by taking advantage of the following features:
Mobile Faxing:
It is no secret that you can access Gmail from mobile devices, including smartphones, laptops, tablets, and iPads. That gives you an opportunity to send and receive Fax even when on the move. That's regardless of whether you are an iOS or Android user.
Fax Scheduling:
You can automatically send a fax by setting up the date and time you want it to be sent. You will also be notified about the delivery status. If negative, you will have to resend it. CocoFax also allows you to set the retry times after delivery failures.
Multiple Recipients:
Can you imagine sending a fax to a long list of people one at a time? It is time-consuming and tiring, but this feature can save you from all that. All you have to do is select all the recipients at once and send the faxes simultaneously.
Electronic Signatures:
For legally binding documents, a signature is essential. As you send faxes from Gmail, you can add a digital signature to that document before sending it. That's a plus to many people, especially big firms.
Cloud Storage:
You are at liberty to use cloud-based services such as Google Drive and Dropbox to send faxes.
Detailed Reports:
You can easily keep track of faxes from your CocoFax account or Gmail account to see faxes sent and those received.
Why Send Fax from Gmail?
Communicates relatively fast.
Guarantees secure communication.
Accessible from mobile devices in case you are on the move.
Free of charge for a limited time and at a pocket-friend price after that.
No need for installations or physical lines; thus, cost-effective.
Simplifies keeping track of various documents.
Gmail also stores files hence accessible in the future.
Holds signatures if necessary, especially for the legally binding documents.
Compatible with iCloud, Google Drive, and Dropbox.
Why Choose CocoFax?
As much as there are many similar services out there, CocoFax stands out due to these reasons:
CocoFax uses the latest technologies, ensuring that your fax is delivered as soon as possible.
It is universal hence perfect for communication across the world.
The services are also available 24/7 for convenience.
You get a 14-day free trial; therefore, only invest when satisfied with what they offer.
FAQs
Can I send a fax without a fax machine?
Yes, sending a fax no longer requires a fax machine, you can either use a free or paid online fax service to send faxes throughout the world.
Can I send a free fax from Gmail?
Yes, it is possible to send faxes from Gmail for free. All you need to do is create an account on CocoFax and grab its 14-day free trial period offer to get a free fax number. After that, you can follow the steps below:
Step 1: Compose a new email; and attach the required documents you want to send.
Step 2: In the "To" field enter the recipient's "country code" followed by their "fax number." At the end insert "@cocofax.net"
Step 3: Then click on "Send," to transmit these documents to the recipient.
Where can I get a fax number?
CocoFax will give you a fax number upon registering for its faxing services. As soon as you verify your email address, you are prompted to reserve a fax number.
Is it possible to email to a fax number directly?
Traditionally, that's not possible by design since the two use different technologies and signals that are not compatible. Fortunately, CocoFax acts as a perfect intermediary to help you facilitate the same. To send this email follow the steps below:
Open CocoFax's official website and click on sign-up. Now enter your account details or log-in using your google account.
Click on send fax now, and reserve a fax number for yourself. Select your preferred plan or use CocoFax's 14-day free trial offer.
Now click on " Email to Fax," and enter your required credentials.
Once you are on the dashboard, enter the recipient's fax number on the first box, and attach the files you want to send.
Now click on "Send" and you have successfully sent the fax from an email to a fax number.