How to Send Fax from Gmail
While there are countless options nowadays to send documents like IM, email, and whatnots, fax is still one of the most preferred methods when it comes to an official communication.
The security provided by fax communication is second to none. However, with the requirements like fax machines, toner, etc. becoming unfeasible in today's world where everyone seeks portability, a more compact fax solution is needed.
This is why, here is an innovative way through which you can send fax directly from your Gmail. This is facilitated by online fax services that provide easy faxing solutions via any online medium.
Part 1: Can You Fax From Gmail?
With the innovative solutions offered today, it is very easy to send fax from Gmail. In fact, many businesses have incorporated Gmail fax into their everyday workflows.
However, Gmail to fax isn't possible if you directly try to send an email to a fax number. This is because emails and faxes are two very different platforms with entirely different structures.
Emails operate on a digital platform while faxes operate more on analogue telephonic signals.
This is where third party online fax services come into play. They act as a translator between the two mediums so they understand each other well.
Part 2: How to Send a Fax from Gmail
Sending a fax from Gmail is a child's play once you get to know the process. As is just mentioned, it requires a third party online fax service that can translate the communication from email to fax and vice versa.
However, since people who use fax do it because they prefer security and reliability over everything else, you cannot just go with any fax service provider. You need one that has an established name in the field and is going to get your faxes where they need to be.
Here is an online fax service that you will never regret using. In fact, you are never going to use any other method to fax again once you start using this:
2.1 CocoFax - What The World of Fax Had Been Missing So Far
CocoFax is one of the most reputed and widely used online fax service providers in the world. It provides online fax solutions that can turn all your devices like computers, laptops, and even mobile devices into fax capable devices.
And it facilitates this by providing solutions like Gmail to fax and fax to Gmail, which have become some of the most used features of CocoFax.
One of the best things about faxing through Gmail is that it is as easy and very similar to sending an email, something which everyone uses on a daily basis.
2.2 How Fax from Gmail
Faxing through Gmail just requires a few things, including:
A Gmail account (you probably have this already)
Internet Connection
CocoFax account (it is going to translate the email to fax for you)
Fax Number (Don't worry, you can get a free fax number from CocoFax)
Once you have these things ready, you can go through these steps:
Sending Faxes from Gmail
Step 1: Sign up for CocoFax and avail the 14 days free trial plan. Once you sign up, you will have the comfort to choose your own fax number without hassle. Make sure you register the email address which you would use to send and receive the faxes.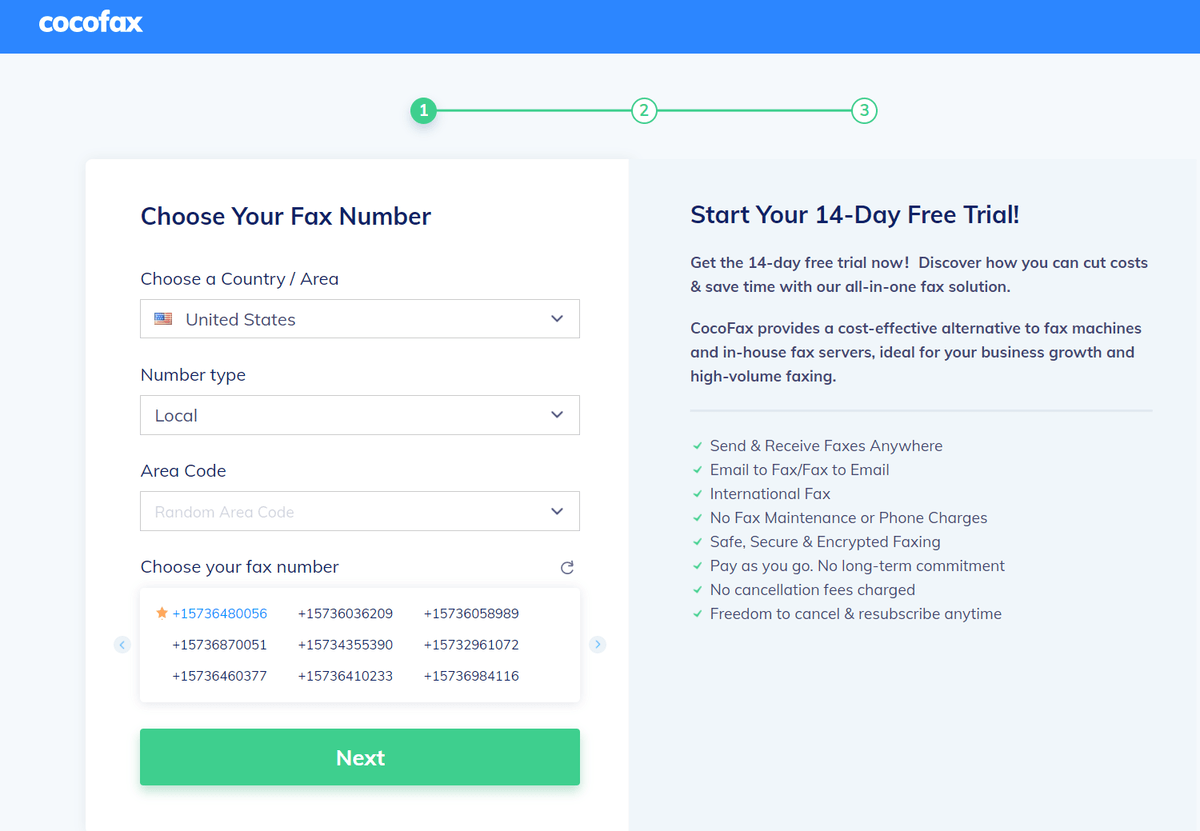 Step 2: Open the Gmail app or Gmail on web browser. Click on the option to compose a new email. The new email popup will open.
Step 3: You will be composing your fax document here. You can fill the following fields:
In the 'To' field where you generally enter the receiver's email address, you have to add the recipient's country code, their fax number, and follow it by '@cocofax.net'. For example, if their fax number is +77 123456, with +77 as the country code, you just have to enter: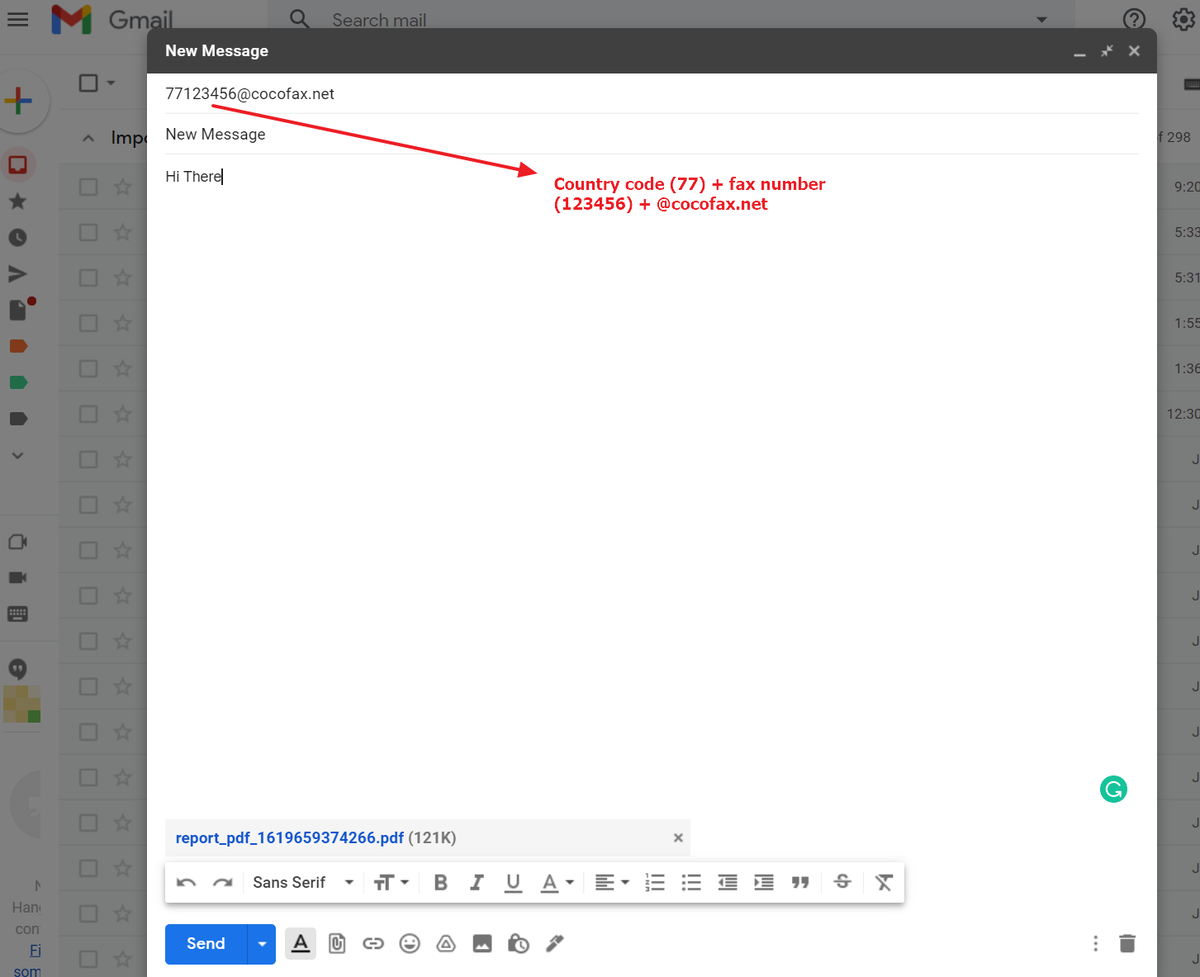 For faxes sent from US to US, the sender needs to add '1' before the fax number. If the fax number is 123456, they have to enter:
The 'Subject' field is optional. Anything you enter here will appear as a note on top of the receiver's fax document. The email body is optional too. If you enter any text here, it will appear as a cover page to the receiver's fax.
Now comes the most important part - the actual fax document. You can attach the fax document as an attachment to the email. The 'Attach' icon is a little paper clip generally located towards the lower end in case of Gmail on web browser and in the upper end in case of Gmail application.
Email to fax supports these formats: doc, docx, xls, xlsx, png, jpg. You can also upload multiple documents at a single time. CocoFax will merge all these documents and fax them to the receiver. This saves you a lot of unnecessary hassle of sending multiple faxes.
Step 4: Double check all the information you entered. If everything looks good, hit the 'Send' button. CocoFax will receive this email and dial it to the receiver's fax machine as a fax document.
Once the fax is delivered, you will get a confirmation email in your Gmail inbox. Even if the fax isn unsuccessful, CocoFax lets you know about it through email notification.
**The most possible reasons for the fax being unsuccessful are the receiver's fax machine is turned off, it is busy, or the fax number you entered is incorrect. Theoretically speaking, there will be no issues on CocoFax's end.**
Receiving faxes is so much easier than sending it. There are not even any steps to follow.
If you registered your email address with CocoFax, CocoFax will forward all the faxes you receive on your email address.
To check any received fax, all you have to do is open CocoFax's email notification in your Gmail inbox. The fax document that the other person sends you will be available in the form of email attachment in pdf format.
Also Read: Google Fax: How to Fax with Google Free Online
Part 3: FAQs
Here are the commonly asked questions by people and their answers:
🧐 Is CocoFax email to fax feature available on Gmail only?
Gmail is just an example. You can use CocoFax's email to fax feature on ANY email client. There are no restrictions at all. You can use Yahoo fax, Outlook fax, or any other one too.
📱 Do I need a fax number while Faxing through Gmail?
Absolutely. You need a fax number regardless of the method of fax you choose. However, CocoFax assigns you a free fax number of your choice
📋 What type of documents can I attach with the email for fax?
CocoFax supports a wide array of documents including formats like pdf, doc, docx, xls, xlsx, png, jpg. You can even attach multiple files at the same time.
😈 What if my fax was unsent?
Faxes are unsent when there are some issues at the receiving end or if you entered an incorrect fax number. You can try resending the fax again. Make sure you double check the fax number this time. Remember to add '@cocofax.net' at the end of the fax number.
👩🏼‍💻 Do I need to have internet 24x7 to receive faxes?
No, CocoFax is not like telephone lines. It will send you the email of a received fax and you can check it as per your convenience.
Can't Miss: How to Fax from Google Drive
Endnotes
As you can see, it is very easy to fax through Gmail, whether you are sending a fax or receiving it. All you have to do is follow this guide and there wouldn't be any problem that you will face.