Can I Fax From My Phone?
Many of us often wonder if we can fax from a cell phone. Well, yes we can. Technology continues to amaze us and gives us a way to fax through cell phones. It is nearly impossible to carry fax machines and computers everywhere, but we can carry our phones with us at all times.
There are multiple online fax services and fax apps available on the web that make the job hassle-free. Keep reading to know how we can turn our smartphone into a high-end fax machine.
Part 1: Why Use CocoFax?
CocoFax is an app that will enable users to fax their documents easily from their mobile phones. This single app can run from any smartphone no matter what operating system you're using.
CocoFax understands your need for privacy and protection against potential threats. Therefore, it provides users with two-factor authentication, web application firewalls, DDoS protection, and various other security measures to protect their user's data. Data security measures of CocoFax are at par with the top companies across the globe.
Part 2: What Do You Need to Fax Using a Cell Phone?
To send and receive faxes from your phone, you need to consider the following requirement:
A smartphone that is running on any operating system, can be an Android, Windows, iOs, or anything else.
A CocoFax account and a fax number. A free fax number comes with the CocoFax account as you sign up.
Any web browser, such as Google Chrome, Uc Browser, Opera, Safari, etc.
An email account and app that can open the email service on your phone.
Part 3: Ways to Fax Using the Cell Phone
You can send and receive faxes using CocoFax that is readily available on your internet-enabled cell phone device. All you need is the fax number of the receiver and a good internet connection. Below are some of the ways to fax through a cell phone using CocoFax.
1) Fax Through Cell Phone's Web Browser
Step 1: Open the web browser of your phone and sign up with CocoFax. Fill in the required information and choose a fax number according to your preference.
Step 2: When you are done with this, you will be taken over to your dashboard. Select the option that says '+New Fax', to send a fax.
Step 3: Enter the fax number of the receiver, you can also add multiple fax numbers if you wish to share the fax with multiple people at once. It is optional to add a cover page and text to your fax. Next, you need to add files to your fax. The supported format of the fax document is Doc, Docx, Xls, Xlsx, Png, Jpg.
Step 4: Hit the " Send" button. You will receive an email notification once the transmission is successful or not successful.
You can also watch the video below:
Receiving faxes through the CocoFax web app is way easier than the sending process. Once you have registered with CocoFax and get a fax number, people can send faxes to the fax number you have. All the received faxes will be forwarded to CocoFax's inbox. You just need to log in to your CocoFax account to check the faxes you received.
2) Fax through Email
Step 1: Register your email with CocoFax and choose a fax number. The email will further be used to send and receive faxes.
Step 2: Open the email client and click on the 'Create email' option. Enter the country code, followed by the fax number of the receiver and '@cocofax.net' in the recipient's field. You can add text to the subject of the email. Attach the documents that you want to fax along with the email.
Step 3: Hit the 'Send' button. Once you send the email, CocoFax will receive it and translate it into the fax to the target machine.
Receiving a fax from an email client is easy if you are using CocoFax. All the faxes that are sent to your fax number will be automatically forwarded to your email inbox.
3) Fax App on Android Phone
If you still do not find using either a web app or email app to fax helpful. You can use a fax app on your Android smartphone. You just need to download or install it on your Android phone. The application will open the dashboard right on the phone without opening any web browser.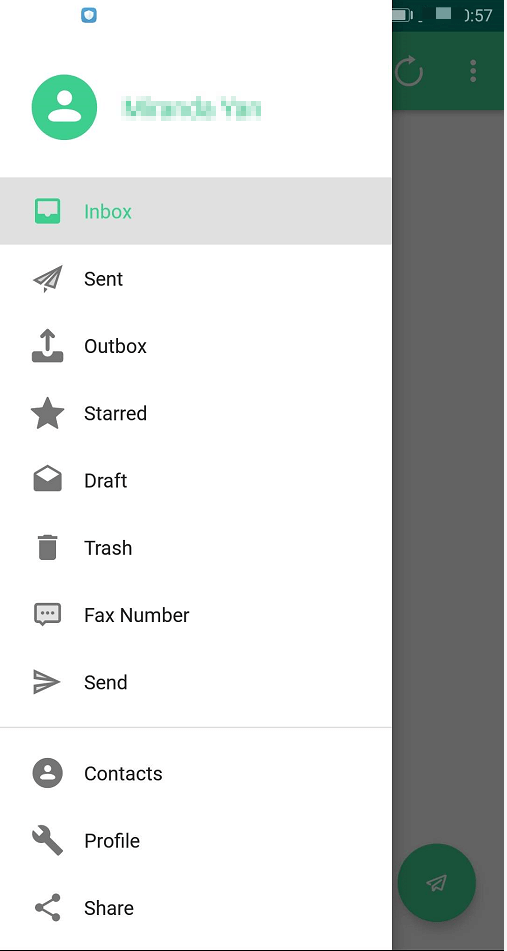 Having such an app on your Android smartphone will help you to send and receive fax directly through the fax app. For sending a fax you will just need the fax number of the receiver and an internet connection. You will require a subscription to these fax services to use it.
You can also watch the video below:
Part 4: Tips to Remember
Keep these tips in mind while faxing through your phone using CocoFax,
While sending faxes through CocoFax, the receiver needs to turn on the fax machine to receive the fax. Otherwise, the fax won't get delivered.
Having a fax number is mandatory to send and receive faxes. CocoFax provides you this number for free. This number will be displayed to the other person to whom you are sending the fax.
Make sure that you have entered the correct fax number of the recipient before sending each time to save your time.
Sign up with the same mail, in which you wish to receive the push-up notification from CocoFax.
Conclusion
It is only because of technological advancement that we have millions of gadgets and machines that have simplified our way of working along with saving time. We are very well aware that we cannot bring fax machines and even computers to almost every place but we can carry our phones with us 24/7. That gives us the freedom to use our phones to fax any important documents anytime and anywhere.