How to Fax from Printer
Most people skip using fax services today, thinking it is cumbersome and time-consuming. However, they don't realize that technology has bestowed us with a facility where we can send and receive faxes using our printers, without even needing to buy a fax machine.
Moreover, many youngsters don't know how this works, and others don't prefer using them anymore- until they forcefully need to! Learning how to send and receive fax using a printer is painless and a quick procedure that comes in handy when you don't own traditional fax equipment.
To help you make use of the most popular and comfortable method of using a printer to send and receive a fax, we have curated a detailed guide. Keep reading to find out various ways to fax from a printer.
Part 1: Types of Printers
Before you start to fax using a printer, you need to understand the type of printers that are available in the market, so that you can thereby select your way of sending and receiving fax through it.
1. All in one Printers With Fax Capabilities:
Nowadays you can find printers with fax ability already embedded in them. They usually contain hardware inside and a 'Fax' button placed on the interface. By just clicking on this button, you can automatically enable the fax feature in these types of printers.
2. All in one Printers Without Fax Capabilities:
Most people make use of these kinds of printers in their homes and at their offices. They are multifunctional printers, which can Print, Scan, and Copy. However, they lack the fax hardware in them, and hence, they are not capable of sending or receiving a fax.
However, our guide will teach you how to make use of online fax service, and fax easily using a printer.
3. Single Function Printers:
This is the most basic category of the printer, which can only print, and lack all other functions. By using our directions, you can certainly send a fax using these kinds of printers, however, still, you won't be able to send a fax through a hard copy of a document.
Now, you are aware of all possible types of printers. Before starting with the guide, make sure to check which types of printers you own.
Part 2: Fax Using Printer with Fax Capabilities
If you own a printer with fax capabilities, then all you need to do is plug in your telephone cable and computer. And you are all set to send and receive faxes using your fax-enabled printer. However, to receive the fax when they arrive, you need to make sure that your printer is turned on.
How to Send Fax through Printer Using Printer Driver?
Step 1: Start by making sure that you have made all the necessary connections, like telephone lines and computers with your printer. (To learn how to set up, use your printer's manual to learn.)
Step 2: Install the printer driver on your computer either using the CD provided with the printer or downloading its driver from the internet.
Step 3: Now open the document which you want to fax. Go to the 'File' option, over there select the print command or press Ctrl+P from the keyboard.
Step 4: Select fax as the printer driver, in the print menu.
Step 5: Then, enter the receiver's fax number in the field provided. After filling in the details, hit the 'Send' button.
Step 6: The printer is automated to dial the receiver's fax machine to transfer your fax. When the fax is delivered you will receive the confirmation. The printer might also print you a confirmation page.
How to Send Fax through Printer Using Document Feeder?
Alternatively, Once your printer gets connected with the telephone line,
Put the document you want to fax in the document feeder
Enter the recipient's fax number
Press Send.
Receiving a Fax through Printer with Fax Capabilities
To receive a fax through your printer, you need to keep it turned on 24x7 and connect it to the telephone cable. When a fax is received, the printer will automatically print the fax on the sheet of paper. However, if your printer is turned off, you might miss the fax.
Don't be afraid, even if you run out of paper, the printer will hold the document in its memory. And you can print it out on command.
Part 3: Fax Through Online Fax Solution
Even if you own an ordinary printer, or if you don't even own a printer, CocoFax will help you send and receive faxes successfully. Cocofax is one of the biggest online free fax service providers in the market. Their high-end fax system is capable of sending and receiving faxes without the need for a printer or fax machine.
Fax With an Online Fax Service - CocoFax
CocoFax offers a wide range of features including:
Optimizing documents for fax transmission
One can fax one document to a mass of recipients
Status of faxes made available and exportable to the archive folder
Saves costs to a huge extent
Invite team members to your corporate account and collaborate with them at no additional cost.
Seamless integration with slack, google product, and other apps.
CocoFax works to empower businesses with excellent servicing, to help them go greener, smarter and quicker. It understands that your fax information is confidential, and needs to be protected from every other eye. And thus, it makes use of technology, such as two-factor authentication, biometric security measures, web application firewalls, DDOS protection to protect your data.
What Do You Need to Fax Over the Internet?
You will need the following to fax without a fax enabled printer:
Internet-enabled Device
You can make use of either a computer, your cellphone, or any other device, which can be easily connected with internet services.
CocoFax Account
You need to have a CocoFax account before you can start with the process of faxing. CocoFax acts as a translator and transmits information from your computer or cell phone to the receiver's end.
Fax Number
To send and receive a fax, a fax number is mandatory, no matter what method you use to fax. With CocoFax, you can get a free fax number when you sign up.
How to Send Fax Online Using CocoFax
Step 1: Get a CocoFax account, you can make one by clicking on the 'Start faxing' button present on the website.
Step 2: Collect all the documents you wish to fax, assemble them in one place. If you want to fax a hard copy of any document, then put it in the document feeder of your printer and scan. Save all the scanned copies on your computer or smartphone.
Step 3: Log in to your CocoFax account, through the web browser. On the dashboard, search for the 'New Fax' button and click on it.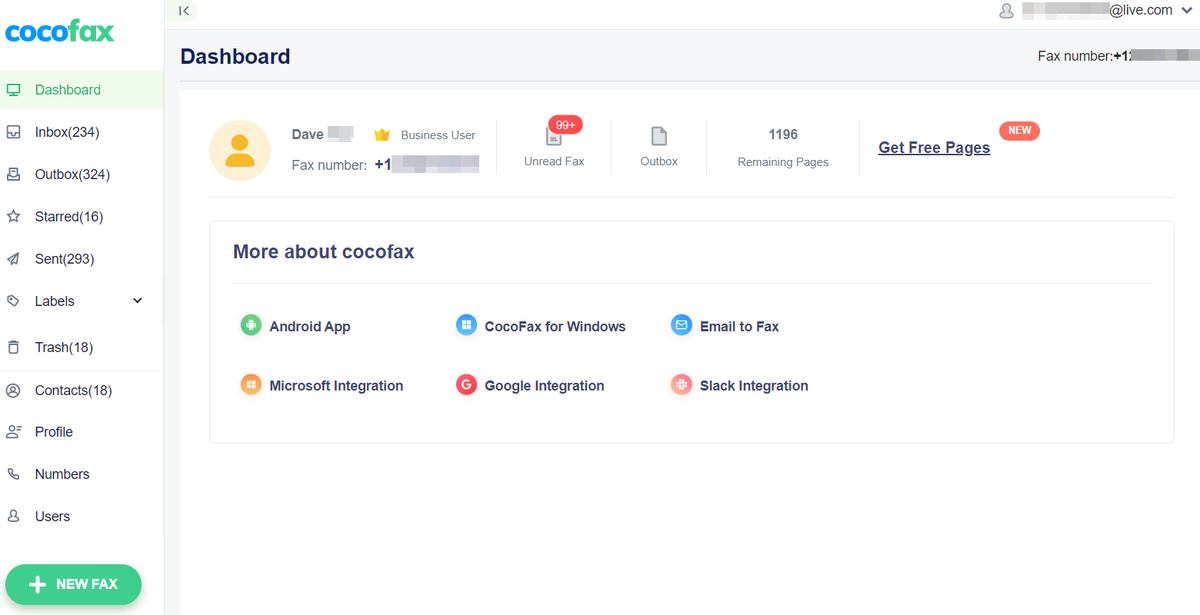 Step 4: Enter the fax number of the receiver, you can also add multiple fax numbers (separating them with commas) if you wish to share the fax with multiple people at once. You can even fill in the subject column, and add a cover page to the document.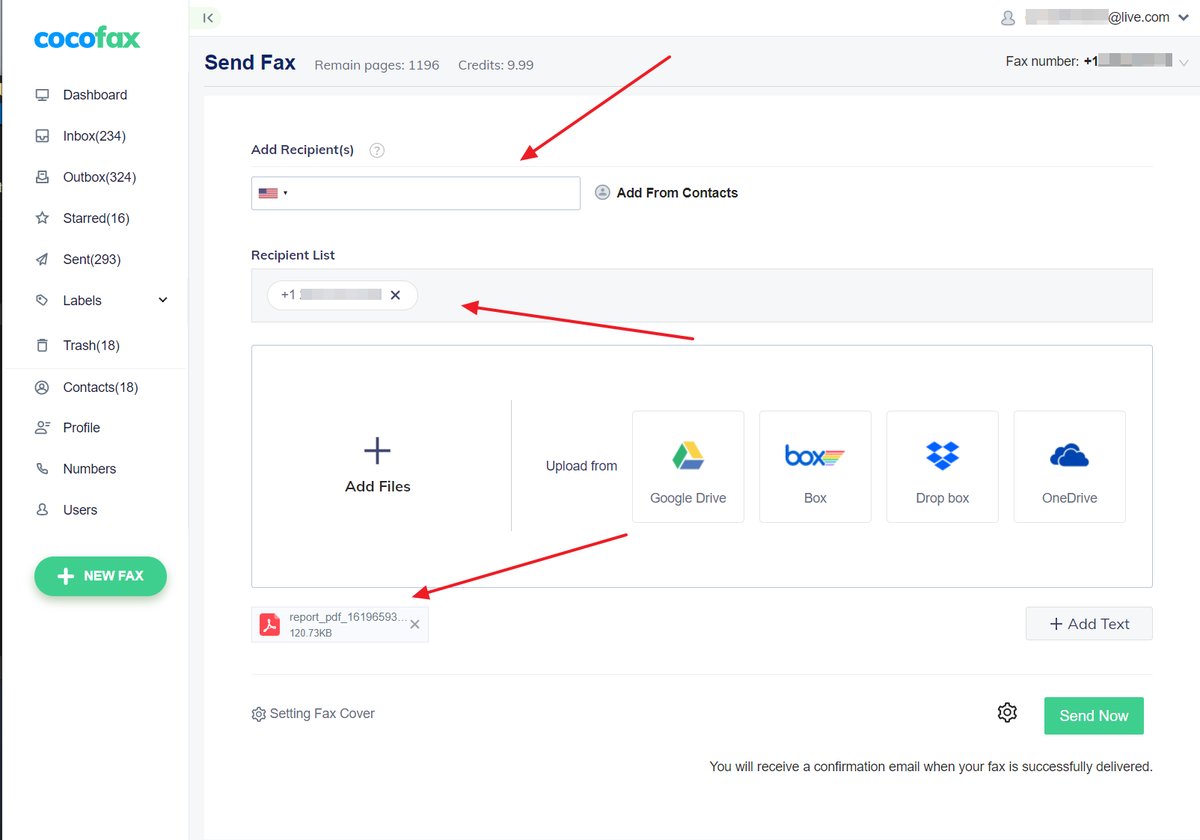 Next, you need to upload the fax file from your device storage or online cloud storage applications such as Dropbox, Google Drive, One Drive, etc. The supported format of the fax document is Doc, Docx, Xls, Xlsx, Png, Jpg.
Step 5: After filling in all the details, do check all the information once. Then, click on the 'Send' button. CocoFax will connect with the receiver's fax machine and transmit your fax to them.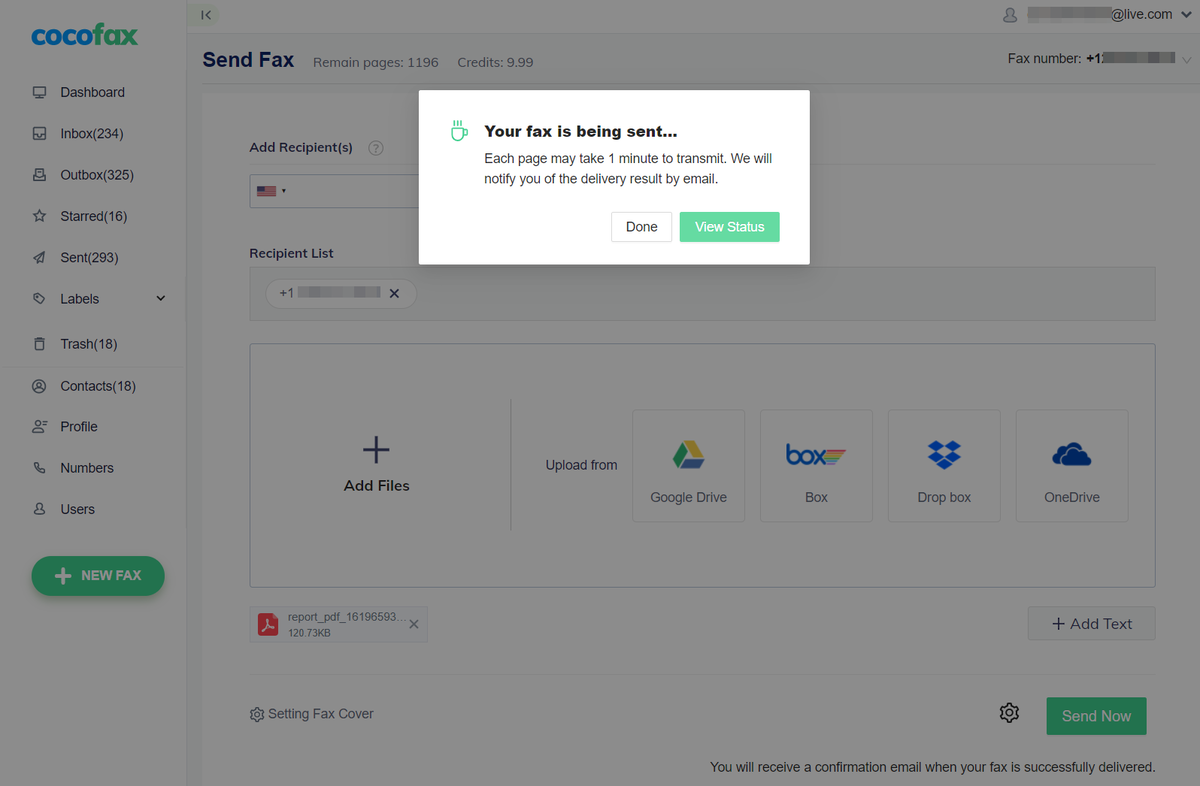 Step 6: Once the fax is delivered or even if the transmission fails from the receiver's end, you will get a confirmation from CocoFax on the registered email ID.
**If your fax fails to be delivered, the possible reasons are that the receiver's fax machine is busy, or it is switched off, or you've entered an incorrect fax number.**
Receive Fax Online Using CocoFax
Once you've registered with CocoFax, you can easily access the received faxes on the CocoFax dashboard. Indeed, you will also receive the email copy of the fax on your registered email ID, with the fax document added as an attachment.
You can even print the fax document easily, without keeping the device active 24x7. As you might see, receiving a fax is much easier than sending it. Moreover, you don't even need to make any investment in hardware, thus this is considered to be an ideal method of faxing. The most important feature of this technology is that you can check your faxes through your smartphone easily.
Part 4: Points to Remember
While using a printer to send and receive faxes, keep the following things under your consideration:
If you opt to use a printer enabled with a fax system, don't forget to connect a telephone line to it all the time.
To send and receive a fax, you need to have a fax number, no matter what method you use. When you opt for a fax-enabled printer, you need to get a fax number yourself through the required channels.
It is a common perception that a wireless printer means you won't have to connect it to a telephone line. However, this is not true. Know more about fax wirelessly here.
When using a printer without fax abilities, you can invest in a fax modem and computer setup to send or receive faxes.
You can send the fax using CocoFax in various simple, easy, and convenient ways, which includes email to fax, CocoFax web app, google integration, and more.
Part 5: Conclusion
Thanks to technology, that faxing is yet again gaining momentum in today's world. A printer with a fax-enabled option will surely suffice, however, it is not the only option you have! Online faxing services through CocoFax gives you the flexibility to send and receive fax with just a computer or any other internet-enabled device. Additionally, it's a perfect blend of convenience and affordability.