How to Fax from Outlook
There are many people who feel that fax is a thing of the past. However, there are some people who realize the importance of fax and the advantages it has over any other method of communication.
Most of these people love fax very much but refrain from using it because they find it inconvenient to have a fax machine and all the other things that are needed to send and receive a fax.
This is why we have made the whole process of faxing simpler. Today we will tell you a way through which you can send and receive via Microsoft Outlook. You can do it from your phone, computer, or any other device on the go.
Also Read: How to Send Fax from Gmail
Part 1: How to Send A Fax From Outlook
What was once unthinkable is now not only possible but, as a matter of fact, you can do within a minute. Sending and receiving fax through Outlook takes comfort to a whole new level.
Don't even get me started on the savings it is going to cost you. You don't have to invest in a fax machine, paper, and toners. And think of the portability that you now get while faxing somebody.
You might be getting excited and curious to know about this way to fax through Outlook. So without making you wait, here it is:
CocoFax - Adding Innovation to the World of Fax
CocoFax is a third party fax services provider that gives you the option of faxing through your email on ANY device, be it a smartphone, desktop, laptop, tablet, or anything else. It has been providing fax services globally for years now.
Since your email is designed to work on a digital platform and the faxes work on electronic lines, these two systems generally do not communicate with each other. This is why your email client, by default, does not support fax.
And here CocoFax comes into play. It acts as a translator of messages from email to fax and vice versa so they both can understand each other. Therefore, you can send and receive fax through Outlook if you have a CocoFax account.
What Do You Need for Outlook Fax?
In order to fax through Outlook, you just need a few things handy. You probably have most of them already, and the ones you do not have you can get within a minute just sitting at home.
Outlook Account:
First things first, when you want to fax from Outlook, you need an Outlook account ready. You can register it with your email client or get an Outlook email address.
Internet Enabled Device:
You also need a device that can connect to the internet. This is where you are going to open your Outlook app. Nowadays, this app supports Windows computers and smartphones that run any operating system. Make sure that the device is connected to the internet in order to transmit the email.
CocoFax Account:
You also need an account with CocoFax to send and receive faxes through your Outlook. Don't worry, CocoFax offers a 14 day free trial so you can try out the service before you subscribe to it.
A Fax Number:
It is compulsory to have a fax number whether you want to send faxes or receive them. However, you won't have to jump through hoops in order to get one.
CocoFax takes care of this and gives you a free fax number. So if you do not have a fax number already, you can get a free fax number from CocoFax.x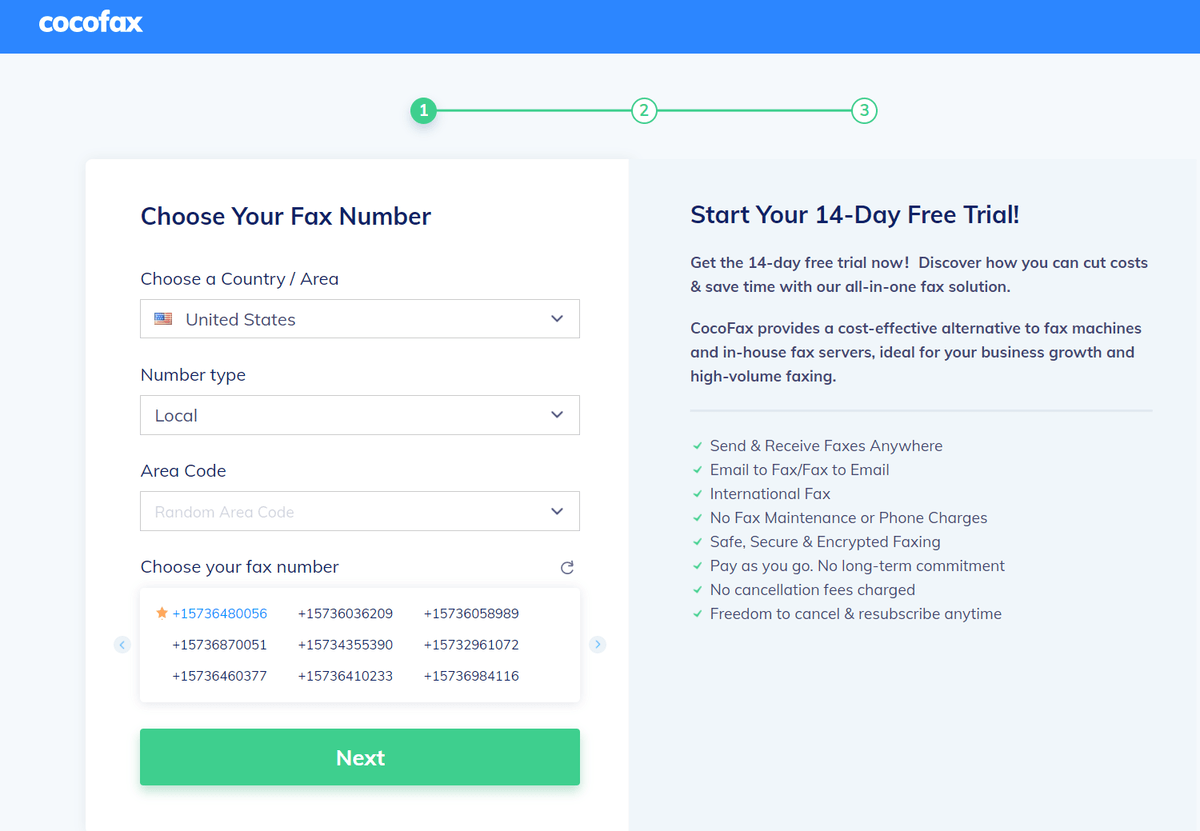 There is nothing else that you need. As you can see, these are easy requirements and you probably have all of them except for the CocoFax account and a fax number. However, you can get them both in the same place!
Now, if you have all the things ready, let us move to the steps to send and receive faxes through Outlook:
How to Send a Fax From Outlook?
To send a fax from Outlook, you just have to follow the steps below. They are very easy and would take less than a couple of minutes.
Step 1: Get a CocoFax account:
Firstly, you need to get a CocoFax account You can opt for the 14 day free trial if you wish.
Either way, you will get a free fax number to use. In fact, you can even choose your own fax number from the options provided!
Make sure that you register your Outlook email ID that you will use to send and receive faxes through CocoFax.
Step 2: Open Your Outlook Account
You can now open your outlook account through which you wish to send your fax. I think you would be familiar with this process already and I do not have to detail it for you.
Step 3: Enter Your Fax
Now you can enter your fax here. Firstly, (this part is important), in the 'To' field where you generally use the email address of the receiver, enter their fax number instead and follow it with '@cocofax.net'.
For example, if the fax number of the receiver is 123456, the 'To' field will contain: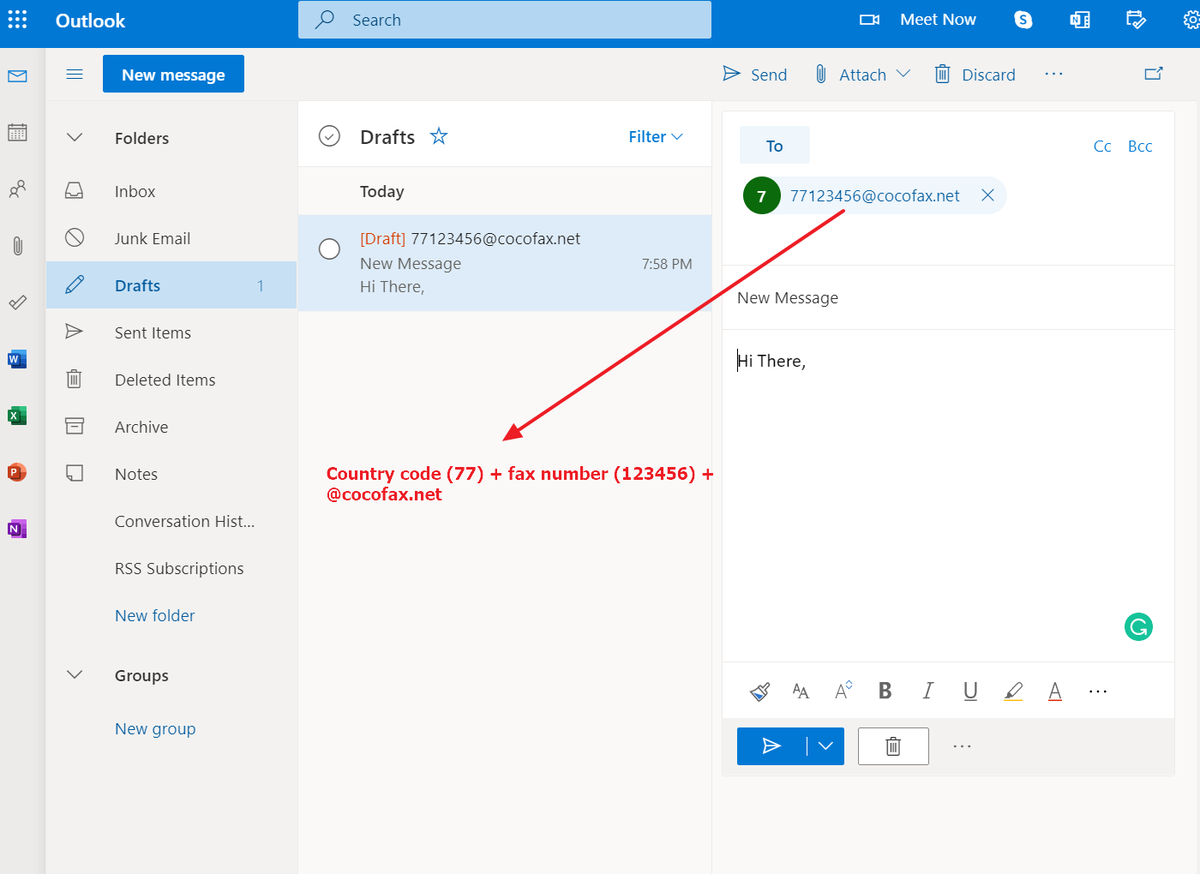 You can also add a subject line in the email's 'Subject' field. This subject will appear as a note in the receiver's fax.
Whatever you enter in the body of the email will be considered a cover page to the fax. This page appears as the first page of the fax document on the receiver's end.
Lastly, the fax document that you wish to fax will be attached as an attachment to the email. CocoFax supports a multitude of formats including: pdf, doc, docx, xls, xlsx, png, jpg.
Step 4: Send and Wait for Confirmation
Now you can hit on the 'Send' button. CocoFax will receive your email, translate it to the fax number you added, and send it to that fax number.
Once the fax is sent and received by the target fax machine, you will get an email confirming that the fax was successful. In case the fax wasn't successful, you will get an email about the fax attempt.
This email will contain the length of the transmission and the time log of the attempt.
As you can see, it is a very simple procedure and you can do it within a minute. In fact, CocoFax would be doing most of the work. All you have to do is send the fax details to them.
You May Like: How to Send and Receive Fax from Yahoo Mail
How to Receive a Fax through Outlook?
Receiving a fax is even easier than sending it. You don't have to do anything to receive a fax on your Outlook account.
If you registered your Outlook account on CocoFax already, CocoFax will already send the texts you receive on your fax number to your Outlook email. This is why having a fax number is important- so people can send you faxes on it!
You will see the received fax as an attachment in the email that you get from CocoFax. You will also get all the important details like the sender's fax number and the time log of the fax.
And if you feel like you have to reply to their fax with another fax, you can do it with the steps in the above section just by using CocoFax!
Fax From Outlook- Things to Remember
When you are using fax on your Outlook account, you will have to keep the following things in mind:
Make sure that you have registered that Outlook email ID with CocoFax that you are going to send or receive the faxes. If you send a fax to CocoFax through any other email ID that is not registered with them, the fax will not be sent.
When you are sending a fax through Outlook, make sure that you use the fax number of the receiver followed by '@cocofax.com'. Make sure to add the last part; otherwise, CocoFax will not receive your email and will be unable to send it as a fax to the receiver.
You get to choose your own fax number when you are registering with CocoFax. That is one of the best things about the process.
If the fax that you sent through Outlook was unsuccessful (as you will know from the confirmation email you get from CocoFax), the possible reasons are that the receiver's fax machine is busy or it is turned off.
If you keep these things in mind, you will never face any trouble while faxing through Outlook.
Can't Miss: How to Receive Fax to Gmail
Endnotes
Using fax on Outlook is very easy and simple. You just need to follow the guide mentioned above and there is nothing else you will need!