How to Send a Fax from Outlook
It is a common perception among individuals that faxing is a thing of the past. However, with the advent of better technology to send and receive faxes, faxing is gaining momentum among many businesses in the world today.
You might be wondering how to make use of this technology successfully and at an affordable price. To help you out, we have curated guides on 'How to send and receive fax via Microsoft Outlook'. All you need is an Outlook account and an email to fax service provider to send and receive faxes.
Excited and curious about learning to fax through Outlook? Read the article till the end to grab a hand on some important things to remember.
CocoFax – Revolutionizing Your Faxing Experience
CocoFax is a third-party fax service provider that gives you the option of faxing using Outlook on any device, be it a smartphone, desktop, laptop, or tablet. All you need to do is, select the document you wish to fax using your Outlook account and enter the fax number of the receiver. CocoFax will then communicate through the receiver's fax machine, and carry forward the process.
CocoFax understands your need for privacy and confidentiality of shared documents via fax, and thus works to ensure that all your content is kept just for your eyes. Check out CocoFax security overview to understand their policy in a better way.
What Do You Need to Fax from Outlook?
Before you start to fax via Outlook, you need to make sure that the following things are at hand:
Internet Enabled Device and Outlook account
Of course, before heading towards using a fax facility via Outlook, you need to have an Outlook account. Simply connect your device with the internet, and sign up with Outlook to proceed further.
CocoFax Account
Connecting with an online fax service provider, like CocoFax, is essential to send and receive faxes using Outlook at an affordable cost. You can visit the CocoFax web page and click Start Faxing to set up an account. Our wide range of services and features will help enhance your experience and smoothly transfer the required document to the receiver.
Fax number
It is compulsory to own a fax number to send or receive faxes. However, getting a fax number locally is a tedious and time-consuming tax. CocoFax helps you to choose a free fax number easily.
After acquiring all the above-mentioned items, you are all set to fax through Outlook.
How to Fax from Outlook
1) Send a Fax from Outlook
Follow the easy steps below to send a fax using Outlook, it will take even less than a couple of minutes.
Step 1: For starters, sign up with CocoFax using your Outlook email. Fill in all details and choose your fax number from the options provided.
Step 2: Now once the CocoFax account is being made, login to your Outlook email that is registered with the CocoFax on your computer or smartphone.
Step 3: Choose New Email to start a new message. In the 'To' field where you generally use the email address of the receiver, enter the country code, followed by the fax number of the receiver and '@cocofax.net'.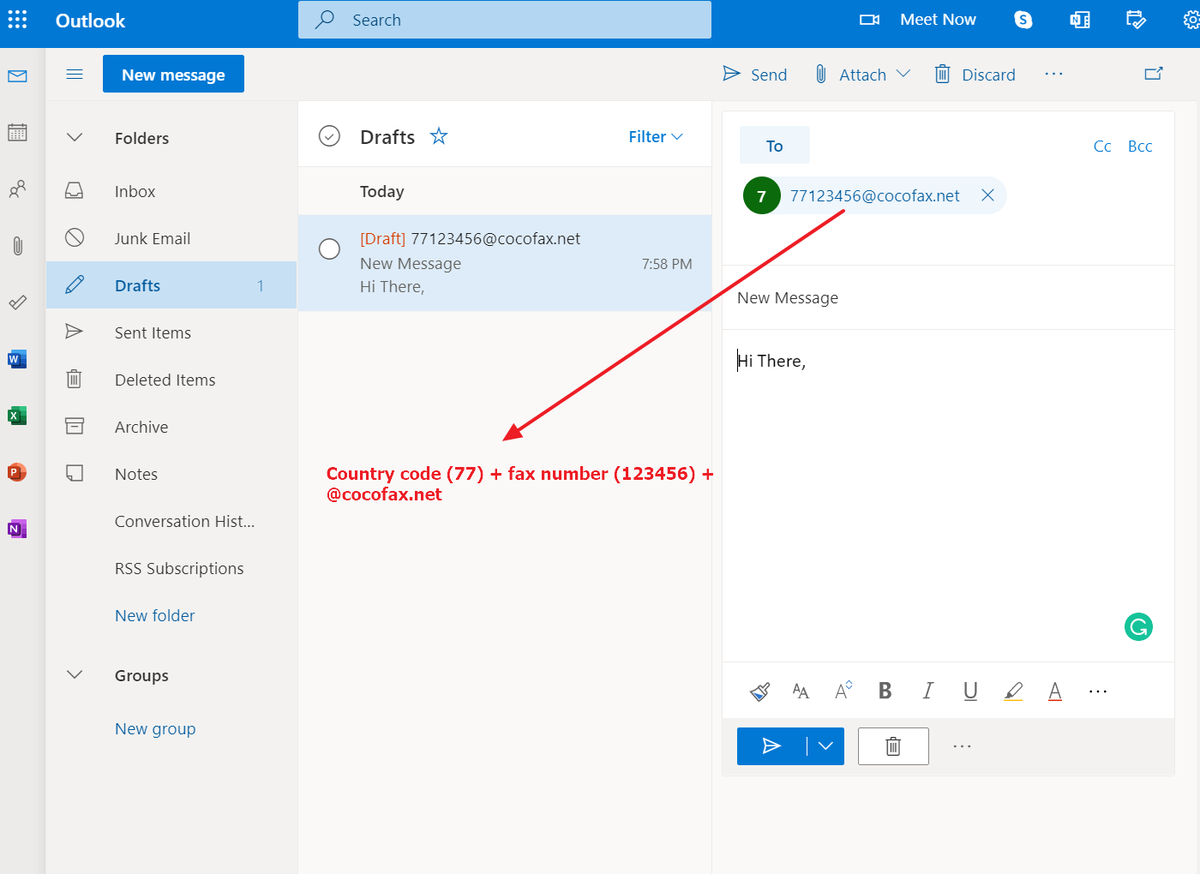 For example, if the fax number is 123456, and you are sending it from the U.S. (the country code is '1'), then you'll have to enter: [email protected]
**Notice: Even when a fax is sent from the same country (say, U.S. to the U.S.) you still need to add the country code. And you can add multiple fax numbers in the 'To' column.
Step 4: Check for the accuracy of all the entered information and click on the 'Send' button. CocoFax will connect with the receiver's fax machine and transmit your fax to the entered fax number.
Step 5: Once the fax is delivered (or even if the transmission fails from the receiver's end), you will get a confirmation from CocoFax in the email inbox. The email will contain all the details related to the length of transmission and the time log of the attempt.
**If your fax fails to be delivered, the possible reasons are that the receiver's fax machine is busy, or it is switched off, or you've entered an incorrect fax number.**
You can also watch the video below:
Receive a Fax through Outlook
Receiving a fax is way easier than sending it. You only need to register your Outlook account on CocoFax. And then, CocoFax will forward all the faxes you receive on your fax number to your Outlook email. The fax comes as an email attachment. You can click on the attachment to see the fax and easily read, forward, or sign your important faxes in no time. Therefore, you can even check your faxes through your smartphone. And all this is possible just with a CocoFax account.
Fax From Outlook - Things to Remember
While using fax services through an Outlook account, you need to keep certain things in your mind, which are:
Make sure to use only the registered Outlook email ID with CocoFax to send and receive faxes. If you try sending the fax through any other email ID, which is not registered with CocoFax, the fax will not be sent.
Also, while sending a fax using Outlook, make sure to enter the country code followed by fax number and '@cocofax.net', as otherwise, CocoFax will not be able to transmit your fax to the recipient.
Choose the fax number of your choice for free when registering with CocoFax. Indeed one can operate multiple fax numbers in their CocoFax account.
CocoFax sends its users an email notification when the fax is delivered or not. Users can also turn on/off notifications on the CocoFax dashboard, according to their convenience.
Remember that you have entered the correct country code. If the fax fails to be delivered to the recipient, it might be that the receiver's fax machine is busy or turned off.
Keep these few points in your mind while faxing using Outlook, so that you don't face any trouble while faxing your documents.
Conclusion
CocoFax makes the process of sending and receiving faxes very simple and easy. Follow the steps mentioned in the guide sequentially and you will land up with astonishing results. So, it's time to say bye to old ways of faxing and welcome these new faxing methods, to enhance your fax experience. Happy faxing!