Fax Software for Windows 10/8/7
5 Best Fax Software for Windows 10/8/7
Do you know that Microsoft Windows comes with a Windows Fax and Scan to send and receive faxes to anyone? However, when it comes to using the app, the process can be a nightmare.
For starters, you have to get a fax modem. If you don't know what a fax modem is, let us save you some research time by telling you that you won't need one.
A fax modem isn't just the end of it. You also need to set up a telephone line that will be connected to the fax machine. We will not even go into the details of getting a fax number from your telephone operator cause you know it as well how troublesome it can be.
This is why you forgo all of these requirements and directly use an online fax service for your Windows computer. By using an online fax service, you wouldn't have to spend a dime on a fax machine, cable, getting a fax number, or even setting up a telephone line.
However, there are many options when it comes to choosing the right online fax service. If you want the best of them, it is better to read this guide. It is created after careful assessment of all the best fax software on the aspects that matter.
Best Fax Apps for Windows 10/8/7
Part 1: CocoFax
If you wish to use a top of the line online fax solution that can handle all your fax needs, whether you are an individual freelancer or run a proper business setup, CocoFax is what you need. You can use it to easily fax from your computer.
CocoFax is the first choice of anyone who is in search of a fast and reliable online fax solution. Once they start using CocoFax, they do not need any other choice at all.
This is because of the amazing premium features offered by CocoFax. You can send unlimited faxes to anyone in the world and receive unlimited faxes from anyone in the world.
CocoFax also offers you a free fax number which you can use for a limited time to send and receive faxes. When you feel like keeping this number, you can upgrade your plan to a premium one.
Here are a few of the things that make CocoFax rank on the top spot on this list:
What Makes CocoFax The Best Fax App For Windows
CocoFax is the most widely used online fax service available on the internet. The reasons for this are plenty:
Web App:
You can use CocoFax without even downloading any extra app on your Windows computer. You just need to login to your CocoFax account through any web browser, and your high end virtual fax machine is ready!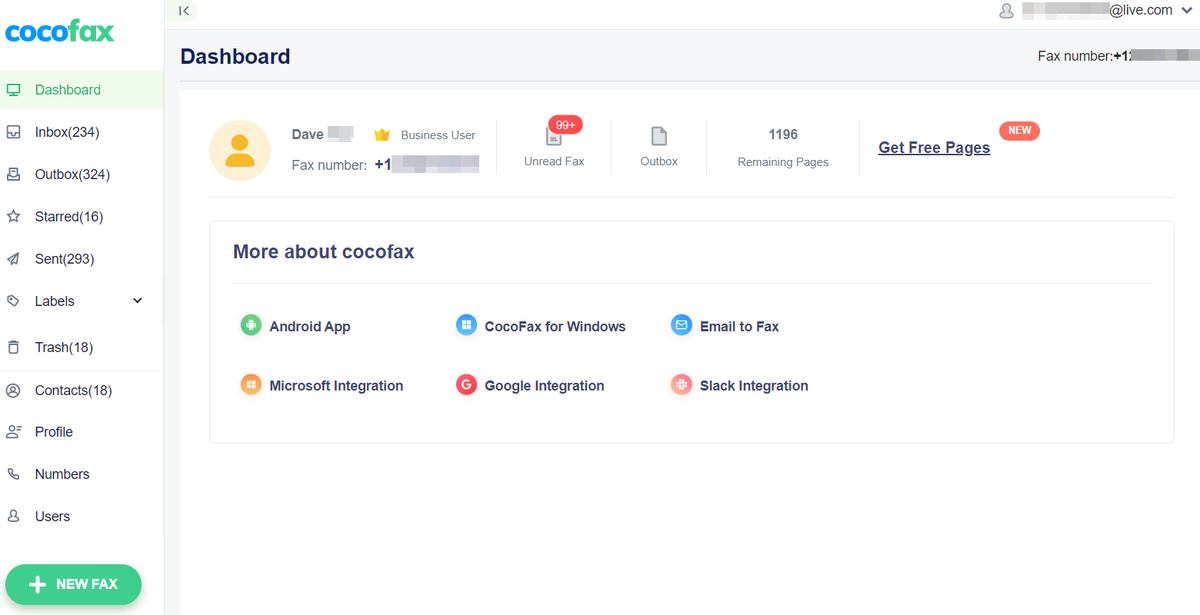 Email to Fax Service
CocoFax offers you email to fax service for your Windows computer. This technology is nothing short of a revolution when it comes to fax.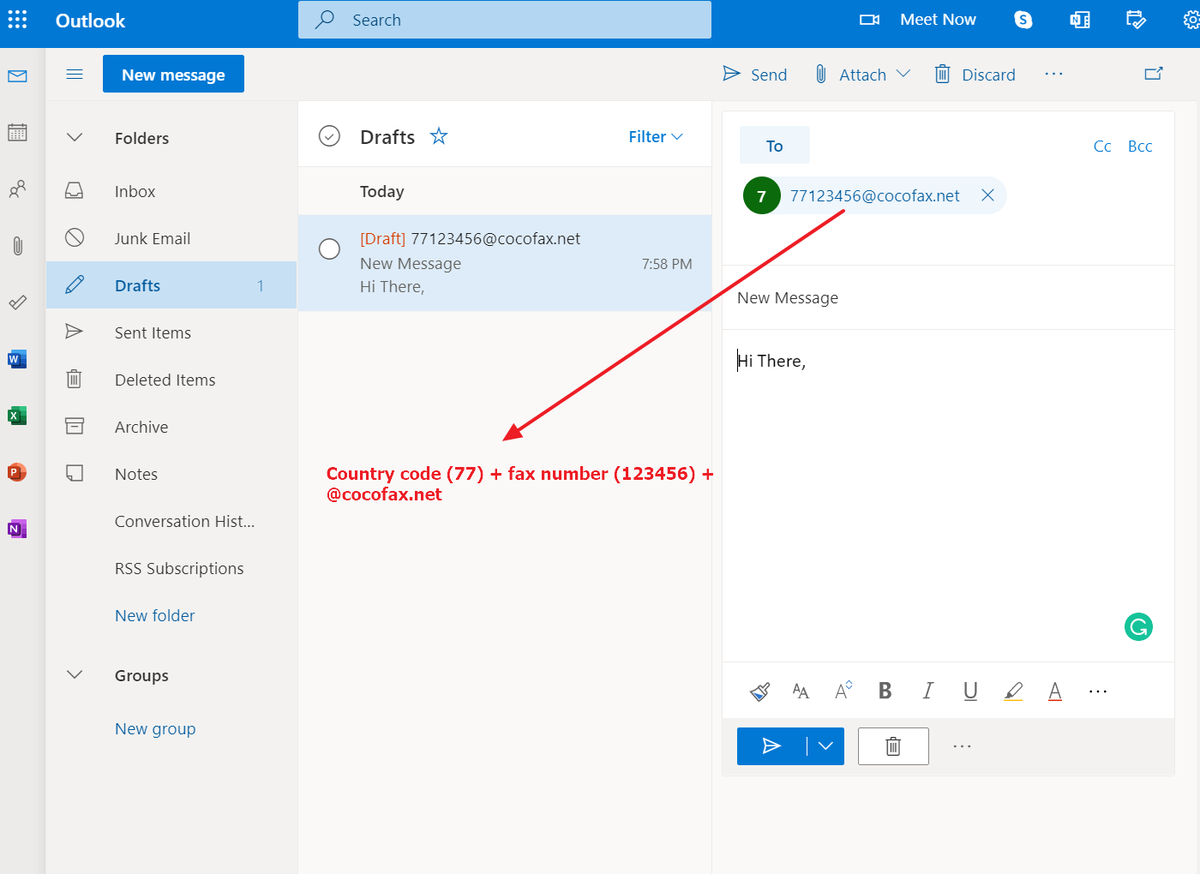 You can use this service to send and receive faxes right from the email dashboard of your Windows computer. The process is very easy and similar to sending and receiving emails.
Delivery Reports and Notifications
With every fax you send, you get a delivery report in your email inbox about whether the fax was sent successfully or not. You even get email notifications when you receive a fax. Further, these notifications are also sent to your CocoFax online dashboard too.
One month Trial Period
You don't have to commit to a CocoFax subscription before you are sure about it. And in order for you to be sure about it, CocoFax offers you a 14-day free trial period. You won't be charged for any faxes that you send or receive within this time period.
You never know how awesome CocoFax is until you see it for yourself. So how about you get a free fax number from CocoFax without even entering your credit card!
Part 2: Venta Fax
Venta Fax designs faxing solutions for computers and answering machine systems. However, unlike CocoFax, you need to have a fax modem if you want to opt for Venta Fax.
That is not the end of it.
While on the first look Venta Fax might seem like an old school or obsolete system, it can meet your fax needs if you meet with its hardware requirements.
Also, you need to be a self starter and dedicate a lot of time in learning Venta Fax. When it comes to ease of use, Venta Fax isn't really what you would call 'easy to use'.
Other than that, it is a workable fax solution and a good fit for people who want to fax using a fax modem.
Also Read: How to Fax from Windows 10
Part 3: Snapfax
Snapfax is a fax solution more suited for a casual user than a professional business one. Snapfax works on the principle that you can click a picture of the document that you wish to fax, and then fax it to any person you choose.
While the app is more suited for users who operate faxing just through their phones, Snapfax can also be used on Windows computers. However, in order to use Snapfax on Windows, you would have to transfer the picture of the document to your computer first.
Don't Miss: 5 Best Fax Apps for Mac
Part 4: RingCentral
RingCentral is a business fax solution which can do more than just fax. In fact, sending and receiving faxes through your Windows computer is a small part of what RingCentral can do.
RingCentral is similar to CocoFax when it comes to features. However, as RingCentral's interests are spread over diverse fields, its reliability is not as much as our top picks.
Further, RingCentral's email to fax solution isn't really as great as a business user would expect it to be. Therefore, while it deserves a spot on the five best fax apps for Windows 10/8/7, it wouldn't get the top spot.
Don't Miss: How to Fax from Mac
Part 5: Sfax
Sfax is another good fax solution for all Windows versions. It offers you to send and receive faxes to anyone without worrying about security.
While the features of Sfax are not as many as the best fax apps for Windows, it is a good option when you are considering a simple online fax solution.
On the pricing front, Sfax can be one of the most expensive faxing apps that you will encounter. This can turn it to be a dealbreaker for a business user who can find the same features for a better price elsewhere.
Endnotes
These fax software can be used on any Windows version, be it Windows 7 or 8 or the latest Windows 10. All you will need is an internet connection for them to work (except for venta fax which still needs a fax modem and a telephone line).
You can weigh these features against each other and choose the fax app that best meets your needs. If you use a Windows computer, faxing is just a few clicks away!