How to Fax From Computer for Free
Sending faxes used to mean a walk down to the office fax machine or a drive to a local business service that would fax for you. Today, multiple online fax solutions offered by CocoFax empower you to exchange faxes anytime, anywhere, among which faxing from a computer is one of the most noteworthy.
Send Fax from Computer Using Web Portal Solution
To fax from computer using CocoFax web portal solution, follow these steps:
Click here to choose a fax number, set your account information, and pay for a preferred plan. Then you will be redirected to the dashboard.
Hit the tab +NEW FAX in the left navigation panel and the Send Fax page will appear.
Navigate to Add Recipient(s) field, and enter the recipient's fax number (Country code + area code + fax number)
Add the targeted file.
Send your fax by simply clicking on the Send Now tab.
Note: Depending on your needs, you can opt to set a fax cover sheet, choose a resolution for your file, and schedule the file to be sent out later, etc.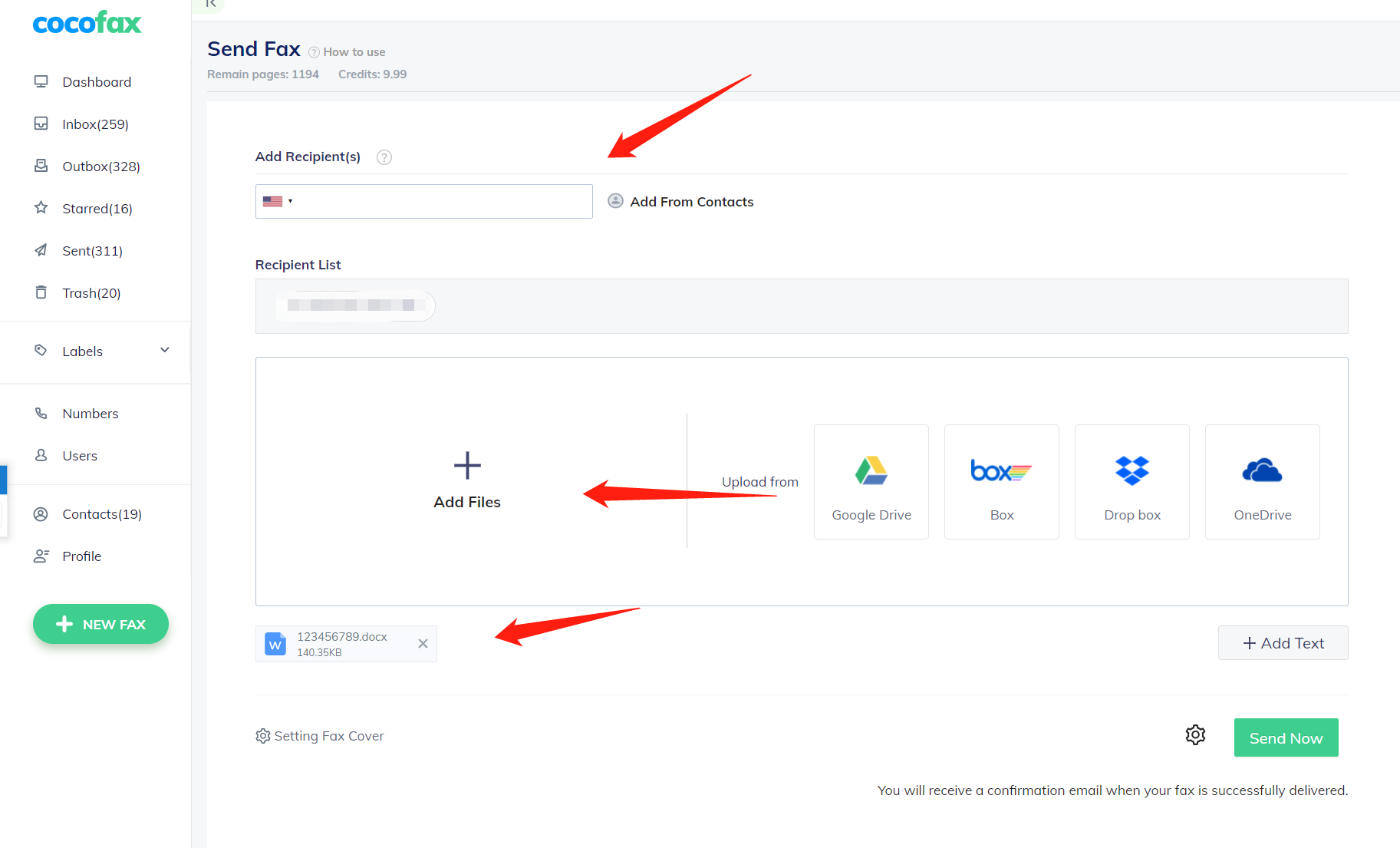 You can also watch the video below:
Send Fax from Gmail(Email)
With CocoFax email to fax feature, you are able to fax right from your email using your smartphone, laptop, or iPad, etc. just within minutes! CocoFax acts as a mediator throughout the process of sending and receiving fax across your email account. This guide will discuss how to fax with Gmail through the internet in detail.
Before getting started, make sure you fulfill the requirements below.
Now, let's dive into it!
Log into your Gmail account with your computer, and click on the big Compose button.
In the TO field, enter the recipient's fax number (Country code+area code+fax [email protected]).
Enter the title and type the main body of the email (optional).
Attach the file you would like to fax from Gmail.
Click on the Send button to send the file out.
See also: How to Send Fax from Gmail
Send Fax from Google Docs
Google fax is a beneficial feature for businesses today since most have switched to Google Docs for their office operations. To integrate CocoFax with Google, you need to download the CocoFax Add-on and install it on your computer in advance.
Here is how you can send faxes with Google Docs:
Open a document in Google Docs.
Go to the Add-ons drop-down, hover over it and click CocoFax to choose Send Fax.
A new pop-up window titled CocoFax is on the right. You'll be required to enter the recipient's fax number (Country code + area code + fax number) and log into your account.
Confirm the information provided and once satisfied, hit Send Fax. Just as simple as that!
Learn more: How to Send Fax from Google Drive
Send Fax from Microsoft Word
As a frequent user of Microsoft Word, without doubt, you will be hugely impressed by the extra ease and convenience of sending faxes straight from it. To start with, click here to install and enable CocoFax add-in on MS Word or Word Online application.
Then let's get started!
Open a Word document ready to be faxed.
Click on the add-in CocoFax on the Home ribbon to show the CocoFax window.
To continue further, put in the recipient fax number (Country code + area code + fax number) and sign in to your existing account.
Hit the Send Fax button and your document will be transmitted immediately.
Learn more: How to Send Fax from Office 365
Send Fax with Windows Software or Mac App
CocoFax also comes with software and app solutions working smoothly in your Windows or Mac system. Get ready to experience the next level of efficiency. To accomplish this, follow the below steps:
Download the Windows software software or Mac app.
Open the software or app and then log into your account.
Hit the +NEW FAX button to start sending your fax.
Enter the recipient's fax number (Country code + area code + fax number)
Add the document you would like to fax.
Hit Send Now. And leave the rest to CocoFax.
Send Fax from Windows PC Using a Fax Modem(Free)
Traditional faxing is still available. Windows computers come with their own built-in faxing programs: Windows Fax and Scan. If your computer is connected to a fax modem, you are able to fax straight from your Windows PC by following the step-by-step guide below.
Locate the search bar in the bottom-left corner of your screen.
Type in Fax and Scan, and then open Windows Fax and Scan.
Click New Fax and choose Connect to a fax modem in the pop-up menu.
Type the recipient's fax number in the Tp field.
Add a subject.
Attach your existing file by clicking the paperclip icon, or type the text of your fax into the main window.
Click Send in the upper-left corner of the New Fax window.
Send Fax from Your Mac Using a Multifunction Printer (Free)
Alternatively, for Apple Mac users, another handy faxing option is also right by your side. Only by having a multifunction printer connected to your Mac, you can send faxes directly from your Mac.
Open the document you would like to fax, then select File > Print.
Click the PDF pop-up menu, and choose Fax PDF.
Click the Printer pop-up menu, and then choose your multifunctional printer.
Type the fax number in the Tofield.
Click Fax.
Benefits Of Using CocoFax To Fax From Your Computer
1. International coverage
CocoFax uses your broadband/ WiFi to send in your fax, this gives you a great advantage to fax your documents internationally at minimum pricing.
2. Flexibility over hardware and software
CocoFax doesn't require any extra equipment to use fax services. All you need is their mobile app and a good internet connection, not even a fax machine!
3. Limitless coverage and range
In the old days, we'd have to wait for the lines to be cleared so that we could connect our fax machines to the telephone servers and send and receive a fax. But with CocoFax, you get to cover any place on earth that has an internet connection and there's no limit to how many you can send!
4. As simple and easy as just writing
CocoFax effortlessly bridges the gap between the digital and the electronic platforms of the fax world to make things as easy and simple as can be.
5. Free local or toll-free number
You can always take advantage of the CocoFax number to meet your email to fax services needs.
6. Cost-effective and secure
The CocoFax cloud servers securely store your documents taking care of your privacy and security and help to fax them at no extra cost!
7. 24/7 customer support
If you ever need help, there's always a team of professionals ready to help out whenever asked.
Other features of CocoFax
1. Freedom of plans
CocoFax offers many accounts of various plans for you to choose the ones that best suit your needs. Plans start from as low as $4.99 a month. And if you are an enterprise, you can negotiate yourself on what would be your ideal package.
2. Mass faxing and high volume faxing
With CocoFax, you can easily fax your documents to multiple recipients at the same time. The enterprise version of CocoFax allows you to send as many documents as you want at the same time to as many people as you need.
The archive folder in your CocoFax account would provide you with details of all ongoing and previously sent faxes easily.
4. Team collaboration
CocoFax allows you to buy additional fax numbers as and when you require and add additional members to your account at no extra cost! Assign as many numbers as you want to a particular member and delegate work in ways best to you.
5. Highly secured platform with app integration
CocoFax uses encryption to safeguard your files and documents and it easily integrates itself with other apps to make fax sending as easy as possible.
6. Fax number porting
Even if you already have fax with you, you can easily port to CocoFax almost instantaneously and enjoy all features that come with CocoFax.
Conclusion
CocoFax does all the heavy lifting from the time you hit send till the time your fax is received so that you can concentrate on other important things in your work. It is the perfect tool for your fax needs.