How To Send And Receive Fax from iPhone?
One can now easily send faxes from their iPhone with the help of third-party online fax services. These services make integration between the iPhone and fax smoother and easier than ever. Since faxing documents means protecting their confidentiality, you should choose a trusted online fax service for sending or receiving your fax from your iPhone.
Here is how you can send and receive faxes from your phone using CocoFax, a trusted online fax service.
Sending Fax On iPhone Using CocoFax
There are multiple ways to send faxes with an iPhone. All are simple and easy.
Method 1: Turning iPhone into a fax machine
CocoFax allows users to send and receive faxes from any smartphone and computer device by turning them into a fax machine.
For this, you need to have an internet connection on your iPhone, an account on CocoFax, and a fax number.
CocoFax allows users to generate their own fax number after registering on CocoFax.
Step 1: Using iPhone's web browser to send a fax
For this, firstly go to your CocoFax account from the iPhone's web browser. CocoFax also allows users to use the service for free for 14 days. During CocoFax account creation, you will be asked to choose a fax number as well.
Once you have the fax number, go to your CocoFax's account dashboard. Go to 'Send Fax' on your dashboard found on the right corner of the screen.
A new screen will open where you need to fill in the details of the recipient to send fax.
In the 'To' field, enter the fax number of the recipient.
You can also add a cover page and note to your fax. The cover page acts as the first page of your fax. Now, upload the fax document you would like to send using various options.
Step 2: Finally click on 'Send Fax' to send a fax.
You will get a confirmation message in the dashboard's inbox once the fax is delivered.
Method 2: Using your email to send faxes from iPhone
You need an iPhone and a working email address to send faxes through email. You also need to have an account on CocoFax registered with the same email address as you will be sending a fax from.
Step 1: Access your email client on iPhone
Open the email client be it Gmail, Yahoo, or any other email client you use on your iPhone. You can have the app installed or open it through the browser.
Step 2: Create a new mail
Now, go to the option that creates a new email. You need to fill in the required fields.
In the 'To' section, enter the receiver's fax number followed by @cocofax.net.
In the 'subject' field, add any note you want to add to your fax.
You can leave the email body empty or use it as the cover page of the fax. Attach the document you want to send and click on Send.
Step 3: Wait for confirmation
On clicking Send, CocoFax will communicate with the recipient's fax machine. It will notify you through your email inbox.
If the receiver doesn't receive the fax it is mostly because of any fault at your end. The probable reasons could be the fax machine is turned off, it is busy or you entered the fax machine number wrong.
Method 3: Using faxing app to send fax from iPhone
Download a free faxing app like CocoFax on your iPhone. Use this app to send the fax by following the in-prompt instructions.
Receiving fax on iPhone using CocoFax
Just like sending faxes through CocoFax on iPhone, you can also receive faxes.
Receiving faxes is easier than sending them. You can see the received fax on iPhone by opening your account on CocoFax either on the browser or through the CocoFax app. You need to visit your dashboard.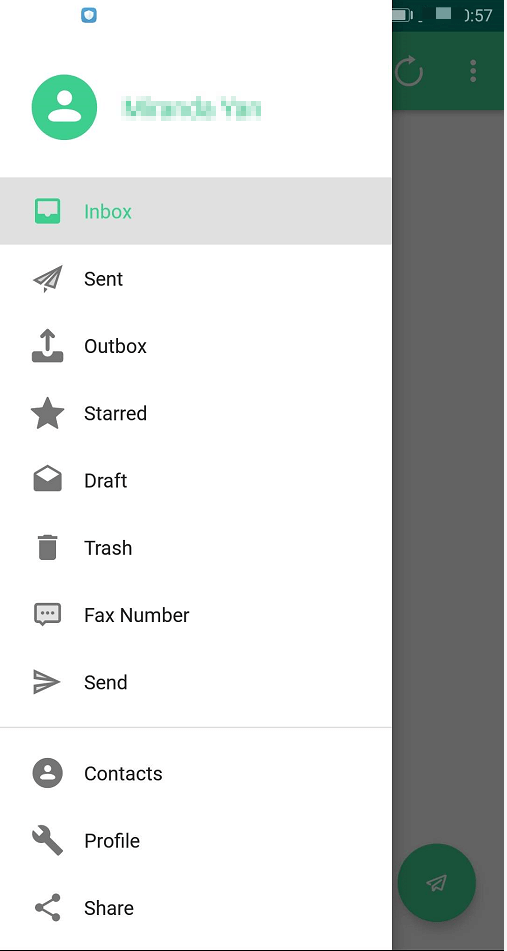 In the left menu bar of the dashboard, you will find the 'Inbox' folder. Any fax you receive will be visible here. You can still receive your fax even if your iPhone is switched off or not connected to the internet.
You can also receive faxes by Gmail. CocoFax sends the received faxes to the email address you registered with on CocoFax. You can access it like any ordinary email.