Integrate CocoFax into your business system
Faxing over the internet, especially with CocoFax, helps in the proper management and organization of faxes for audit logs or documentation for tax procedures. It is also a safe haven for documents that should be kept confidential.
Centralized fax management
Sending faxes to multiple recipients.
Explore more features of CocoFax
Set fax cover sheet,

retry times, sending time, fax quality

.

Blacklist spam faxes

to enhance communication efficiency.
All faxes and contacts are

searchable

and can be

set in order

.
Port your existing fax number onto CocoFax for free.
Receive notifications of faxes being sent or received via

email

,

Slack

or

SMS

.
Integrate with Google and

automatically store sent and received faxes

into Google Drive.
Fax internationally to 100+ countries.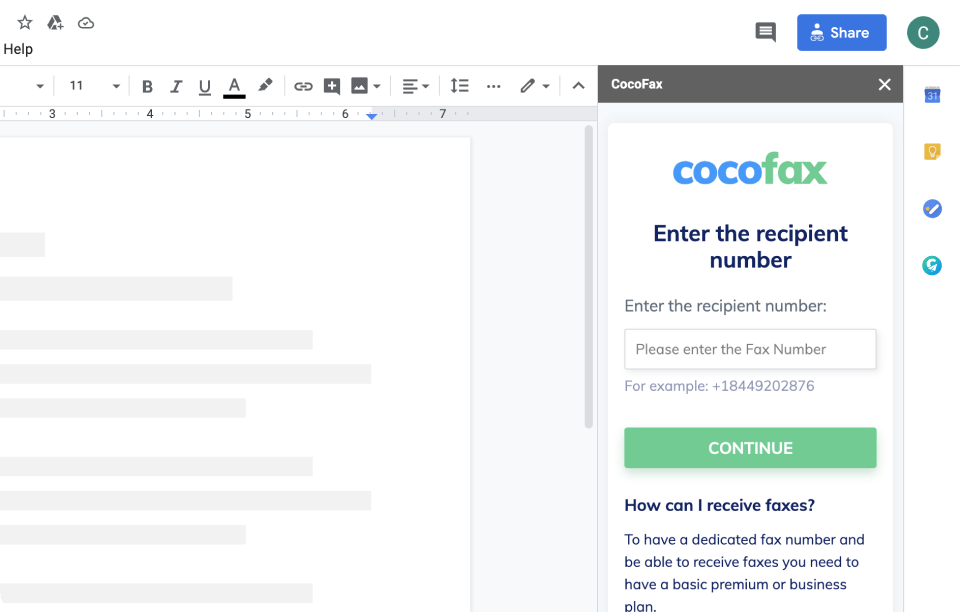 Connect CocoFax to Your Apps
Every business can integrate CocoFax within its Google, Microsoft and Slack workflow to achieve closer collaboration regardless of sector, size or budget plan. It not only enhances faxing efficiency but also eliminates the extra costs and risks that often come from using a fax machine.
Browse integrations
Connect with CocoFax API
CocoFax API solution is designed to cater for industries that fax heavily and need strong data encryption as well as high efficiency. You can fax your email right from your EHR, ERP or CRM application via our fax API. Consequently, it is easily customizable and doesn't require an on-site fax infrastructure.
Check CocoFax API