How to Fax From Google Drive
Google Drive is an immensely popular cloud-based storage service for saving documents. It is used by individuals, businesses and enterprises alike to meet their file storage, sharing and collaboration needs. At the same time, several industries and business still rely on the hard copy of documents which is sent or received a fax.
You can align your operations to meet the classic business needs while embracing the latest technologies at the same time. In this way, you can move ahead of your competition by acquiring the benefits offered by the latest technology.
CocoFax will assist you to comfortably fax documents right from your Google Drive.
In this post, we are going to explain different options to send your Google Drive documents as Fax. The first option is to fax your documents straight from the CocoFax dashboard. The second option is to attach documents from Google Drive in the email and fax them. The last choice is to use the drive itself to fax a file using Google Drive add-on.
Also Read: Google Fax: How to Fax with Google Free Online
Option 1: Send Google Drive Documents straight from CocoFax Dashboard
What is CocoFax?
CocoFax is the world's #1 online fax service provider for over 5 years. It has been successfully serving people across the globe in over 190 countries.
Sign up for CocoFax today to send and receive fax documents on the go. The premium features of CocoFax include free mobile fax app, toll-free numbers, and local phone numbers.
Getting started with CocoFax is a matter of a few minutes. There is no hefty software installation or complex hardware involved. It is a simple cloud-based service that can be accessed from any web browser via any device.
CocoFax welcomes you by offering a Free Fax Number instantly, as soon as you subscribe by entering your email address.
Moreover, you can enjoy sending and receiving fax online with a CocoFax Free 14-day trial. Note that you would not be charged for the first 14-days of use. Furthermore, you can cancel the subscription anytime.
Let's tell you something very satisfying about CocoFax! Over the years, CocoFax has successfully transmitted fax to the destination. If a transition failed, the reason would be either a busy signal, turned off fax machine at the recipient's end or an incorrect recipient's fax number. Theoretically speaking, there will be no fault at CocoFax end.
So, what are you waiting for? Click here to start using your 14-day free trial now!
Fax Google Drive Document from CocoFax
Here's how you can fax a Google Drive document through CocoFax.
Step 1: Get a Free CocoFax Fax Number
Get your 14-day free trial of CocoFax.
Choose your free fax number.
Enter your details.
Choose a suitable purchase plan and make payment.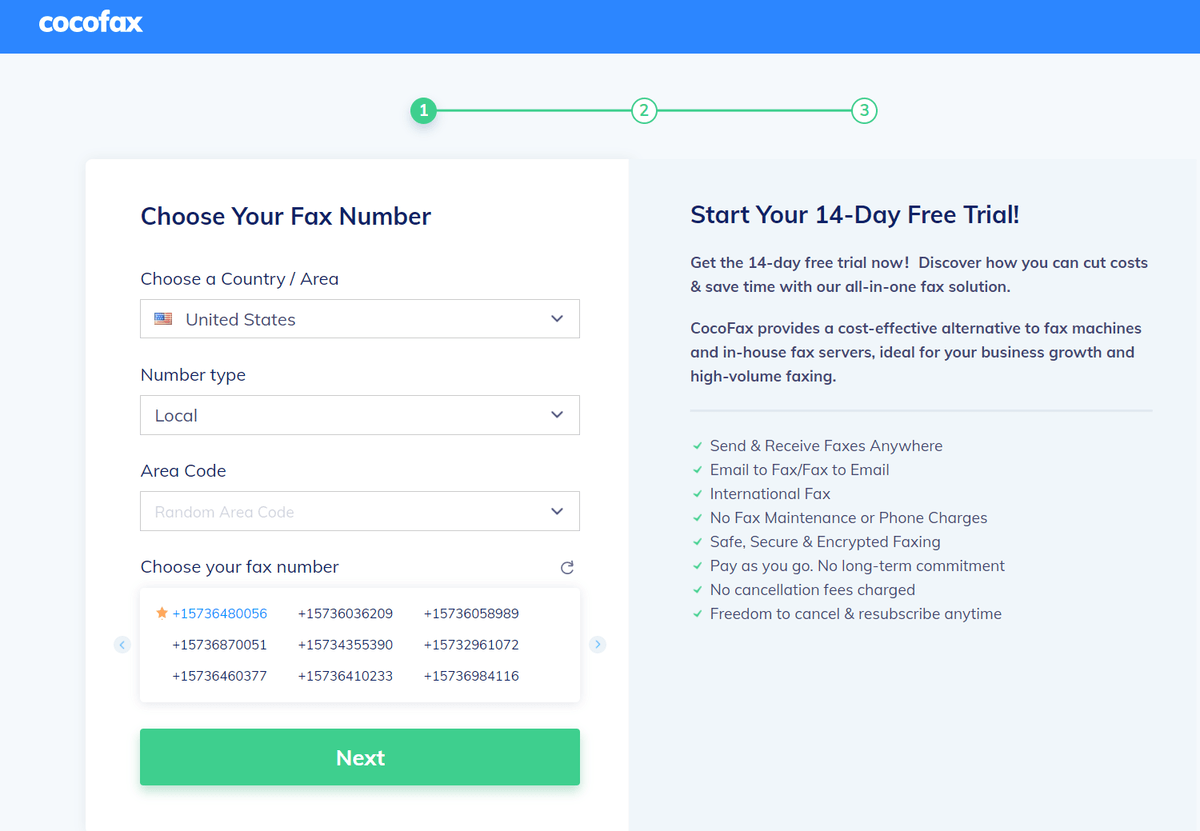 Step 2: Send Fax from CocoFax Dashboard
After verifying the email address, go back to CocoFax Dashboard.
Click New Fax> pop up window opens up.
In the 'To' field, enter the recipient's fax number e.g. 75444684521
Type in an appropriate message in the 'Cover Letter' field.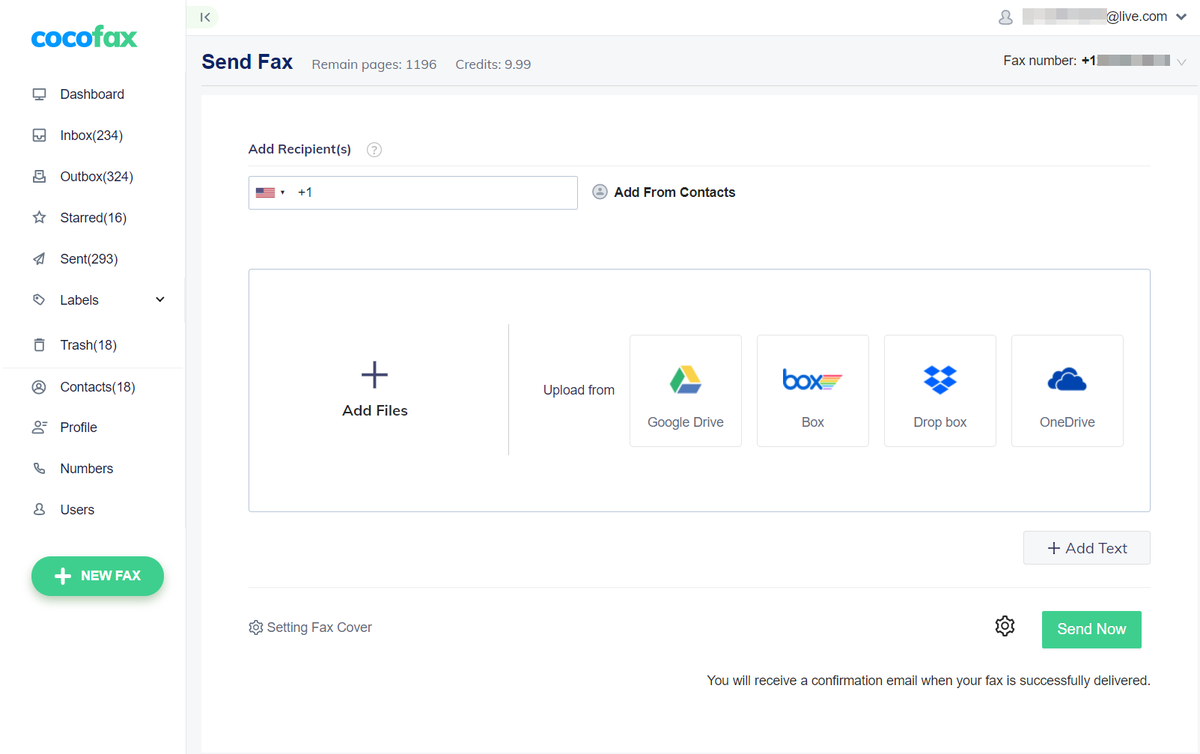 Step 3: Attach Files from Google Drive
You can add attachments.
In the browse file dialog, you can see different options.
Click 'Google Drive'.
Select the documents to be attached.
When attached, hit 'Send'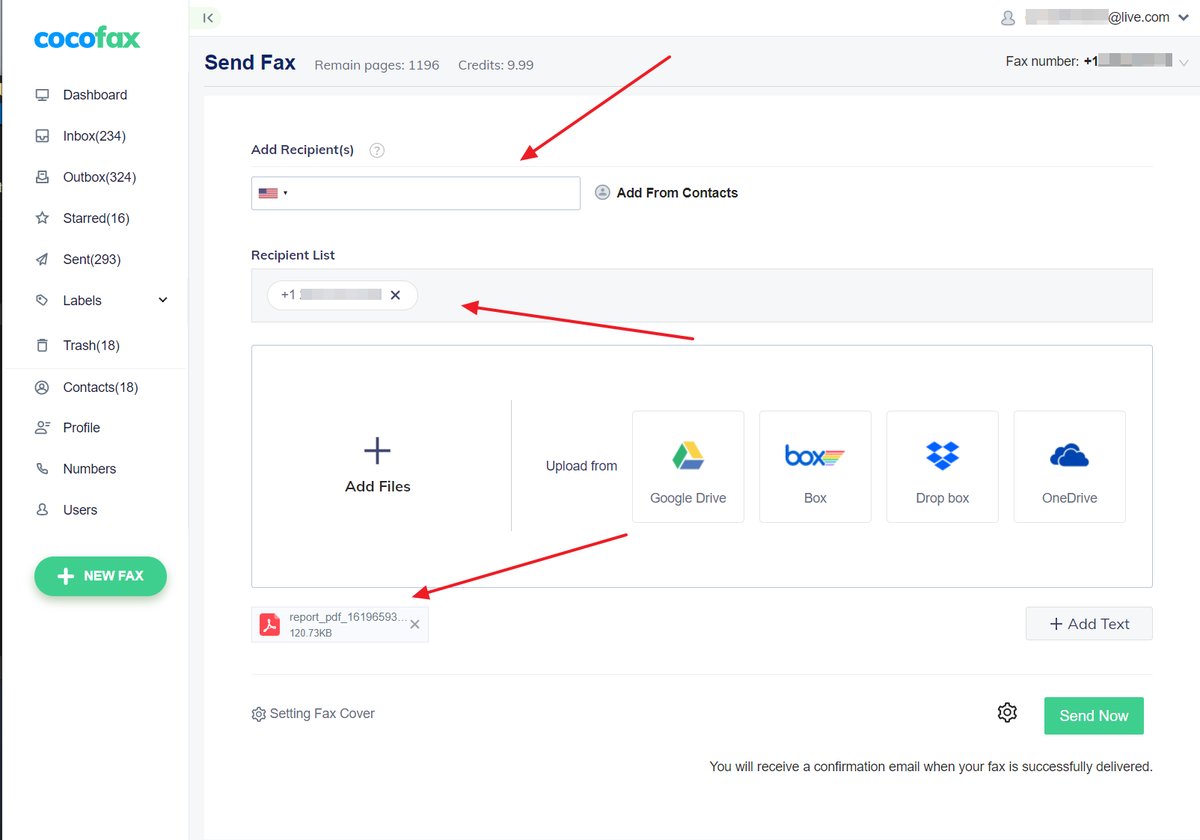 Step 4: See Confirmation Email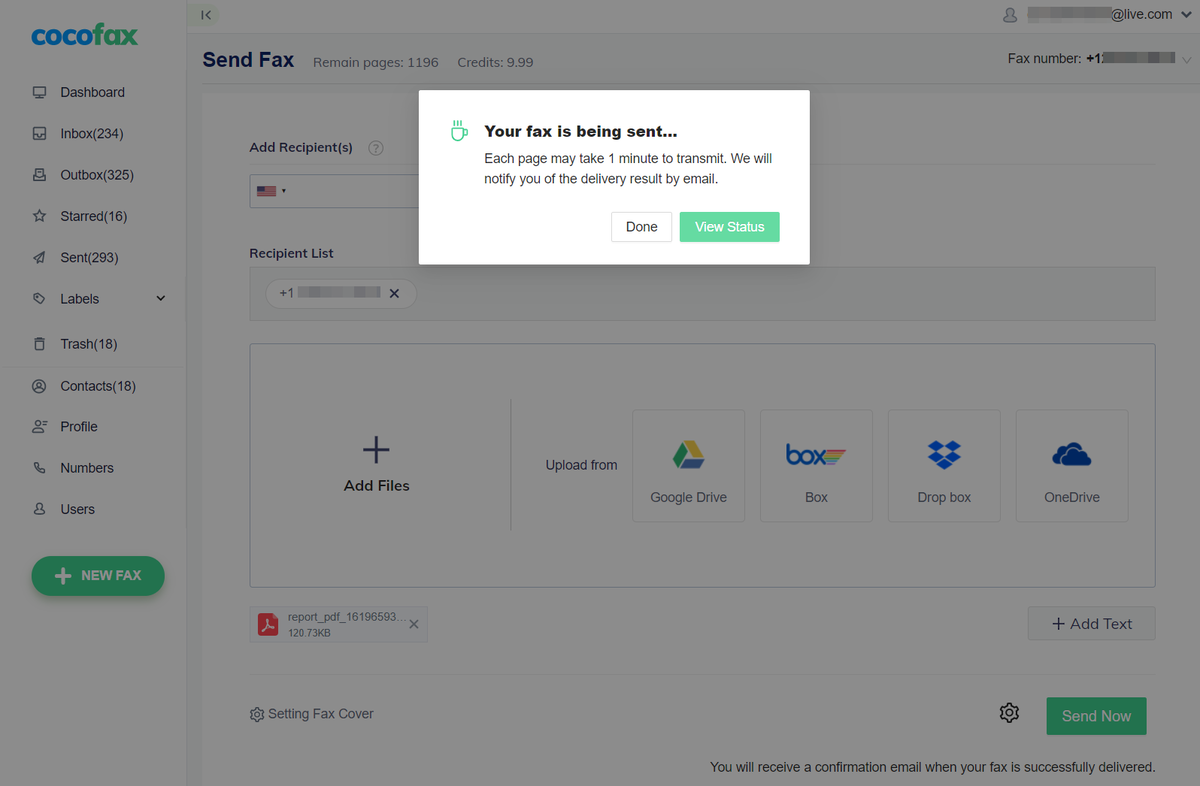 A confirmation email is sent to your email address informing you that the fax has been transmitted successfully.
Can't Miss: How to Receive Fax to Gmail
Option 2: Send Google Drive Documents from your Email Address
Another option is to send the Google Drive document from your email client. The process is a bit longer as compared to sending a fax directly from CocoFax Dashboard.
Prerequisite
ou have subscribed to a CocoFax account.
Step 1: Compose email from your Email Account
Open your email account say Gmail.
Note that you need to use the email address which is associated with the CocoFax account.
Click 'Compose' email.
In the 'To' field, enter the Recipient's fax number followed by CocoFax's unique email address i.e.[email protected]
In the Subject field, enter an appropriate subject.
Type in an appropriate message in the 'Cover Letter' field.
Step 2: Attach Files from Google Drive
Click on the 'Plus' sign to add attachments.
In the browse file dialog, you can see different options.
Click 'Google Drive'.
Select the documents to be attached.
When attached, hit 'Send'.
You May Like: How to Send Fax from Gmail
Option 3: Use CocoFax Google Drive add-on to Send Fax Documents
The last option is to use the CocoFax Add-on for Google Drive. You need to follow the below steps
Step 1: Get a CocoFax Account
Sign up for a free CocoFax account with your Gmail account.
Note that you can send Google Drive documents that are associated with this Gmail account only.
Step 2: Get CocoFax Add on
Log in to the Gmail account (which is associated with CocoFax).
Open Google Drive.
Open the document that you want to fax.
Go to Add-ons in the Menu Bar.
Search for the CocoFax Add-on.
Select 'Cocofax Add-on'.
Click Install.
Complete installation by granting it required permissions.
The computer can only send and receive faxes via telephone and not via an internet connection.
To send a fax, the device must always be on and connected to an active telephone line
A fax machine or multifunction printer with 'wireless' does not allow you to send and receive faxes without a phone line. Instead, it only means that the printer and computer can communicate wirelessly.
Step 3: Fax Google Drive Document
Now, you can select the CocoFax Add-on and use it.
In the menu bar, click on the Add-on > CocoFax> Send Fax.
Hint: Another way is to right-click on the document. Select Open With CocoFax. > CocoFax menu will appear on the right side.
Enter the recipient's details.
In the 'To' field, enter the recipient's fax number, say 76434554678
You can also enter a text as a cover letter.
Hit 'Send' to fax the document.
That's it. In this post, you have seen how easy it is to fax documents of Google Drive. Instead of setting up the complex fax machinery, you can simply get a Free Fax number using CocoFax services. CocoFax provides you three options to send faxes; choose the one that you find easiest and feasible to fax from Google Drive.