Best Fax App for Mac
Earlier, you could conveniently fax from your Mac with Apple's dedicated fax modem. However, as of Lion (OS X 10.7), that's no longer possible. Fortunately, you can still quickly and conveniently fax from your Mac with the assistance of a third-party, dedicated Mac fax app – such as CocoFax.
Below, we explain the ins and outs of Mac faxing. We'll walk you through the process of faxing with the CocoFax app and also offer some clarifications at the end. Note that if you use CocoFax for Mac, you don't need a fax machine, just an internet connection.
CocoFax: Best-in-Class Features for Mac Fax App
CocoFax is suitable for both personal and business use. It comes with several handy features and is generally designed to be easy to use and flexible.
1. Lightning-quick faxing: Your time is valuable, and CocoFax saves you a great deal. You can send out faxes through the app dashboard in quick time. It's as easy as sending out an email. CocoFax's servers do all the heavy lifting, including converting your docs to fax format.
2. Tailored fax options: The CocoFax Mac app comes with several quality-of-life features. You can schedule faxes to be sent at a particular time and date in the future. You can have the software auto-retry after failed faxes. You can even send out professional-looking faxes with template options.
3. Email notifications: CocoFax will send relevant notifications to your email when you send or receive faxes. This means you don't need to stay logged into your dashboard all the time. You won't miss out on an important fax ever. You can choose to toggle the notifications on/off.
4. Business-ready functions: CocoFax can be integrated into your business workflow. The app offers multiple business features for enterprise users such as mass faxing, multiple fax numbers, team member collaboration, central administration, metered consumption, and dedicated support.
5. Integration with popular apps: Would you like to fax from within a popular app you use for your work – like Gmail, Google Sheets, or Slack? The CocoFax plug-in can be integrated into all these apps. You can fax documents with a single click.
6. Email to fax: You can turn your email into a faxing hub with CocoFax. Instead of sending faxes from the dedicated Mac app, you could do it from your everyday use email account instead! You can enjoy the same features and it's just like sending emails.
How to Fax From Your Mac via the Dedicated CocoFax Mac App
CocoFax offers a dedicated app for Mac devices. You will need to download and install this app on your device to begin faxing. See step-by-step instructions below:
Step 1: Download the CocoFax app for Mac on the official webpage.
Step 2: Click on the downloaded file and follow the installation instructions. Before you are ready to begin faxing, you will need to sign up for a CocoFax subscription. You'll be asked to provide some basic details and email ID. You can choose a unique fax number when signing up.
Step 3: You'll be taken to the CocoFax dashboard once you've signed up successfully. The dashboard is where you can send and receive faxes. It's a lot like sending emails. Just click on "New Fax" when you're ready to begin.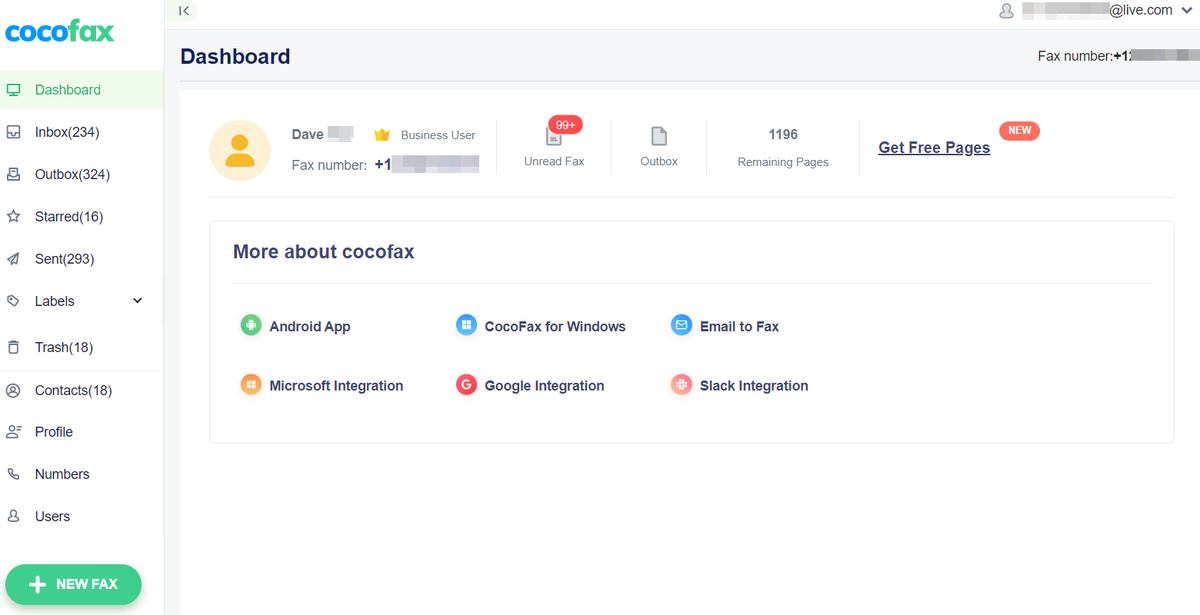 Step 4: Add the recipient's fax number in the address field. You have to affix the country code to it. This applies even if you're sending a fax locally, to your own country.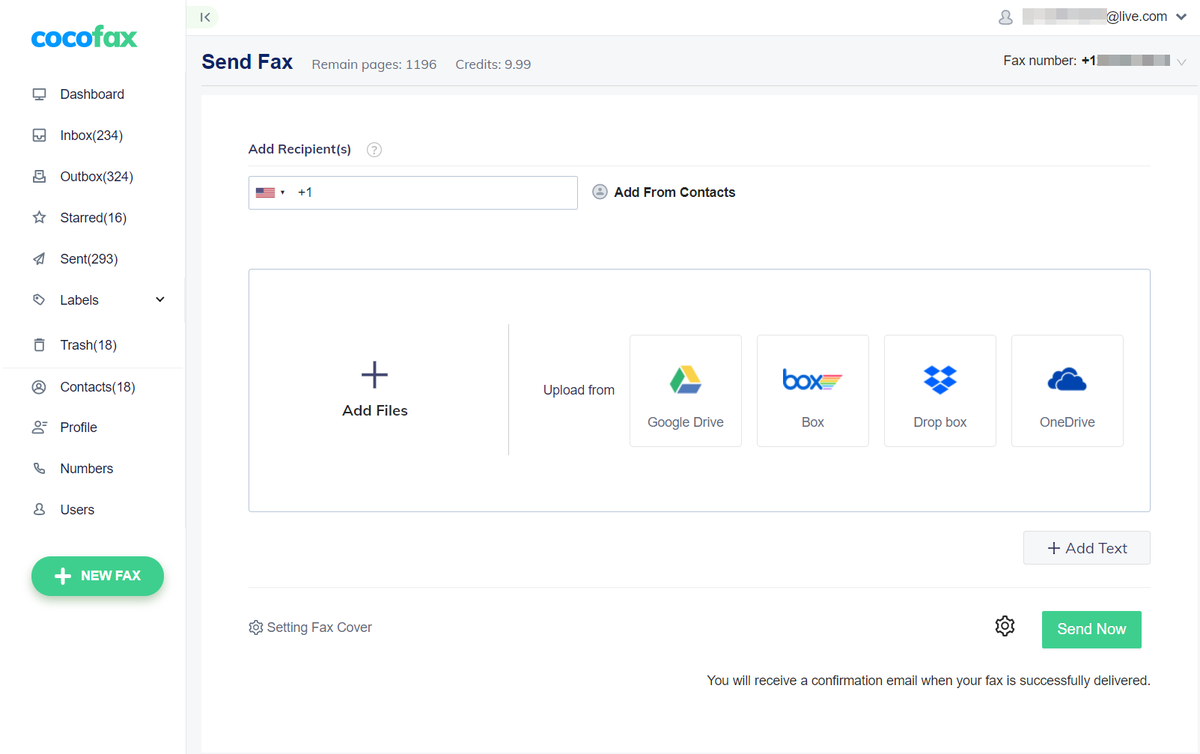 For example, if you are sending a fax from the U.S. to the U.S., you will need to add "+1" before the recipient's number. If their number is "999 999 9999", you send a fax to "+1 999 999 9999". Also, country codes can be popped up by clicking on the flag icon to the left. You can scroll down the list to find yours.
Step 5: Upload the files you wish to fax from your computer or smartphone or a supported app like Google Drive, Dropbox, or One Drive.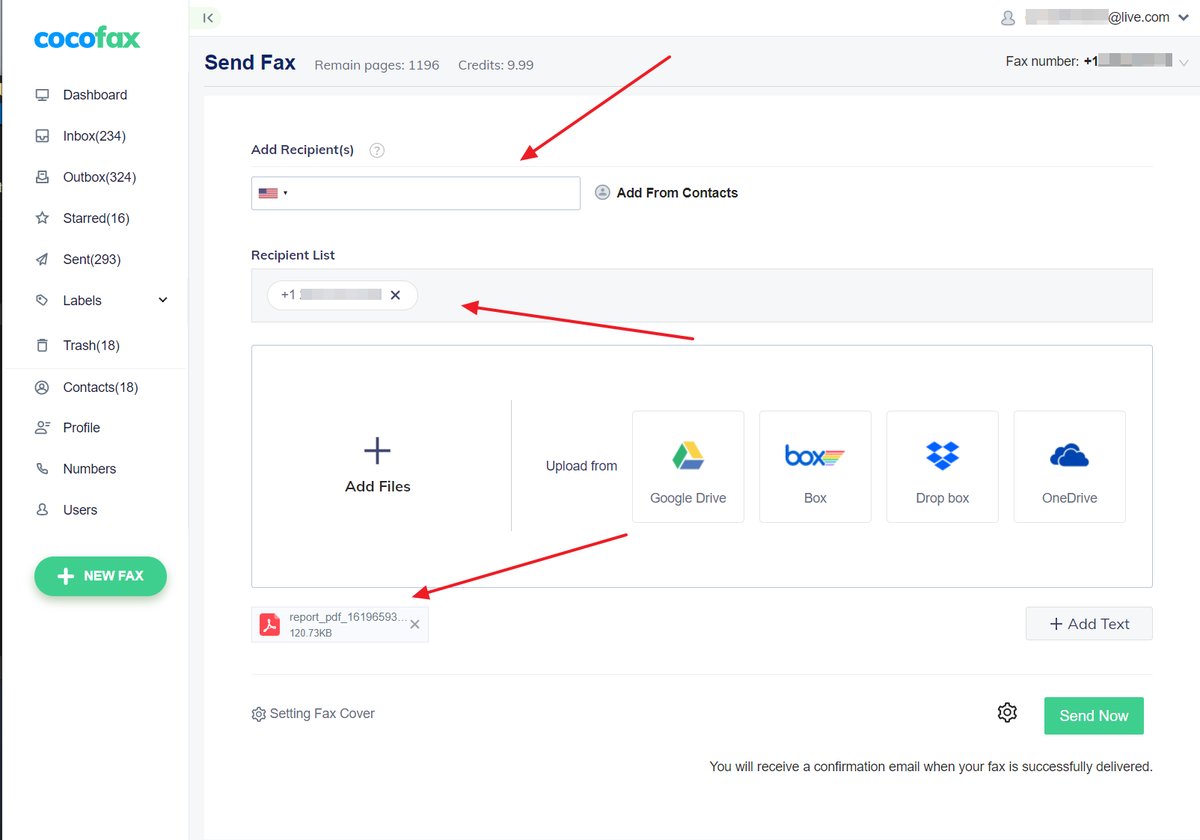 Step 6: You can choose to add a message to the recipient along with the files. Just click on "Add Text" and type in your message. After that, click on Send to dispatch your fax.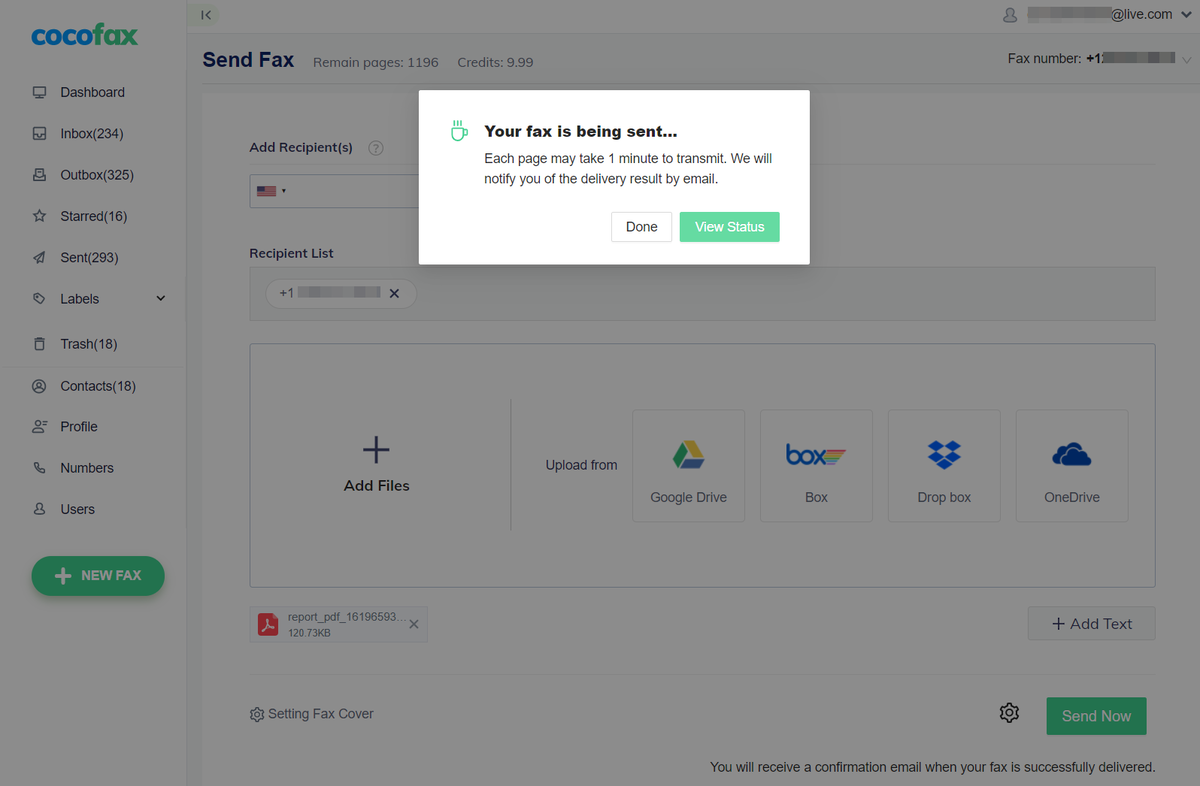 Mac Fax: Essential Information
1. Do I really need an app to fax from my Mac?
No, you don't, but it's still the most convenient option. If you don't want to download and install an app, you can optionally fax from within your web browser or existing email account with CocoFax. CocoFax has a browser-based version that you can access from Safari or other Mac-compatible browsers.
2. How do I receive a fax on my Mac?
You can receive a fax on your Mac if you've downloaded the CocoFax app. Essentially, if you have a CocoFax account, CocoFax will automatically convert incoming faxes into digital format and send them to your dashboard. You will receive a notification from the app. It's just like receiving an email. Note that you can also receive notification on your registered email account with CocoFax.
3. Is it safe for me to fax from my Mac via an app?
Yes, but we can only speak for CocoFax. Our app is a private solution that's HIPAA-compliant. Your faxes are only readable by the recipient, no one else. We run a tight ship, security wise, and our servers are well-protected with safeguards like encryption.
4. Is there a built-in way to fax from my Mac (like I can on Windows)?
No, there isn't. Apple used to have a fax utility on Mac. However, it has removed support for it on modern operating systems. That means you can't fax on Mac from a multifunction printer or attached modem. If you own an old Mac – El Capitan and lower – you may be able to fax with Apple's built-in utility.
5. Is it expensive to use an app to fax from my Mac?
Not really. You will need a monthly subscription to use CocoFax but it beats paying for a fax machine and phone line, and also arranging supplies like paper and toner. CocoFax offers a very reasonable rate, and you can fax internationally as well as locally in a secure, seamless way.
Conclusion
You can quickly, conveniently, and – most importantly – affordably fax from Mac devices with the CocoFax app. The dedicated app offers several useful features for individual and business use. You can dispense with fax machines and expensive associated maintenance.