Feature-rich Solution
Keeping School Info Safe
CocoFax's top priority is data security. Turn on CocoFax two-factor authentication to protect your students' data and avoid data breaches.
Enhance Collaboration
CocoFax's email to fax technology enables school faculty and students to send and receive faxes using Gmail, Yahoo, Outlook, etc.
Fax from Phone
CocoFax mobile applications eliminate the need for a fax machine and guarantee convenient faxing with a single click on your phone.
Local and Toll-free Fax Number
Say goodbye to long-distance phone charges and dedicated fax telephone lines and enjoy the freedom to choose a free fax number at CocoFax.
Access to Students Files
CocoFax lifetime storage and searchable faxes make it easier to retrieve sent and received faxes for reference and auditing.
Easy Team Management
Keep your school running by managing team members, assigning fax numbers, supervising fax delivery, and disabling members via the admin panel.
CocoFax offers customizable fax solutions that may meet the needs of any size school. Faculty members can easily send and receive important faxes on their computers or cell phones.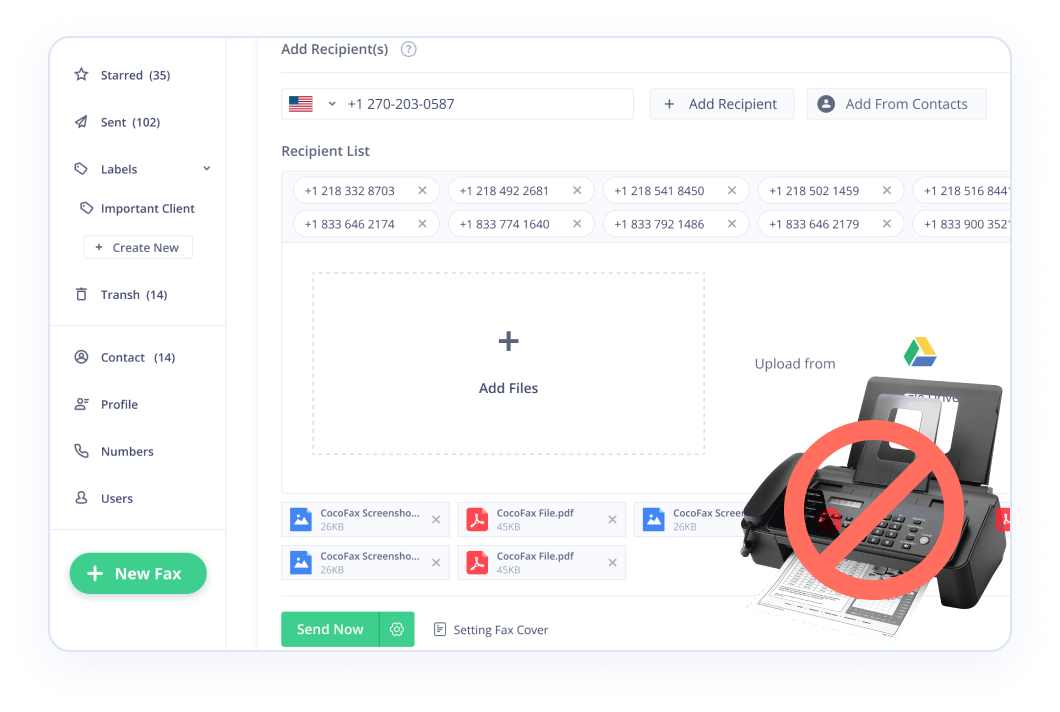 Reduce Cost and Eliminate Traditional Fax Hassles
CocoFax removes the need for fax maintenance, paper, ink, toner, repairs, telephone lines, long-distance phone charges, and any associated expenses. By sending faxes from your computers, you're one step closer to creating a paperless office.
Improves Productivity by Lessening Admin Load
Using CocoFax, administrators and instructors can receive email notifications when faxes arrive and retrieve fax documents from anywhere, at any time, reducing the amount of time spent on paperwork.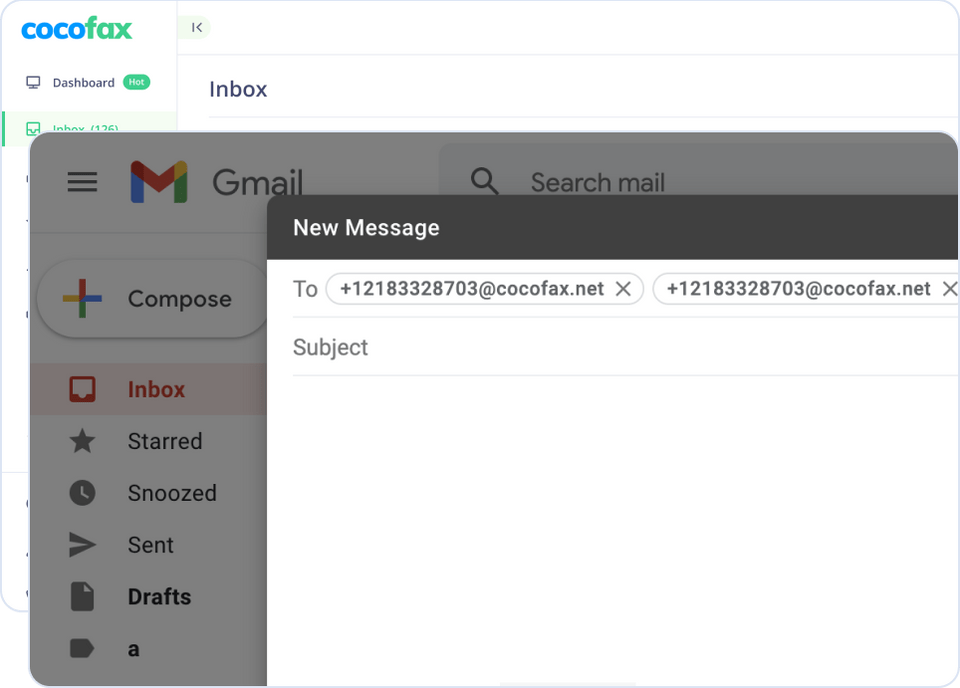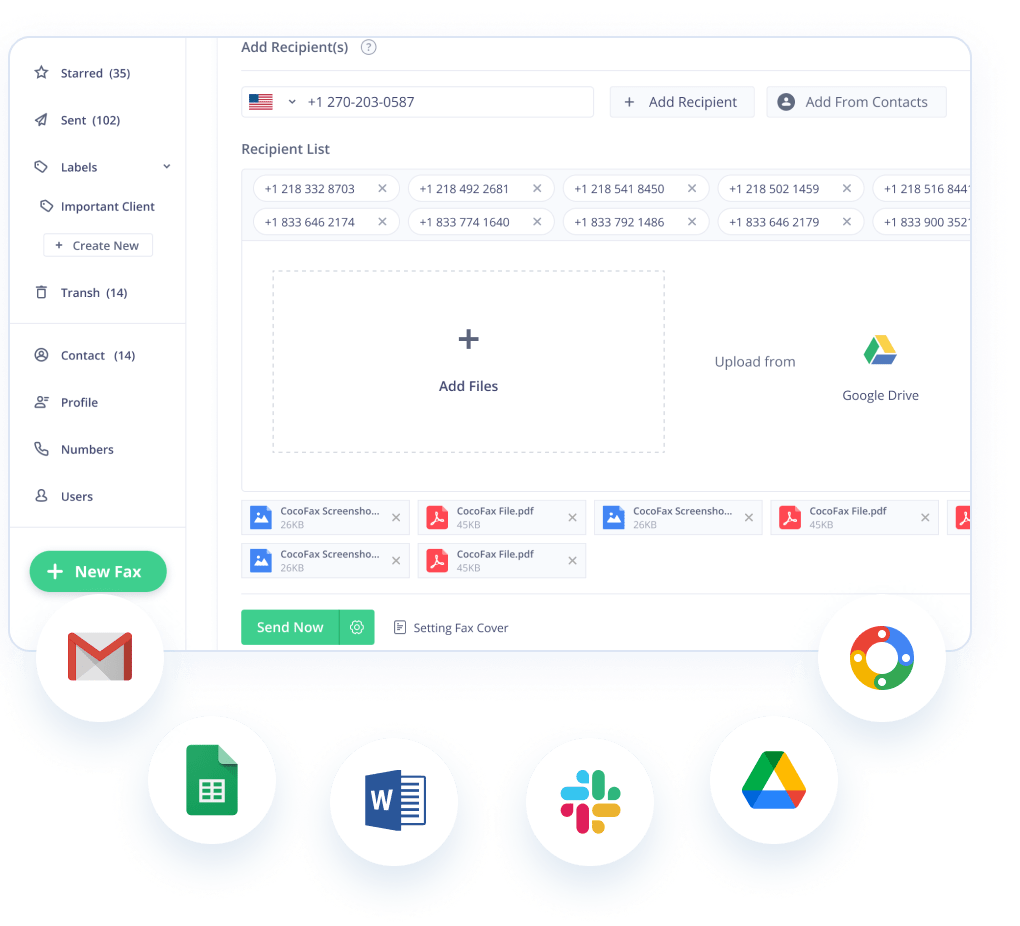 Optimize Staff Efficiency with Reduced Workflow
Integrate CocoFax with the school-enterprise system, Microsoft, Google for efficient fax management and documentation. Your members of staff won't need to jump between different applications to send their faxes. Instead, they're able to send faxes merely using Google Docs or Word.
HIPAA-Compliant Fax Service that Outdoes Other Alternatives
Protect all students' data through trusted encryption and security measures offered by CocoFax. Archive the faxes in the cloud and streamlines workflow, sparing time for lesson planning.
Online Fax Service that Ranks Against Others in Affordability
CocoFax provides more cost-efficient plans compared to its alternatives.
| Features | | | | |
| --- | --- | --- | --- | --- |
| Fax Pages Per Month | 60 | 100 | 150 | 300 |
| Entry Level Price Per Month | $7.99 | $5.99 | $16.95 | $9.99 |
| Custom (Vanity) Fax Number Fee | $0 | $19.99-$29.99 | $0 | $0 |
| Setup Fee | Free | Free | $10 | Free |
| Total Fee Per Month | $7.99 | $26-$36 | $26.95 | $9.99 |
| Cost Per Additional Page | $0.05 - $0.2 | $0.03 - $0.2 | $0.10 | $0.05 |
Save Time with Online Faxing
Be more efficient and productive than ever with CocoFax. The tool allows you to send and receive faxes online via Gmail. Try it right now.
Start Faxing