How to Fax from Office 365
Office 365 is one of the latest office utility tools offered by Microsoft. There are over 60 million active monthly users of Office 365. However, I doubt if any one of them know how to fax from Office 365. In fact, there is rarely any user who would know that it is even possible.
If you are an Office 365 user who loves fax as their preferred method of communication, today is your lucky day. I will teach you a way through which you can send and receive fax through Office 365.
Not only is this method simple and easy, but it doesn't even require you to invest in any fax machine or even a fax modem. Read on to find out more about it:
Part 1: How to Send a Fax from Office 365
Office 365 fax services is not a part of the office suite by default, therefore most users are unable to use this feature. While there are expensive workarounds for this (like investing in a costly fax modem) to make it work for you, we will tell you about a method that doesn't require any investment at all!
Once you know about this method, there is nothing that will stop you from using it. If you have always loved faxes but never tried using it yourself, this method is going to be the easiest for you there can be.
And if you are a fax pro who has been sending and receiving faxes for years, you will find that this method is better than any you have ever used in your life.
So without further ado, here it goes:
1.1 CocoFax - Fax Anywhere, Anyone, Anytime
CocoFax is a fax service provider that you can use to send and receive faxes to any fax number all over the world. With years of experience in the field, it serves millions of users all over the world in their fax assistance. In fact, the biggest media outlets out there like Forbes and PCMag also love reviewing CocoFax, and it is always in good light!
Why Do You Need CocoFax?
Faxes operate on electronic lines (the same as telephones do). However, your computer or phone system that runs Office 365 operates on a digital platform. Therefore, these electronic and digital platforms cannot interact with each other naturally.
For this purpose, you need a third party fax app like CocoFax to make that happen. CocoFax translates the digital platform to something a fax can understand, and the electronic platform to something your computer or smartphone would understand.
This is why you need a third party app like CocoFax to make that happen. It saves you the trouble of getting expensive hardware to act as a translator between the two mediums.
Also, not to forget that the security that CocoFax offers is second to none. Someone might read the faxes you receive on your fax machine since it is just open paper.
However, no one would be able to read the faxes on your CocoFax account since they would be password protected.
There are other innumerable advantages too. However, we would leave it up to you to explore them all.
Requirements for Using Fax on Office 365
In order to fax through Office 365, you might be having all the things you need already, except for maybe one. The things you would need include:
Internet Enabled Device
Firstly, you need a device like a computer or a phone that is connected to the internet. Also, you should make sure that Office 365 is compatible with the device.
Office 365:
You also need a working copy of Office 365 installed on the device that you are going to use to send and receive the faxes.
CocoFax Account
You will need to make a CocoFax account to be able to fax through Office 365. Don't worry, you can get a 14 day free trial account before you get its subscription.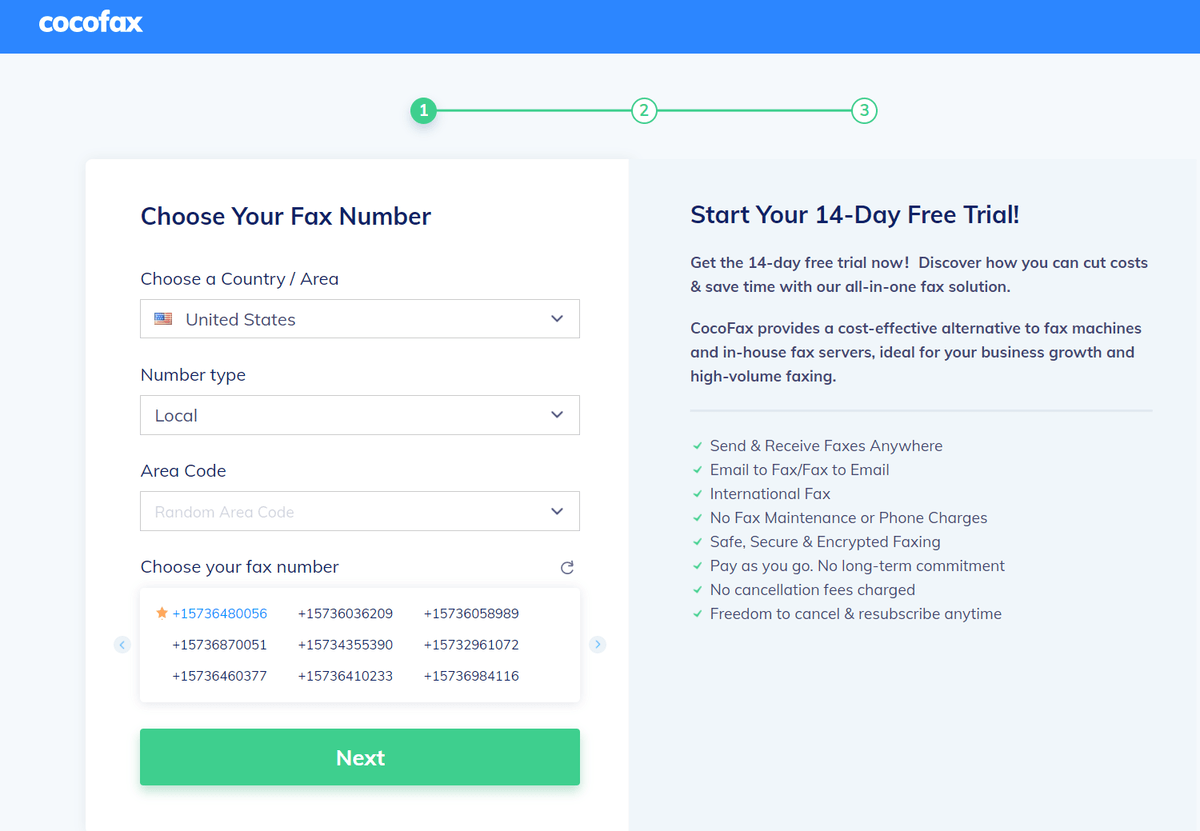 Fax Number
You also need a fax number if you want to send or receive faxes. However, you won't have to jump hoops to get a fax number through the whole application process. CocoFax takes care of you in this regard.
You can get a free fax number through CocoFax. In fact, CocoFax lets you choose your own fax number for free!
If you don't have a fax number or a CocoFax account, don't worry. In the next section you will know how to get both of them:
Sending Fax Via Office 365
The primary and easier method to send a fax through Office 365 is by installing a CocoFax addon to your Office. This addon can be visible in Microsoft Word, and you can fax your Word document through there.
Here are the steps to use Fax on Office 365 through CocoFax addon:
Step 1: First things first, you will have to add the CocoFax addon to your Office 365 Word. In order to do so, open Word application on your computer.
Once the application opens, navigate to the 'Insert' Option. In 'Insert', you will find an option saying 'Office Add-ins'. Click on it.
The Office Add-ins pop up will open. In the search bar, you will have to look for 'CocoFax. When you do, you will find the CocoFax add-in in the search result. Hit on the 'Add' button next to the CocoFax add-in. CocoFax will be added to the Word application.
Step 2: Now your Word application is ready to send the faxes. When you wish to fax any document, all you have to do is open it in your Microsoft Word application.
Once the document is open, you will see the CocoFax button visible on the Home ribbon. CocoFax popup window will open in Microsoft Word.
You can choose here all the pages that you wish to fax. You have the option to fax selected pages from the document. Once you have made the selection, select the 'Continue' option.
Step 3: Now you can enter the details of the recipient. You will need to select their country and then enter their fax number. Once you have done it, select the 'Continue' option.
You might have to sign in to your CocoFax account now. Enter the account credentials that you use to login into your CocoFax account.
If you do not have a CocoFax account, you can select the option to 'Register a new account'. You will be led to CocoFax free account creation page. You can even choose your own fax number for free!
Step 4: Once you have logged in your CocoFax account, the popup window will show you a confirmation that you are about to send a fax to the so and so fax number. If the details seem correct to you, you can select the 'Send' option.
CocoFax will receive the fax and send it from your end to the receiver. You will get a detailed log of the transmission. You will receive the confirmation in your email if the fax was successful.
In case the fax wasn't successful, you will get a receipt of the same in your inbox. You will also get the timestamps of the attempted fax.
Sounds easy and simple, right? Well, if you want another way to do so, here it goes:
Part 2: How to Send A Fax From Office 365 through Outlook
Just follow the below steps if you want to send a fax through Office 365 via Outlook:
Step 1: Go to CocoFax's website and get a CocoFax account for free. Once you register for an account, CocoFax allows you to choose the fax number of your choice.
Step 2: To send Fax through Office 365, you will need to run Outlook 365. It is a part of the Office 365 suite.
Once you run Outlook 365, you will have to set up your email ID with Outlook 365. You will be using this email address to send and receive faxes. Make sure that the email ID you use on Outlook and the email ID you use for Outlook match.
Step 3: In order to send a Fax through Outlook, go to the compose email option of your Outlook. The details of the fax that you are going to send will be entered in this section.
In the 'To' field of the compose email, you have to add the recipient's country code, their fax number, and follow it by '@cocofax.net'. For example, if their fax number is +77 123456, with +77 as the country code, you just have to enter:
For faxes sent from US to US, the sender needs to add '1' before the fax number. If the fax number is 123456, they have to enter:
You can also enter text in the subject line of the email. This text will appear in the fax as a note.
The cover page of the text can be entered into the body of the email. This page will appear as the first page of the text.
Lastly and most importantly, attach the file that you wish to fax as an attachment to the email. The formats that are supported are: pdf, doc, docx, xls, xlsx, png, jpg.
Step 4: Hit on the 'Send' button. Your email will be sent to CocoFax. It will then translate the email to something that is readable by the fax machine.
It will then dial the receiver's fax machine. Once the fax is transmitted, you will get an email in your inbox saying that the fax was successful. The email will also have the time details at which the fax was sent.
Even if the fax isn't successful, then you get an email saying the fax isn't successful. In this case, you get time logs of the attempted transmission.
As you can see, the steps are so easy that you can set up and send faxes within minutes.
Also Read: Email to Fax: How to Fax from Email
How to Receive Fax through Office 365
Receiving a fax through Office 365 is even easier than sending it. If you have set up your email with CocoFax as mentioned in the previous section, there would be nothing more you would have to do.
CocoFax will automatically receive your faxes for you and forward them to your email inbox. You will be able to see the fax that the person has sent as an email attachment.
People can send you faxes on the fax number that CocoFax assigns to you. This number is also displayed on the faxes that are sent by you to the other person.
Part 2: Frequently Asked Questions (FAQs)
These are the commonly asked questions that come in the mind of the users. Read about that and all your queries would be solved
🤷 Can I receive faxes on Office 365?
Through CocoFax addon on Microsoft Word, you can only send the faxes. However, through the Outlook method described above, you can receive them as well!
❓ What would I use as address while sending a fax through Outlook mail?
In the address field generally labelled as 'To', you will enter the fax number of the person followed by '@cocofax.net'. For example, if the fax number of the person is '123456', the 'To' bar will contain: [email protected]
🛡️ Do I need a fax number while using CocoFax? How can I get it?
Yes, you need a fax number to send or receive a fax, regardless of the method of faxing you to use. Don't worry, CocoFax gives you a free fax number.
📱 In which device can I use Office 365 to send and receive a fax?
Office 365 is compatible with computers, laptops, and some mobile devices. You can check if your device is supported by searching for Office 365 in the application store.
🕵️ Is it possible that the other person will not get the fax that I send?
Yes, it can happen at times. The possible reasons are that the fax number you entered is wrong, their fax machine is busy or is turned off. However, if the fax is undelivered, CocoFax will send you a report about it.
If you have any other queries, you can reach out to CocoFax and you will be assisted promptly. However, the service is so simple that you would not face a problem anywhere.
Endnotes
If you followed the steps above, you will be able to fax anyone very easily. Other than Office 365, there are many other methods as well through which you can use CocoFax to fax on a person. When you get a CocoFax account, you should explore your dashboard nicely and see all the options that it offers.