How to Send Fax from Office 365
Fax is assumed as an outdated way of communication today, but many businesses still find it the safest mode for digital transmission of information. If you are here, it's pretty evident that you want a fax service that doesn't require much expenditure or usage of cumbersome machines and modems. CocoFax is the tool that you have been looking for.
CocoFax eliminates the telephonic communication element from fax and allows the users to obtain or deliver faxes immediately using the internet. All you need is Office 365, a smartphone/laptop, and a CocoFax account. Want to know how it all works? Let's find out.
How Is It Possible to Send Fax from Office 365?
The feature to use fax services in Office 365 is not much known. Even the pros had gotten ridiculed for purchasing an expensive fax machine when there was no need to do so. One can send a fax from Microsoft 365 without a fax modem, and in fact, it is a much simpler process than any you might have used in the past.
As you might know, fax is an electronic medium of communication, whereas emails are all digital. In today's virtual world, not everyone exactly loves using heavy hardware. Still, digital platforms are prone to security breaches, and at times, traditional methods like fax might seem more trustworthy. One might also require sending fax for a specific purpose only, and buying a fax modem for one such task is not rational.
This is where CocoFax comes into the picture. It lets your digital message reach the electronic channel and get it translated to a form that could be understood by fax without the need for any additional device. Performing simple steps, you can send fax via Microsoft 365 in Word, Outlook, etc. for free.
How to Send Fax Via Office 365 with CocoFax?
Step 1: Add CocoFax Add-on for Microsoft Office 365
You can also download the add-in from here. Then open the Word application on your system and click on "Insert." Under " Office add-ins," search for CocoFax and click on the "Add" button.
Step 2: Send the Fax
Open the Microsoft Word document you wish to fax, and there you will see the CocoFax option in the Home ribbon. Select it and enter the fax number of your recipient. To continue further, you would be asked to sign in to your CocoFax account. Go to the dashboard of CocoFax through your web browser and sign in to your account. You can either "sign-up" or login with your "Google account or Microsoft account."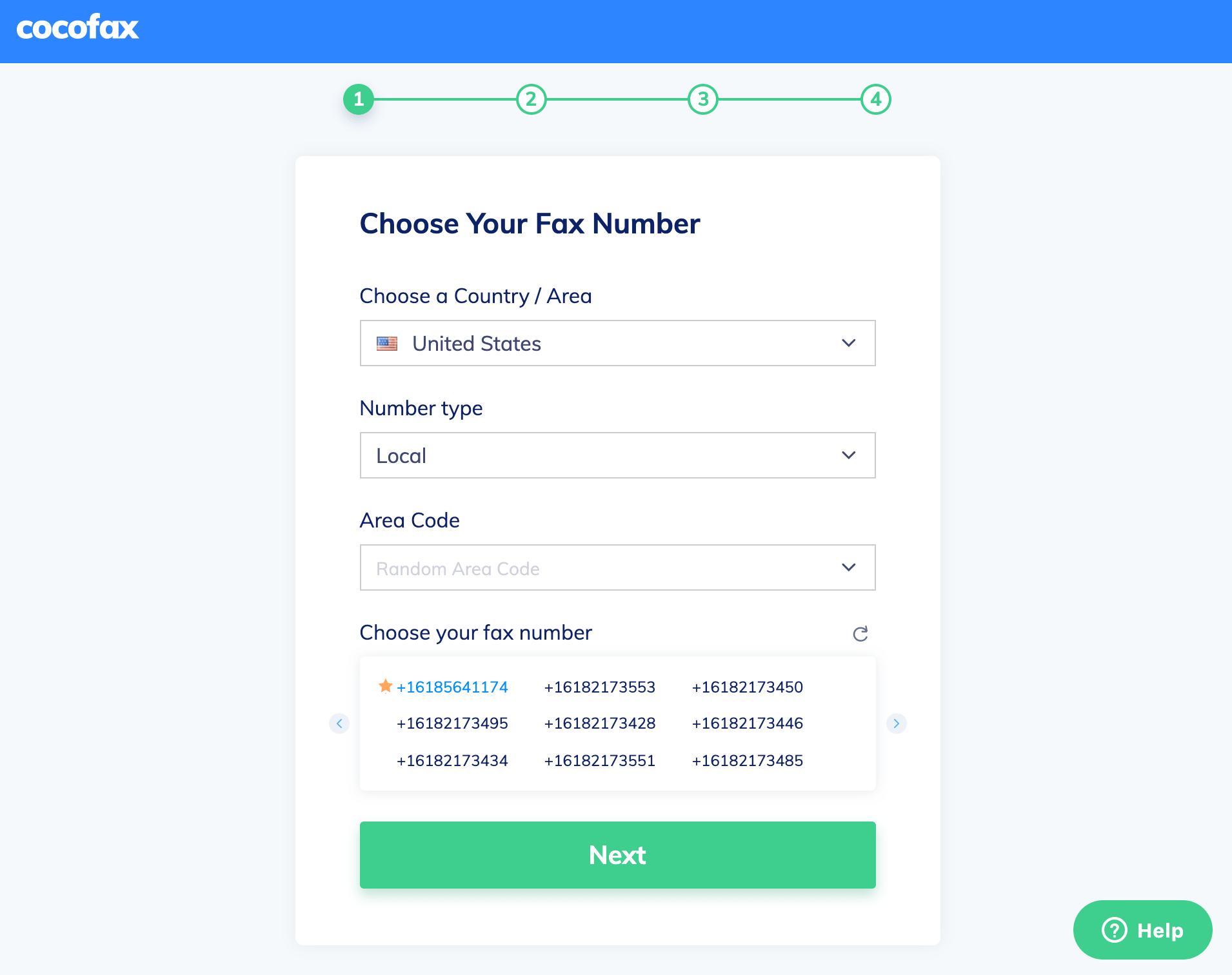 Now click on "Get free fax number," and a fax number will be generated for your account. Head back to your word file, and continue with the same CocoFax account.
Step 3: Final Confirmation
After logging in to your account, there will be a final step asking for your confirmation. Check the document details and fax number, and once satisfied, hit " Send."
You can track the progress of your fax through CocoFax's confirmation mail and a detailed receipt and access timestamps for the same.
Why Use CocoFax to Send Fax from Microsoft 365?
Microsoft Office 365 is used by millions every day, but most of its features are cumbersome and do not offer a seamless, hassle-free working experience. Using its built-in fax tool is time-consuming and jeopardizes data security because of its outdated security standards. CocoFax allows users to enjoy the benefit of seamless fax services without having to splurge on expensive hardware along with maximum protection.
Here are a few notable features of CocoFax that would help you answer the big "why" regarding its usage. Please have a look:
Free access to fax number:
For receiving or sending a fax, having a fax number is a prerequisite. However, applying and obtaining one demands time and effort. But there's nothing to worry about; CocoFax has got you covered! You not only will get a fax number for free but would also be able to choose one for yourself.
Multiple modes for sending and receiving a fax:
You can use the offered services of Cocofax in more than one way. Sending and receiving faxes through email, web browser, office 365, Outlook, etc., are some of the methods you can use.
Easy to use:
CocoFax is an easy-to-use software that acts as a mediator between your digital and electronic channels. The interface is highly intuitive and allows even a novice to navigate through the offered services conveniently.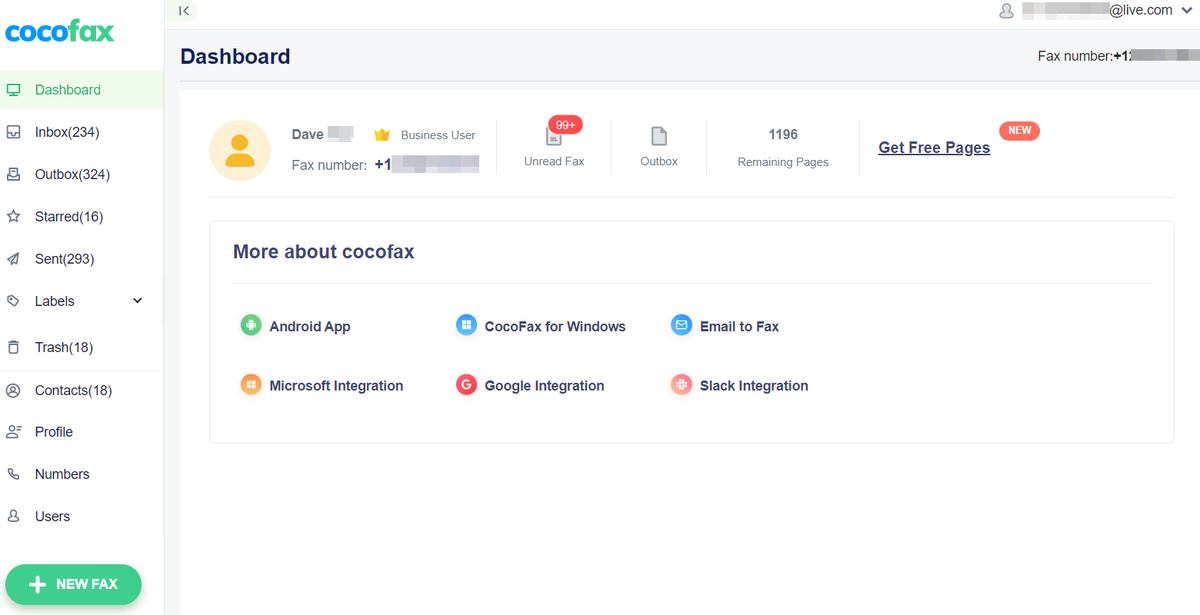 Highly secure:
You can protect your account through a password and prohibit anyone from accessing your fax, which isn't the case with a fax received on machines. Additionally, the data is always encrypted to add another layer to the user's security.
Free Sign up and a free trial:
CocoFax also provides a 14-day free trial to new users to test waters. Signing up and obtaining a fax number is free. You would love this third-party assistance because it has made the fax exchange a thousand times easier for people without access to machine devices.
Available on multiple devices:
You can use the service on any device, be it a laptop, desktop, or a simple smartphone. Just install the application in less than a minute, and you are good to go.
Reliable:
Missing faxes is a far and almost negligible possibility with CocoFax. You get a receipt of the full-proof detailed process mailed to your registered email ID, and in any case of doubt, the CocoFax customer support team is always at your service.
Final Take
Forget the hassles of purchasing expensive hardware. You can entirely rely on CocoFax for your fax-related needs. Other than Office 365, there are many more methods you can utilize with the help of CocoFax to send and receive faxes. Do not forget to have a look at all of them on our website.