How to Fax Without a Fax Machine
Fax Without A Fax Machine
Wondering how to fax without a fax machine? Well, it's your lucky day. This article will not only encourage your love for faxing but also answer the question in detail.
Due to its significant advantages over email, Faxing is an old world technology that is greatly used today as well. In fact, it might surprise you to find out that billions of faxes are sent every year all around the world.
And if you thought you needed a fax machine for the same, you are wrong. You can send a fax from anyone (and receive it too) to anywhere in the world without a fax machine or even without a phone line (generally, fax works on a telephone line).
Part 1: How to Send a Fax Without a Fax Machine
For most of the people who prefer faxing, getting a fax machine is the hardest part of the process. They are bulky, they require space, they require investment, and there is a lot of maintenance. Not to forget the cost of paper, ink, etc. and the effort it all needs. In fact, facts suggest that cost of using a fax machine can run upwards of a thousand bucks.
However, there is an easier and simpler method to fax that most of the fax users around the world are using. In fact, people are even discarding their fax machines in preference of this method. Here it goes:
1.1 CocoFax: Say Goodbye To Fax Machines
CocoFax is a fax service provider that can enable you to send and receive faxes without phone lines, fax machines, fax modems, or anything else. You don't even have to be connected to the fax lines in order to transmit the fax.
And the best part is that you can carry your fax machine in your pocket in the form of your phone, or keep it on your table in the form of your laptop. CocoFax works on all devices that are connected to the Internet.(Check Fax over Internet)
Sending a fax through CocoFax is as easy as sending an email. In fact, when it comes to security or urgency, sending a fax is even better than email.
Here are the different ways to fax without a fax machine using CocoFax:
Send a Fax Without a Fax Machine Using Web Browser
You can use the web browser of your phone or PC to send a fax. Here is how:
Step 1: First things first, get a free fax number from CocoFax. CocoFax doesn't only give you a free fax number, but also lets you choose a number of your choice.
**A fax number is mandatory if you wish to use fax through ANY medium, whether you want to send a fax or receive it**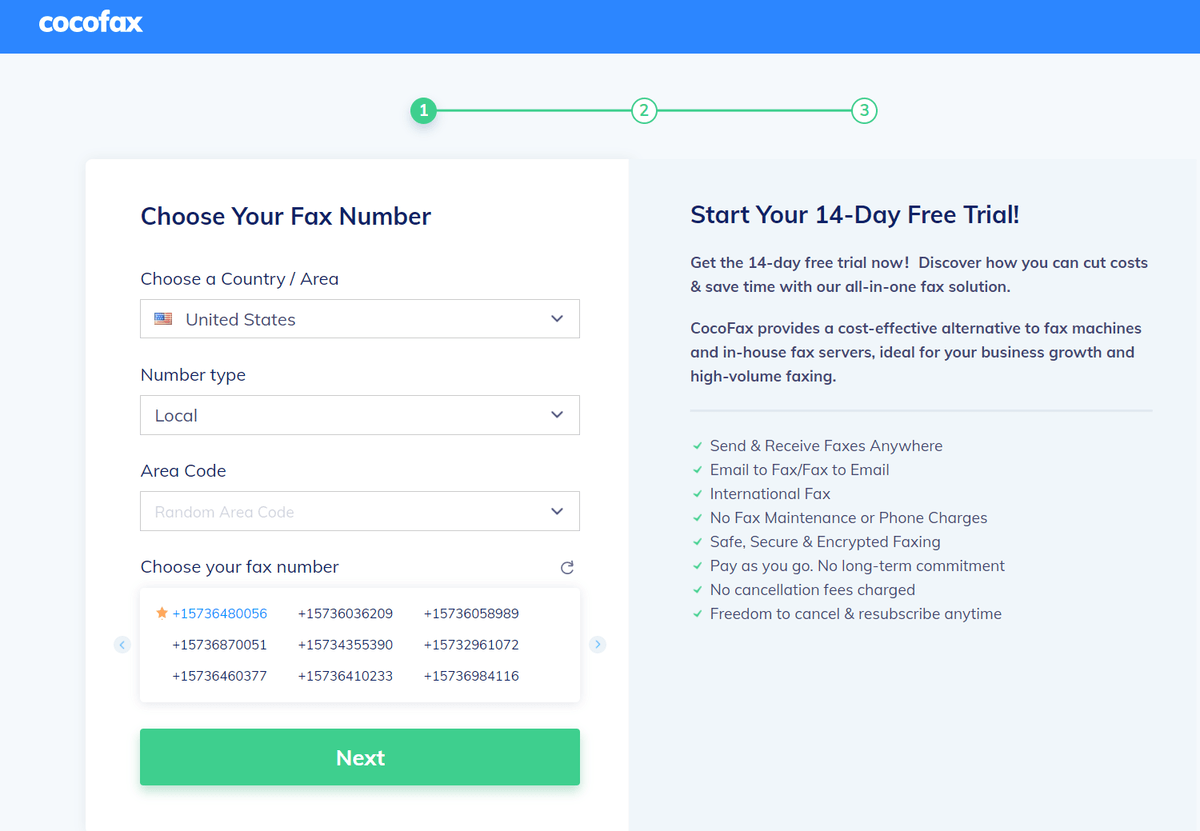 Step 2: Once you are logged into your CocoFax account, you will be taken to your dashboard. On the corner there would be a button called 'Send Fax'. Click on this button.
Step 3: The CocoFax Compose Fax window will open. Here you can create the fax that you have to send
In the 'To' field, enter the fax number of the recipient. There is a subject field where you can add a note. It will appear on the first page of the fax.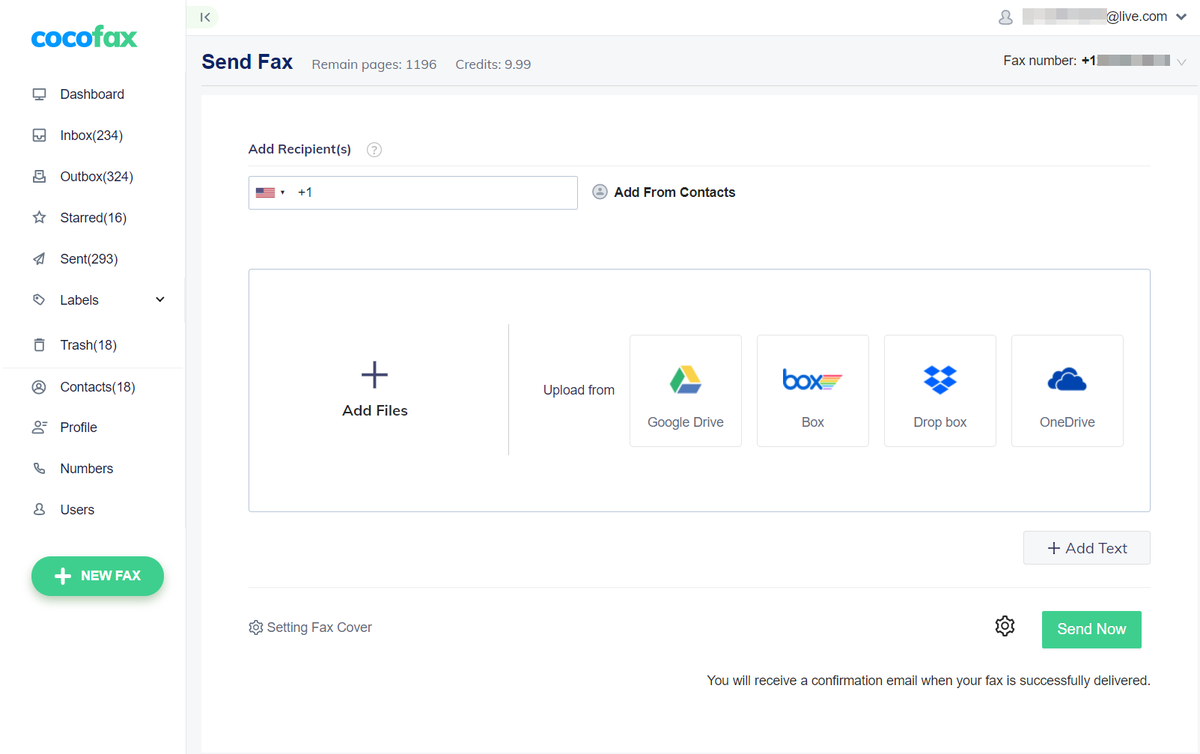 Further, in the fax body, you can write the cover page if you wish to add it. The cover page is the first page that the recipient will get.
Lastly and most importantly, you can upload the document that you wish to fax as an attachment. The formats supported are: pdf, doc, docx, xls, xlsx, png, jpg.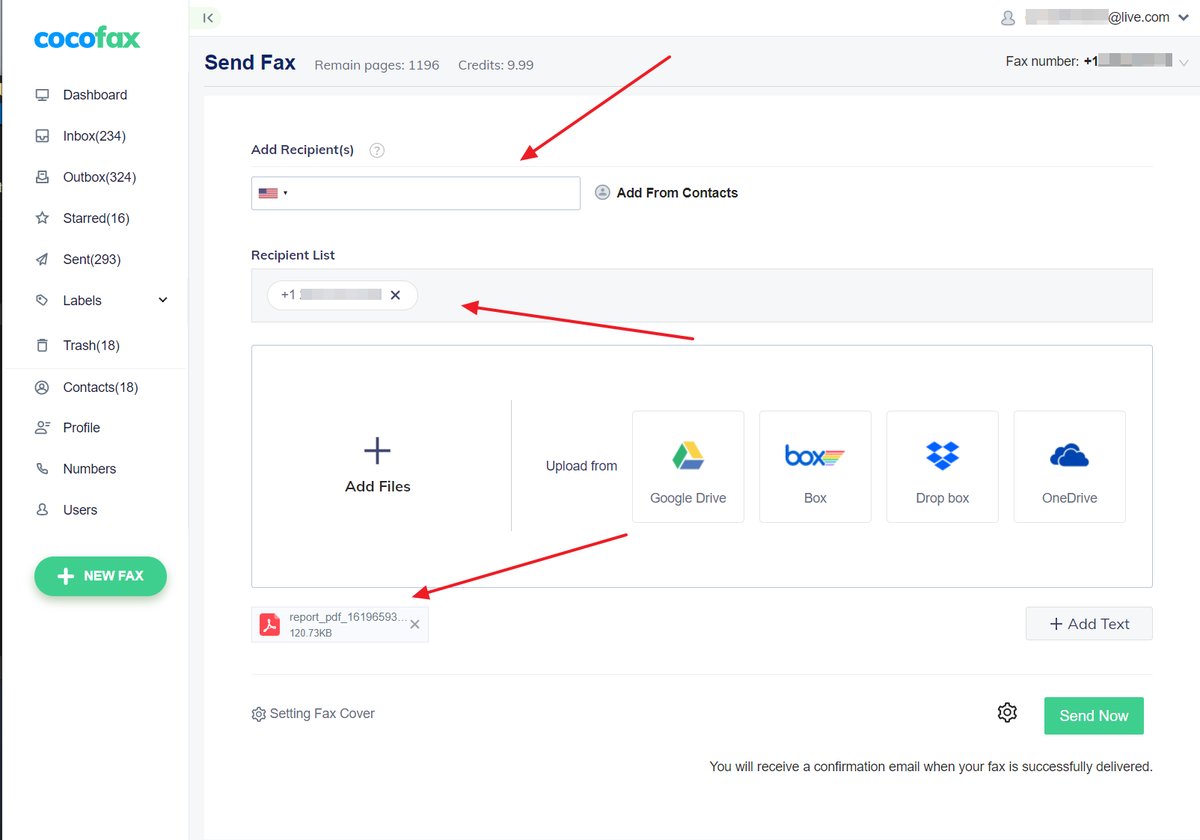 Step 4: Hit on the 'Send' button. CocoFax will receive the fax and transmit it to the receiver from your end. Once the transmission is successful, you will get a notification on the dashboard about the fax being successful.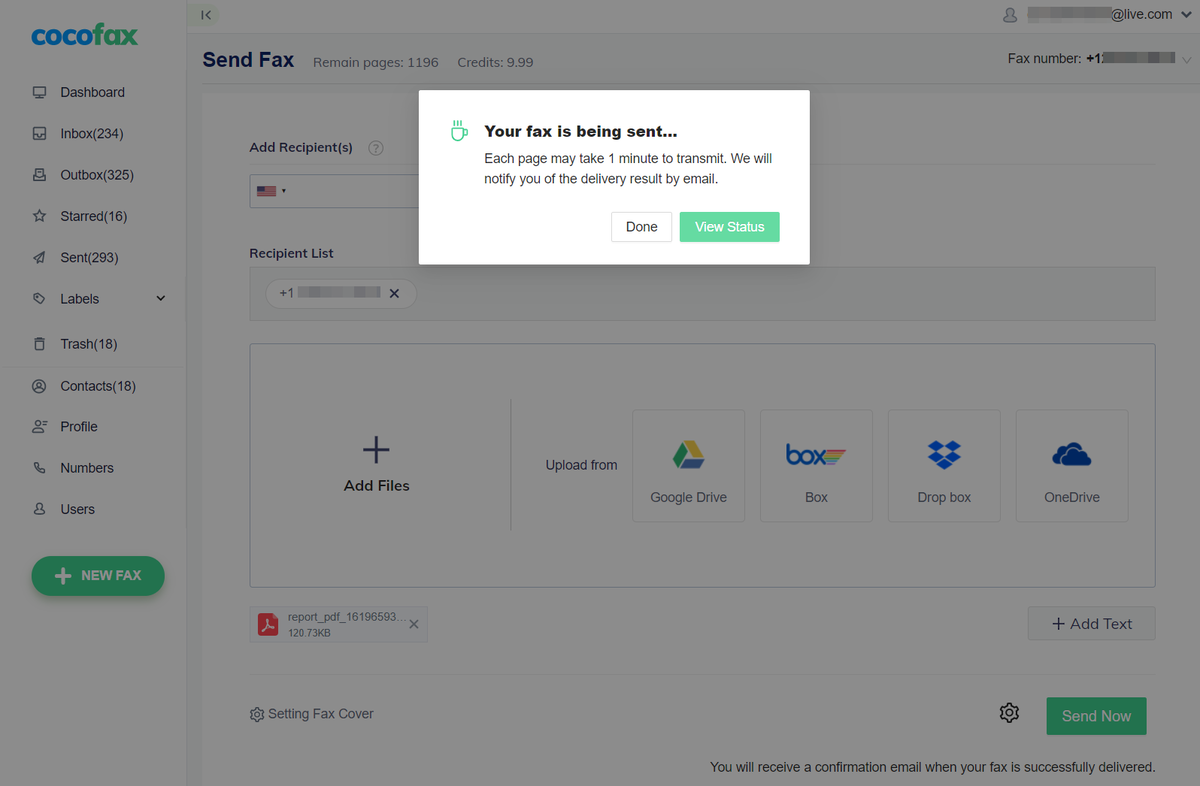 If the fax was unsuccessful, you will get a notification of the same as well. It will also have the time of the attempt.
Further, these notifications are also forwarded to your email address that you registered with CocoFax.
As you can see, you can send a fax to anyone within a matter of a couple of minutes through these steps. That too on any device of your choice!
Send a Fax Without a Fax Machine Using Email
You can also use your email client to send and receive faxes. It is, in fact, easier than it may sound.
However, since email services by default do not have fax compatibility, you will have to use CocoFax for the same. You can do it through the following steps:
Step 1: Get a CocoFax account as mentioned in the previous section. You can opt for the 14 day free trial if you wish. Make sure that you register the email ID that you will be using to send and receive faxes.
Step 2: Once you have registered with CocoFax, most of the work is done. When you have to send a fax to anyone, just click on the 'Compose Email' button which you generally use to write a new email.
Step 3: Creating a fax through an email is similar to how you would send an email for the most part. There are some minor (and important) differences though.
In the 'To' field where you generally write the email address of the recipient, you will have to enter their fax number. This will be followed by '@cocofax.net' (without the quotes. For example, if their fax number is 123456, the address that you would have to enter will be: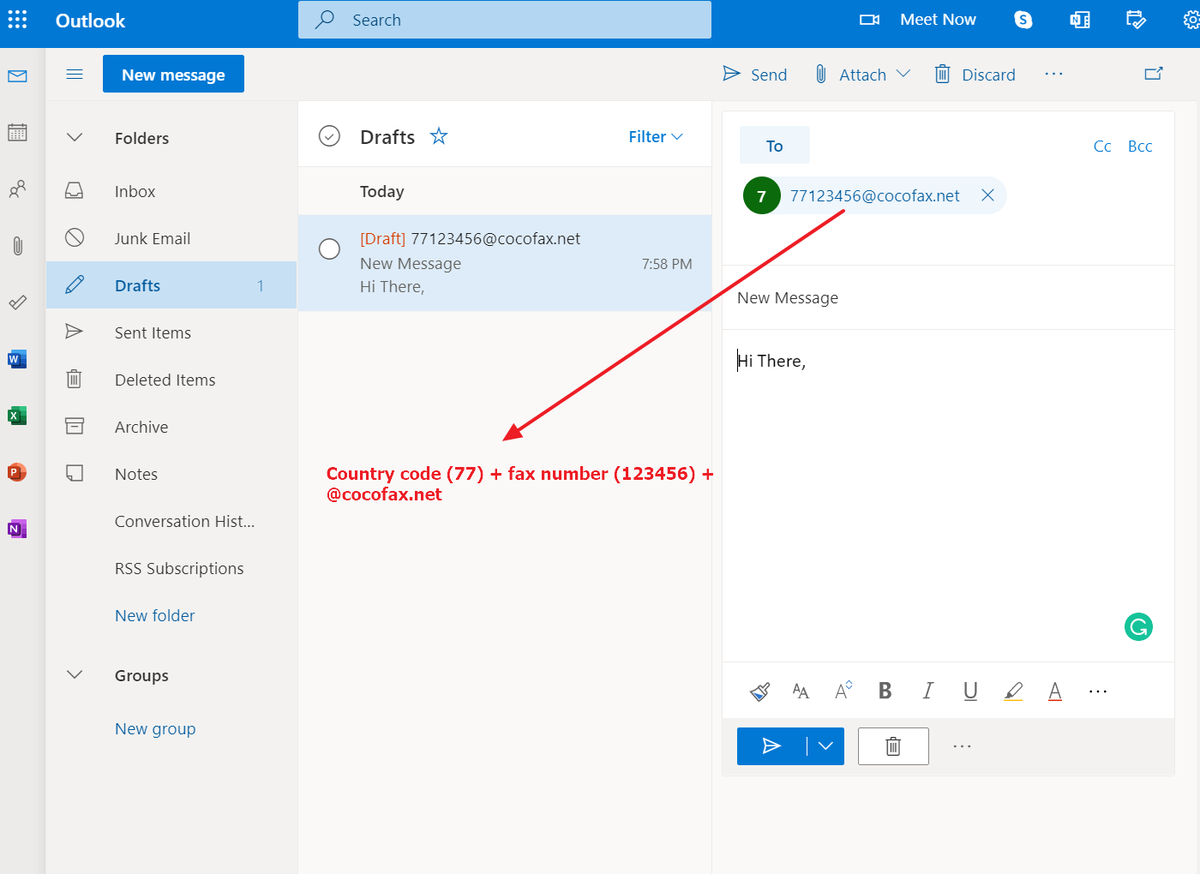 Step 4: The rest of the fields are options. What you enter in the subject appears as a note to the fax. The body of the email appears as the cover letter that will be on top of the fax document for the receiver.
Step 5: You will have to attach the document that you wish to fax as an attachment to the email. When you do, just hit send.
Step 6: You will get a notification in your email inbox if the fax was successful or unsuccessful. You will also get the timestamps and other details pertaining to the fax.
Since you can open your email client on your phone as well as PC, you can fax from your email from anywhere you are.
Also Read: How to Fax over WiFi
Part 2: How to Receive a Fax Without a Fax Machine
Receiving faxes without a fax machine is a child's play if you are using CocoFax. You wouldn't have to do any work at all, CocoFax will do it all for you.
Hypothetically, if you were using a fax machine, you would have to keep it connected to the line 24x7 as well as keep it turned on at all times. If you do not, you would be missing on important faxes.
However, CocoFax works differently. Even if your device is turned off or your internet is inaccessible, you can still access your faxes at a later time. There will be no information that you would lose.
Receiving Fax On Your Free Fax Number
As I mentioned before, Fax number is important if you want to send or receive any fax. Your fax number is the telephonic address where the other person will be sending you the faxes.
CocoFax makes sure that you wouldn't have to jump through hoops by providing you with a fax number. In fact, you can not only get a free fax number but will even let you decide which number you want.
Here are the ways through which you can see your received faxes:
Receive Faxes on Browser
To check your received faxes through a web browser, you will have to log into your CocoFax account. Once you do it, you will be taken to your dashboard.
From your dashboard, you can navigate to the option that says 'Inbox'. Here you will find all the faxes that you have received.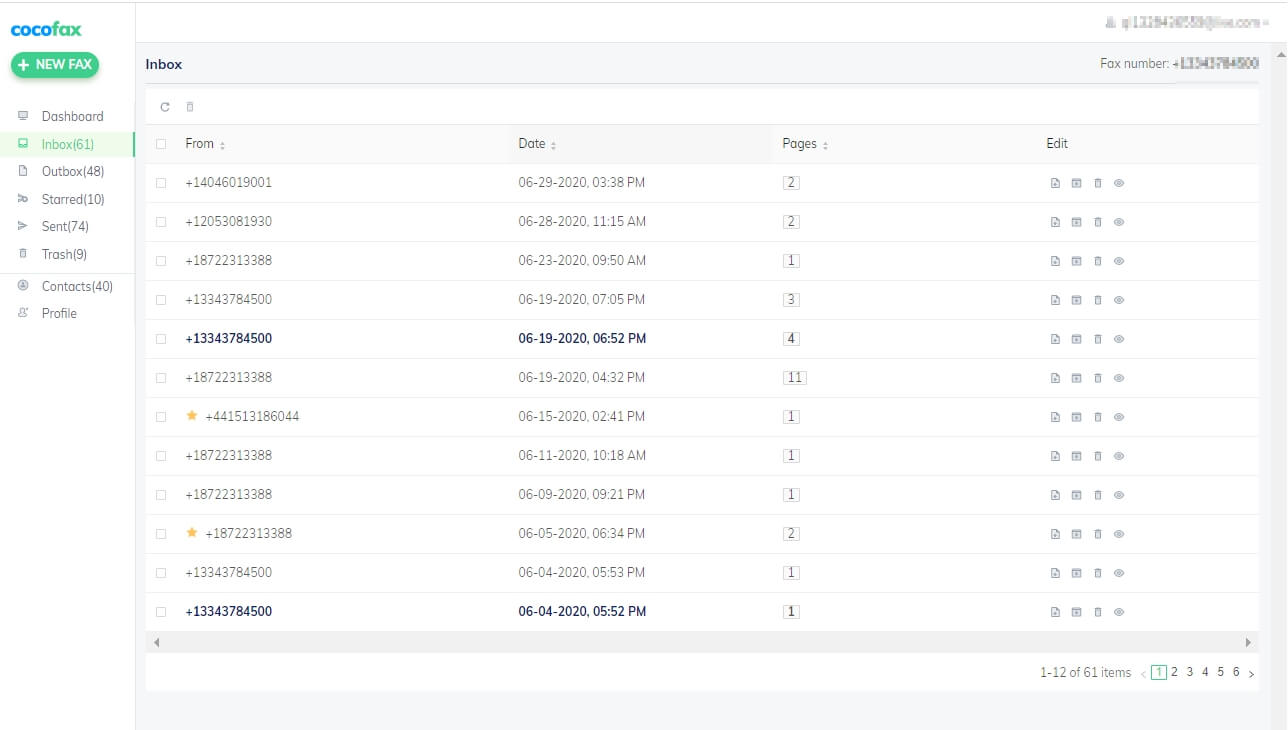 Receive Faxes on Email
When you get any new fax, CocoFax immediately sends you an email about the new fax notification.
The email will give you details like the sender's fax number as well as the time of the transmission. The fax that they sent will be added with the email as an attachment.
Don't Miss: How to Fax Wirelessly
Endnotes
As you have seen, sending or receiving a fax is a piece of cake if you are employing CocoFax for the purpose. All you have to do is read this guide and you will never have to see a fax machine again.
However, keep in mind to use the correct fax number while sending a fax. Also remember that the fax number will contain '@cocofax.net' if you are sending the fax through email.
And if you ever face the event that a fax you sent is unsuccessful, the most possible cases are that the fax number is wrong, the target fax machine is busy, or their fax machine is turned off.
Happy Faxing!