How to Fax From Windows 10
When you hear about faxing from Windows 10 for the first time, it may seem a bit confusing. For starters, we know that fax works by sending hard copies of documents from one fax machine to another. So you may wonder how it's even possible to send and receive fax from a Windows 10 device such as a
laptop
or computer. And even then, in the modern age of digital technology, one may ask if a fax is even needed anymore or is it obsolete.
To clear both these doubts and misconceptions, no, fax is not obsolete or outdated but still used by many businesses and remains an incredibly useful means of sharing documents. And yes, it is perfectly possible to send and receive faxes directly from your Windows 10 device without even owning a fax machine, thanks to a third-party service like CocoFax. But how does that work? We will explain all about it right here!
A Step by Step Guide on How to Send and Receive Faxes through Windows 10
The idea behind faxing through Windows 10 may seem quite confusing, but the way it works is actually quite simple. The digital copies of documents that you send are routed through CocoFax, and CocoFax converts it into a format that can be read and printed into hard copies by the receiver's fax machines. It's extremely useful and convenient to be able to convert digital documents to hard print faxes in an instant!
Now we'll cover the entire step-by-step process of sending and receiving faxes through Windows 10 with CocoFax. That way, before you even decide to purchase the subscription plan, you'll know exactly how it's going to work and even realize how simple and easy it is to use this service.
Sending Fax Through Windows 10
Step 1: The first step is to purchase a CocoFax subscription plan of your choice. Upon doing so, you will be given your very own fax number, and you can now log in to your CocoFax account.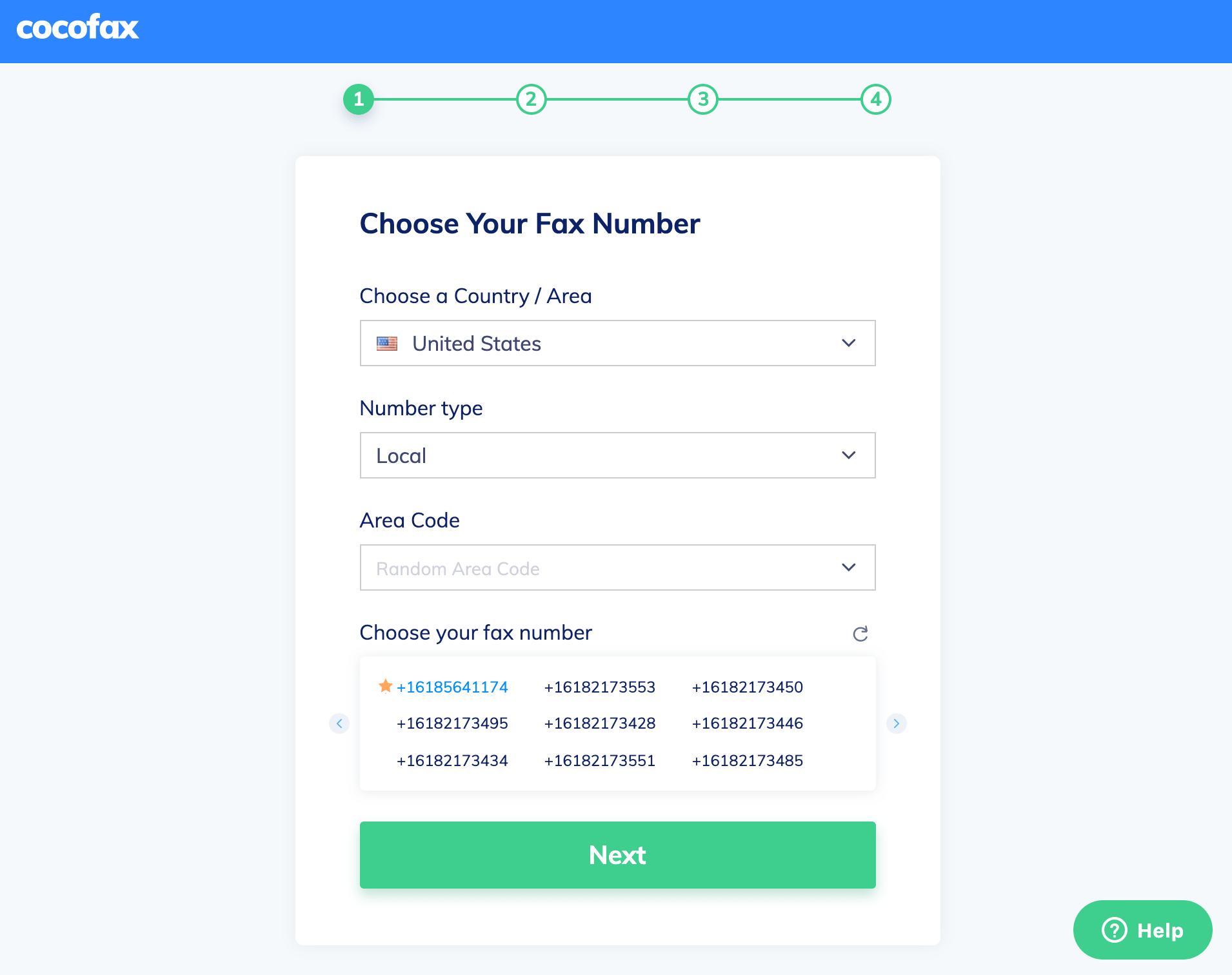 Step 2: You can log in to your account directly on the CocoFax website from your browser or you can even download the software for Windows 10. Once logged in, you can see your dashboard and on the left side menu, there will be an option "New Fax" highlighted at the bottom. Click on it to start sending faxes.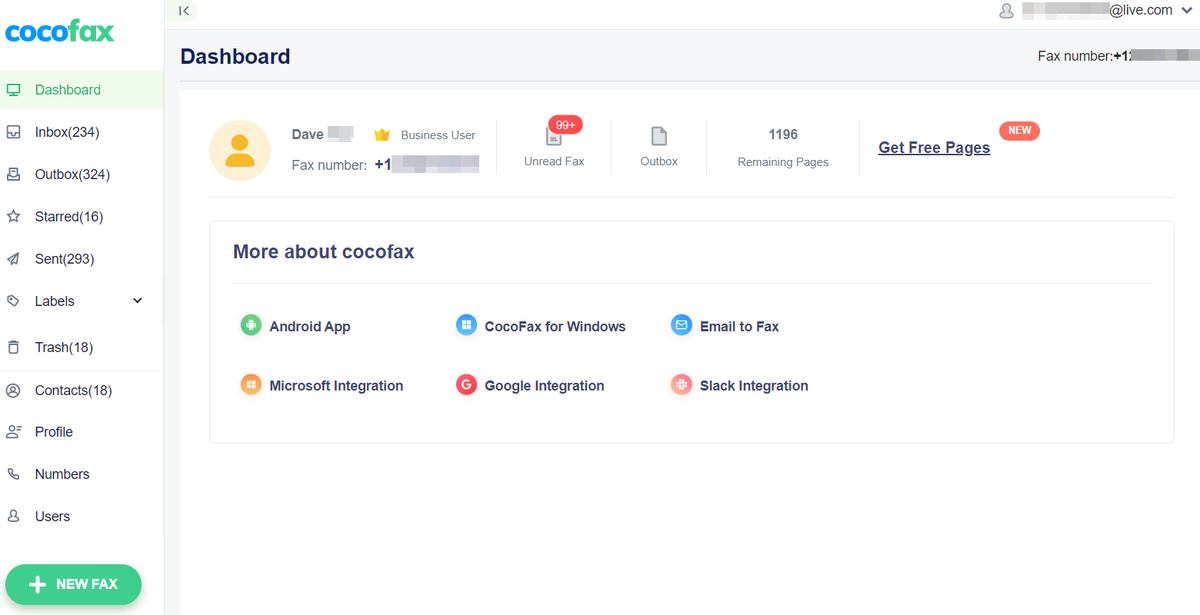 Step 3: First, you'll see a box that says "Add Recipients," and this is where you enter the fax number of the receiver. You can either enter the fax number manually or use the "Add from Contacts" option at the side, if the receiver's fax number is already saved in your contact list. It's even possible to send a fax to multiple receivers, and they will be displayed in the "Recipient List" section.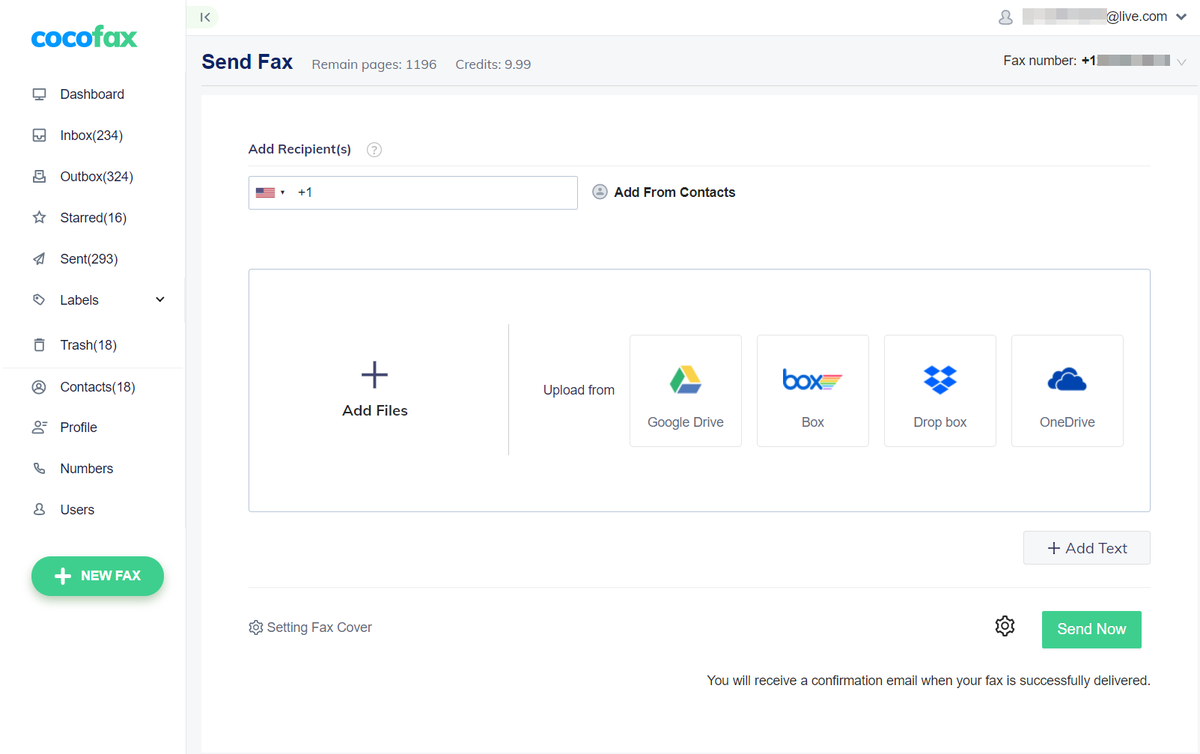 Step 4: Now click on the "Add Files" option to upload the document you want to send to the receiver's fax machine. CocoFax supports multiple document formats, which include doc, xls, docx, xlsx, pdf, and even image formats like png and jpg. Additionally, you can also add a cover page that appears in the first page of the fax on the receiver's end.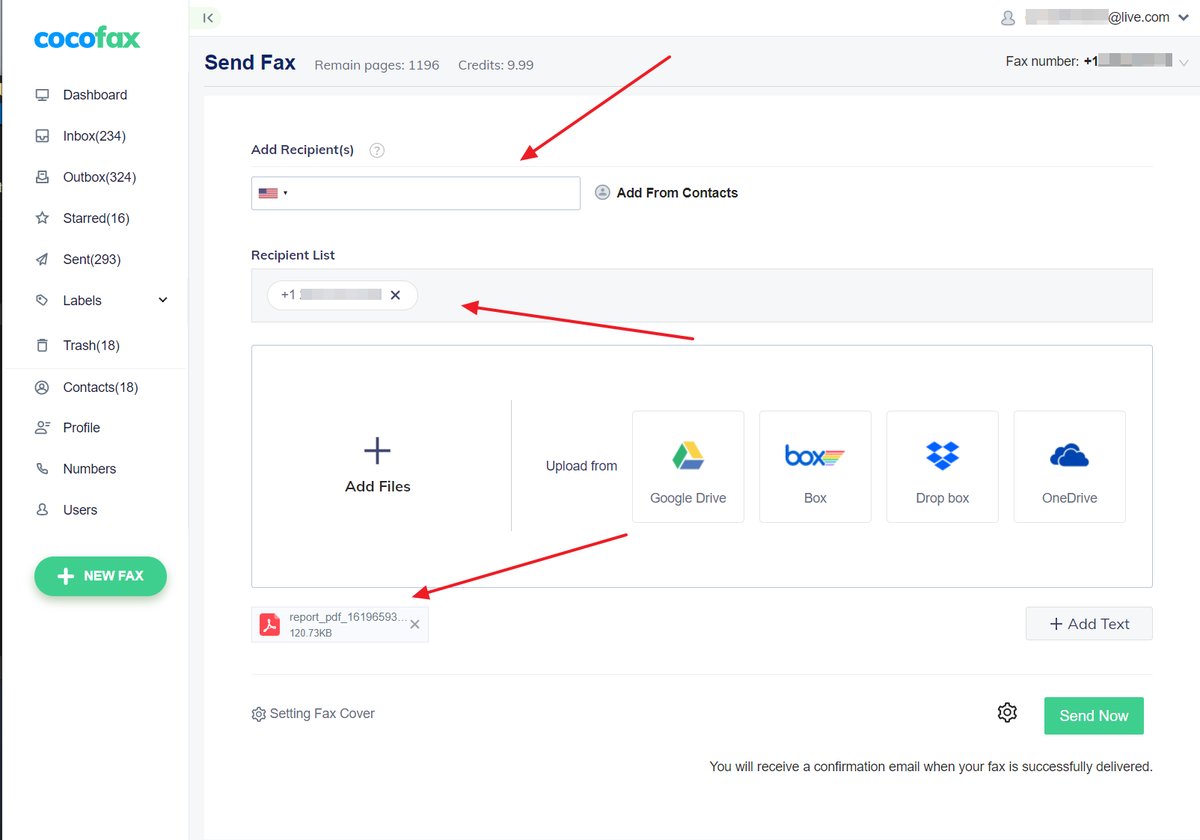 Step 5: Both the recipient's fax number and the document to be sent have been set, so all you have to do is to click on "Send Now."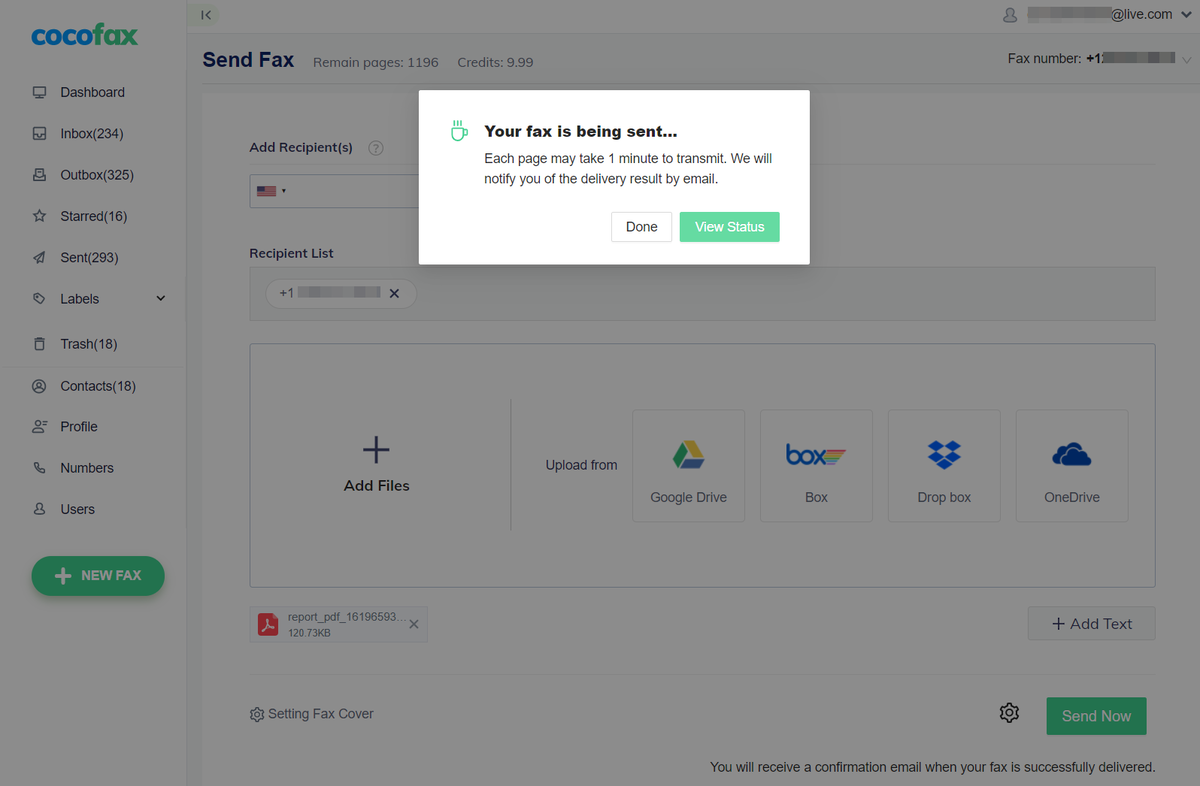 A pop up on the screen will notify you that the fax is being sent. Once it's delivered successfully, you will be notified that fax has been sent. And if the fax fails to send, you'll get a notification for that as well with the date and time log. Common reasons for failing to send the fax are if you entered the wrong fax number, the machine is already receiving/sending another fax, or the machine is disconnected or switched off.
You can also watch the video below:
Receiving Fax Through Windows 10
Receiving faxes through Windows 10 is even easier because you hardly need to do anything for it. Anyone can send you a fax as long as they have your fax number which is assigned to you by CocoFax. When someone sends you a fax, all you have to do is log in to your dashboard, click on "Inbox" at the left side menu, and there you will find the list of all faxes that have been sent to you, conveniently converted into digital format. It's just as easy as checking your email inbox!
Other Excellent Features Offered by CocoFax
While we have discussed the benefits of CocoFax and shown you how easy it is to send and receive faxes with Windows 10, good things don't end there. There's plenty of more features available at CocoFax when you get their high-tier subscription plans, such as:
From basic single-user plans to enterprise plans designed for larger teams, CocoFax offers various subscriptions that can suit individuals, small businesses as well as large organizations. You can always scale things up by upgrading to a higher plan if required.
You can download and install the CocoFax Windows software on your laptop or desktop, and you won't even need to log in to their website app every time.
Protect your confidential documents and take the security measures a step higher by enforcing two-factor authentication.
With CocoFax, you can instantly send a fax to multiple recipients at once from your Windows 10 device.
Just like phone numbers and email addresses, your fax number is also shared among multiple parties, and sometimes, you may want to avoid sending or receiving a fax from certain numbers. So there's the option to add fax numbers to the blacklist, and you will no longer be bothered by them.
With the Business and Enterprise plans, you can also share your CocoFax account with multiple team members, which is a perfect option for businesses. In fact, the Enterprise plan lets you add unlimited team members without any additional costs.
With the feature of adding team members, you also get access to an admin panel. Set certain users as admins and now be able to manage, add, and delete fax members and invite new team members. 
Integration with Other Apps and Services
You can integrate your CocoFax with other apps and services such as Slack and G Suite, allowing you to manage your documents and your team across all apps conveniently.
Endnotes
CocoFax offers excellent value as a third-party service by merging fax with modern-day digital technology. Not only does it make things easy by converting digital documents to hard copies that fax machines can print, but it makes the whole process so simple and straightforward. On top of that, it further provides a wide range of features for more convenience.
Faxes are still very important for businesses, but if you don't want the hassle of the traditional fax process and having to get your own fax machine, then try out CocoFax and enjoy all the benefits of faxing from Windows 10.