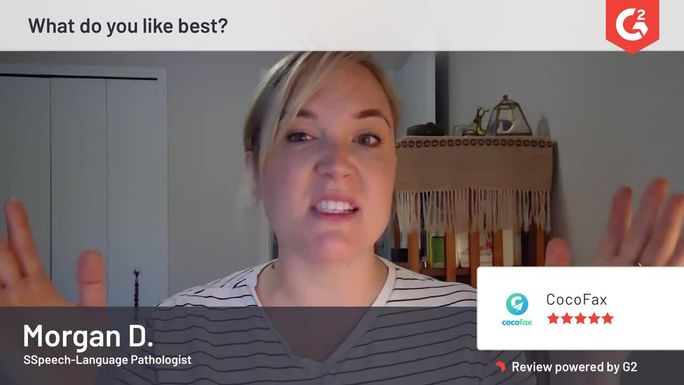 Customers and their Testimonials
Don't just take our word for it. Check out what our customers say about CocoFax.

As our PCB business grows, we get more sales documents like rush orders or quotations to be faxed to our customers overseas, and therefore have to deal with piles and piles of paperwork. We ditched our fax machine as we found it time-consuming and complex. Instead, we tiptoed towards CocoFax. At first we tried its free fax service and were shocked by the simplicity and convenience of online faxing. I upgraded the plan to Business as soon as possible and shared the account with five other staff. The interface is so easy to use that I don't need to train them to use it at all. It also works well on Microsoft Word or Google Docs, which means we can fax in one place directly. Though our clients don't have a CocoFax account, they receive our faxes smoothly anyway. It's worth every penny!

Our institute offers online courses and mainly obtains students' sensitive information through faxing. Our office shared several fax machines, and sometimes incoming faxes left on the desk can be viewed or mistaken by others. With the volume of incoming and outgoing faxes increasing months before, we realized that we needed to take actions to improve the situation. We finally turned to CocoFax after careful comparisons of several online faxing alternatives. CocoFax is way less expensive and offers more functions. With it, we can send and receive faxes straight from our computers or phones and via email, and all these faxes are for our eyes only. Besides, we don't need to organize these documents manually any longer! All the incoming faxes rest in our inbox. We can label or reach them easily whenever we need to view or download them. Its storage is unlimited so we can keep saving new students' data. CocoFax has brought our workflow to another level.

At Kcove, we are seeing an increasing number of businesses like loan applications, accompanied by more paper that needs faxing. We've tried various online fax solutions to streamline this process, and come down in favor of CocoFax as it is the best. Some of the other solutions don't possess Google integration, and others' interfaces are unorganized and outdated. CocoFax has Google, Microsoft and API integrations, offering us more options for faxing. Its interface is easy to navigate with every tab in place. Our paper contains much financial information and other confidential data, and its high-end encryption measures satisfy our security needs. We don't need to worry about data leakage which may be caused by using fax machines.

Rroad is a logistic company. Most of our employees spend most of their time out of the office, mainly on their cars. We adopted CocoFax as we can't have admin members just send or wait for faxes in front of a fax machine everyday. CocoFax allows our employees to check the supply chain documents, bills of lading, commercial invoices and purchase orders on the go and on time, from their phones directly. This handy tool enhanced our overall efficiency by 30%. It also boosts communication with our supply chains.

Prioritizing the security of huge amounts of data during faxing is a must for healthcare companies. We used to make it a rule to fax by fax machines, but chances are that the faxes may be intercepted or divulged. I came to know about CocoFax from my friends. After adopting CocoFax, we are 100% relieved. For a start it is HIPAA and PHIPA compliant! Another relates to its security technologies, like it sets TWO-step authentication to confirm our identity before we can get access to the sensitive data of our patients. Plus, as we have an initiative in moving towards a green office, CocoFax allows us to fax medical records, MRI reports or X-ray reports to our patients digitally, and hence, it works a lot in helping us achieve that goal! It also saves our patient's time and hassles because they no longer need to come to us to fetch their documents.

At Galance, we lawyers send faxes to multiple clients everyday, which include countless documents like client contracts, service agreements, confidential agreements and so on. We used to feed our fax machine with endless paper, toners, and more, so the office expenditures stayed high. We were eagerly looking for a more cost-effective alternative, and fortunately, CocoFax came to our rescue. It is a paperless, machineless solution and saves us lots of money. What's more, after we integrate CocoFax into our application, now we can send a mass of faxes in our system directly with only one-click. As long as we receive a fax, we'll get notified from SMS or Email, so we can respond to our clients or courts timely. Our efficiency has been greatly boosted with legal communications simplified. What an incredible tool.

Nonprofits like ours have always been struggling with funding. Despite our huge demands for faxing documents such as animal details, donator files and pet adoption application forms, maintaining clumsy fax infrastructure is rarely realistic given the space, time and budget it may eat up. Luckily I came across the online fax service offered by CocoFax when googling and found it so much cheaper than other faxing options with its average cost per page twice lower at least. I quickly adopted it into our daily workflow. It also turned out rather convenient and flexible with its varying features. All faxes we've sent and received can be stored in the cloud or even our Google Drive, saving our time and space significantly. And I can add 50 team members into one single account and have them manage all fax communications on their phone even. It also comes with multiple protective layers from user identification, to data transmission, storage and audit. I can finally find some peace of mind about data security in our organization too.

Smart is the new sexy in the high tech industry, and JAbs is no exception. We transmit confidential tech data with customers via faxing. And the need for a super secure, yet smart cloud-based fax solution has been urgent. After various searches and comparisons, we finally set our eyes upon CocoFax for its security measures and rich features and we quickly connect their API to our business process. This allows us to fax directly without any turnaround time required, enhancing our efficiency greatly. And it doesn't need any space, fully compatible with our pursuit for a smart green workstyle.

Faxing sponsorship applications, sportsman details and other information has been a regularity in our sports company. We utilized CocoFax mainly because it's a very secure cloud-based fax solution, and can allow us to manage all essential faxes directly on the phone, or any other device. I can fax to many countries without much headache. It helped my organization save a great deal of time and costs.

In the past we were using a renowned online fax service to transmit essential files such as customers' personal information and health records. However it's expensive and with very limited features. Its customer support was unbearably slow. We quickly switched into CocoFax after a while, which has proved a perfect fit. It's feature-laden and user-friendly, enabling us to add or delete team members, label different faxes, bulk send and fax from email, Google and Microsoft. More than that, its customer service has been very efficient and timely. We also get to keep our original fax number with its free porting services while using its wide range of services!

Work in a life sciences company usually concerns confidential experiments and valuable research. Such data is too essential to be transmitted via traditional transmission methods like emailing. Using a fax machine could also endanger the whole system due to the lack of firewalls and its vulnerabilities to cyber attacks and data thefts. Under such circumstances, we adopted CocoFax because it has employed top security measures that banks and army use. Since there is no paper copy involved, and all our data is saved in the cloud, it also becomes rather convenient to manage all fax documents and set them in the order we desire, saving our time massively. We can also prevent spam faxes by adding the spam fax numbers into the blacklist. In a word, we kill two birds with one stone. With CocoFax, we get an amazing mixture of benefits such as convenience, cloud storage, team management, affordable pricing, live customer support and so on, when we were only expecting it to be a secure one at the very beginning.

Working in a housing agency not only means bridging tenants and landowners, but also involves the noise of fax machines whirring with multiple fax documents coming in and out daily, as well as the troublesome process of queuing up before the fax facility for a fax. Often fax has become a nightmare for being time-consuming and inefficient. After implementing CocoFax's online fax service, we can now easily fax from our mobile phones, and get updates instantly for any new fax received. More than that, we can even directly fax from Google or Microsoft. This has literally modernized our workplace. Highly recommended!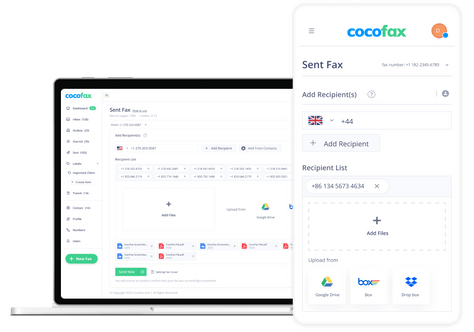 Start Faxing Now
Join 100,000+ professionals & SMBs now to fax easily, quickly, and securely with CocoFax.
Start Faxing