Best Free Fax App for Android
5 Best Free Fax Apps for Android
Today, if you have a smartphone in your hand, you don't need a fax machine to send or receive a fax. With the rising trend to go paperless, most businesses have moved towards online methods of faxing. But how is that achievable?
Android has revolutionized the world, making the unimaginable come true. You can send and receive faxes using your Android device for fairly cheap prices. Find out some life-saving apps which are easy to use and fit right into your budget. Learn more details about the free fax apps for Android in this article now!
Best Fax Apps for Android
Our list of the best 5 free fax apps for Android is curated keeping in mind reviews, features offered, and quality of services.
1. CocoFax
CocoFax is an online fax service providing company which allows its users to send and receive fax using their smartphones. All you need to do is, select the document you want to fax on your Android devices and jot down the fax number of the receiver.
Moreover, CocoFax values your privacy and ensures that your content is completely confidential during the fax communication. It protects users' information using data encryption protocols that are used by the best IT companies in the world.
The ways of faxing on Android phone using CocoFax are:
Fax through Online Dashboard
CocoFax empowers you with the ability to fax directly using the web browser of your Android smartphone. Just login to your CocoFax account, and access the faxing facility over your smartphone, which is very simple!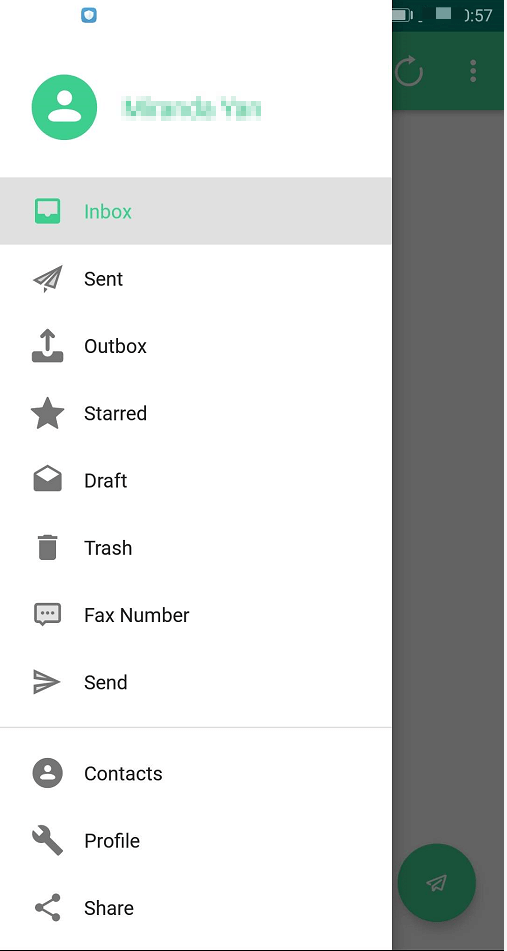 Fax through Email Client
Want to fax using your email client? Well, then CocoFax is the right platform for you. The email-to fax feature of CocoFax helps you send and receive faxes directly from your email.
Fax through the Application
Surely, you can download the CocoFax application, available on the Google play store to access it on your Android device. It not only makes the task of sending faxes easy but also saves you time.
Some of the astonishing features of using the CocoFax application are:
Secure Solution
CocoFax is a HIPAA compliant faxing and PHIPA compliant faxing solution designed with multiple layers of protection. It helps in the safe transmission of faxes from the mobile, web, or through any other third-party app.
Choose Your Fax Number
CocoFax provides its users with a free fax number, of their own choice. Even if you already own a fax number from another provider then you can transfer those numbers to CocoFax with no downtime and benefit yourself with all other additional features.
Team Business and Enterprise Accounts
With CocoFax you can have multiple fax numbers, and define any number of users. Indeed, they provide centralized management for users, billing and fax numbers for fax archiving purposes.
Optimization of Documents
CocoFax works to optimize all your documents using their advanced image processing engine, thereby resulting in the transfer of the highest possible image quality for readability to the receiver.
High Volume Faxing
CocoFax also allows you to send 3,000 faxes per month and can be exceeded to whatever volume your company requires. Indeed, their concurrent fax system ensures that fax gets transferred as fast as possible.
2. FaxFile
FaxFile is an Android fax application by Actual Software Inc., crafted by the developer with the purpose to satisfy your fax-related issues, and handle them well on the Android device platform. The app allows you to send faxes locally and internationally.
You can also send documents of different types using this app, but to do so, you need to purchase fax credits from the Google play store. These credits are chargeable and hence, you'll be billed for every fax you send. Distinguishing features of this app are:
Faxes can be sent to many international places, like the U.S., Canada, etc.
Many formats are supported, such as Pdf, Jpg, Png, Doc, Docx, etc.
The unsent faxes can be resent without any additional charges.
Saved images in your Android can also be shared as a fax.
You can even send a fax to a typed number or a saved contact.
3. iFix
iFax is one of the best fax apps for Android, jam-packed with astonishing features which allow you to send faxes through your Android phone. However, you cannot receive faxes using this app. If you are looking for a fax app that can be used without inputting username, personal, or business details, then this app is for you.
The app provides you with a local fax number, which can be used to send toll-free faxes. It also goes by the name of 'iFax Scanner', assisting you to click pictures of the document and fax it over the internet in no time. However, iFax lacks in providing user satisfaction, as their interface is unreliable and lacks a lot. Other than that, their rich suite features and enterprise-grade fax technology make their choice of many. Some important features of iFax are:
Fax uploaded files from the device as well as from the cloud storage easily.
Edit the background, lighten or darken the text according to your needs using a fax scanner.
Get notifications to stay updated on the status of fax send.
Fully customizable fax templates.
Add logo and signatures with super ease in the fax.
The app supports cloud storage and is fully integrated with Google Drive, Dropbox, etc.
4. FAX.PLUS
You can certainly opt to give a try to FAX.PLUS, which is an easy and fast app to send faxes over Android, given a good internet connection. You can indeed, receive faxes using the fax number provided. FAX.PLUS also offers an email to fax feature, which allows you to send faxes from Gmail or any other email client. This feature is only available under subscription.
Besides, this cross-platform lets you send faxes to people enlisted in your contacts. The app is still under development, still, it is super easy to use and takes a couple of minutes to send and view faxes. Want to know more about its features? Have a look below.
Sign fax documents without printing them using their inbuilt electronic signature system.
Send faxes internationally to over 180 countries.
The fax number provided by them; helps you collect faxes from more than 40 countries.
Additional advantages provided by the scanner include border cropping, document detection, perspective correctness, etc.
Send you to fax on a specific date and time.
5. Fax Burner
Fax Burner is a decent fax app for Android phones from Networx online. The app is one of the most logical and straightforward fax apps, used to fix all your faxing requirements. Their disposable fax number facility makes this app best suited for people who wish to send a fax once or twice. However, the app is not a perfect fit for professionals and businesses.
With Fax Burner, you can send at most four free fax pages per month, after which you are charged for each fax. The app does not consume much system resources, and works well on devices running on Android 5.0 or later. However, the catch is that currently, you can use their fax function only within the U.S. and Canada. Important features of the Fax Burner Android application are:
It helps you to operate fax on your smartphone easily.
Allows you to send 4 faxes in a month and receive around 25 faxes for free.
Bestows you with a secure and confidential operating environment.
The app's user interface makes it accessible to everyone.
Which Fax App to Choose for Your Android Smartphone?
Today, most people consider using online fax services rather than heavy old-fashioned fax machines. With the augmentation of free fax apps, you can even eliminate the cost and save time. However, not all apps are the same, and you cannot rely on any app to fax your confidential documents.
CocoFax allows you to receive faxes easily in your app inbox, a facility that is missing in FaxFile and iFax. Lastly, CocoFax is not only a reliable but also a customer-friendly app. Their awesome servicing places them as a clear winner amongst its competitors. You don't even have to worry about keeping your smartphone turned on all time because they will take the fax for you when your smartphone turns off.
Conclusion
You are free to choose an app that fulfills your needs and requirements. We aimed to make you aware of the different Android fax service providers in the market, and hopefully, we could add some choices to your basket. Make sure to properly weigh all the pros and cons before switching to an app. We wish you luck with a better faxing experience.