Best Free Fax App for Android
5 Best Free Fax App for Android
There was a time when if someone told us that faxing was possible through the palm of our hand without all those bulky machines, we would have laughed at the idea. However, that was years ago and smartphones haven't been invented then.
Android has been a revolution when it comes to technology, making things possible that were once unimaginable. Be it providing you with the power of the internet on your hand or the ability to video call someone on the go, Android has made miracles happen.
One of these abilities that were once considered impossible was the ability to fax. When we think about faxing, we picture those bulky fax machines occupying a major portion of one's office. Along with the fax machine, there are loads of paper and having to buy toner ever so often.
However, now with Android devices, you get the power to send and receive faxes from your cell phone, without needing a fax machine or a phone line. Like everything else, there are fax apps available for Android to enable faxing on the go.
However, it can be difficult choosing the right fax app for you given the sheer number of fax apps available on the internet. Therefore, here is a list of the best free fax app for Android that can do the job perfectly for you:
Best Fax Apps for Android
These fax apps are weighted on a variety of platforms and arranged starting from the best on top. Read the reviews, evaluate what matters to you, and choose your favorite one carefully:
Part 1: CocoFax
CocoFax is the leading fax service provider in the world with faxing solutions for Android, iPhones, computers, and any other internet accessible device. It is used by countless users to send and receive faxes for free.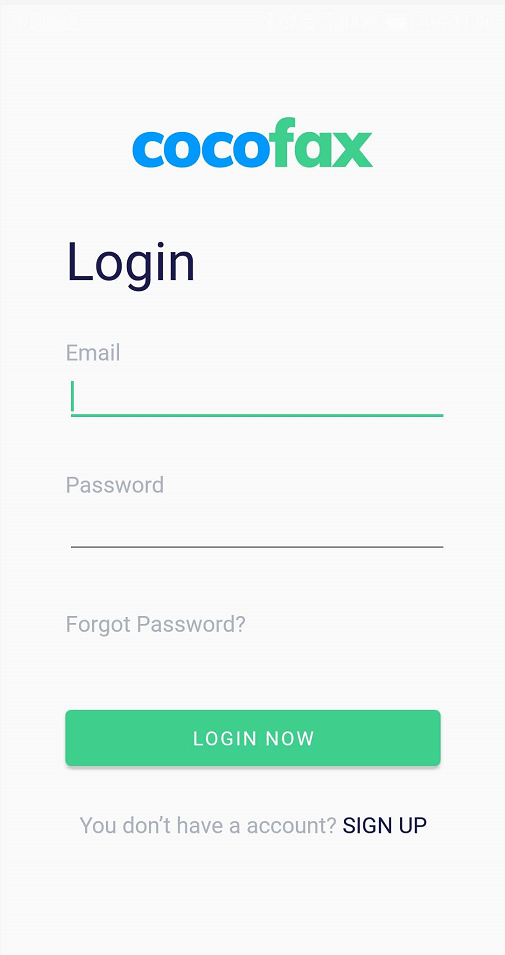 When it comes to faxing solution for Android phones, CocoFax has provided such ingenious ways that even professionals who own a fax machine prefer CocoFax to any other method of fax communication.
This is because CocoFax is the most feature loaded fax service one can find on the internet. Its features are greater than the most high end fax machines available in the market (minus their cost).
The benefits of CocoFax do not end here. WIth CocoFax, you can sync your faxes on your Android phones and other devices by using a single account. You don't necessarily need to download a fax app on your phone in order to use CocoFax.
There are many ways to use it, which are centred at providing complete convenience to the user. These ways also add a level of portability that you rarely see in an online fax solution.
Here are a few ways through which you can use CocoFax to fax on an Android phone:
Ways to Fax on Android Phone with CocoFax
When it comes to an Android phone, you can use CocoFax in a variety of ways. These include:
Fax through Online Dashboard: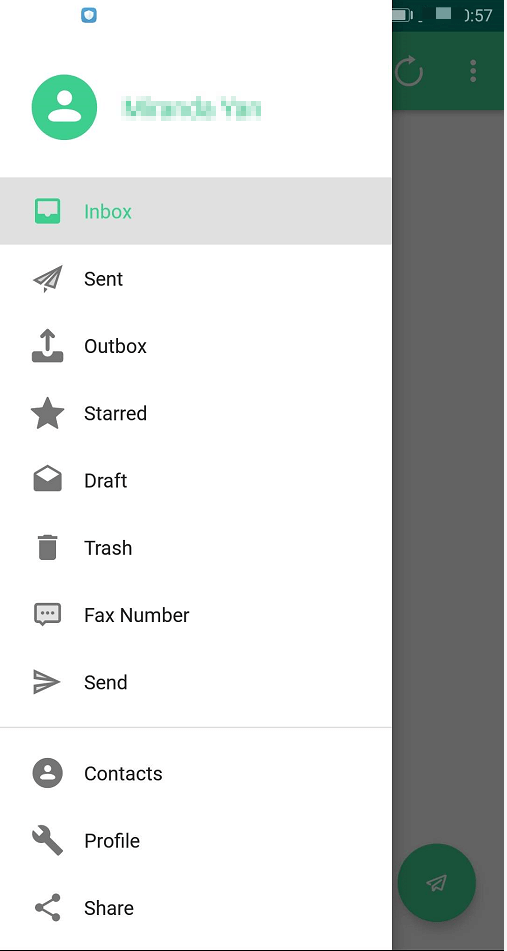 You can log into your CocoFax account and use the dashboard to send and receive faxes. Your received faxes are stored here permanently so you can access them whenever you like. You can do this through your web browser without any additional app.
Fax through Email Client:
CocoFax's email to fax solutions let you fax right from your email client. For example, if you use Gmail app (or any other email app) on your Android smartphone, you can fax right from that app with CocoFax.
As you can see, these features really take faxing to the next level. Further, they let you view your faxes across all your devices by logging into your CocoFax dashboard or your email account.
Delivery Reports and Fax Notifications
CocoFax provides you delivery reports in your email on every fax you send to any fax number. You will know whether the fax was delivered or not. You will also learn about other important fax details like time logs and the length of the transmission.
**If the fax is undelivered, the most common reasons are that the receiver's fax machine is turned off, it is busy, or you entered an incorrect fax number. Theoretically speaking, there are no errors on CocoFax's end.**
You also get a notification in your email inbox whenever you receive a fax. This notification email also contains the received fax in an attached pdf format. We all know how easy it is to open PDF files on your Android smartphone.
Choose Your Own Fax Number
If you decide to go with CocoFax, you won't have to commit to it to try out its services. CocoFax offers you a free 14-day trial period where you evaluate its services completely free of cost.
When you opt for this free trial, you also get to choose your own fax number. You will hardly find this freedom anywhere else.
You can use this fax number for a month and see how these services work out for you. After that, you can get a CocoFax subscription if you would like to keep this fax number.
Part 2: FaxFile
FaxFile is an Android fax application that allows you to send fax only. You cannot use FaxFile to receive faxes, so you should keep this in mind beforehand.
When it comes to sending faxes, FaxFile offers you many features to send faxes locally and internationally. However, it is important to download the FaxFile app on your Android phone. You cannot send faxes online or through email if you use FaxFile.
Further, in order to use FaxFile, you need to purchase fax credits through Google play. These credits are chargeable and you will be billed for every fax that you send.
FaxFile does not offer you a monthly subscription plan. This makes it costly to use on the longer run. When you are sending international faxes, every fax sent counts as multiple faxes. Therefore, a lot of fax credits are used.
Also Read: Best Fax Apps for iPhone
Part 3: iFax
iFax is one of the best fax apps for Android which allow you to send faxes through your Android phone. It is important to note that iFax cannot be used if you wish to receive faxes.
iFax's Android solution also goes by the name of 'iFax Scanner', given the primary functioning of the app is to click pictures of the document and fax it over the internet.
iFax offers you the option to pay for each fax or get its monthly subscription if you are a long term user. There is no option to send free faxes, so you will have to commit to iFax if you plan to use it.
Also, a disappointing factor about iFax is that it lacks a bit on providing user satisfaction. The interface is a little lacking and unreliable, which leads to many users giving it a bitter rating.
Other than that, if you want an average fax service to fax from your Android phone, iFax can do the job for you.
Part 4: Fax.plus
After reading about a couple of Android fax apps that let you send faxes only, here is an app which you can use to receive them as well- Fax.plus.
Fax.plus allows you to not only send faxes but also receive them through a fax number that they provide you. Even though you don't get to choose your fax number (as was the case with CocoFax), you can share the one that they give you to people who want to send you faxes.
It also has email to fax features when you get a subscription for Fax.plus. You can use it to send faxes from Gmail or any other email client.
However, users often report that the email to fax technology of Fax.plus is yet developing and it tends to miss on incoming faxes at times.
Part 5: Faxburner
Faxburner is a decent fax app for Android phones. The app is good for someone who wants to fax just once or twice, since it works on giving you a disposable fax number.
When you want to send a fax, you can create a quick one through this app and send it to anyone you wish. This will consume fax credits of course and is chargeable by the application.
When you have to receive a fax, Faxburner gives you a disposable fax number which is only valid for 24 hours. This is not suitable for professionals and businesses as they often prefer to have a permanent fax number which they can share on their professional channels.
With Faxburner, you can send only four free fax pages per month. After this, the charges are very high. This turns out to be a deal breaker for many of its potential customers.
Which Fax App to Choose for Your Android Smartphone?
People often prefer an online fax service as compared to a fax machine because the fax machine involves a lot of costs and no one wants to commit to that in the long term.
Further, fax machines are an old technology and they need to be kept turned on all the time to receive faxes without missing them. Not to forget, you have to get your own fax number from your telephone service provider when it comes to a fax machine.
However, an online fax service is supposed to eliminate all of these negative points. You need a fax service that doesn't ask you to commit, that you can try first before you buy it, and that can send and receive faxes with reliability.
Based on all these factors, CocoFax turns out to be the clear winner. It has a 14-day trial period where you can evaluate its services very nicely. Not only that, it even lets you choose your own fax number without any additional costs.
Lastly, CocoFax is totally reliable and you will receive faxes even when your smartphone is turned off. Therefore, you can use it without worry.
All these things make CocoFax the clear winner for the first place on this list and your Android smartphone.
Endnotes
Now you know the best apps that you can use to fax from your Android phone. The choice of the app you use is entirely up to you. Just be sure to weigh the pros and cons of each app before you use it.