Where Can I Send A Fax
Do you want to send and receive fax documents securely at a convenient location? Some businesses rely on faxes to send and receive reliable signatures and official documents. But it is much more expensive to get a fax machine. So if you're looking for easy, cheap, and reliable options to send fax near you, you've come to the right place. This article will be discussing how to fax using an online fax service provider and what are the other ways to send a fax.
Part 1: Where Can I Send a Fax Near Me?
Many of the latest technological tools have incorporated fax. Now you can send a fax from your computer and smartphone using an online fax service. CocoFax is a prominent online fax service provider with customers all around the world. It offers high-quality faxing capabilities in a secure and cost-effective way.
It is the easiest and the most convenient tool to send faxes online. All you need is to create an account and get your fax number for free. There are two ways to send and receive your fax using CocoFax, the web browser, and email.
1.1 Sending a Fax via a Web Browser with CocoFax
CocoFax allows you to send and receive any documents using any browser from any device worldwide. All you need is a PC or smartphone, a reliable internet connection, and a fax number.
Firstly, signing up for a CocoFax account to get a free fax number of your choice. Once you have the fax number, follows the steps below:
Step 1: Log in to your CocoFax account and click on New Fax.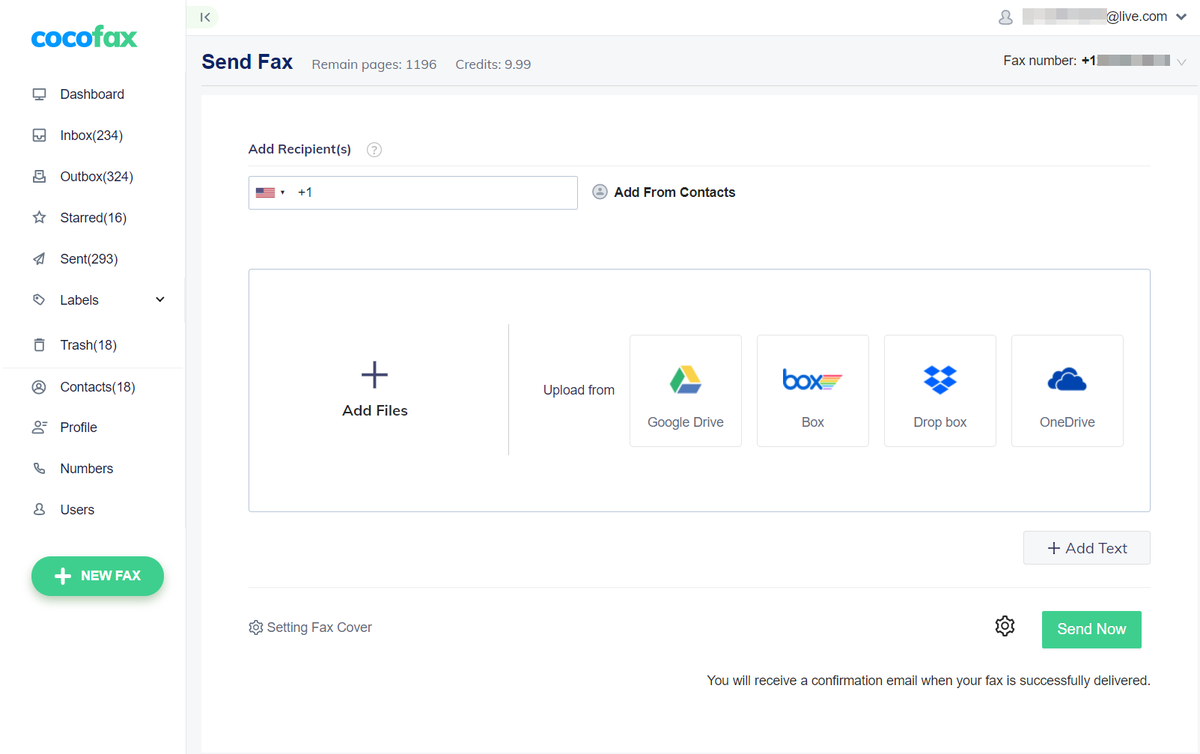 Step 2: Enter the recipient number, type in a message as a cover letter, and attach the necessary documents and files. CocoFax supports popular formats of Doc, Docx, Jpg, Png, Jpeg, and others. Once you have composed your fax, hit Send Now.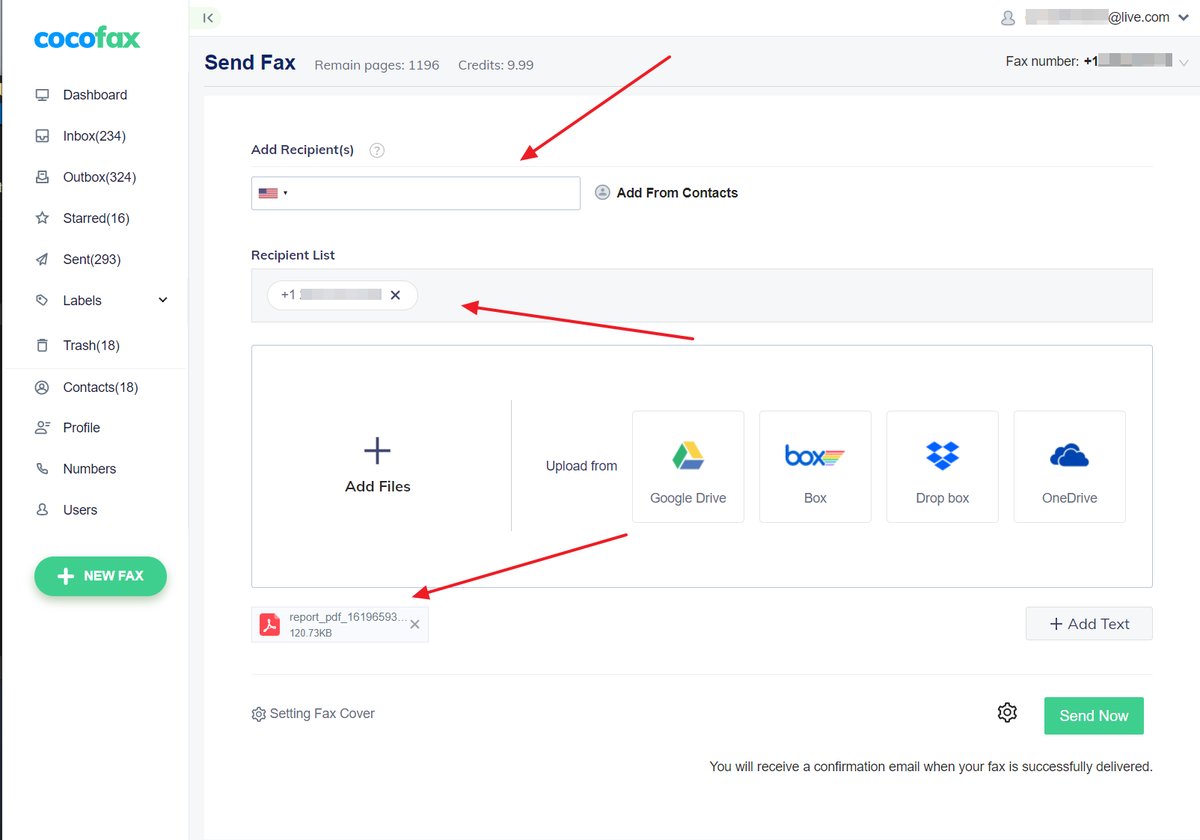 You don't need to panic if your fax transmission is unsuccessful. The common reasons for failed transmissions include a busy receiver's fax machine, a turned-off fax machine, or sending an incorrect fax number by accident.
You can also watch the video below:
In fact, receiving a fax is simpler if the sender has your fax number. All the faxes sent to your fax number are permanently and automatically stored in your CocoFax's inbox. You can check all the faxes sent to you and download them as desired.
1.2 Sending a fax via email
CocoFax's email to fax feature enables you to send and receive faxes straight from and into your email account. But, you will need to get your CocoFax's fax number first. While it may sound complicated, it is as easy as sending an email. It's also coupled with additional benefits over the traditional fax machines.
CocoFax bleeding-edge technology acts as an interceptor between you and the other person's fax machine. Therefore, if you send an email to someone's fax machine, CocoFax will translate it to proper fax and transmit it. In similar terms, if someone sends a fax to you on your fax number, the fax will be converted and forward to you as an email.
The main difference between sending a fax via web browser and email is that in the email, you have to add the recipient's country code, fax number and follow it by '@cocofax.net'. For example, if you are sending faxes from the U.S. to the U.S., you need to add '1' before the fax number, which will look like this '[email protected]'.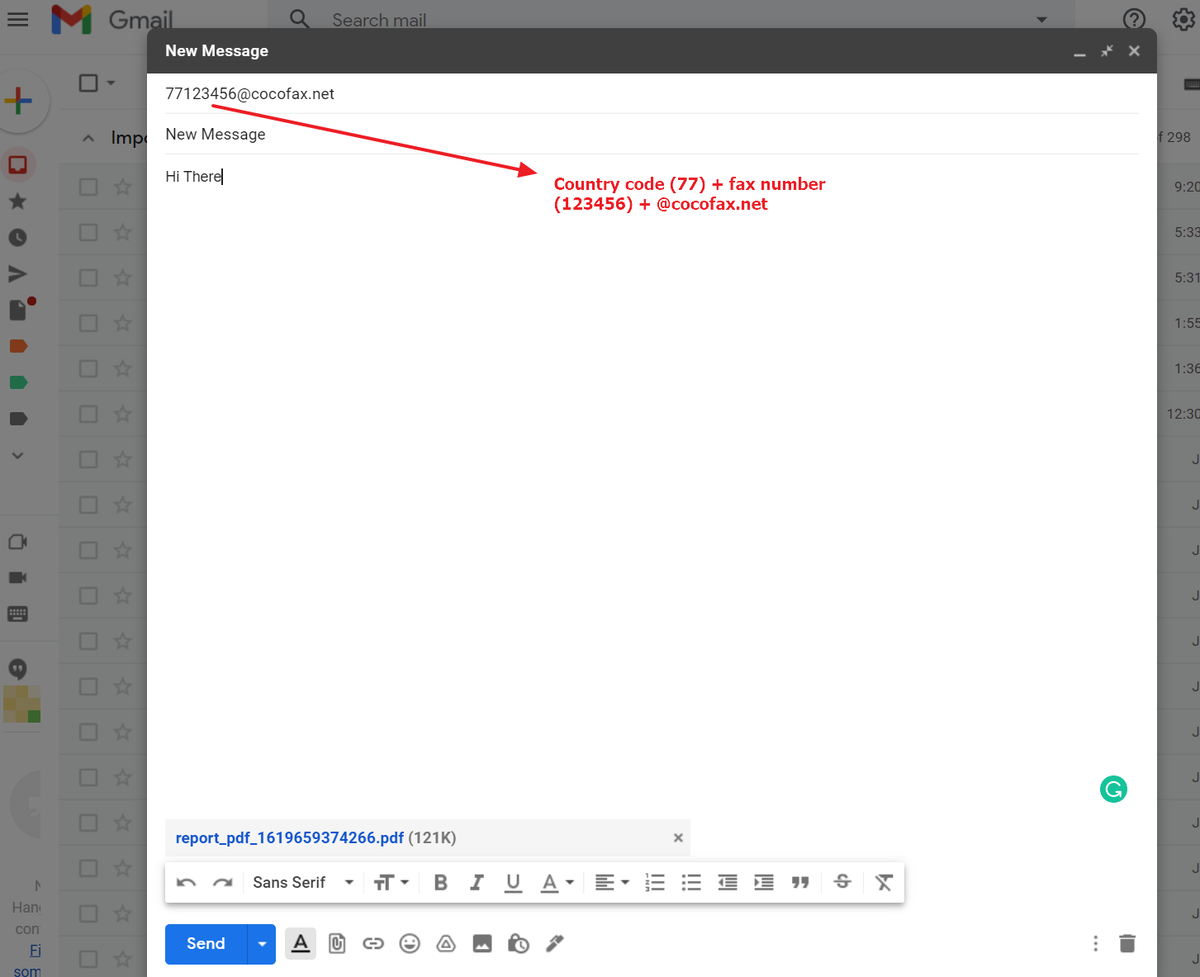 Once the fax is transmitted, you will get a confirmation email in your email inbox telling you that the fax was successful, including the time log of the transmission.
You can also watch the video below:
Part 2: Alternative Options to Send a Fax
Sometimes, it can be difficult to locate a nearby accessible fax machine. However, major shipping stores and office supply stores across the nation always have fax machines you can use. In addition, there are a few other kinds of stores that offer faxing services, but you'll often need to be a member to send a fax.
This section will discuss some of the most common places to send a fax, starting with the most accessible and cost-effective.
Option 1: Check with Your Office Administration
In a workplace setting, the best person to contact in sending a fax is the administrator. So check out with the administration department and ask for permission to send a fax. Being company equipment, they will let you do it for free. You can also check other departments that keep fax machines, including human resources, and accounting and finance.
Option 2: Use Public Fax Machine
A public fax machine is an offered service that you may see in a library. Other than that, hotels, RV parks, travel bureau, and embassies are the other places to find a fax machine. The majority of the hospitality industry and airport districts within your city will be more likely to have business facilities.
You can walk in and courteously ask the receptionist if there is a fax machine available and if you can use it. Plus, look for the travel agent offices, office supply store, or photocopy/ fax shop if you are on the move. You may have to pay a nominal fee for using their services.
Option 3: Go to Fax Service Providers
Fax service providers offer fax as a line of business. The easiest way to find a fax service provider is to search for 'Fax Services Near Me' on Google, and then look for Staples, UPS, FedEx, and other delivery service stores. However, these stores don't include fax prices on their websites — prices may vary by location, and they are subject to change. So make sure you contact them to clarify any queries related to their location, service charges, or timings before visiting.
Conclusion
We've looked at different options you can use to fax a document in this article. CocoFax gives us the best flexibility of sending and receiving faxes through 'Web App' and 'Email-to-Fax' features. CocoFax's intuitive user interface and reliability are one of a kind. Go ahead and try it out, no doubt you'll enjoy the advanced features.