Google Fax: How to Fax with Google Free Online
Google Apps are used by every workplace nowadays for easy communication and document collaboration. However, fax still comes as the go-to option for most organizations when it comes to data security and encryption.
If you are looking to integrate cloud-based fax systems into your Google workflow, then this article is for you. Read on to find more about faxing from Google apps, such as Google Drive, Google Docs, Google Sheets and more.
What Is Google Fax & How It Works?
Conventional faxing mainly depends on telephonic networks to convey fax signals from the sender to the receiver. The sender first scans the document before sending it out whereas the receiver prints out the document copy.
The whole process is complicated, which includes setting up expensive fax machines at both ends, and investing in other prerequisites such as paper, toner, cables, space and more. It's also not secure since anyone with access to the phone line can easily steal all the confidential data.
Google is no longer just a search engine; it also offers a wide range of services. Google fax is a feature that uses Gmail and Google Drive to send and receive faxes. You don't need a fax machine or phone lines, here you can simply fax with your Google account from your computer, smartphone, or any other internet-connected device. All that is required is a google fax number.
A google fax service receives fax signals and then converts it into readable digital documents. As Google does not have its own fax servers, you will need a third party service provider. This is where Google fax comes into action.
Fax is largely used for business communications, for which speed, dependability, and security are essential. Each of these areas should be well-served by the Google fax service you utilise. It's difficult to discover a Google fax service that is flawless in every way. That's why we've identified the ideal solution for you in the form of "CocoFax".
Benefits of Google Fax
With Google fax, you get to experience multiple benefits for your business.
Higher Productivity
CocoFax's google integration is flexible and can be used on any computer, phone, or tablet, irrespective of its operating system. You may easily integrate CocoFax into your Google Drive workflow and send and receive faxes efficiently with CocoFax.
On-Air Collaboration
Fast and highly responsive, CocoFax's Google integration enables smooth collaboration even for a remote workforce. Moreover, you can also track the fax in real-time and get notified if it hasn't reached the recipient.
Better Accountability
All the communication networks place a premium on hassle-free service. CocoFax provides you with a delivery record for each fax you send and a notice for each fax you receive. As a result, there is no risk of missing any.
Admin Panel
It is ideal for team management as it comes with a dedicated admin panel from where the admin can manage their team, and also allot designated fax numbers to his subordinates.
More Security
CocoFax uses advanced security mechanisms including top-notch data encryptions, Two-Factor Authentication, biometric security, etc. This ensures that your data is fully secure. Because CocoFax's whole fax procedure is automated, you won't have to worry about third parties prying into your private fax conversations.
What's a Google Fax Number?
The google fax number is a fax number connected to the user's Gmail account which allows users to send and receive faxes. The incoming fax transmissions are captured by google fax number and sent to powerful servers, where they will be promptly transformed into a PDF document and forwarded to the user's email.
Once the online fax number is activated, faxes will be immediately delivered to the user's Gmail. Incoming transmissions will be notified via phone or by using a notification add-on.
How to Fax with Gmail
To fax from Gmail, you need the following items to get going.
Gmail Account
The sender should have a Gmail account to start with online faxing.
Account on CocoFax
CocoFax will be the third-party mediator that converts the signals and makes the transmission of the fax possible. You can sign up for a new user account on the official website of CocoFax.
Internet Enabled Device
A smartphone, desktop, or laptop, any device or system that is well-connected to wifi would let you google fax easily. As mentioned earlier, a portable device will allow you to fax on the go as well.
Steps to send a fax with Gmail
Step 1: Register for a CocoFax account. You can start with the 14-day free trial. Do not forget to use your active email ID. You are going to receive all the fax-related information in this ID only.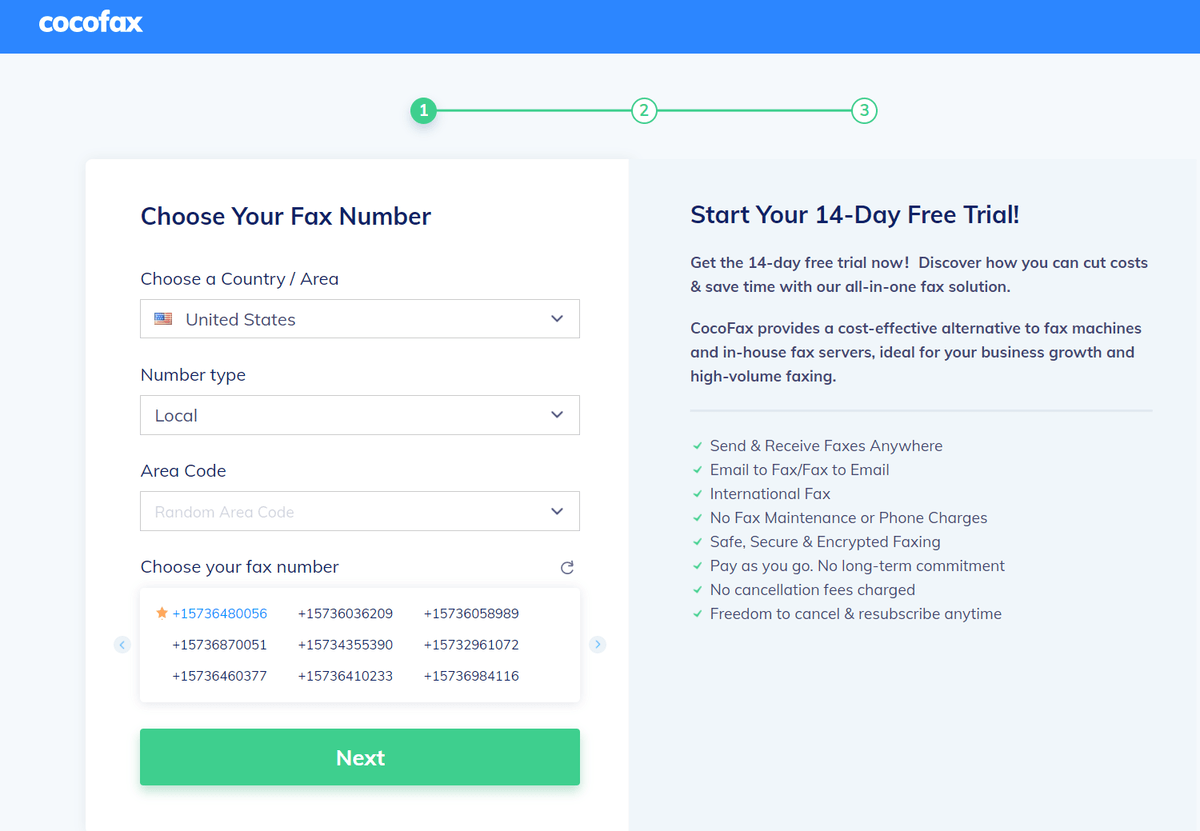 Step 2: Go to Gmail and log into your mail account. Find the "compose" icon and start creating the mail. At this stage, you will need to keep in mind the following things:
About Subject line: Subject line is the part that catches the attention of the recipient. Add a note in this space if you want to.
About the email body: It's the first page of the fax document. Create it in a way you want the doc to appear when received by the recipient.
About the "To" field: Now, typically, you would type the receiver's email ID in the "To" space while sending a mail. However, while sending a fax, you need to enter their "country code," followed by their "fax number" ending with ''@cocofax.net''.
Attachments: Do not leave the attachments out! They are the main fax ingredient you want to send. Mainly all the major formats like Doc, Docx, Xls, xlsx, png, and jpg are attached with the mail.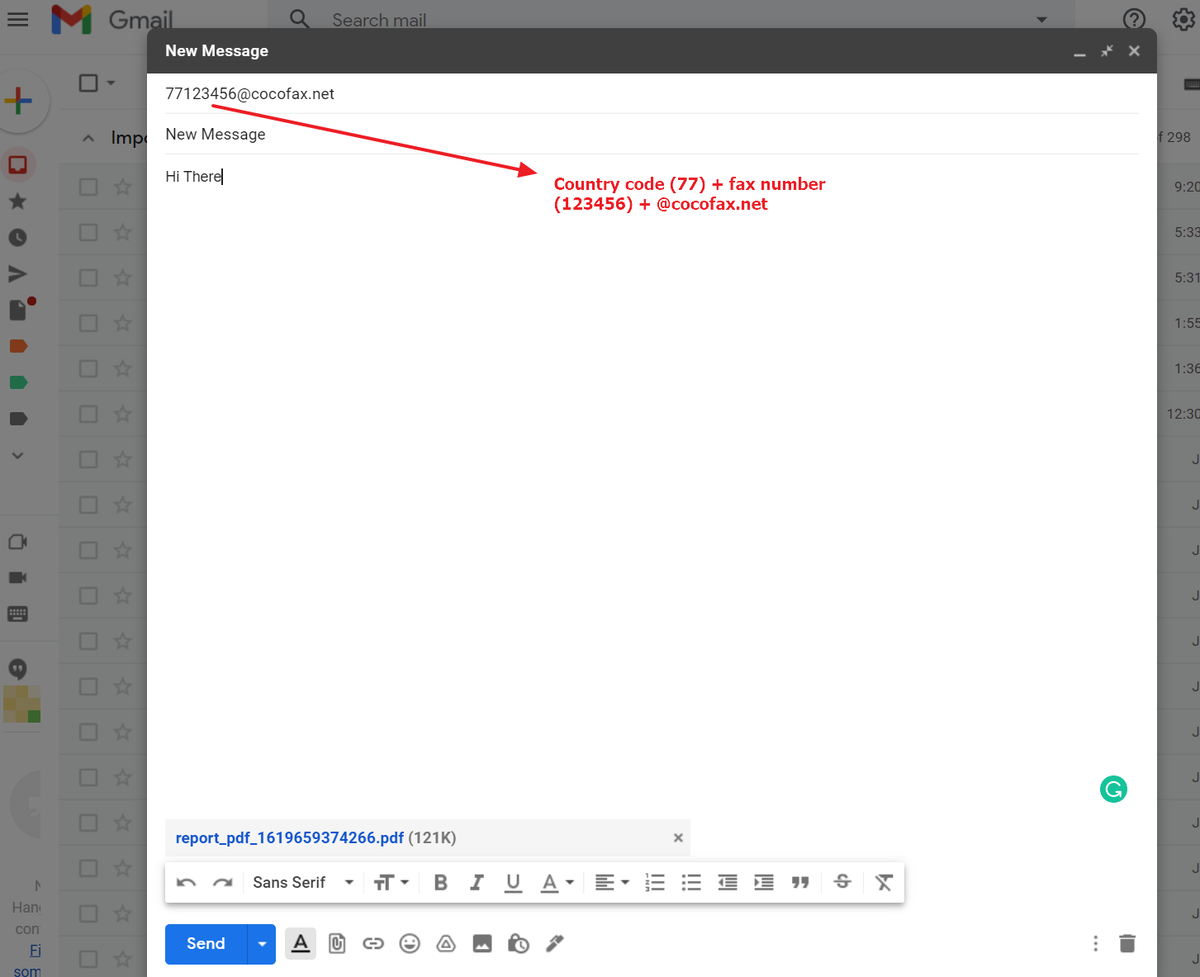 Step 3: Lastly, double-check everything and hit "send." That's it; your fax is sent. You would get a notification regarding the confirmation of the process.
You can also watch the video below:
Steps to receive fax with Gmail
Once the sender has initiated sending faxes from their side, you will receive an email notification upon receiving the document. After that, you can either access the faxed PDF via your CocoFax account or directly through the mail.
How to Fax with Google Drive
Fax with Google drive is a beneficial feature for businesses today since most have switched to Google Drive for their office operations. Here is how you can send faxes with google drive:
Step 1: Download the CocoFax Add-on and install it on your computer.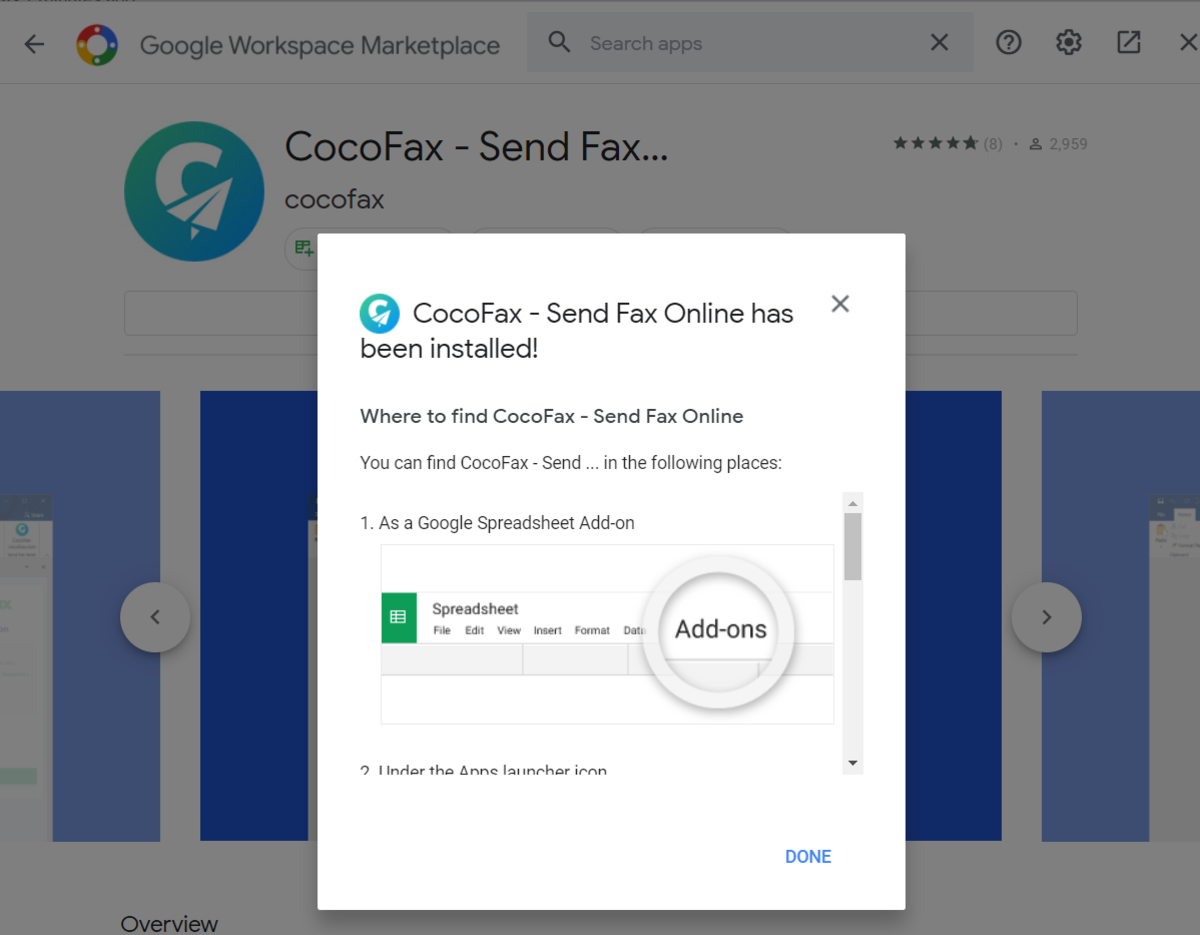 Step 2: Open the document that you want to fax and find the menu's " Add-ons" option. Once you click on it, CocoFax would appear as an option. Select it and hit the "send fax" button.
Step 3: Once this is done, you'll be required to log in to your "CocoFax account." Now add the fax number, subject, body, in the interface and hit "send." Make sure you double-check everything before pressing the send button. After that, your fax would be transmitted to the receiver.
You can also watch the video below:
Check for the information mail once done. The best part about this method is that you can directly fax a document without downloading it to the device and attaching it to a mail.
Faxing through Google is a boon to those unfamiliar with the old world faxing system. It is fast, easy to use, but also a more reliable means of sharing confidential data.