Email to Fax: Send & Receive Fax from Email for Free
The conventional method of sending a fax through a fax machine has always been considered time-taking. It is tiring to sit across a fax machine and wait for important fax to be communicated through it. Sending a fax through email is regarded among the contemporary techniques that have guided users to carry out their business communications efficiently.
The adoption of this technique presented people with multiple benefits as compared to a traditional fax machine. This guide will provide detailed explanations of how you can send and receive faxes from email with ease.
Everything You Need to Know About Email to Fax
The email to fax method explains that the user can send their faxes through an appropriate email address. Similar to sending a normal email, this can be carried out with different email clients such as Gmail, Hotmail, or Outlook.
The process of sending a fax from an email client to the fax machine requires an interceptor which can help to convert the email into the fax format. CocoFax is the best online fax tool that can make email to fax work. It features itself as an all-in-one online fax service provider that helps users in sending faxes across email addresses with safety and security.
Users are promised with efficient communications, which are established with any individual, present at any edge of the world. CocoFax makes it extremely easy for users to send and receive important faxes across a device.
The following steps display a detailed explanation of how to send an email to fax with ease across CocoFax.
Step 1: Sign up with your email address to have it connected with CocoFax and select a fax number of your preference.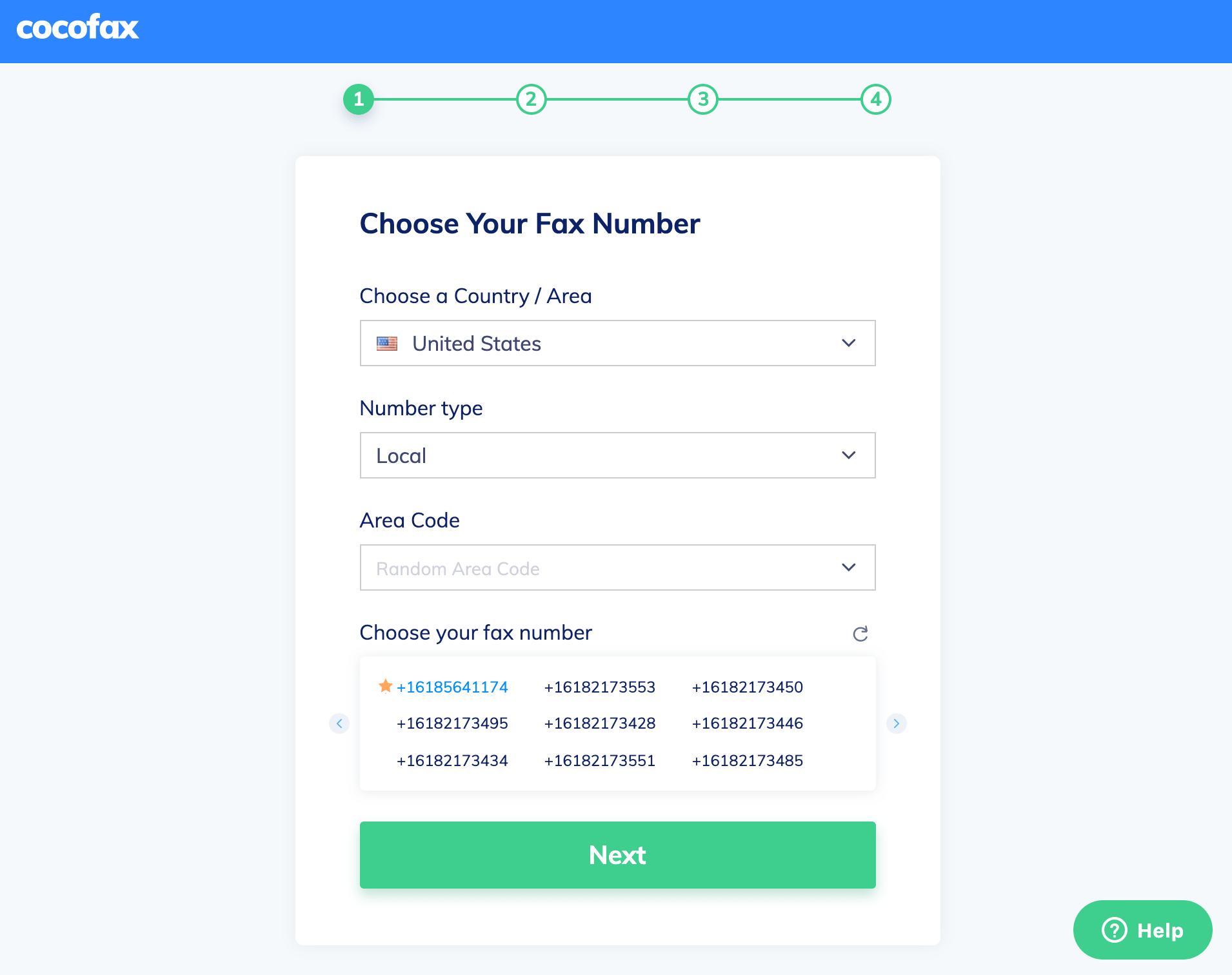 Step 2: If you are going to fax from your Yahoo mail, open the email client and compose a new email. Add in the email address of the recipient. This shall include the country code, the fax number of the person that you are sending the fax to, followed by @cocofax.net.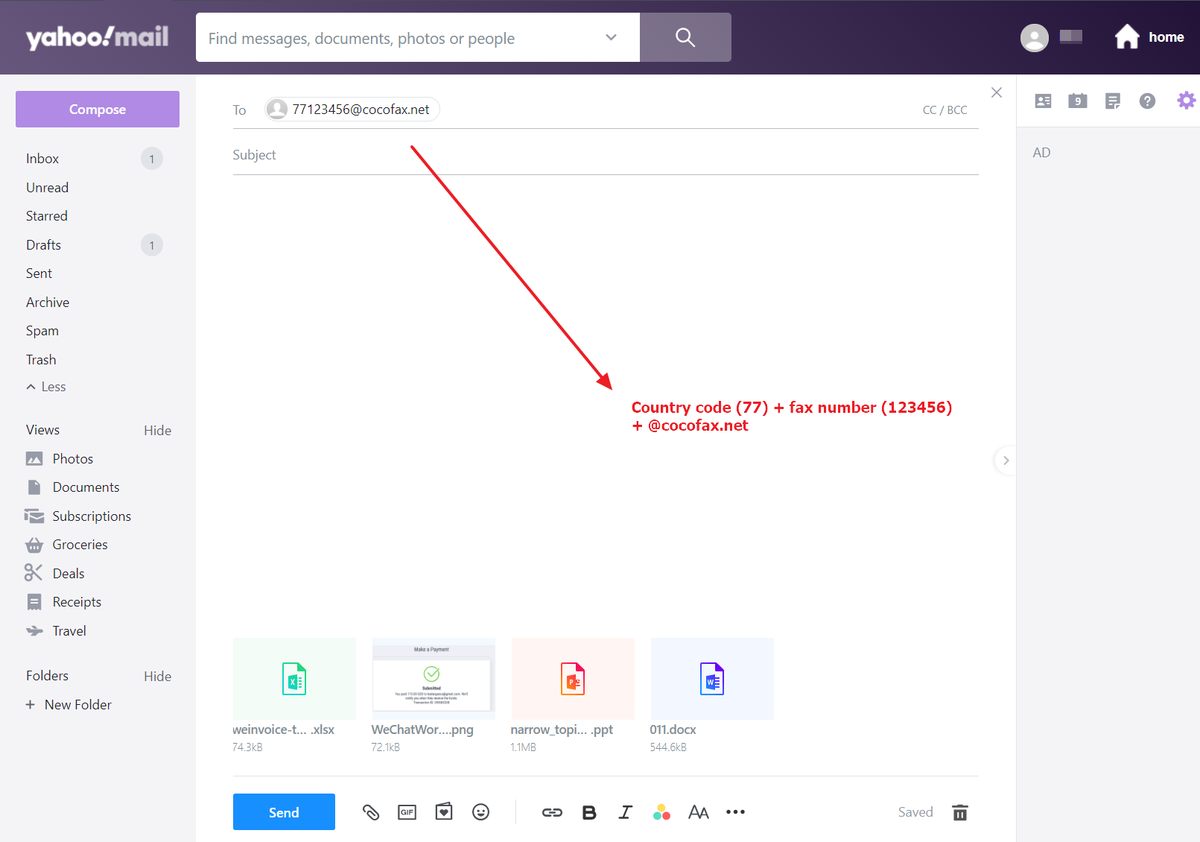 Step 3: Type the message in the email's body, attach all the required documents, and tap on 'Send' to execute the process. CocoFax will soon receive the email and translate it into a fax document before sending it to the recipient's fax machine.
You can also watch the video below:
Can you Directly Send a Fax to an Email Address? How?
Sending faxes to an email address is technically impossible without the aid of any appropriate tool. Even with the presence of a fax machine, sending or receiving faxes across emails is not plausible. As it is known that faxing is an analog transmission process, the information that is present in a fax is transferred as telephonic signals.
Email transmission, on the other hand, is a digital process and follows a digital medium in sending information instead of an analog medium. Although this makes it sound impossible to send a fax through an email address, there are certain services that have made this a tangible possibility.
CocoFax features a secure and efficient source of sending faxes through email addresses. For this purpose, you need to buy or get a free fax number from CocoFax. It acts as an interceptor throughout the process and allows the communication of an email address with a fax machine. Any fax that is sent across an email address is translated by CocoFax into analog form, which is then transmitted further to the fax machine.
On the other hand, people can send faxes to the fax number that is obtained from CocoFax. Users who own this number can receive the fax on their email account. This is a similar principle as sending a fax from email, in which CocoFax translates the fax to an email before sending it to the recipient.
FAQs
This part shall answer a list of questions that might be asked by any user who is new at CocoFax.
1. Which email clients can I use for sending or receiving faxes?
CocoFax supports all kinds of email clients, such as Outlook, Yahoo, Gmail, and Hotmail. It is up to the user to select any email client to utilize for sending and receiving faxes across CocoFax.
2. How will I know if my fax was delivered?
You will receive an email notification once the fax is sent, stating that the fax was delivered or undelivered.
3. Why was my fax not delivered?
It could be because the recipient does not turn on their fax machines, or the fax machine is busy. In another case, you may enter the wrong fax number.
4. Do I need to have a fax number to send faxes to?
Yes, it is important to have a fax number for sending faxes. This is because the fax number is displayed across the receiver's end once they receive the fax.
5. Does my device need to be turned on to receive faxes?
CocoFax exempts the need to turn devices on for receiving faxes. Once a fax is received, CocoFax converts it into an email and forwards it to your inbox.
Wrapping Up
This guide has discussed how users can use their emails to send and receive faxes with CocoFax. People no longer need to have a fax machine to fax their documents anymore. They can access the faxes across any device while sitting anywhere in the world.