How to Send International Fax
Sending a fax abroad is a lot like making an international phone call. All you need is a global-ready fax service like CocoFax and the recipient's fax number with their country code attached.
We'll show you how to fax internationally through CocoFax using your web browser or existing email account here. We'll also list some service features that you may find useful and clear up any doubts you may have when faxing internationally for the first time.
How to Send an International Fax through Your Web Browser
Fire up your web browser on your phone or computer, navigate to the CocoFax website, and then follow the instructions below:
Step 1: Choose your unique fax number. CocoFax offers a free fax number when you sign up for a paid subscription on the official site. Click on "Start Faxing" on the top-right corner to create your account. Fill in basic details on the preceding page.
Step 2: Once you've signed up for CocoFax, you'll be taken to the dashboard. This is where you can send out faxes internationally (as well as receive them). You don't need to download any software. It all works from within your web browser.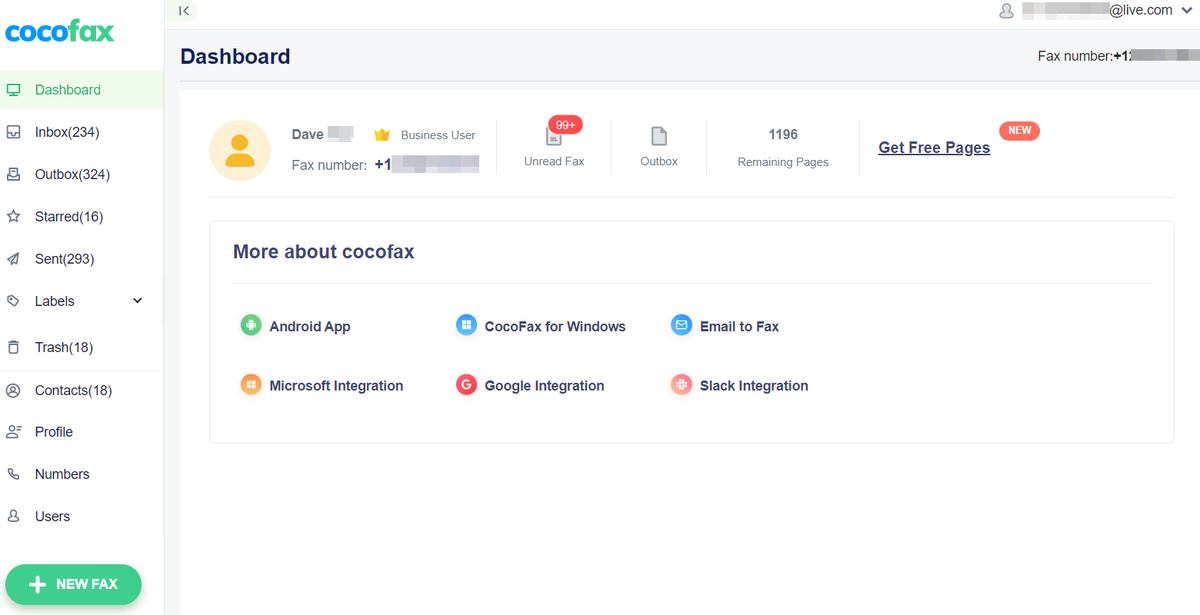 Step 3: Click on the "+ NEW FAX" button at the bottom-left corner to compose a new fax. This will open the compose fax window.
Step 4: Start by typing in the recipient's fax number in the "Add Recipient's" field. You have to affix the country code to the number.
For example, if you are sending a fax to Australia to the number 123 456 789, you must send the fax to "+61 123 456 789". The "+61" is Australia's country code, and the nine-digit number afterward is the recipient's fax number.
Note: Do not include a "0" before the number (unless it's an Italian number).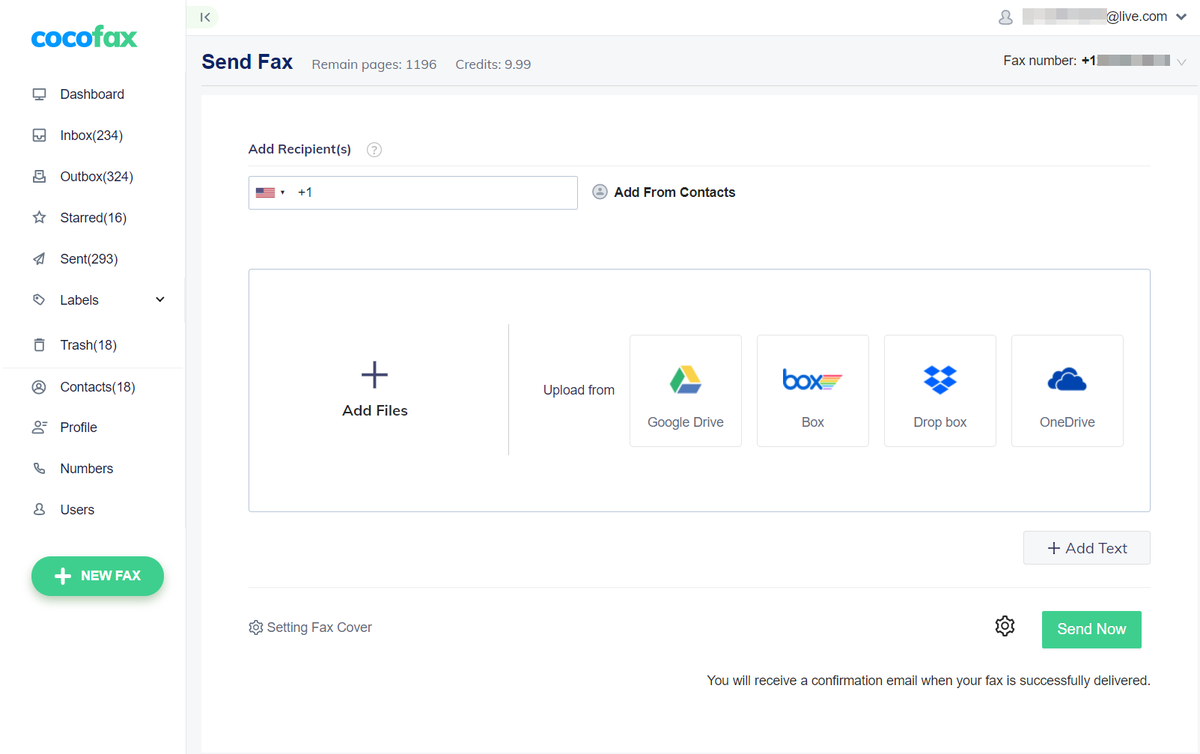 Step 5: Attach the files you wish to fax by clicking the "Add Files" button. You can upload a file from your device or a supported file-sharing service like Dropbox. Optionally include a message to the recipient by clicking on "+Add Text" on the bottom-right corner.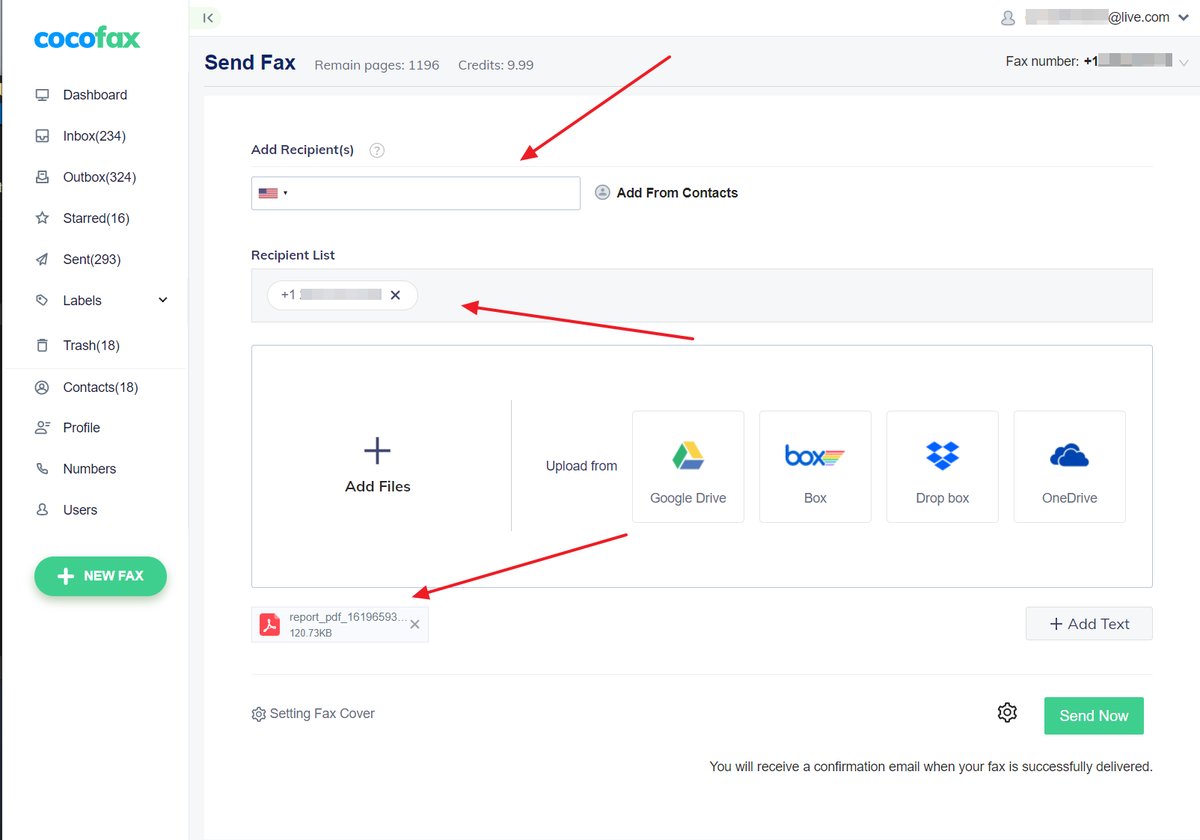 Step 6: Click on "Send Now" to send out your fax. You can check international fax pricing here.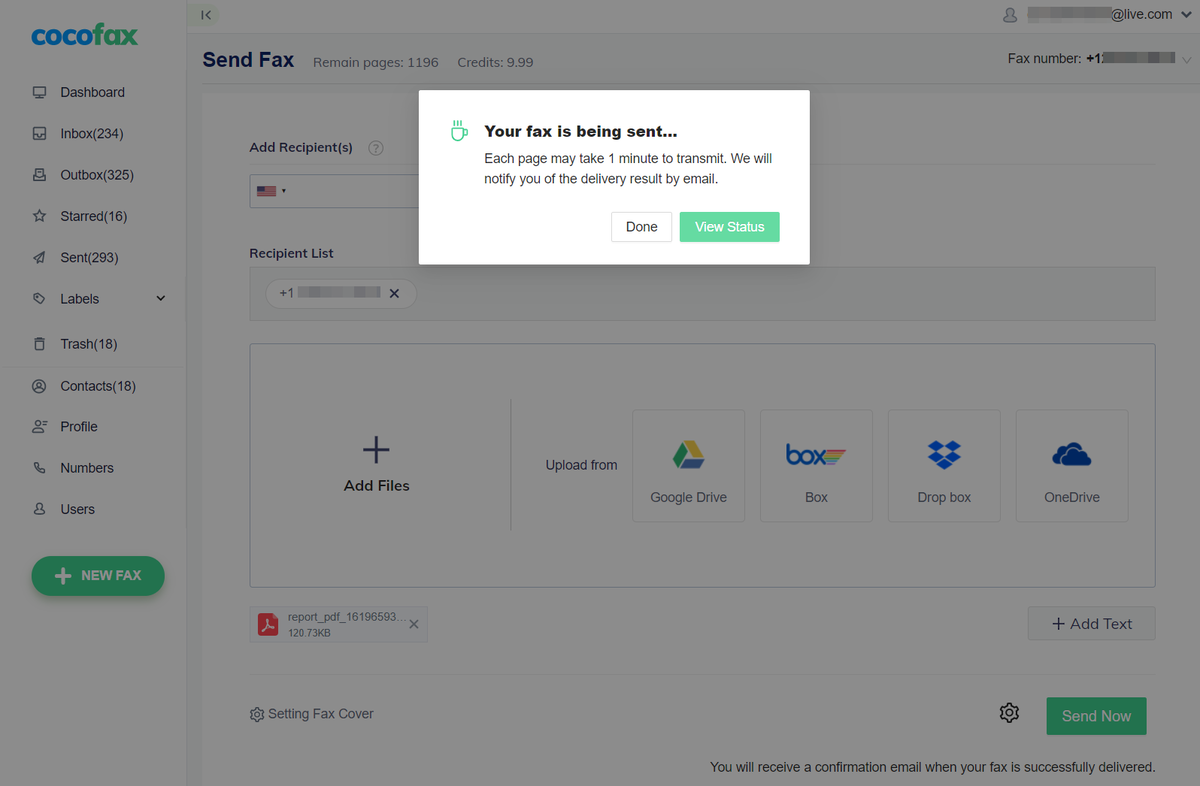 You can also watch the video below:
How to Fax Internationally via Email
You'll need to do some initial prep before you can send out faxes from your account. Start by signing up for CocoFax and registering your email ID. Further instructions are given below.
Step 1: Sign up for a CocoFax account on the official website. You get to choose a unique fax number first. You'll be asked to fill in some relevant details afterward. Important: Type in the email address you wish to associate with your CocoFax account. This is the email address you will be able to fax from.
Step 2: Once your CocoFax account is up and running and associated with your email address, you are ready to send out international fax from your email. Start by logging into your email account – this could be through a desktop app, via your web browser, or from your smartphone. CocoFax supports all popular email clients – including Gmail, Outlook, and Yahoo mail.
Step 3: Click on "Compose New Email" or a similar option from within your account.
Step 4: Type in the recipient's fax number in the address field – where you usually type in the email address you wish to mail. Remember to affix their country code. Further, add "@cocofax.net" as a suffix.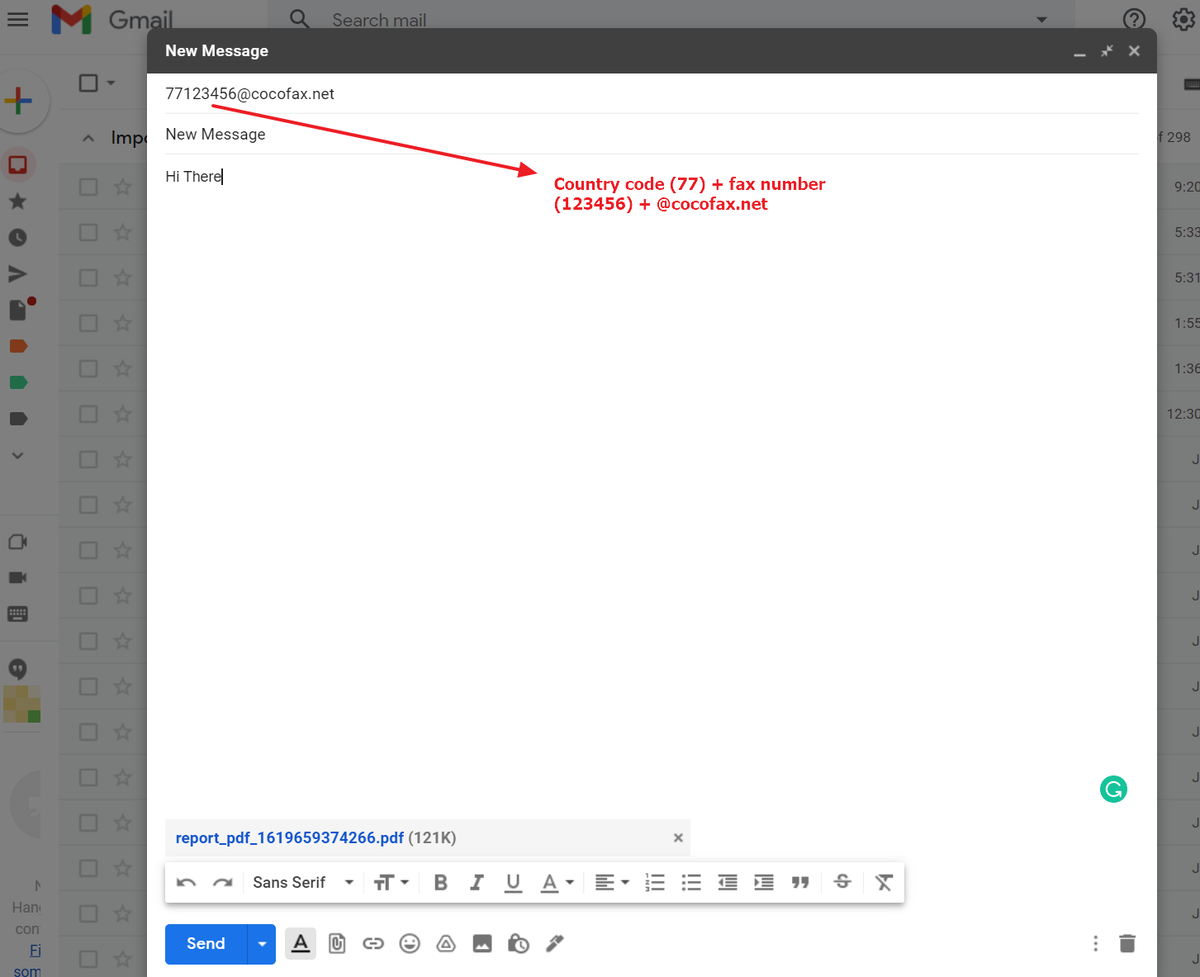 For example, if you wish to send an international fax to Australia on the number 123 456 789, type in "61123456789". The "61" is the country code here. Please note that there are no blank spaces between the digits. You will also have to add "@cocofax.net" at the end of the number. Thus, the recipient's email address will be [email protected].
Note: Do not include a "0" before the number (unless it's an Italian number). Further, the "+" from the country code should be dropped.
Step 5: Attach files to the fax, just like you do to a regular email. These files will be processed and faxed to the recipient's number.
Step 6: You can add a message in the email body if you wish. If everything is in order, click on send email. The email will be routed through CocoFax's servers, converted into a fax, and sent to the recipient's fax machine.
You can also watch the video below:
CocoFax: International-Ready Fax Features
CocoFax offers a myriad of features business owners may find useful. And the service is packed with many quality-of-life features besides that make sending out international faxes a breeze for everyone.
1. Fax options: You can tweak some relevant options for every fax. You can, for example, send a fax instantly or schedule a delivery at a particular date or time. You can have CocoFax retry sending a failed fax after an interval.
2. Fax optimization: CocoFax's advanced image processing engine will ensure every file you fax looks crisp, clean, and high-quality. You can send out high-resolution files.
3. Delivery reports: After every fax is sent, you will receive a delivery report. You can check transmission time and the delivery status. You can rest easy knowing your fax was sent successfully, and preserve the report in your archive for later.
4. Business use: You can choose from a variety of accounts and plans tailored for business users. Some features offered include centralized management, multiple fax numbers, billing, user hierarchies, and team collaboration.
5. Other noteworthy features: CocoFax offers useful features like fax headers, mass faxing, archiving, auto retries, and reporting systems. The Phonebook allows you to save frequent contacts. You receive dedicated support and can integrate your account with apps like Slack or GSuite.
International Fax: Everything You Need to Know
1. Is sending out an international fax expensive?
It depends on several factors. If you're using your own fax machine, it's expensive as you pay for overheads like a fax number, printer, toner, and the line. If you're using CocoFax, you pay a reasonable subscription fee. Depending on the plan, you get a quota of pages per month. Sending an international fax may consume one or more pages.
2. How do I receive an international fax?
When you sign up for CocoFax, you will receive a unique fax number. You can share this number with the people who wish to send you an international fax. Once the fax is sent to the number, CocoFax will make it available to you in an electronic format in your CocoFax dashboard (or email ID).
3. Is international fax secure?
Yes. You can rest easy knowing any fax you send or receive through CocoFax, which is super safe. It's only accessible and readable to the sender and recipient. Additionally, CocoFax is a private, HIPAA-compliant solution. Faxes are routed through a distributed, airtight setup.
4. Do I need an international fax number to send an international fax?
If you have a local fax number, you can still send out an international fax from it – if your provider allows. You don't need a separate new international number. If you use CocoFax, we give you an international-ready number with your subscription.
5. Why is there an X in some international fax numbers?
If there's an X in the recipient's number, it's a carrier code and should be included when you type in the fax number. It's a little confusing if you haven't seen it before. Suffice to say you can still send out faxes to these numbers as usual.
Wrapping Up
CocoFax makes sending international faxes effortless and saves you a great deal of time and money. The service is private, safe, and can be integrated into your existing workflow. You don't need a fax machine or fax server to send an international fax.