How to Fax Wirelessly
If you have used fax in the past, I think you realize why fax is the best method of official communication there can be. However, most people shy away from using fax services because of the hassle it involves in the form of a fax machine, phone cables and such.
What if there was a way through which you can fax wirelessly? Yes, that is not just a possibility but, in fact, millions of people are using wireless faxes to send and receive faxes all over the world.
Can I Fax Wirelessly
Traditionally, fax machines used to operate on phone cables and analogue signals. If you wanted to fax anybody, you first had to get a landline connection followed by phone cables, paper, ink, and whatnot.
However, the world of fax has evolved since then. Today, all you need is an online fax service and you are done with using fax! There is no need for anything else, just the document that you wish to fax and any internet connected device to send it.
CocoFax- Turning Fax Machines to a Thing of the Past
When it is about fax communication, you cannot just trust any random fax service provider. You need the best in the business, something that will surely transmit your fax documents to the other end.
CocoFax is the perfect thing for this purpose. It is the most established online fax service provider in the world, serving millions of users worldwide.
Several businesses and professionals have employed CocoFax's services in order to convey their vital and confidential fax documents. CocoFax is everything you would want from your fax service provider and more.
The best part of using CocoFax is that you are done with wires. You can fax without phone lines or even without a fax machine. All you need is an internet connection, which you probably have already.
What Will I Need to Fax Wirelessly?
There are multiple ways to send and receive faxes wirelessly. However, regardless of the method you choose, you will surely require the following things at hand:
1. A computer, smartphone, or tablet:
First things first, you need a device to convey the fax to the user and to check your received faxes. The fax document can be present on the device itself, or in the cloud storage.
2. An Internet Connection:
You can fax over the wifi or use the mobile data connection to fax. No matter which internet connection you have, your faxes will be sent in the same manner.
3. A CocoFax Account:
Unless you are planning to invest heavily in a fax machine, phone lines, and all the things you will need along with it, you need a CocoFax account to save you from these costs. Don't worry, you will know how to get a CocoFax account in the next section.
4. A Fax Number:
A fax number is mandatory to send and receive faxes, whether you are doing it through a phone line or online. CocoFax understands this and you can get a free fax number from CocoFax in less than a minute. In fact, with CocoFax, you can get your own custom fax number.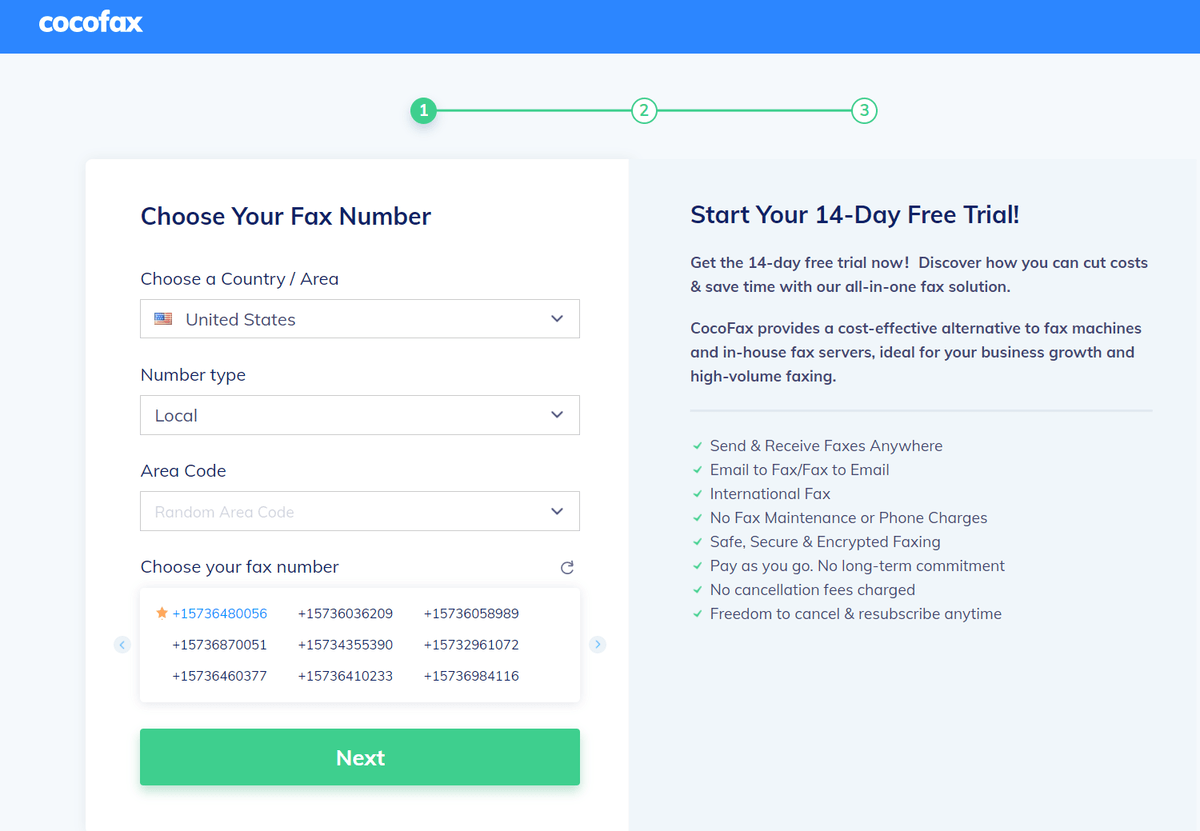 You might be ready with the computer/phone device and the internet connection. So let us talk about how you can get the rest and use fax services wirelessly.
How to Fax Wirelessly
Basically, with CocoFax, there are two ways to use wireless fax. These include:
Fax through Web Browser
You can use the web browser on your phone or computer in order to send and receive faxes. You can fax from Mac, Windows, Android, iPhone, or any other operating system without wires.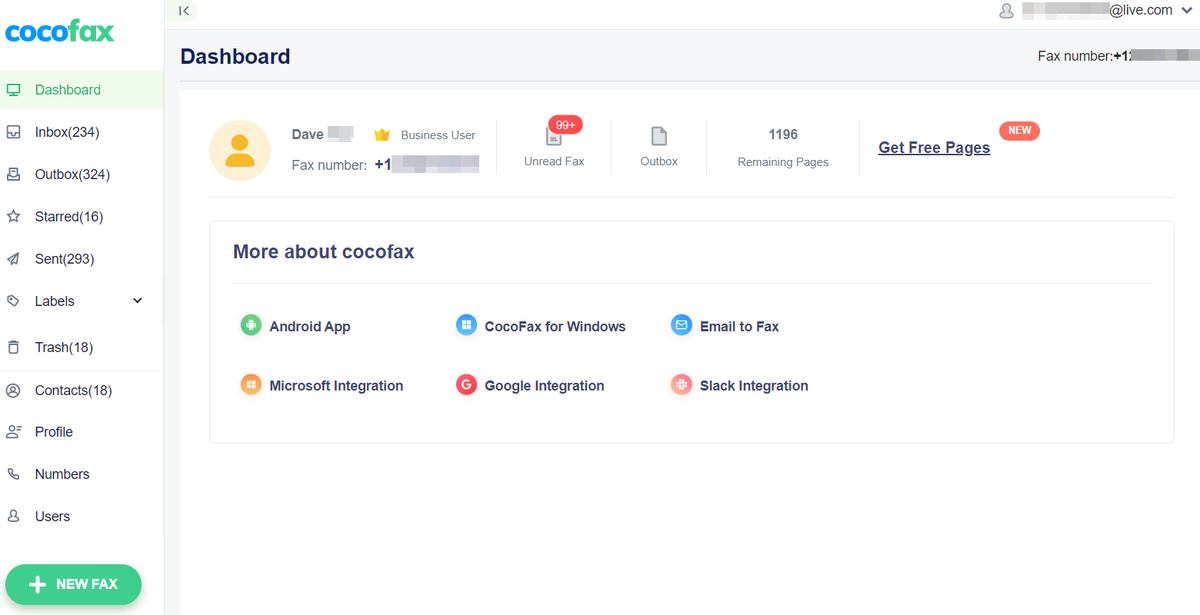 Fax through Email
You can also fax by using your own email client. There are a variety of options with CocoFax's fax to email technology, like fax through Gmail, Yahoo, Hotmail, or any email client of your preference.
Fax Wirelessly through Web Browser
Let us first discuss the steps to fax to any fax number via a web browser. A web browser comes preinstalled in any device you use nowadays, from computers to smartphones.
Therefore, in order to use this browser to send and receive faxes, you just have to follow these steps:
Sending Fax through Web Browser
Step 1: Sign up for CocoFax and avail their 14-day free trial period. When you sign up, you will get the comfort to choose your own fax number of your own choice.
Step 2: Once you sign up, you will be taken to your dashboard. You can create a new fax from the 'Send Fax' option in the corner of the dashboard. Once you click on it, the new fax popup window will open.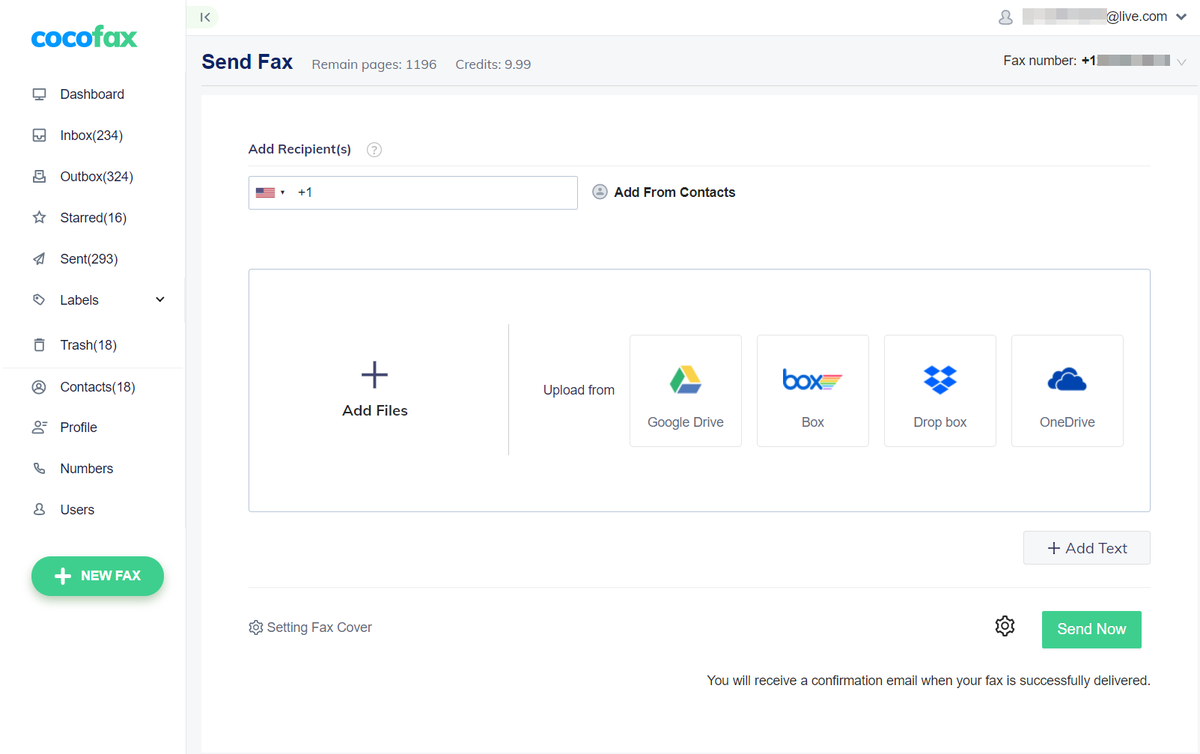 Step 3: To send out a new fax, you can fill out the following fields:
In the 'To' field, you can enter the fax number of the receiver. You can also send the fax to multiple people by separating their fax numbers with commas.
You can also type a note to the new fax. This note appears on top of the receiver's received fax document. There is also an option to create a cover page to the fax. This page is the first page of the receiver's received faxes.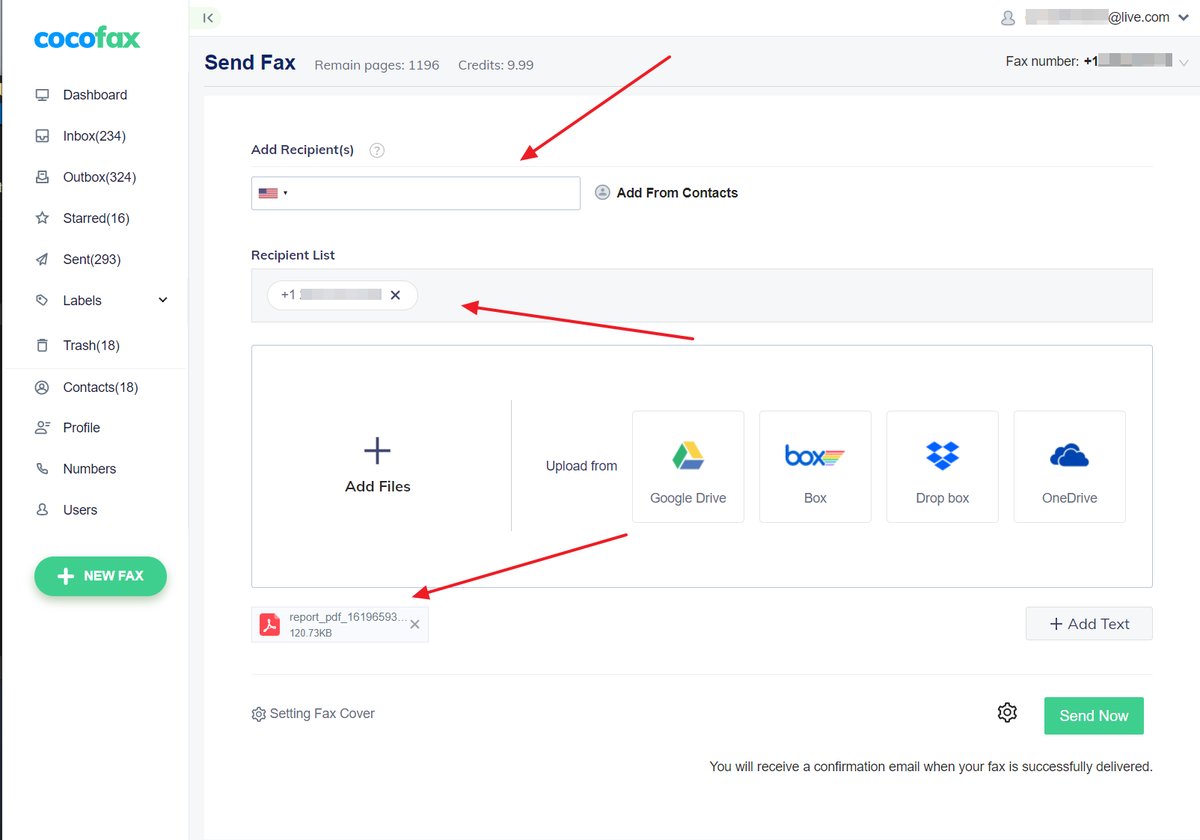 Lastly, here comes the most important part. You can upload the fax document that is to be faxed. You can also provide a link to the document if it is on an online cloud storage such as Dropbox, Google Drive, etc. The supported formats for the fax documents are: doc, docx, xls, xlsx, png, jpg.
Step 4: Once you have filled out all the fields and double checked the information, you can hit the 'Send' button. CocoFax will transmit the fax to the fax number that you have provided.
When the fax is transmitted successfully, you will get a confirmation message on your dashboard. Even if the fax is unsuccessful, you will get a message about the same.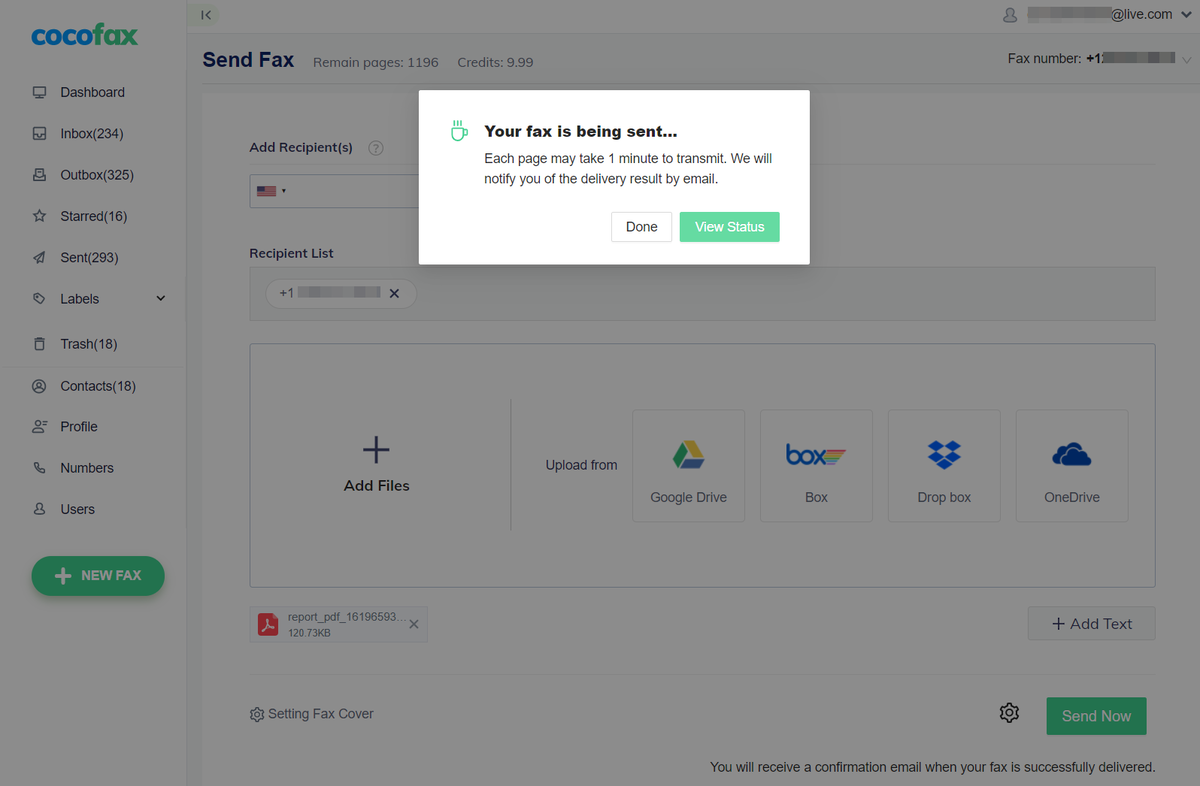 **The most common reasons for the fax being undelivered are that the fax number you entered is incorrect, the receiver's fax machine is busy, or it is turned off. Theoretically speaking, there will be no fault on CocoFax's end if the fax is undelivered.**
As you can see, it is very easy to send faxes through the web browser. Now let us talk about receiving faxes on the web browser, which is even easier.
Receiving Fax through Web Browser
Remember that CocoFax let you choose a fax number of your own choice in the previous section? Well, people can send you faxes on this fax number as well.
When someone sends you a fax on this fax number, don't worry, you do not need a fax machine to get it. CocoFax automatically gets it and forwards it to your inbox.
You can check out your received faxes through this 'Inbox' tab on the left hand side of your dashboard. All your received faxes will be here along with the sender's information and time log of the transmission.
Fax Wirelessly through Email Client
With CocoFax's innovative fax to email and email to fax technology, you can send and receive faxes directly from your email client, just as you use traditional emails.
This adds a whole new level of convenience and familiarity to fax. You can send out faxes in all these new ways, and the receiver will get them on their fax machine just as they would get an ordinary fax. They will never see any difference at all!
Here are the steps to fax wirelessly through email:
Sending Fax through Email
Step 1: Sign up for CocoFax and avail the free trial period for 14 days. You can create your own fax number when you sign up. Make sure that you use your email address during registration, which you wish to use for sending and receiving faxes.
Step 2: Once you have signed up, open your email client to send a new fax. Click on the option to create a new email and the new email window will appear. Here are the fields which you need to fill to send out a new fax.
Step 3: In the 'To' field where you generally enter the email address of the receiver, you will need to enter their fax number followed by '@cocofax.net'. For example, if their fax number is 123456, you will have to enter: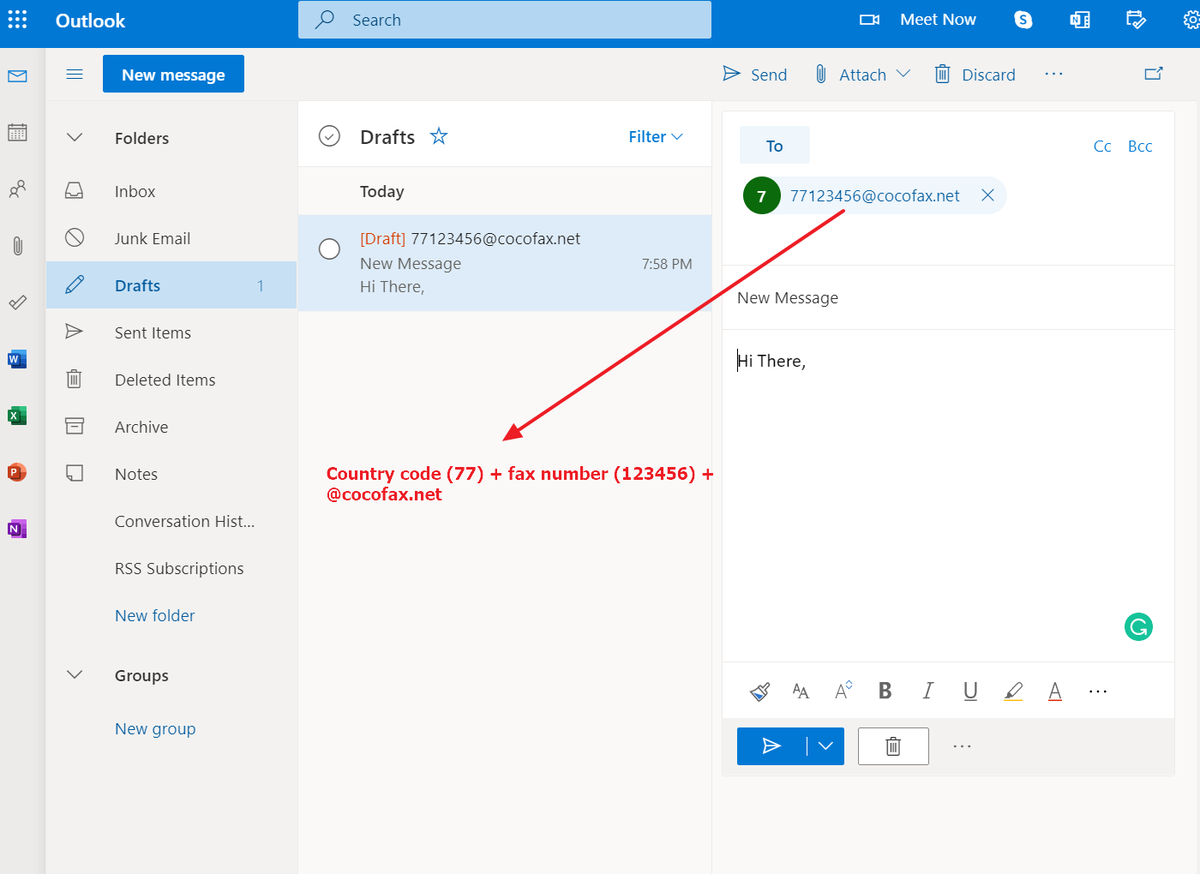 The 'Subject' field is optional. Whatever you enter here will appear as a note on top of the receiver's fax document. The email body is the cover page of the fax document. Anything you enter here will appear as the first page of the fax on the receiver's end.
Lastly, you can upload the file you wish to fax as an attachment to this email. You can also upload multiple files as well, and they will be merged as a single fax document for the receiver.
Step 4: Once you have filled out these fields, you can hit the 'Send' button.
Receiving Faxes
Receiving faxes via email is the same as receiving emails. When you receive a new fax, CocoFax will send you a new email notification. The fax document that you have received will be added to this email as a PDF attachment.
Also Read: How to Fax from Printer
Endnotes
As you can see, sending and receiving faxes wirelessly is simple and easy. In fact, it is way more convenient than those old methods of using fax machines and phone lines.
Therefore, why don't you try it out and say goodbye to wires once and for all? You will consider it as the best decision that you have made!