How to Fax Wirelessly
Businesses that rely on faxing find the traditional method of faxing slow, bulky, and outdated. Today, if it is possible to make calls, watch a video, listen to music, without the need to connect with cables and chords, why shouldn't you be able to fax wirelessly, as well?
Interestingly, there are various options available around us to fax wirelessly. However, not all options will provide you with the same benefits and convenience. To find out the best solution for your faxing requirements, keep reading our guide on 'How to fax wirelessly.'
What Do You Need to Fax Wirelessly?
Before you start to fax, you need to make sure that the following things are at hand:
A computer or any other cellular device
First of all, you need a device to successfully send and receive faxes. Once the fax is received it will be stored either in the device itself or in your cloud storage.
Internet connection
Once you are connected to a speedy network, you can fax over the Wi-Fi or even use a mobile connection (if your mobile data connection is fast enough), to send and receive the fax.
An account with an online fax service provider
If you are not planning to spend a considerable amount of money on a fax machine, telephone lines, and all other required modems (like scanner or fax modem), you need then to set up an account with an online fax service provider. Service providers like CocoFax can save you from a lot of costs and make the process simple and easy for you.
Fax number
A fax number is obligatory to be able to send and receive faxes, whether you opt for an online process or a wired one. However, getting a fax number might turn out to be a tedious task, CocoFax understands this and helps you to get a free fax number in less than a minute.
Once you have made sure that you have all the above requirements in hand, you are all set to go with sending and receiving fax wirelessly.
Ways to Fax Wirelessly
A. Fax through Web Browser
Follow the steps below to fax wirelessly through a web browser:
Step 1: Sign up with CocoFax and choose your fax number page. Fill in all the required details including your number type and area code.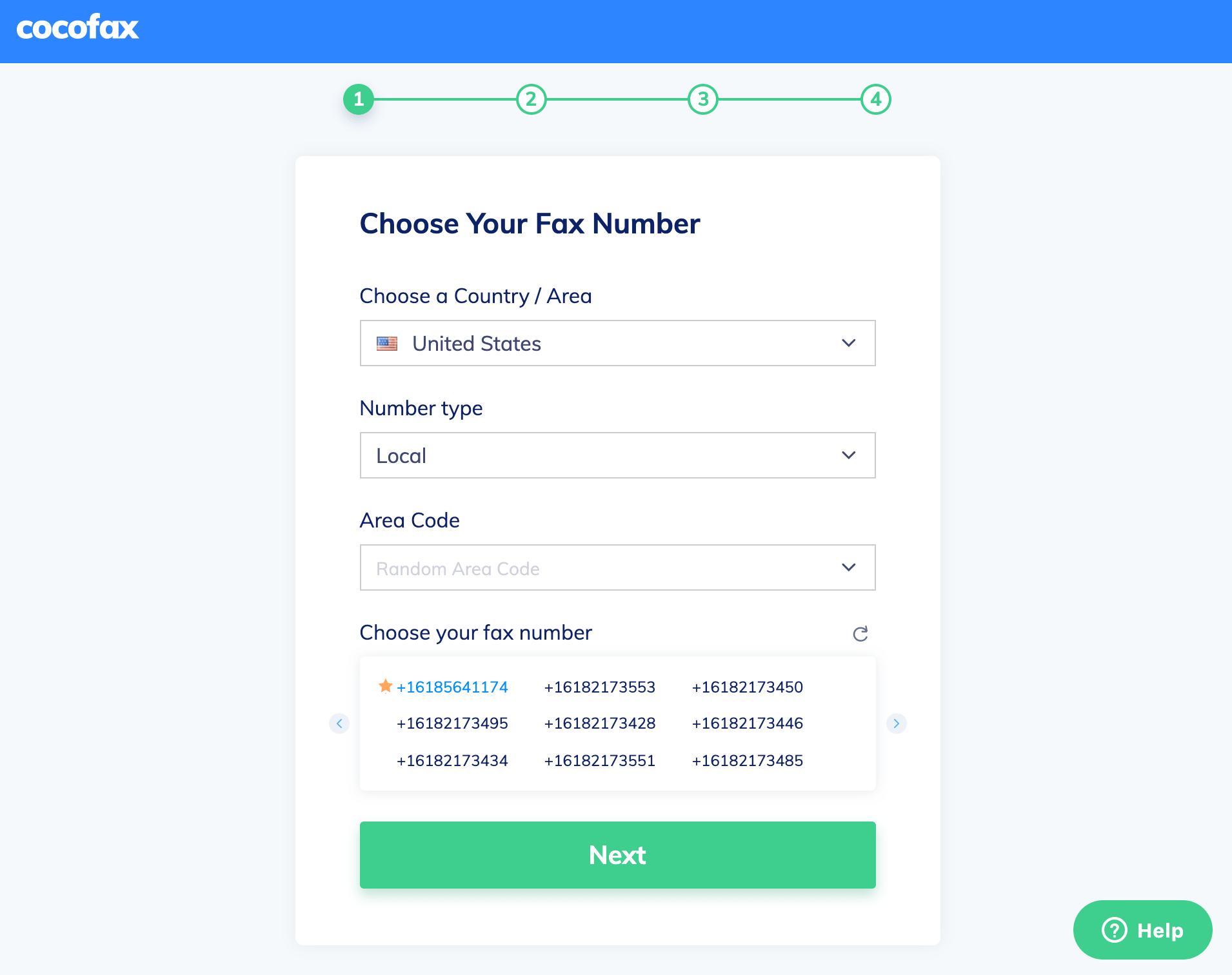 Step 2: Once you've completed signing up, Sign-in again into your account, and you will land at your dashboard. Create a new fax by selecting the '+New Fax' option.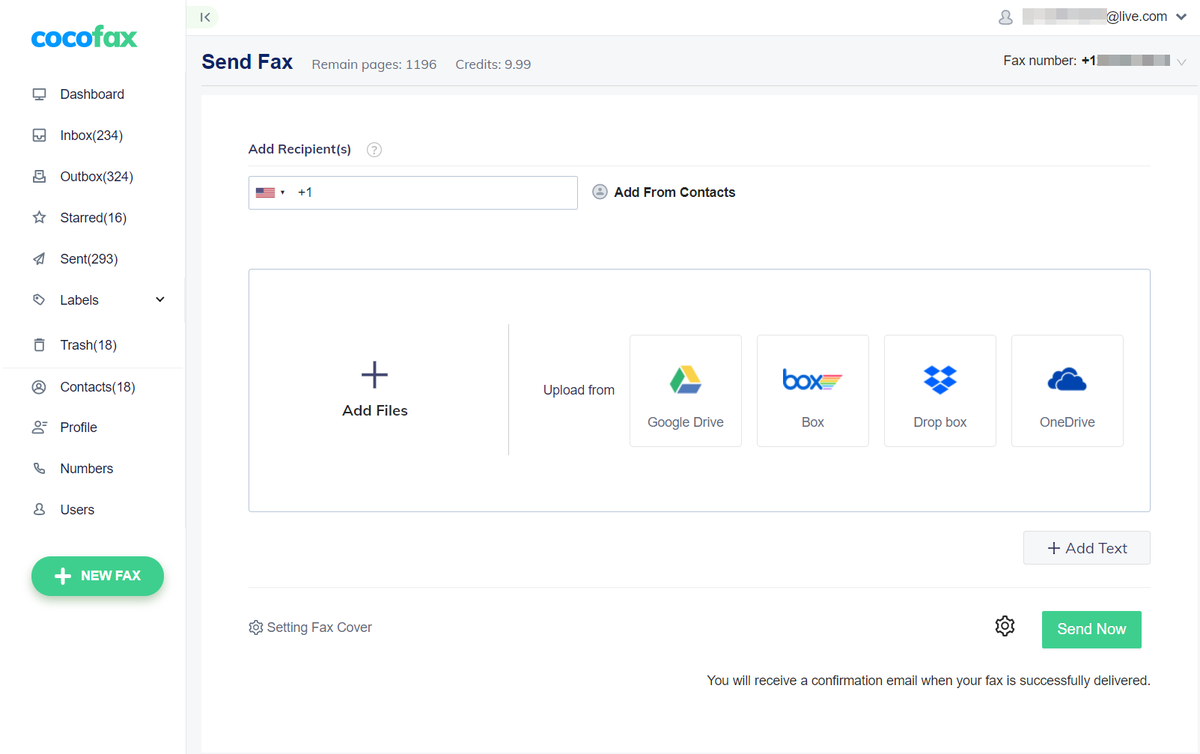 Step 3: To send a fax, you need to add recipients and the files to send, you can also set a cover page or add text if it's necessary.
**Note: If you are sending it to a new fax number (not from your contacts), enter the number as follows: country code + area code + number. For example, the number 1 323-212-6688 should be entered as +13232126688. You can also add multiple fax numbers if you wish to share the fax with multiple people at once.
'Cover Page'- This page is the first page received by the recipient in the form of a fax document. However, this field is optional, you can opt to leave it blank.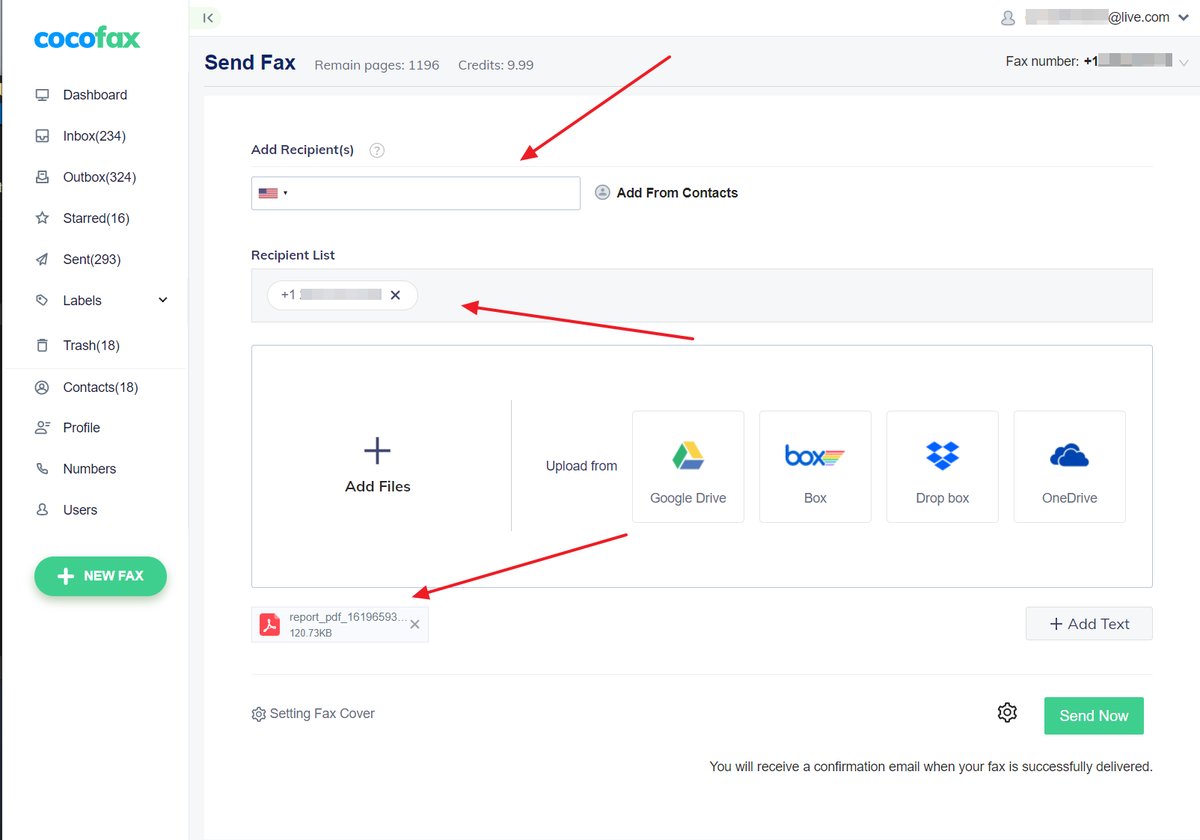 Next, you need to add files to your fax, you can either opt to upload them from your device storage or online cloud storage applications such as Dropbox, Google Drive, one drive, etc. The supported format of the fax document is Doc, Docx, Xls, Xlsx, Png, Jpg. Multiple documents can also be shared via this process, you just need to add them, and they will be merged on the receiver's end.
Step 4: After double-checking all the provided information, click on the 'Send' button.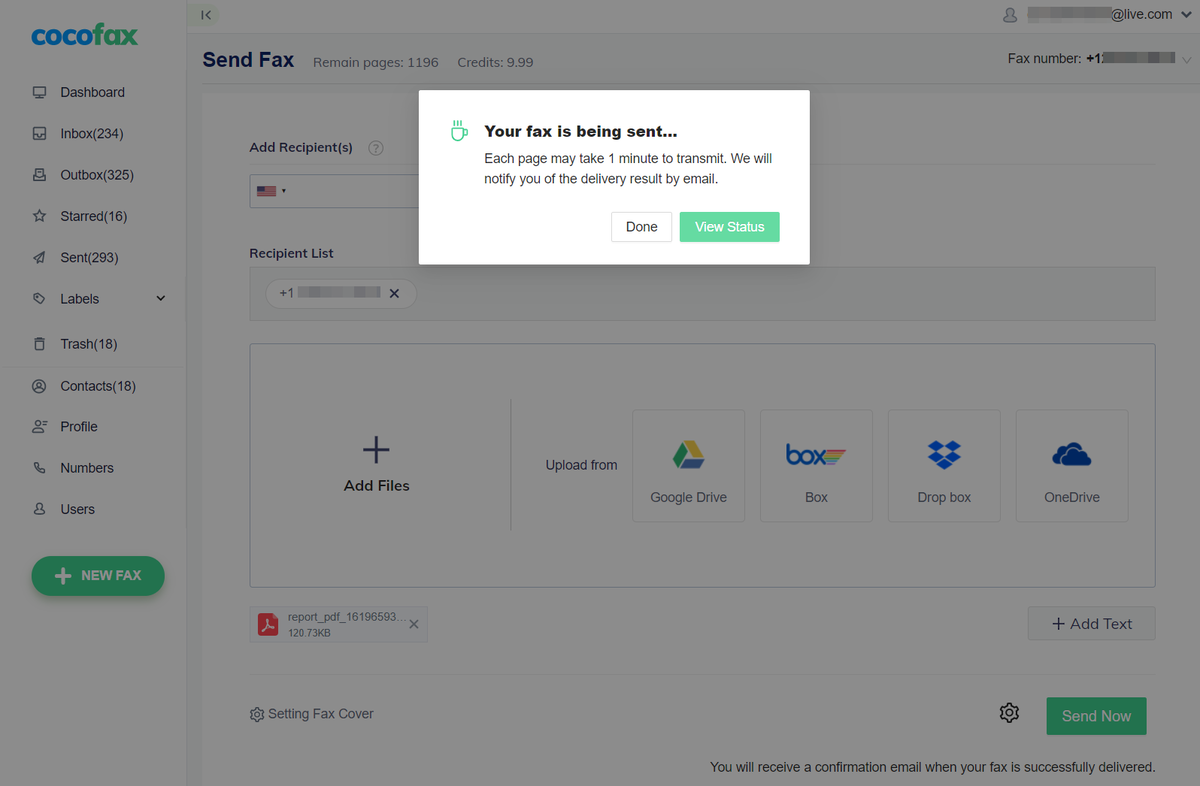 **If your fax fails to be delivered, the possible reasons are that the receiver's fax machine is busy, or it is switched off, or you've entered an incorrect fax number. **
You can also watch the video below:
As CocoFax allows you to choose a fax number of your choice, people can send you faxes via this fax number. You can view all your received faxes on your CocoFax account. CocoFax is an automated application that runs on your web browser, and it is capable of receiving faxes even when it is switched off.
B. Fax through Email
CocoFax makes it easy for you to fax wirelessly using your email. Our guide on CocoFax's 'Email to Fax' technology will make the process of sending and receiving faxes convenient for you.
Why Use CocoFax?
When the talk is of fax communication, you cannot just trust any random online fax service platform. For sure, you need to look out for the best for your business that can transmit your fax documents safely and quickly to the other end.
CocoFax is an all-in-one online fax service provider, which is dedicated to smarter business communications. We help businesses go greener, smarter, and quicker with our excellent service, serving more than a million users worldwide.
We offer a wide range of features like:
Optimizing documents for fax transmission
One can fax one document to a mass of recipients
Status of faxes made available and exportable to the archive folder
Saves costs to a huge extent
Invite team members to your corporate account and collaborate with them at no additional cost
Seamless integration with Slack, Google products, and other apps
The most interesting part of using CocoFax is that you can convey all your vital and confidential fax documents wirelessly. CocoFax values your need for data security, and hence its cutting edge technology such as two-factor authentication, biometric security measures, web application firewalls, DDOS protection, and many more, helps protect the faxes you send. Refer to CocoFax's HIPAA Compliant Faxing and PHIPA Compliant Faxing pages to understand our policy better. All you need is an internet connection, and you are ready to fax wirelessly.
Conclusion
Now, you are aware of simple and easy methods to fax wirelessly. These methods are more convenient than the traditional methods of faxing using machines and telephone lines. Online fax servicing platforms like CocoFax are easy to use and fun to learn as well.
We hope you bid adieu to the old wired method of faxing and embrace a more convenient method. Whichever method you decide to choose, our main motive was just to make you aware, so that you can make a wise decision.