See how financial firms are staying connected with CocoFax
Fax with maximum convenience
Using CocoFax's secure online fax service, one can share faxes with another party on the go and from any device like a computer, laptop, and smartphone.
Keep confidential data secure
Faxes sent via CocoFax are encrypted with 256-bit Advanced Encryption Systems (AES). The platform is also HIPAA and PCI-DSS compliant.
Team management
The account admin can assign different fax numbers to different team members to manage fax messages.
Number porting
Keep your original fax number while enjoying CocoFax's high-end online fax services.
Unlimited cloud storage
All faxes sent and received via the platform are archived on the cloud and are all searchable.
Email to fax
The all-in-one online fax solution provider allows you to send faxes from one email provider to another.
Benefits Accrued to Financial Firms Who Use CocoFax
Fax is considered to be the most secure medium of transferring confidential documents. CocoFax enables financial enterprises to send faxes online and overcome any potential headaches like aging fax infrastructure, crashing servers, data breaches and thefts as well as authorised data access.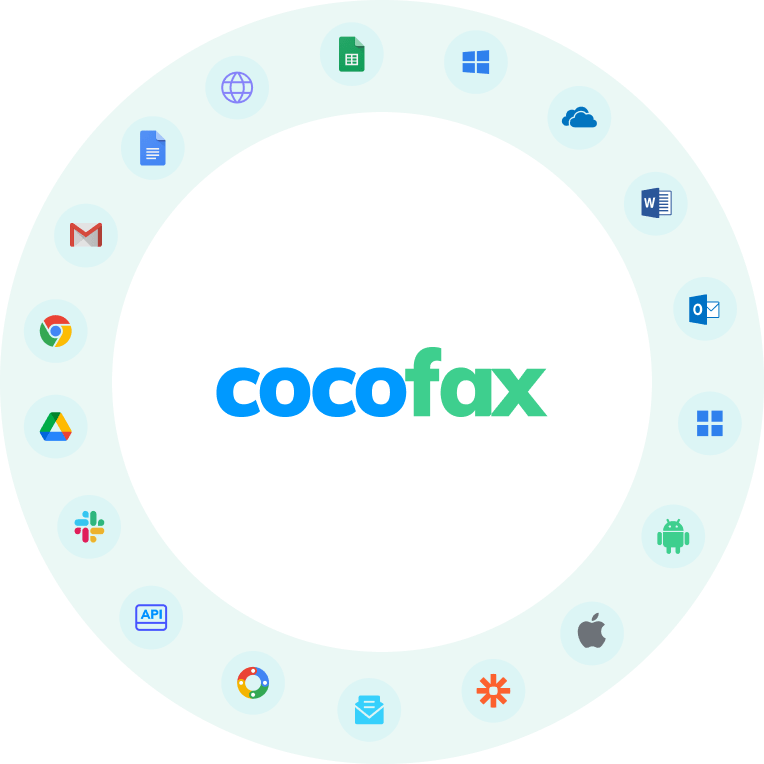 Connect with your business system
CocoFax is integratable with workplace apps such as Google, Microsoft and Slack, allowing you to send faxes directly from Gmail, Google Docs, Google Sheets, Word and receive fax notifications via Slack. More than that, you can also connect CocoFax's API with your own business apps in terms of support tickets, content management and so on. This way, you can focus on your key competence and have CocoFax deliver your faxes securely and quickly.
Go digital and paperless
By going digital with CocoFax's online fax services, financial firms can save unnecessary paper hassles and boost their professional and modern image. No more crashing fax servers to trouble you and no more fax infrastructure maintenance to burn your pocket. Quickly add team members in the CocoFax account and assign numbers for them to manage faxes in an orderly manner.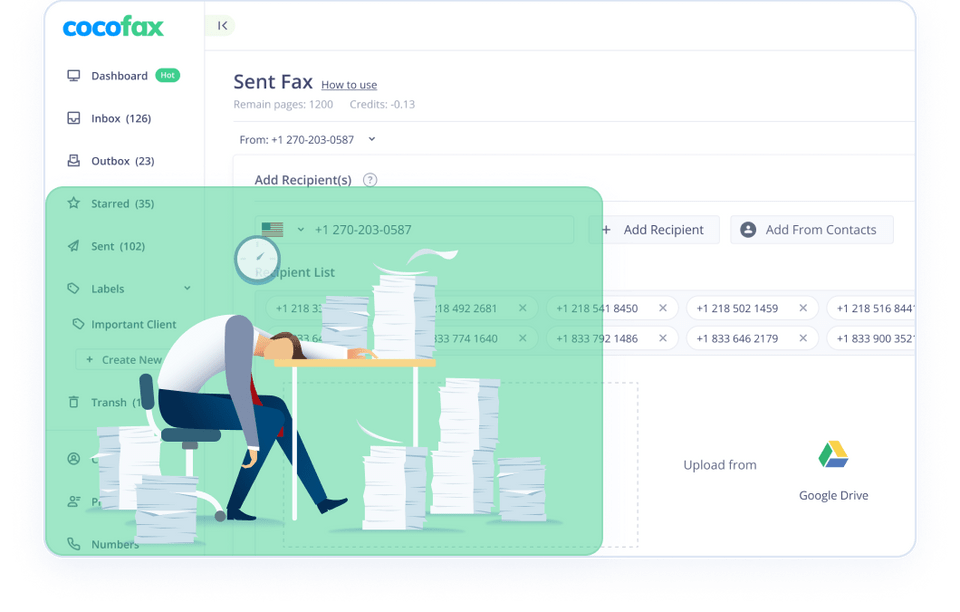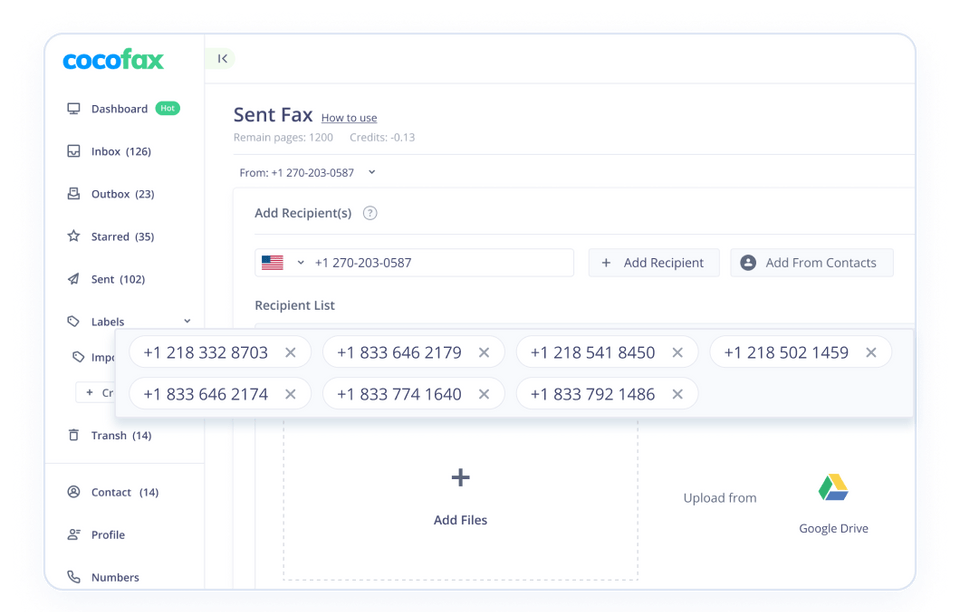 Bulk faxing
CocoFax allows users to send faxes to multiple recipients at one time, saving time and manual costs massively while preventing information leaks that are common when using a fax machine due to unauthorised access and cyberattacks.
Cloud-based Fax Alternative that Outshines the Competition
Incorporate CocoFax cloud faxing into administrative financial services, streamlining paper-based processes and ensuring documents exchange security.
The Most Cost-Effective Fax Solution Among Other Options
Zero setup fees, 100% free fax number. No need to maintain hardware equipment, CocoFax emerges as the most cost-effective online faxing tool for banks, financial services, and the like.
| Features | | | | |
| --- | --- | --- | --- | --- |
| Fax Pages Per Month | 60 | 100 | 150 | 300 |
| Entry Level Price Per Month | $7.99 | $5.99 | $16.95 | $9.99 |
| Custom (Vanity) Fax Number Fee | $0 | $19.99-$29.99 | $0 | $0 |
| Setup Fee | Free | Free | $10 | Free |
| Total Fee Per Month | $7.99 | $26-$36 | $26.95 | $9.99 |
| Cost Per Additional Page | $0.05 - $0.2 | $0.03 - $0.2 | $0.10 | $0.05 |
Achieve enhanced productivity and lowered operational cost with CocoFax
CocoFax enhances your workforce productivity by reducing delay time and allowing employees to send and receive messages right from their mobile phones or desktops. Faxing without fax machines and other hardware can greatly reduce your operational costs as it totally eliminates hardware maintenance costs.
Start Faxing