How to Receive Fax to Gmail
If you use fax (or are planning to use it) for handling your professional communication, you might already be aware of all of its benefits. However, you might never have thought that you can use fax with these benefits right from your email address.
That is right, with the latest technological innovations, faxing through your email address is not only possible but in fact very easy.
You might be thinking that the internet and fax work on two different platforms and different signals. Well, you aren't wrong.
While the internet understands and works on a digital language, fax machines and fax signals operate on an analogue platform. Therefore, conventionally, these machines are not designed to work with each other.
Here is where the innovation kicks in- Online Fax Services. An online fax service is designed to bridge the barrier between fax signals and the internet. Therefore, this makes it possible for you to send and receive faxes through your Gmail account directly.
If you think that's interesting, it might amaze you when you learn more about it. You can fax through your Gmail account without even installing any application at all!
Well, if your mind is completely filled with questions about Gmail fax, you should read on to find answers to each of them:
Part 1: Getting Gmail Fax Ready
Sending and receiving fax through your Gmail account is made possible through a third party fax service. This service facilitates transmitting faxes from your email client and getting your received faxes to your email client.
Now the important question remains- which fax service to use? To be honest, there are many fax services that you can find on the internet. However, not every fax service is just that good.
This is why, to cut your research short and save you some time, here is a fax service above every other:
1.1 CocoFax Gmail Fax Solution
CocoFax is an online fax service that offers you a variety of fax solutions. Faxing through your email account (be it Gmail or any other email client) is one of the most popular features of CocoFax.
Due to its quality of service and the features that come along with it, CocoFax is employed by countless businesses everywhere. When someone wants to adapt to a reliable method of sending and receiving business communication, they turn to CocoFax.
And they aren't wrong. It is not every day you get to experience your Gmail account as if it is a high end fax machine, without having to install any hardware at all.
1.2 How it Works
CocoFax integrates with your Gmail account without you having to install any app on your system. Don't worry, CocoFax wouldn't ask you for your Gmail password or any private information.
Once you register your Gmail account with CocoFax, CocoFax makes sure that you receive all faxes in your Gmail inbox immediately.
When someone sends you a fax on your fax number (you can get a free fax number from CocoFax), CocoFax receives the fax and translates it to a PDF document. This document is then forwarded to your email address.
When you open this email notification from CocoFax, you will find the details of the senders who sent you the fax. Along with that, you can find the actual fax document attached as a PDF file.
If CocoFax wasn't present as the intermediary, the faxes that the other person was sending you on your fax number (which you'd have to get yourself) would have no way of finding your Gmail inbox. Therefore, you can realize the importance of CocoFax yourself.
1.3 Setting Up Your Gmail Account For Fax
In order to use your Gmail account to send or receive faxes, you firstly need to connect it to CocoFax. You can do it through the following steps:
Step 1: Register for CocoFax
First things first, you will have to sign up for a CocoFax account for free. When you sign up, CocoFax will give you a free trial period of 14 days. You can evaluate its services within this time and you won't be charged anything.
Step 2: Choosing Your Fax Number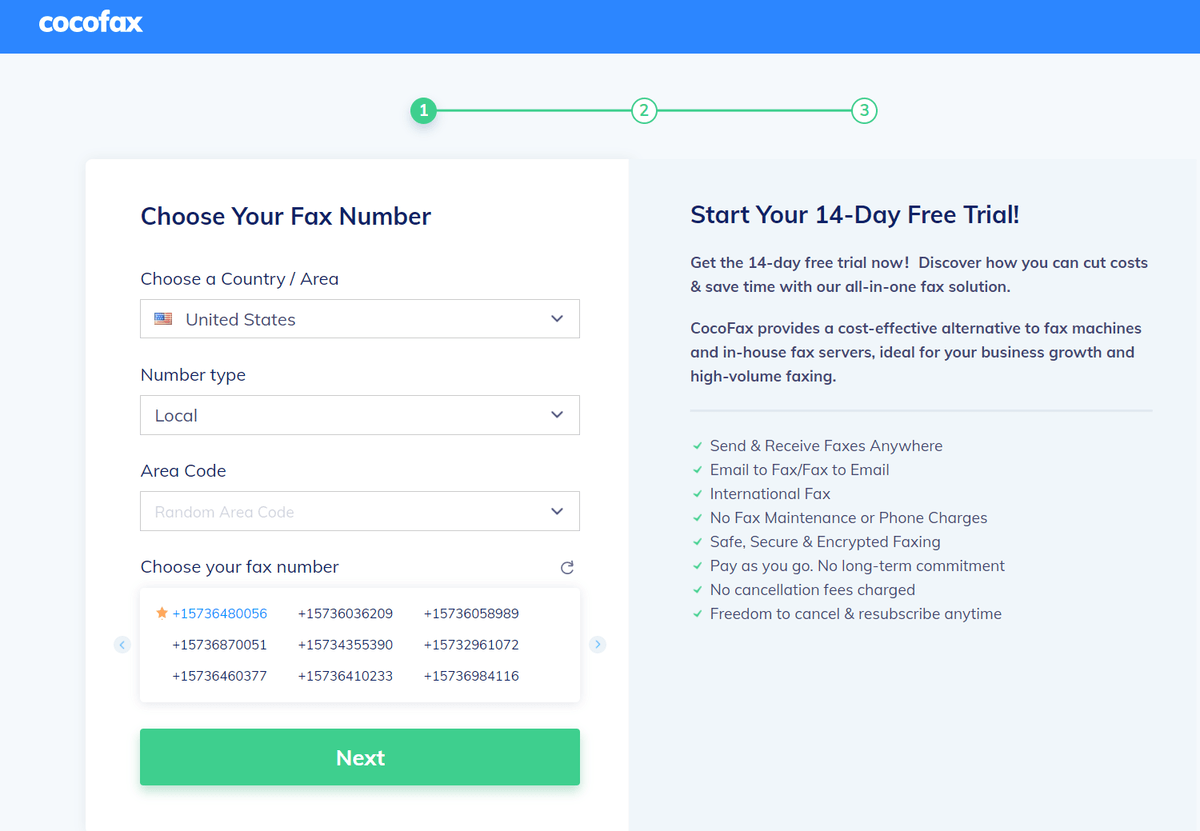 Once you sign up for a CocoFax account, you will be given the freedom to choose your fax number. You can choose any number that you like. There are no extra charges or hidden charges for any particular fax number, even if it is a vanity fax number.
CocoFax also offers you toll-free fax numbers too!
Step 3: Link Your Gmail Address With CocoFax
By default, CocoFax will send you all your received faxes from your registered email address. If you wish to use any other email address to send or receive faxes, you will have to connect it to CocoFax first.
Step 4: Fill Up Your Account Details
CocoFax will ask you a few more details about yourself to make your account secure and give you a more personalized experience. Fill these details and you will be ready to send and receive faxes on your Gmail account.
Step 5: Enjoy Unlimited Faxing through Your Gmail
Once you have completed the registration process, you are ready to fax through your Gmail account. You can send and receive multiple faxes through CocoFax now. You can fax from ANY device, be it a computer or a phone, with a single account and a single fax number.
If you feel the need to change your Gmail address, you can link a different Gmail address with CocoFax at any time. In fact, you can even fax through Yahoo mail or any other email client as well.
Can't Miss: How to Fax from Google Drive
Part 2: Never Miss Out On Any Gmail Fax With IMMEDIATE Alerts
People who were using Fax machines to send and receive faxes often complained that they could only fax when they were in proximity of the fax machine. This lead to missing out on received faxes as well as not being able to reply to them on several opportunities.
However, now that CocoFax lets you send and receive faxes through Gmail directly, you won't have to worry about missing your important faxes.
Gmail fax gets even sweeter since all smartphones now come with email functionality too. Therefore, You could be taking a walk in the park and yet, you will know when you receive a fax through your phone.
However, it can be annoying to check your device again and again in order to see if you have any new fax. Therefore, a better way to save some time is to enable notification alerts for your faxes that come through your Gmail account.
There are a variety of ways to accomplish this. Some of these include:
2.1 Enabling New Fax Notifications for Gmail
To receive your fax notifications on Gmail as soon as they come, you need to make sure that you have enabled notifications on your Gmail account. Once the notifications are enabled for Gmail, you will know whenever you receive a new email, whether Gmail is open on your system or not.
The process to enable Gmail notifications differs for both- desktop and smartphones. We are going to show you how to enable Gmail notifications for each of them.
Enabling Gmail Fax Notifications for Desktop
Step 1: Go the Gmail's website and log into your Gmail account. When you do, your Gmail web app will open.
Step 2: Click on the settings icon (cog icon) on the top right corner of your Gmail web app. This will open a small pop down menu. Select the 'Settings' option in this menu.
Step 3: When the settings page opens, you will need to navigate to the General tab. By default, the settings page will open in the General tab itself.
In this tab, you can scroll down and go to the option that says 'Desktop Notifications'. You will find three options there.
You can either select to turn on the option that says 'New mail notifications on'. Alternatively, you can also choose the option 'Important mail notifications on'. If you select the latter, you will first have to tag the CocoFax's emails as important.
Step 4: Once this is done, save your changes with the 'Save Changes' option available at the bottom of the screen. You will be prompted by your web browser to allow the notification access. Click on the allow option.
You are now ready to receive faxes on your desktop through Gmail. All you need to do is ensure that your browser is running in the background. You will get a notification as soon as a Gmail Fax appears.
Even if your browser isn't running, you can check the received fax at a later time. Every received fax will be saved in your Gmail inbox as an email from CocoFax.
Enabling Gmail Fax Notification for Smartphones
Almost everyone uses Gmail through the specific Gmail application for Android and iOS devices. Through this Gmail app, you can send and receive faxes while making sure that you miss not even a single fax.
However, you should keep in mind to enable Gmail notifications on your smartphone in order to be notified of every fax that you receive. Don't worry, enabling notifications is a piece of cake. You do it just by following the steps below:
Step 1: Launch the Gmail application on your smartphone.
Step 2: Head over to the app's menu. When you do, you will see the 'Settings' option. Tap on it.
Step 3: The Gmail accounts that you have linked with the Gmail application will be visible here. Tap on the account which you have connected with CocoFax to send and receive faxes.
Step 4: Go to the option that says 'Notifications'. There will be an 'Inbox Notifications' option in the list. Select this option.
Step 5: You can select your preferences for Gmail notifications here. Whatever you choose will be applied for your incoming faxes.
This is all you need to do. Now you will get all the faxes that you receive right into your Gmail. Once you receive a fax in your Gmail, your phone will alert you about the same.
Also Read: Google Fax: How to Fax with Google Free Online
Endnotes
Now that you know how to receive a fax to your Gmail account, there is nothing stopping you from trying out these high end services. Just link your Gmail account with your free CocoFax fax number and CocoFax will take care of the rest.