How to Fax a PDF
Ideally, you can submit a PDF document via email or any other online method. However, there are still small businesses, large companies, and government agencies that won't accept documents over email for security reasons and confidentiality, forcing you to fax them.
How can you send or receive a PDF fax if you don't have a fax machine? ​Thanks to online fax services, now you can transfer a PDF via fax ​by composing a new email and attaching your file to it just as a digital document from any computer or smartphone.
​Luckily, ​good fax services like CocoFax let you create an account in a ​couple of minutes to send your file securely.​ You can get your hands on CocoFax effortlessly with just basic computer knowledge. This article provides an in-depth on how to fax a PDF without a fax machine.
CocoFax - The Online PDF Fax Guru
CocoFax is a gateway that accepts documents via the internet and transmits the document to a fax machine. You are guaranteed security, reliability, and feasibility, unlike any other mediocre service.
CocoFax's online fax service translates PDF information into a fax readable signal in a very intuitive, cost-saving, and convenient way wherever you are. The app runs on all kinds of web browsers without installing any plug-ins or any third-party services. Its integrations with Outlook, Google Drive, Dropbox are 100% seamless.
CocoFax is gracious enough to give you a fax phone number for free and offer support for multiple users with separate fax lines. Sending PDF faxes online with CocoFax is quite simple, there are two ​alternatives: ​through an email-to-fax service or using a web browser to fax from a computer.
Sending a PDF Fax through Web Browser
Visit CocoFax's official page by using any of your computer's or phone's web browser.
Step 1: Sign up by choosing your preferred free fax number.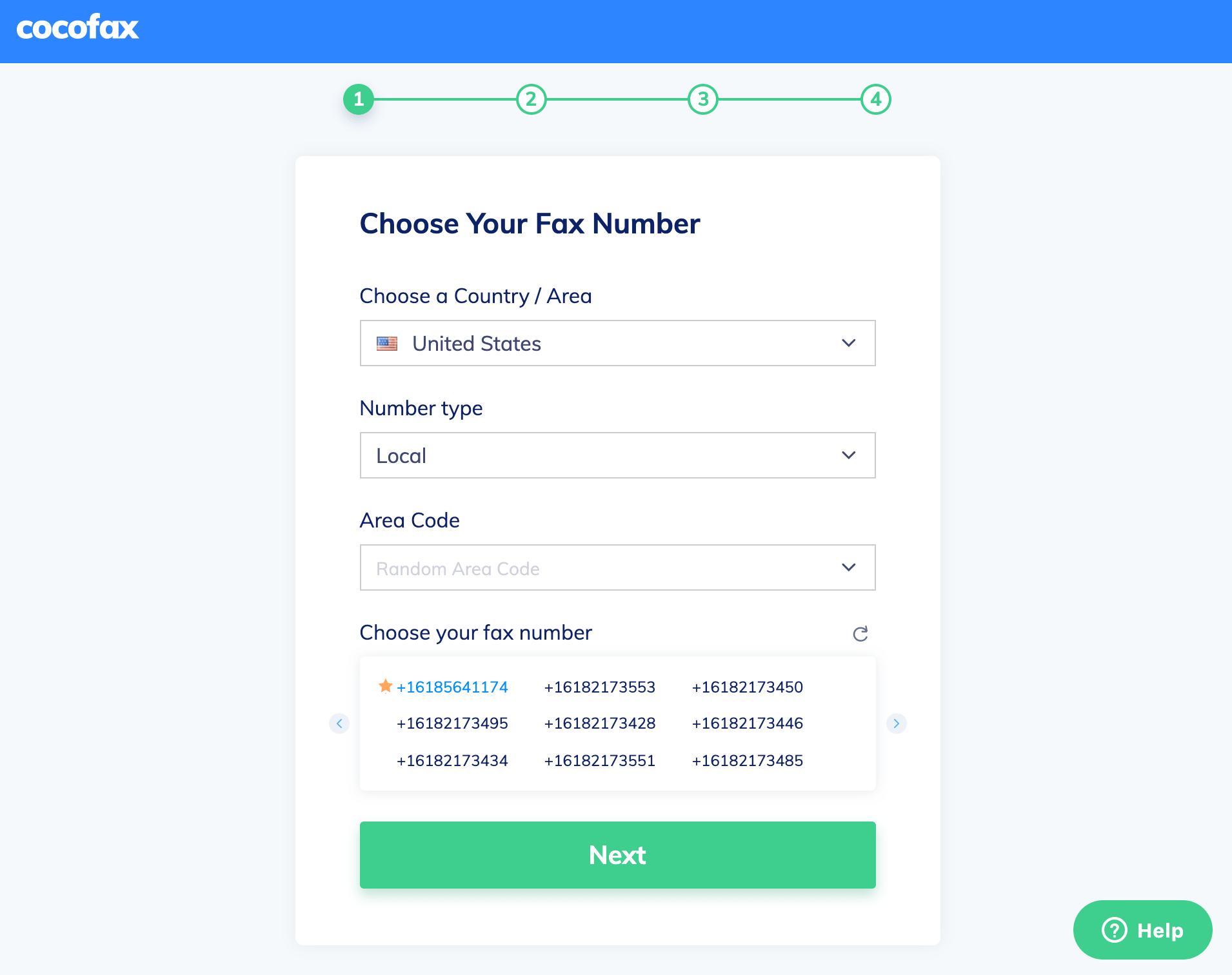 Step 2: Once the account is set up, click on the 'New Fax' button to create a new fax. If you are sending a PDF fax from the US to the US, you'll need to add a +1 before the fax number. Then, upload the PDF files from your computer, Google Drive, Box, Dropbox, or Onedrive.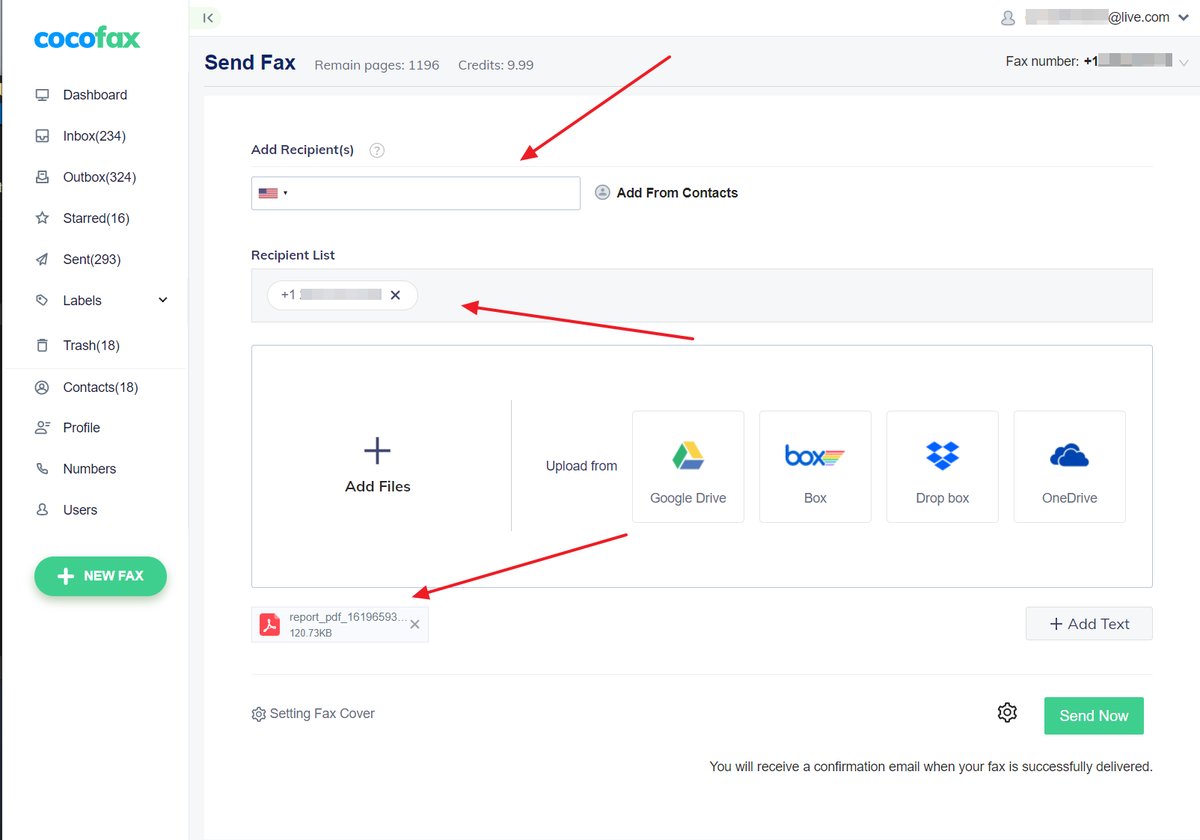 Step 3: Make sure every detail is correct, then select the 'Send' option. Afterward, you'll receive an email notification confirming if the fax transmission is successful or unsuccessful. You can also turn the email notification on/off as needed from the profile page.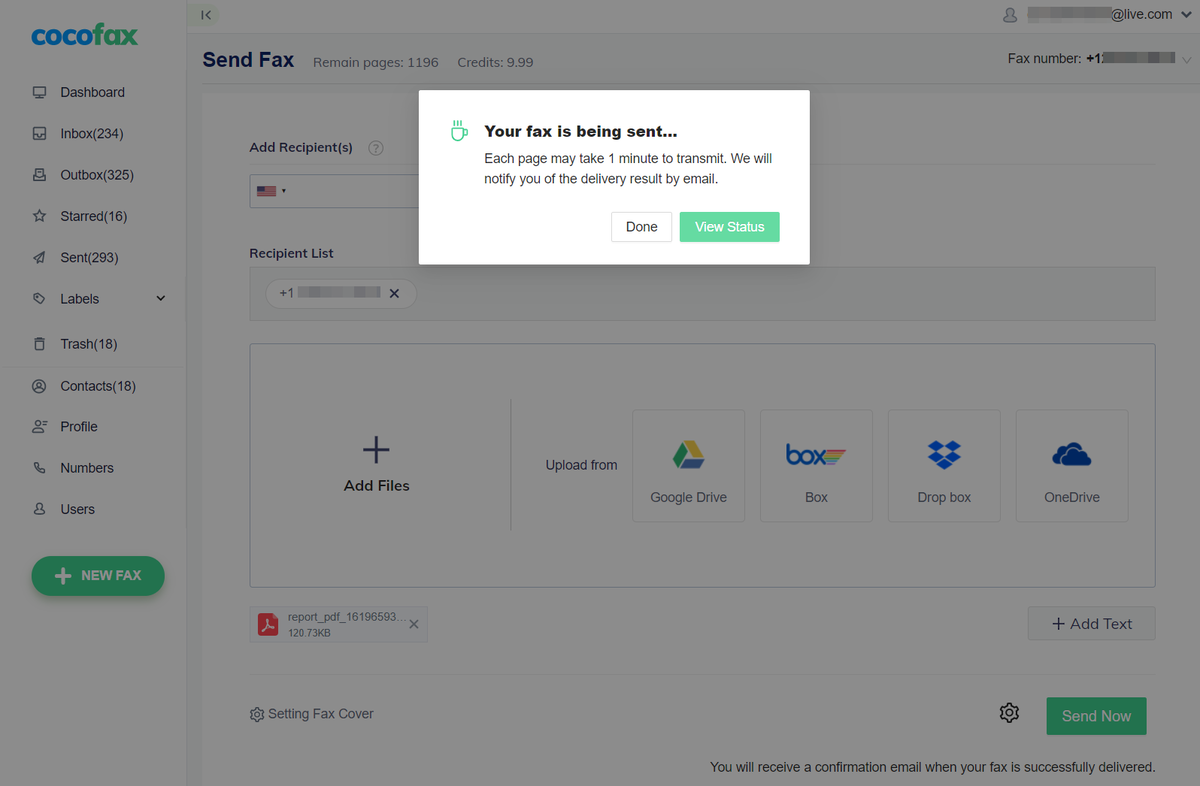 Note: In most cases, unsuccessful fax transmission is caused by the receiver's fax machine is busy, turned off, or an incorrect fax number. Technically speaking, CocoFax follows an automated procedure free of errors.
Sending a PDF Fax through Email
Sending PDF files via email is just like the above discussion process, only here you need the recipient's fax number. CocoFax's online fax service converts all the information in the PDF over to the fax and sends it to the recipient's fax machine.
You can fax through Gmail, Yahoo, Outlook, or any other email client of your choice. For every fax you send through email, CocoFax will send an email notification to your email address that you registered with, confirming whether the email was successful or not.
Receiving a PDF file is even more hassle-free than sending one. Whenever anyone sends you a fax, CocoFax will convert it into a PDF document and then deliver it to your inbox.
Things to Note When Faxing a PDF
Here are some important tips for you while using CocoFax to fax your PDF.
When using CocoFax email to fax, you are required to enter the fax number followed by '@cocofax.net'. However, faxing through a web browser, you only need to enter the fax number.
Other than PDF, CocoFax also supports sending other document formats as faxes including images. But the received faxes can be only in PDF formats.
You must have a fax number to be able to send or receive a fax. Luckily, CocoFax gives you a free fax number at the time you register.
Using CocoFax, you don't have to leave the computer on to send or receive a fax – the fax service manages all the fax infrastructure.
If the fax encounters a busy signal or a fax number without a fax machine, CocoFax will send back an email notification to the sender letting them know that the fax transmission was unsuccessful.
CocoFax is accessible from different computers, smartphones, and tablets (anywhere a fax number is available).
Wrapping Up
In this article, you've learned how we can leverage CocoFax to convert ​PDFs to fax ​online without having a fax machine. It ensures that you get secure transmission where all of your information is encrypted to protect your sensitive data from unauthorized users. With the CocoFax online faxing solution, you can reduce the time and money you spend on faxing. It is simple and you can get started within minutes. ​