How to Fax With Google Voice
Can you ​fax using Google Voice numbers?​ Yes. Back when Google Voice was first introduced, it was a brilliant way for users to send and receive calls, voice messages, and text messages from anywhere, anytime.
Now, you can ​unlock and transfer your current number in Google Voice ​and use it to send and receive faxes over a virtual fax line. Fortunately, you can effortlessly sync your GV number with an online fax service like CocoFax. In this article, you'll learn how to do it!
Part 1: Connect Your Google Voice Number with CocoFax
CocoFax is an online fax service that provides a quick, easy, faultless, and affordable way of sending a fax to business clientele all over the world.
To use your Google Voice number to send and receive a fax, you need to first unlock the number and port it on CocoFax. This is important because the Google Voice number is VoIP only, meaning ​it doesn't support fax transmissions.
Once you port your Google Voice number to CocoFax, it will be deemed as a regular fax number that can only send and receive faxes and you would be unable to make voice calls.
In fact, most online fax services assign you a random fax number that can only send faxes but not receive faxes at all. However, with CocoFax, you can choose your own free fax number once you sign up, and use it to send and receive faxes.
Part 2: How to Fax with Google Voice Using CocoFax
With the help of CocoFax, you can send and receive faxes using your Google Voice number in the following steps:
Step 1: Unlock your GV Number
Visit the Google Voice unlock page on your PC/ phone and sign in to your account.
Select the Google Voice number that you'd like to unlock.
Click 'Unlock' beneath the respective number.
Then, click 'Continue' to confirm that you want to unlock the number.
Sign in to Google Wallet and pay $3 to unlock your number.
The payment receipt will be emailed to you later on.
Step 2: Port your Google Voice Number to CocoFax
Once the number is unlocked, you can initiate a request to port your number to CocoFax.
Fill out CocoFax Porting online form along with some details.
Once your request has been received, CocoFax will take a few minutes to check the eligibility of the given Google Voice number.
You may need to provide additional information to continue with the process.
You may also need to upgrade your subscription to a paid plan (Premium, Business, or Enterprise)
You will receive an email confirming that your number is successfully ported to the CocoFax network.
Step 3: Send Fax Through CocoFax with ported out Google Voice Number
In the left panel menu, click 'New Fax'.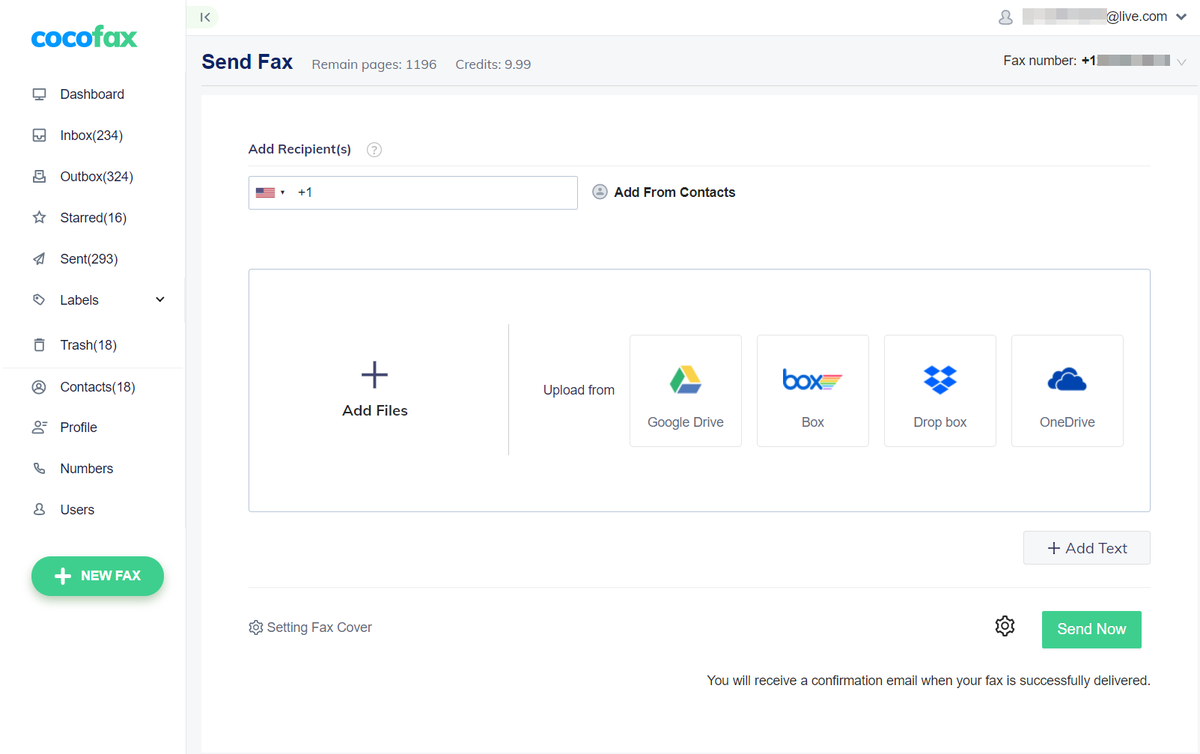 Enter the recipient's number and upload your documents.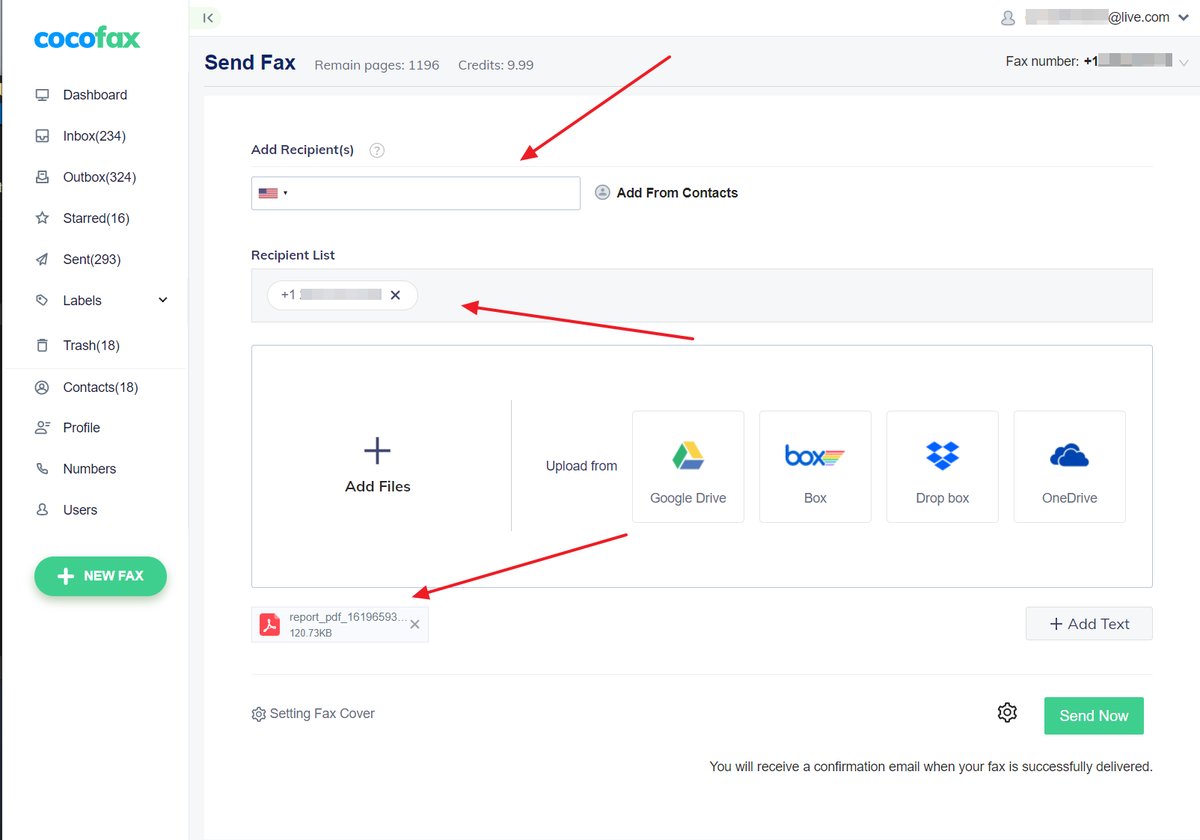 Type in a message in the 'Setting Fax Cover' or add text.
When you're done, click 'Send Now'.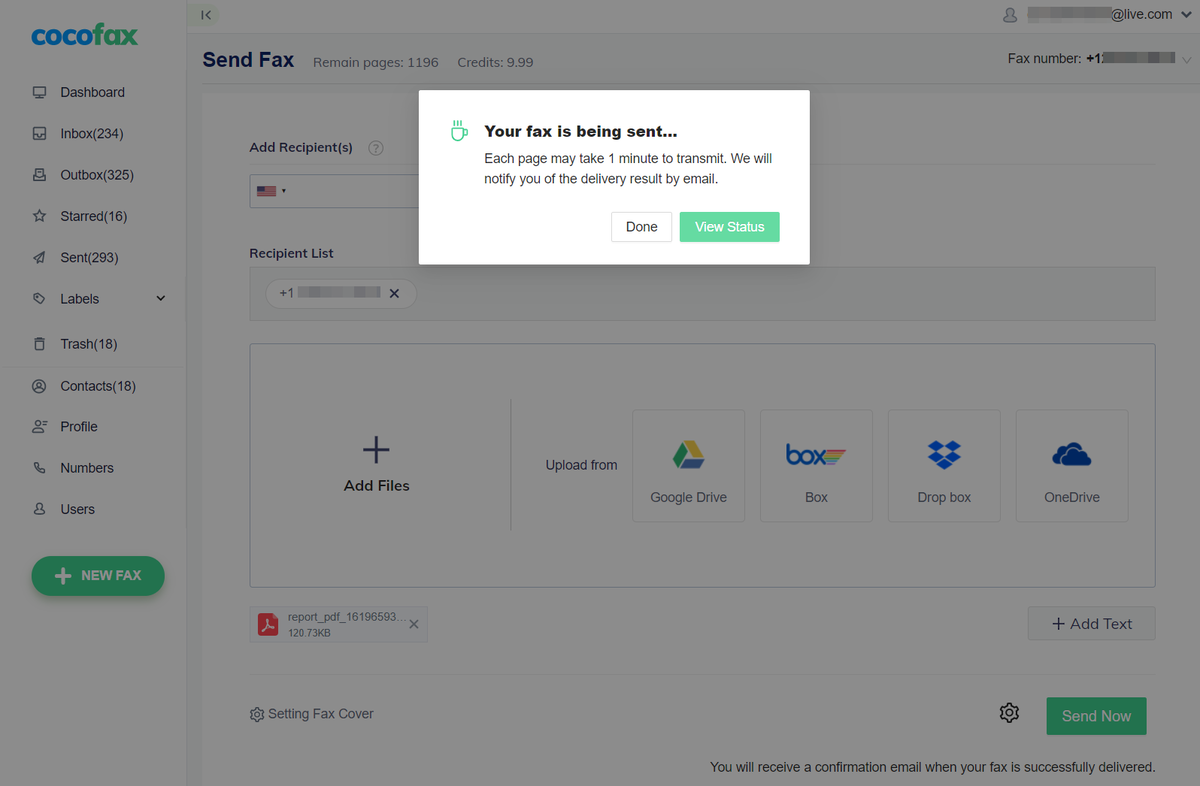 Part 3: Send Faxes using Google Voice Number with CocoFax Email-To-Fax Feature
If logging into the CocoFax Dashboard to send the fax seems cumbersome, you can opt for the email-to-fax option. Once your Google Voice number is ported in CocoFax, follow the steps below:
Log into your email account and create a new email.
The recipient's email address is composed of the country code, the Google Voice fax number, and "@cocofax.net".
Type your message in the email's body as needed.
Attach the documents you'd like to fax in any format including PDFs, JPEGs, MS Word documents, etc.
Hit "Send."
You will receive a confirmation email later, stating that your fax has been sent successfully.
Since you've ported your GV number into CocoFax, you'll be able to receive faxes sent to that number in the CocoFax online portal inbox. You can also receive faxes to your Gmail which is registered with CocoFax.
Part 4: Benefits of Using Google Voice Number for Faxing
If you are wondering why you should use Google Voice number as the fax number, here are the benefits of it:
You can retain your own number, which eliminates the burden of letting your network and clients know about your new number.
You don't need to have a landline or a fax machine. All you need is a mobile phone or a desktop computer connected to the internet.
Your Google Voice number is always active and ready to receive the fax, whether your internet connection is active or not.
You can send and receive a fax from anywhere via any device using CocoFax service along with your Google Voice number.
There are no fees or efforts required to maintain the equipment.
CocoFax safely secures your sent and received fax files using the AES method.
You can reply to the fax directly through your email.
The faxes are kept on the Cloud and can be accessed at any time from any location.
Endnotes
If you want to use Google with CocoFax service, you'll have to go through the process of exporting your Google Voice number. Once your number is successfully ported out to CocoFax, you may enjoy the mobility and convenience of online fax communication.