Email to Fax & Fax to Email: Send & Receive Fax from Email for Free
If you are here, you probably know about the usefulness of fax and have the old world love for it. It is hard to let go of habits, and fax is a habit that one shouldn't let go of.
However, with the technology improving globally trying to make things more compact and convenient, is it even feasible to use a bulky fax machine when you want to send a fax? Or is it actually possible keeping it turned on 24x7 to make sure that you do not miss a fax? Well, let me say the answer that is in your mind- it is unfeasible.
So how do you employ these changes in the concept of fax? It is simple- by using Email to fax technology. While it may sound complicated, it is actually as easy as sending an email. Not to forget, it provides you countless benefits over email and even the traditional fax machines.
So how about you keep reading this guide and be amazed at all that you are going to learn today. The things that you are going to learn will make your life and work easier.
Part 1: Everything You Need to Know About Email to Fax
Before we dive into how to use fax on email, let us understand the difference between email to fax and fax to email. They might sound very similar and even the same to some. However, these are totally opposite things, employing the same concept.
1.1 Email to Fax
Email to fax number means that you can send a fax through your email address. Basically, it is similar to sending an email. You can use all email clients for this purpose, like Gmail, Yahoo mail, Hotmail, etc.
How it Works?
The idea behind email to fax is that you just have to compose an email like you generally do and it gets sent as a fax on the receiver's end. Typically, this cannot be done even if you have a phone line connected to your PC. However, in later sections, you will learn how to do it with just an internet connection.
1.2 Fax to Email
In email to fax, you were sending a fax from your email client. In fax to email, the process is reversed. Anyone can send you a fax on your fax number (yes, you need one; don't worry, you will know how to get it for free) and the fax appears in your email inbox.
How it Works?
Since most people don't have a fax machine and those who do cannot access it 24x7, fax to email provides a secure way to know about your received faxes without missing any.
The faxes that are sent to you are converted to PDF and attached with the email notification. Therefore, you can view the faxed documents as they are meant to be seen.
Part 2: Can You Directly Send a Fax to An Email Address? Why?
So if faxing through email was possible, why have you not been doing it so far? The answer is- you cannot send a fax directly to an email address (or from an email address). Even if you have a fax machine, it isn't possible to send a fax through email or to send a fax to email.
Fax communication works on an analogue transmission. All the information is transmitted in the form of telephonic signals, the same ones that are used when you make a call through the landline phone.
However, email address communication is provided by the internet. All the email data is sent and receiver over an internet connection, which works on a digital medium instead of an analogue one. This makes faxes and emails incomprehensible to each other.
However, there are online free fax services available that facilitate this process. The theory behind it is that the online fax service acts as an interceptor between you and the other person's fax machine.
Therefore, if they are sending a fax to you on your fax number, the online fax service will translate that fax and forward it to you as an email. On similar terms, if you are sending an email with fax attached, the online fax service will translate it to a proper fax and transmit it to the other person.
The best part about the whole process is that for the other person, there is no difference at all. They will have no control over whether you receive faxes on your email or fax machine, as the process is dependent on the technology that you use. To them, it will be just like you have a high end fax machine.
Can't Miss: How to Fax from Gmail
Part 3: How to Send A Fax to Email
When you are sending a fax, through whatever means it might be, the most important factor that comes into play is reliability and trust. Since fax is used for important and secure communications, you need to make sure that the fax you send is actually delivered to the other person.
Not only that, but you also need some assurance that the communication is confidential and just between you and them. Therefore, you can not just trust any random app for the purpose.
This is why, to make your life a lot easier, here is a solution that will provide email to fax and fax to email service with utmost reliability and confidentiality.
3.1 CocoFax- The Dependable Fax Solution
Meet CocoFax- the most popular fax service providers in the world. CocoFax serves clients from individuals to big corporations, providing online fax solutions that cross the boundaries of convenience and simplicity.
It takes care of all your fax needs by providing simple fax solutions, like email to fax free and free fax to email services. Not only that, it is a reputed brand with automated systems, therefore there is no third person reading your fax communications. The entire thing is between you and the receiver only.
CocoFax serves you not just while sending or receiving faxes. If you want to fax, it is compulsory to have a fax number. CocoFax understands this and provides you with a free fax number that you can use to send and receive faxes. In fact, it gives you the liberty to choose your own fax number with its 14-day free trial.
14 day free trial ensures that you can try out CocoFax completely without the risk of losing money. If you do not like it, you can simply cancel the trial.
3.2 Sending Fax to Email Free
As mentioned earlier, how a receiver receives a fax is entirely up to them and you cannot control it. Hence, if you want to send a fax to their email, make sure they are using CocoFax.
If they are using it, all the faxes you send them will be automatically forwarded to their email address. If you want to know how to set up CocoFax to receive faxes, you can refer to the later sections.
Part 4: How to Send A Fax via Email Free
If you are using CocoFax, sending a fax is the easiest thing that you would be doing. You can follow these steps to learn how to send a fax from email easily.
Step 1: Sign up for CocoFax and avail the Start Faxing period. Once you do, you will have the option to choose your own fax number for free. Make sure that you register the email address that you would use to send and receive faxes.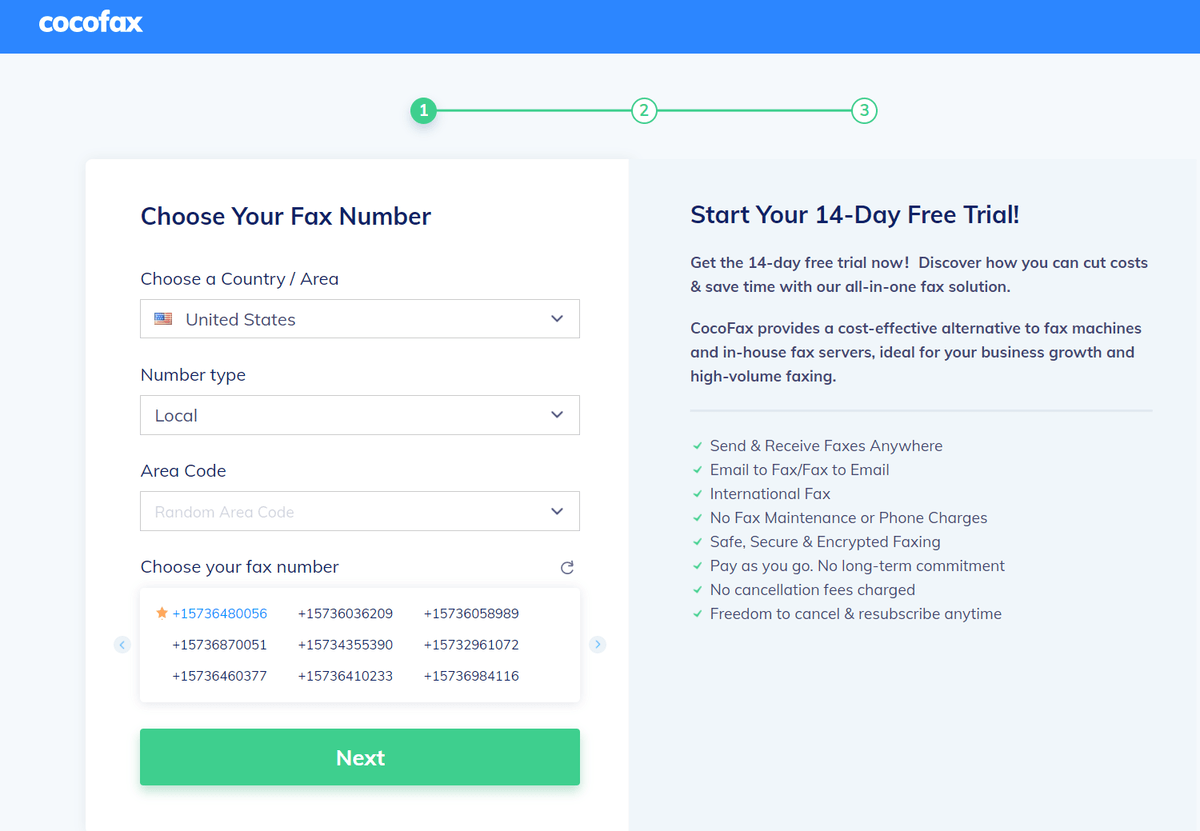 Step 2: Open the email client on your device. You can do it on your smartphone, tablet, computer, or any other device. Further, you have the liberty to use the email client's app or open it in a web browser or through any other method. For example, Gmail can be used from the Gmail app, through a web browser, and even through Outlook.
Step 3: Navigate to the option of composing a new email and click on it. The new email popup will open. It can vary slightly among different email clients, but the basic idea is the same.
Step 4: Once the new email popup opens, you can compose your fax here. You will fill out the following fields:
'To'- In the 'To' field where you generally enter the receiver's email address, you have to add the recipient's country code, their fax number, and follow it by '@cocofax.net'. For example, if their fax number is +77 123456, with +77 as the country code, you just have to enter: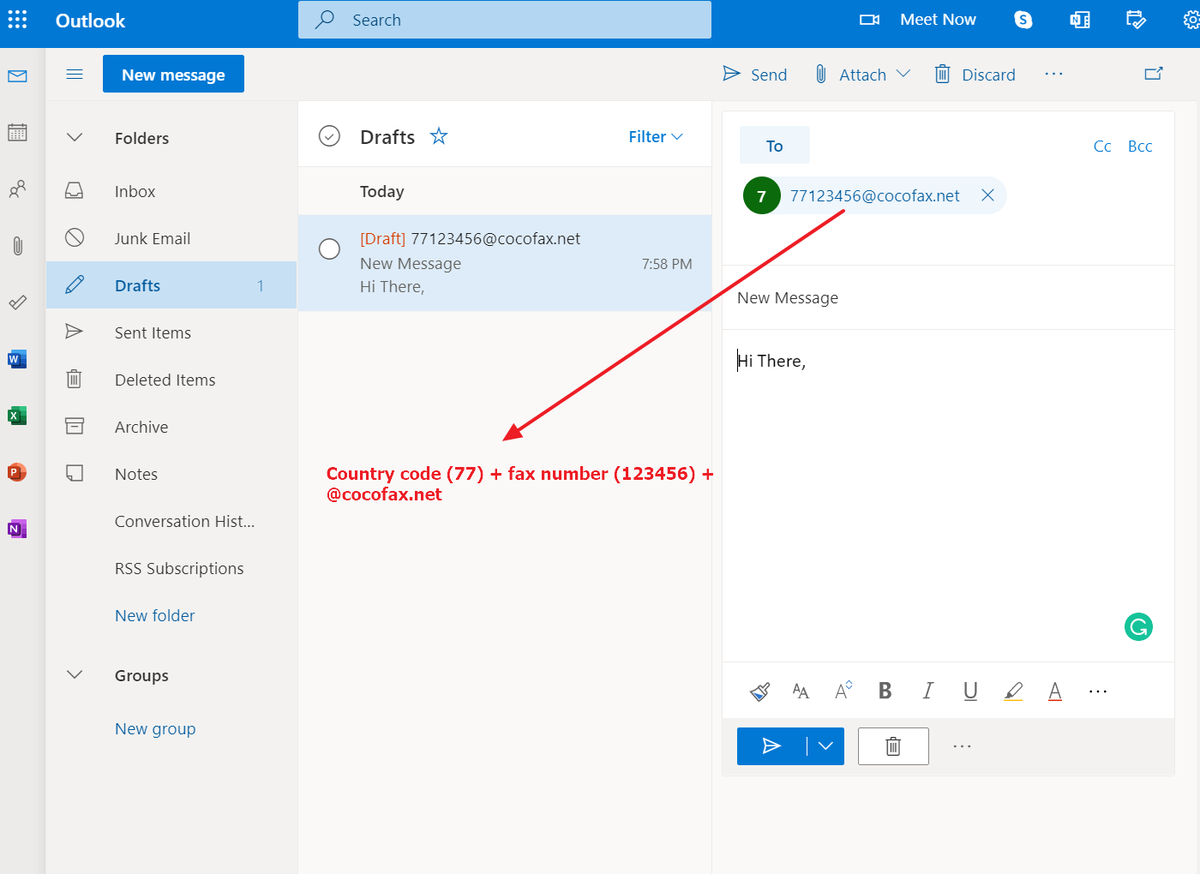 For faxes sent from US to US, the sender needs to add '1' before the fax number. If the fax number is 123456, they have to enter:
'Subject' (Optional)- Whatever you enter in the subject field appears as a note on top of the receiver's printed fax documents. You can leave this field empty if you wish.
Email Body (Optional)- The email body where you enter your email content, in general, is the cover page when you are composing the fax. The information you enter here will be printed on the first page of the receiver's received faxes.
Now comes the most important part, the actual fax document. The document that you wish to fax needs to be added as an attachment to the email. The formats supported are: doc, docx, xls, xlsx, png, jpg.
Step 5: Once you have filled out all the necessary fields, you can hit the 'Send' button. CocoFax will receive the email and translate it as a fax document for the receiver. It will then dial the receiver's fax machine. The whole process is instantaneous.
Once the fax is transmitted to the receiver, you will get a confirmation email in your email inbox telling you that the fax was successful. It will also have the time log of the transmission.
Even if the fax isn't successful, you will get an email about the failed attempt along with the time logs.
**The most common reasons for failed transmissions are that the receiver's fax machine is turned off, it is busy, or the fax number you entered is incorrect. Theoretically speaking, there would be no fault on CocoFax's end.**
And that's it! As you can see, the steps to send a fax document through email are very easy. Now you can read about receiving faxes in your email. I promise you, it is going to be way easier.
Part 5: Receive Fax to Email Free
Receiving faxes to your email is an automated process once you have registered for CocoFax. CocoFax takes care of everything for you.
Remember that you registered your email ID with CocoFax? This is the email address that will be used to send you the faxes that you receive.
In order for someone to send you faxes, they will need your fax number. You can share the free fax number that CocoFax provides you. If you have sent the other person a fax beforehand, this number will also be displayed on their received fax and they can reply to you from there.
Once the person sends you a fax on this fax number, CocoFax receives it and sends it to you in the form of an email.
Once you get the email notification from CocoFax, you can check the attachments to see the received faxes. The email will also have information about the sender's fax number and the time log of the transmission.
Also Read: How to Fax from Office 365
Part 6: FAQs
Here we will answer the commonly asked questions about email to fax that might come up in the minds of people:
🤔 Which email clients can I use for sending or receiving faxes?
ANY email clients are capable of faxing if you are using CocoFax services.
🧐 How will I know if my fax was delivered?
CocoFax will send you a confirmation email when your fax gets delivered to the receiver's fax machine. Even if the fax is undelivered, CocoFax will tell you about it.
🤷 Why was my fax not delivered?
Generally, faxes aren't delivered if the receiver hasn't turned on their fax machine, the fax machine is busy, or the fax number entered is incorrect.
👩🏼‍💻 Do I need to have a fax number to send faxes too?
Yes, your fax number is displayed on the receiver's end when they receive the fax. For your comfort, CocoFax provides you with a free fax number.
📱 Does my device needs to be turned on to receive faxes?
Not at all. When you receive a fax, CocoFax forwards you the fax as an email. You can check the email as per your convenience.
You May Like: How to Receive Fax to Gmail
Endnotes
Now that you know how to fax from email, you can try it yourself and see the comfort that it offers. It is well assured that you will never use any other method to fax again if you start using CocoFax.