Specialties of CocoFax
Mobile Functionality
Review clients' faxes easily from anywhere. CocoFax's cross-platform functionality and mobile compatibility let real estate agents receive and send faxes without any troubles.
HIPAA Compatibility
Protect your real estate contracts and client data with our hassle-free faxing operations. CocoFax adheres to PCI-DSS, HIPAA, and PHIPA compliance standards.
Email Your Faxes Easily
Use the 'email to fax' feature to send your faxes out. You can always securely send and receive your real estate contracts, templates, agreements, and disclosure forms with just your email client.
Multi-user Faxing Facility
Add more team members to your CocoFax account so they can send and receive faxes as part of their team's account. You can also assign multiple fax numbers to members.
Instant Notifications
Get notified through emails instantly when you send or receive a fax. With CocoFax, real estate agents won't be late in sending faxes or reverting to clients ever.
Complete Support
CocoFax provides 24/7 support to real estate agents. We ensure that if you encounter any problem, we will be there for you!
How Does CocoFax Benefit the Realtors?
CocoFax has credible expertise in offering online fax services for real estate agents, brokers, insurance agents, and more. You can receive and send your confidential faxes privately and securely with us.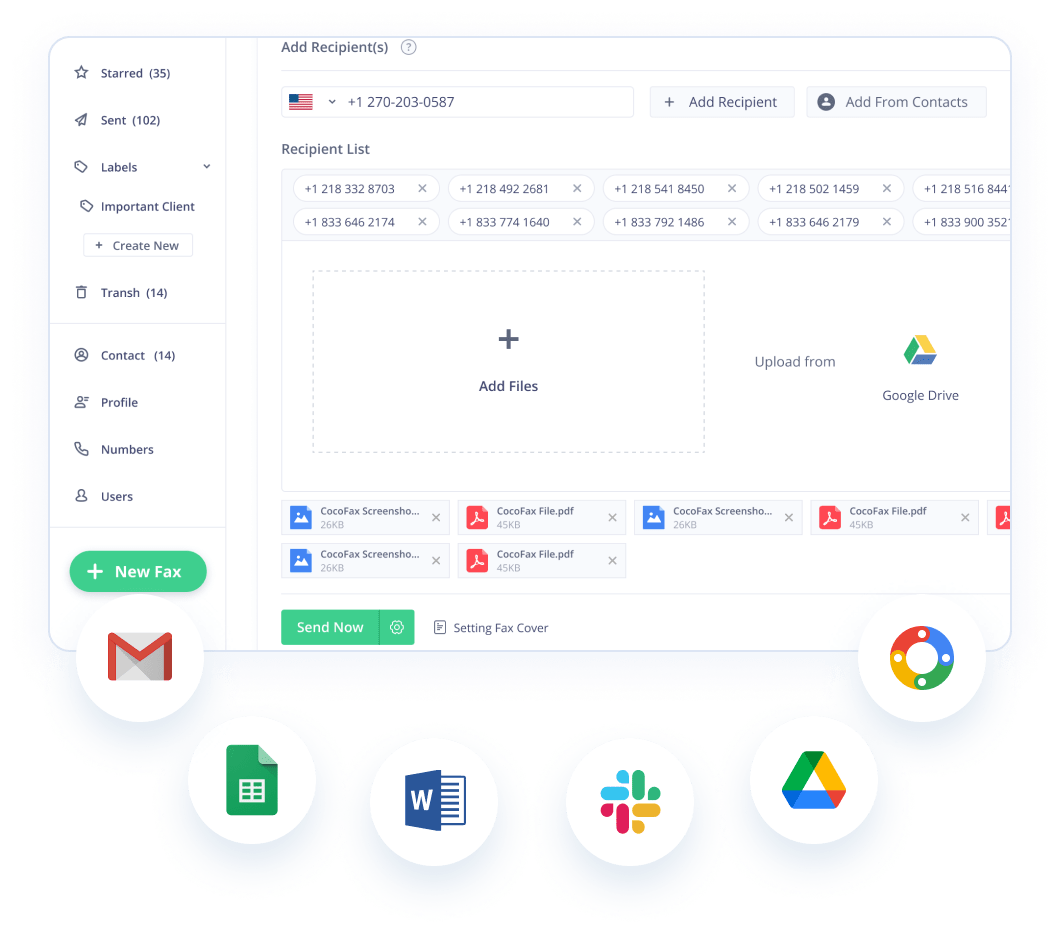 Utilize CocoFax Integrations to the Fullest
Integrate CocoFax with Google Workspace or Microsoft Office suite to send faxes from Google Docs or Word directly, without having to leave the platform at all. CocoFax is just the perfect tool for busy real estate professionals.
Save Money for Legal Companies
CocoFax helps minimize the telephone charges, paper and maintenance costs. Also, it is integrated with MFPs without the expense of fax telephone lines.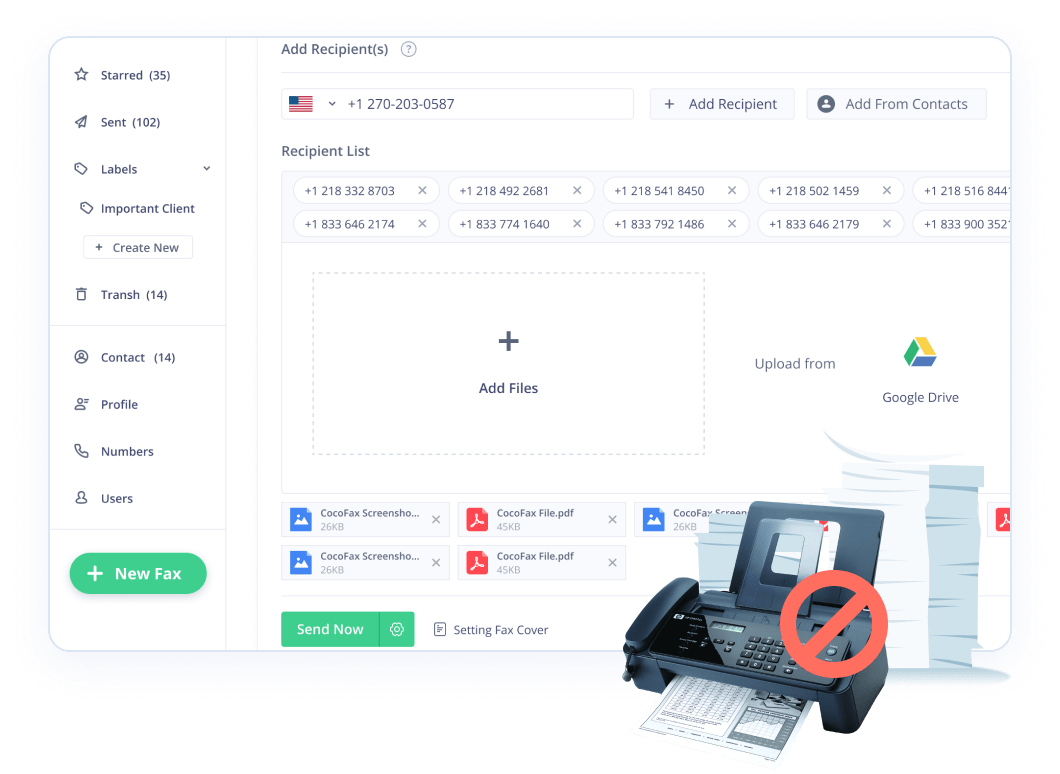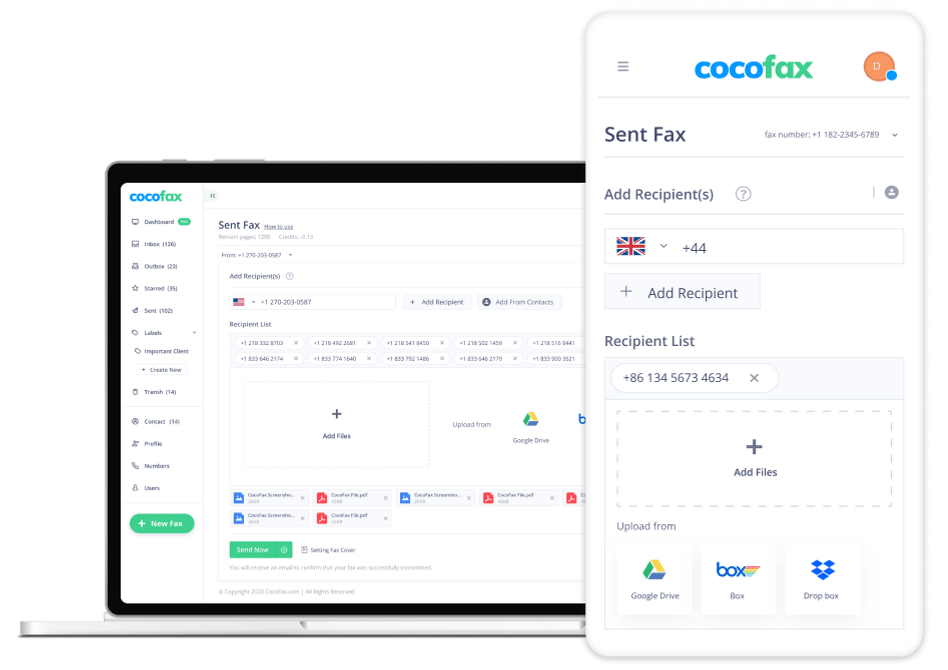 Work Across Your Devices Seamlessly
With CocoFax, there's no need to go out and find a fax machine to fax your real estate documents—just use the device you already have, say computers. CocoFax works well on web browsers/Mac/Windows 10.
CocoFax Offers More Benefits Than Its Competitors for Real Estate Industry
CocoFax is a cloud-based fax solution provider for realtors to send documents and close deals quickly and securely on any internet-connected device.
Best Comparison List of Fax Price for Realtors
No setup fee, no custom fax number fee. CocoFax saves unnecessary spending for real estate brokers or agents.
| Features | | | | |
| --- | --- | --- | --- | --- |
| Fax Pages Per Month | 60 | 100 | 150 | 300 |
| Entry Level Price Per Month | $7.99 | $5.99 | $16.95 | $9.99 |
| Custom (Vanity) Fax Number Fee | $0 | $19.99-$29.99 | $0 | $0 |
| Setup Fee | Free | Free | $10 | Free |
| Total Fee Per Month | $7.99 | $26-$36 | $26.95 | $9.99 |
| Cost Per Additional Page | $0.05 - $0.2 | $0.03 - $0.2 | $0.10 | $0.05 |
Send Faxes On The Go
CocoFax is the modern way to send and receive faxes. No matter whether you are in your office on a site with a client, there will be no delay in faxing anymore. Start using it for free now.
Start Faxing