See how enterprises are staying connected with CocoFax
Fax online with ease
All employees can send faxes from various devices including computers, laptops, or smartphones. And all faxes sent are stored in the cloud.
Advanced admin panel
Business users can add or delete team members under their CocoFax account to manage different fax numbers.
Manage faxes with labels
By labelling your faxes, you get to organize your fax communications in an efficient manner.
Prevent spam faxes
With one click, you can block unwanted fax senders from their spam fax messages.
Fax delivery reports
Users can receive a fax status notification informing if the fax is being delivered successfully or not.
Enjoy The Benefits CocoFax Has to Offer for Enterprises
Implement CocoFax's secure and easy-to-use online fax services now to speed up your business communications with clients. You can even keep your existing fax number when choosing CocoFax's services so as to save costs on updating your contact info on your website, brochures and business cards.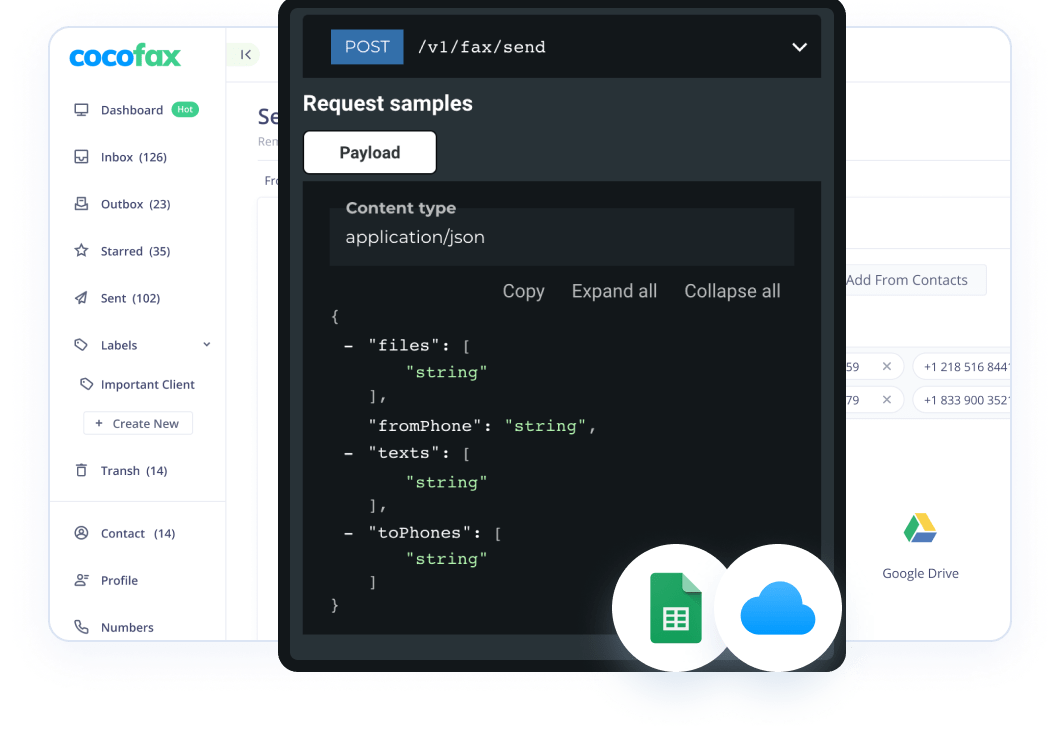 Connect your business system with CocoFax
You can integrate your business system such as spreadsheets, content management systems, scheduling tools and so on, with CocoFax's cloud services through API connection. CocoFax enables you to easily manage a whole fax team as the account admin as well as strengthen the internal collaborations of your team.
HIPAA-Compliant to guarantee data security
CocoFax is compliant with multiple top security standards including HIPAA and PHIPA, protecting your confidential data with layers of protection such as 2FA and 256-bit encryption while speeding up your communication efficiency.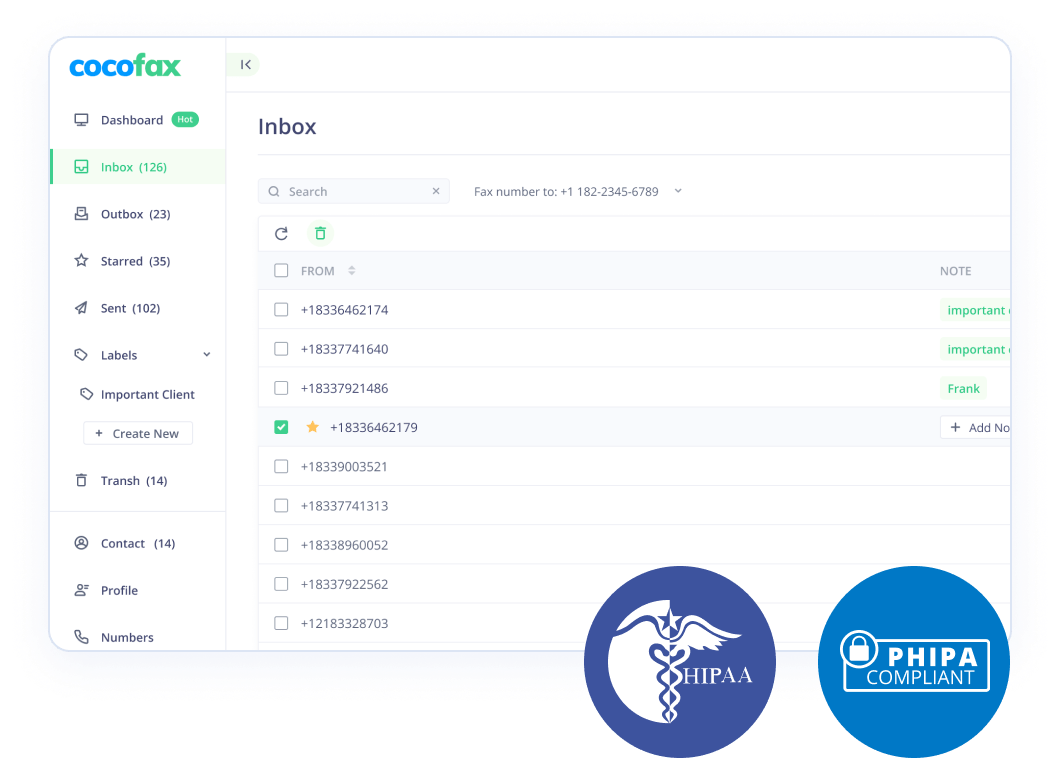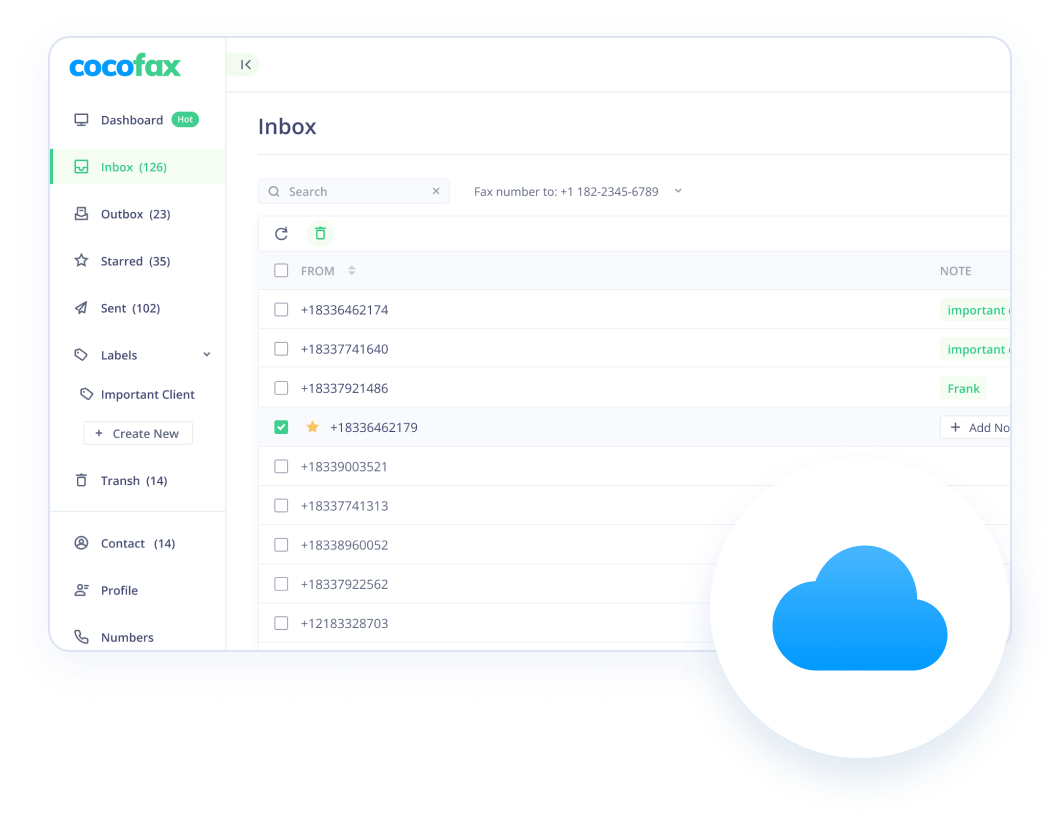 Move your fax system on the cloud
Moving your faxing infrastructure to the cloud frees up office space that would have otherwise been occupied by bogus fax machines. All you need in this case is an internet-enabled device and a working email address. There is no need for dedicated computers or creating desk space or counter spaces.
Comparing Chart of Web Faxes for Enterprises of All Sizes
CocoFax offers programmable API adaptable to any business system, which is designed to boost employee productivity and facilitates management.
Get Higher Volume of Faxes with Less Money
CocoFax's enterprise fax solution not only eliminates costs brought by traditional faxing facilities but also saves fortunes for companies with a huge demand for faxes.
| Features | | | | |
| --- | --- | --- | --- | --- |
| Fax Pages Per Month | 60 | 100 | 150 | 300 |
| Entry Level Price Per Month | $7.99 | $5.99 | $16.95 | $9.99 |
| Custom (Vanity) Fax Number Fee | $0 | $19.99-$29.99 | $0 | $0 |
| Setup Fee | Free | Free | $10 | Free |
| Total Fee Per Month | $7.99 | $26-$36 | $26.95 | $9.99 |
| Cost Per Additional Page | $0.05 - $0.2 | $0.03 - $0.2 | $0.10 | $0.05 |
Enhance productivity, save time and slash cost with CocoFax solution
Using CocoFax cuts down operating and maintenance costs that would have otherwise been incurred by using outdated faxing machines. It also saves time and improves the productivity of HR and other members of staff who have it in their daily routines to treat faxes and send some out.
Start Faxing