The Outstanding Faxing Features
Free Fax Number
CocoFax reduces your operating cost by providing you a free fax number. You can choose between a local and a toll-free number.
Automated Fax Sending
Nonprofits can now automate their faxes thanks to CocoFax. It allows you to quickly schedule your faxes and enable automated transmission of failed faxes.
Email Faxing
CocoFax allows you to transmit faxes securely through your Gmail account, bringing the simplicity and convenience of emails to faxing.
No Compliance Issues
CocoFax abides by PCI-DSS, HIPAA, and PHIPA compliance rules, which protect the information and data of NGOs through encrypted faxing operations.
Customized Fax Cover
Nonprofits can use CocoFax to add cover graphics to their faxes with a single click. This functionality will allow you to impress recipients right away.
No Hardware Required
CocoFax helps NGOs send and receive faxes from computers, eliminating the need for manual handling and paper trails. You can also save money on the fax machine and the maintenance costs.
What's So Special About CocoFax?
CocoFax avoids the inherent complexities of traditional faxing. It provides nonprofits with the extraordinary ease and mobility to fax anywhere, anytime using a paperless faxing technology that eliminates the need for bulky fax machines.
Speed of Delivery
Take use of CocoFax's rapid faxing service to avoid printer troubles, paper shortages, non-functioning fax machines, and wasted conveyance time.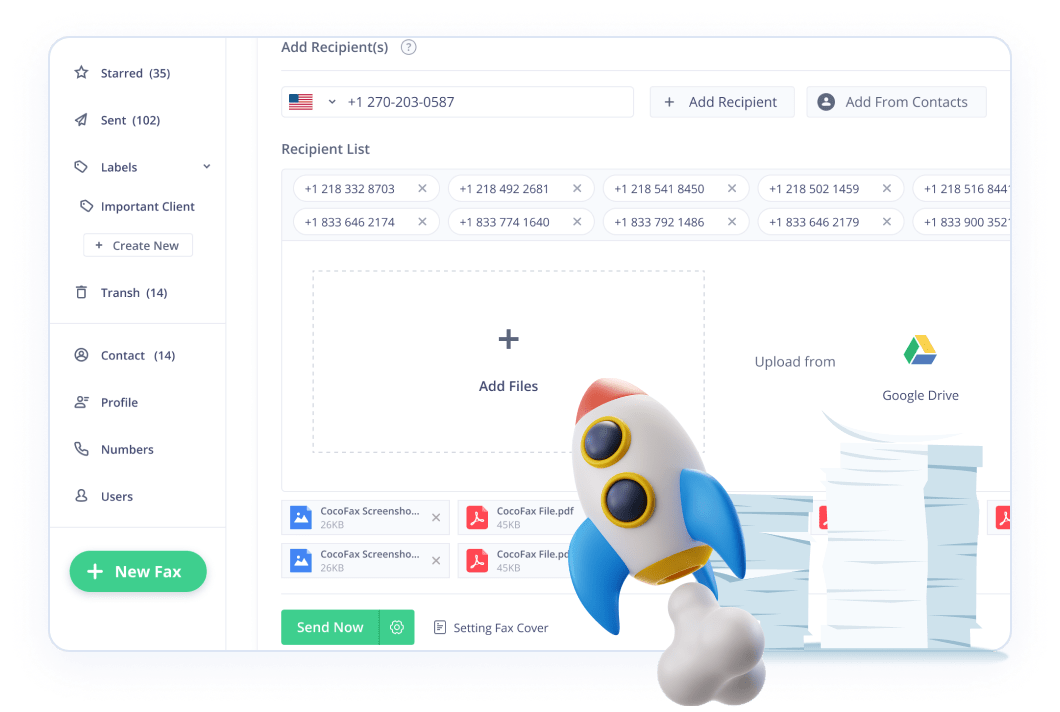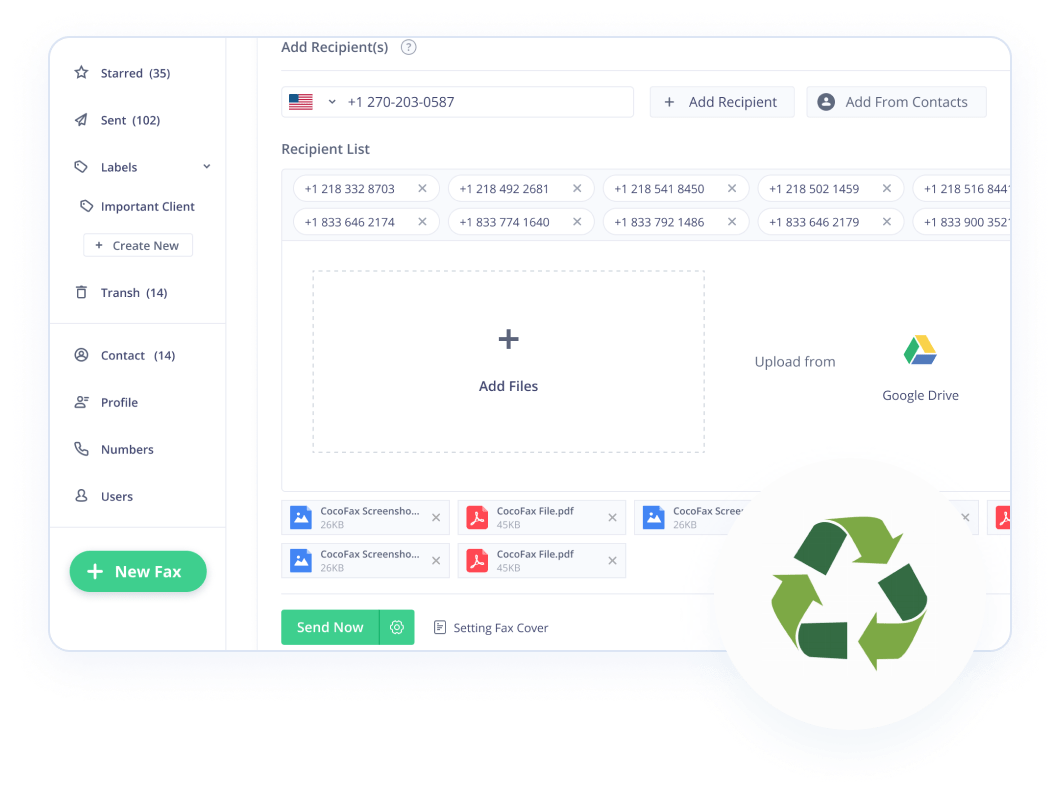 Go Eco-friendly
CocoFax reduces your nonprofit's carbon footprint by removing the paper-based faxing procedure, benefiting the environment, and conserving resources.
Best Fax Comparison Chart for Nonprofit Organization
CocoFax provides special cover templates for non-profit companies to enhance professionalism and makes their voice heard with a free international fax number.
Cost-effective Online Fax Solution for Nonprofits to Benefit
CocoFax offers the best prices across the internet. Non-profit organizations no longer need to worry about heavy expenses on the traditional paper-guzzling fax machines.
| Features | | | | |
| --- | --- | --- | --- | --- |
| Fax Pages Per Month | 60 | 100 | 150 | 300 |
| Entry Level Price Per Month | $7.99 | $5.99 | $16.95 | $9.99 |
| Custom (Vanity) Fax Number Fee | $0 | $19.99-$29.99 | $0 | $0 |
| Setup Fee | Free | Free | $10 | Free |
| Total Fee Per Month | $7.99 | $26-$36 | $26.95 | $9.99 |
| Cost Per Additional Page | $0.05 - $0.2 | $0.03 - $0.2 | $0.10 | $0.05 |
Send Faxes Faster
Add beautiful covers to your faxes and send them online. Faxing is a lot easier with CocoFax. Avail of its unlimited list of features for paperless communication on the go. Sign up now!
Start Faxing