See how government institutions are staying connected with CocoFax
Integrate with workspace apps
Connect CocoFax with your Google, and Microsoft applications for streamlined faxing. Fax directly from Gmail, Word, or Google Docs.
World-class data encryption
Encrypt your faxes with multiple security measures such as 256-bit SSL and 2FA.
Blacklist spam faxes
Prevent spam faxes by putting the target fax numbers in the blacklist.
Cloud storage
Store all your faxes sent and received in the cloud system for free.
Ability to bulk send
Send faxes to multiple people at the same time to save time and enhance efficiency.
Advanced admin panel
Manage all your fax numbers and team members from the admin panel easily.
Use CocoFax to Maximize Benefits for Your Government Office
Time for government institutions to stay up-to-date with the smart working trend and modernize their faxing style now by introducing a secure cloud faxing system. Higher efficiency and less risks, these are the advantages CocoFax can bring compared to traditional fax machines.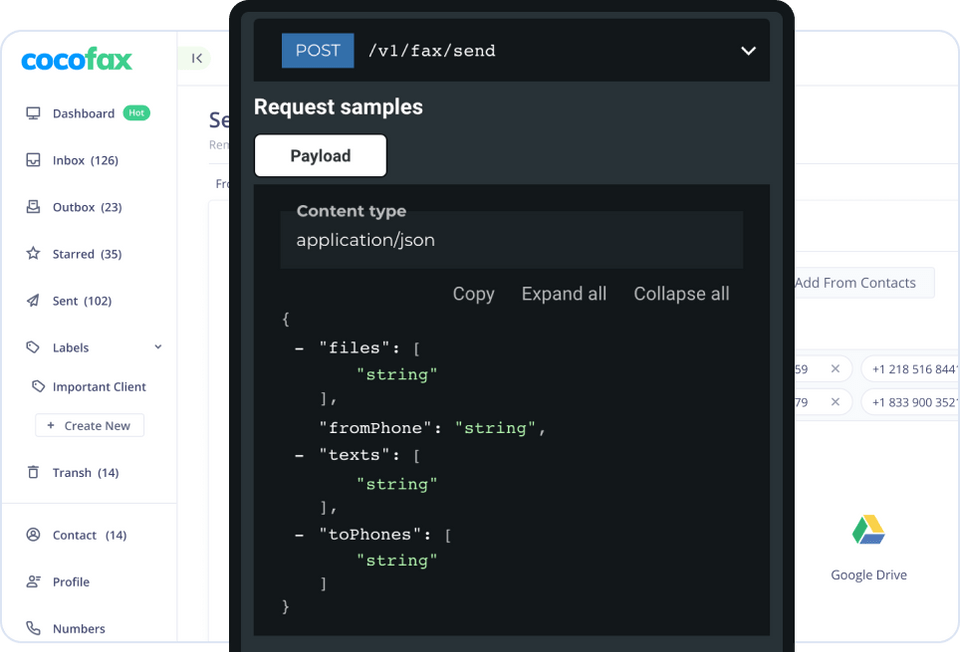 API connections with CocoFax
CocoFax API empowers businesses to integrate online faxing features into their own business process such as CRM and ERP. Users can then fax with great convenience and efficiency while CocoFax safeguards the safety of all the confidential data being transmitted.
Email to fax
Emailing and faxing are operated on two different systems. With CocoFax acting as a mediator in between, users can expect to fax from various email clients directly. The whole process is easy and quick.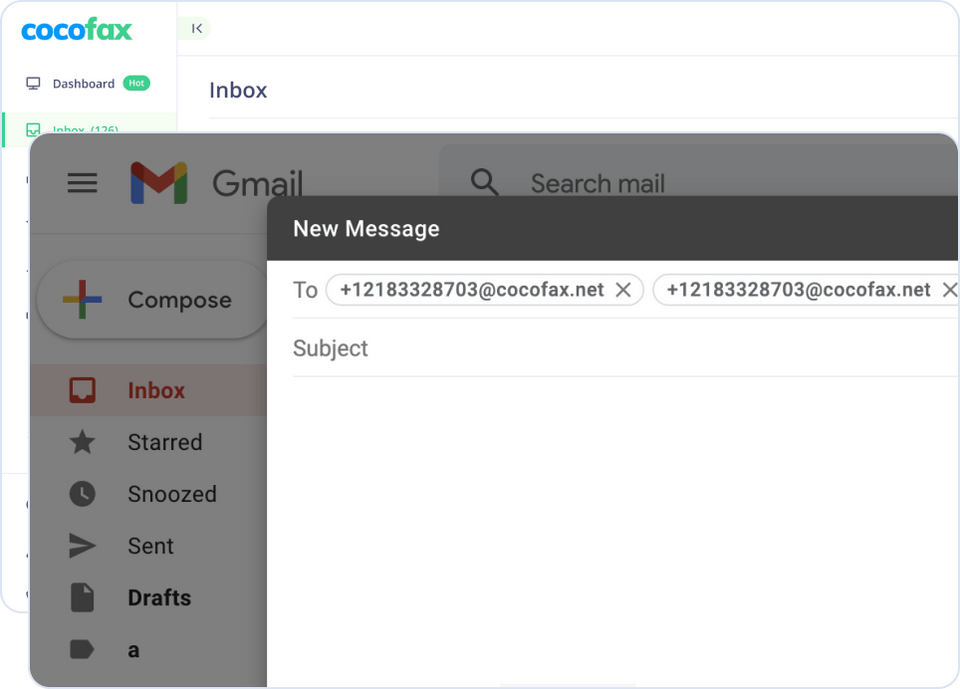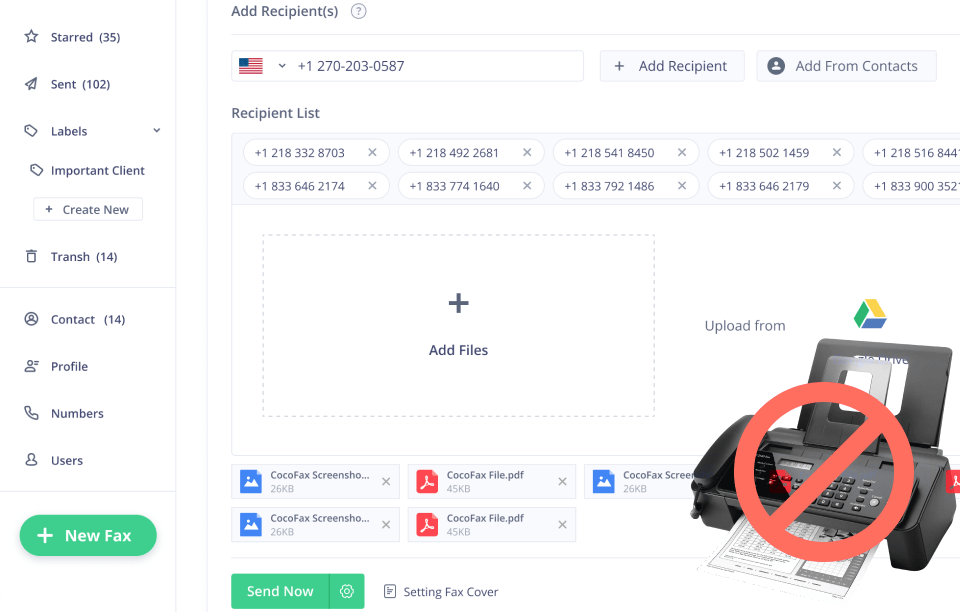 Fax without any hardware
With an easy-to-use cloud fax solution, government agencies now can migrate their traditional fax processes to computers, laptops or phones, eliminating the demand for paper, toner and fax cables as well as the risks for cyberattacks and information thefts common in using fax machines.
Feature-filled Fax Solution that Outperforms Other Alternatives
Involved in confidential information protection and long-term documents archiving, government organizations can depend on CocoFax to eliminate security vulnerabilities and make document management hassle-free.
Save More Costs with CocoFax that Beats the Competition
Government sectors prefer fax communication. Paper-based fax machines consume unnecessary expenses, while CocoFax helps reduce operating costs while improving efficiency.
| Features | | | | |
| --- | --- | --- | --- | --- |
| Fax Pages Per Month | 60 | 100 | 150 | 300 |
| Entry Level Price Per Month | $7.99 | $5.99 | $16.95 | $9.99 |
| Custom (Vanity) Fax Number Fee | $0 | $19.99-$29.99 | $0 | $0 |
| Setup Fee | Free | Free | $10 | Free |
| Total Fee Per Month | $7.99 | $26-$36 | $26.95 | $9.99 |
| Cost Per Additional Page | $0.05 - $0.2 | $0.03 - $0.2 | $0.10 | $0.05 |
Improve workflow efficiency by lowering costs and eliminating monotony
Cloud faxing solutions like CocoFax improves the general efficiency of your workflow processes by reducing time involved in sending and replying to faxes, cutting down printing and maintenance costs, reducing general paperwork handled by members of staff and the monotony that sets in with handling bulky routine paperwork tasks.
Start Faxing