See how small businesses are staying connected with CocoFax
Fax on the go
CocoFax allows quick and easy faxing through multiple devices including computers, Macs or Windows, and laptops, etc.
Using military-grade encryption technology, CocoFax will make sure that all your confidential data is always protected from unauthorised accesses and data breaches.
Bulk send faxes
No more hassle of sending the same faxes to multiple recipients individually, CocoFax lets you select all the recipients together and send faxes in one go.
Email to fax
CocoFax allows users to send faxes using email addresses on various email clients like Gmail, Hotmail, Yahoo or Outlook for free.
Zero fax infrastructure
Forget the need of installing costly Fax machines and investment in paper and ink, CocoFax moves your faxing environment digitally and in the cloud.
API connection
By connecting your business process with CocoFax services via API, you get to fax directly from your own system with maximum security and efficiency guaranteed.
Get The Most of CocoFax for Your Small Businesses
Ditch your tiresome fax hardware and set up a cloud faxing solution that saves budget, time and space for your small business to run more smoothly and efficiently.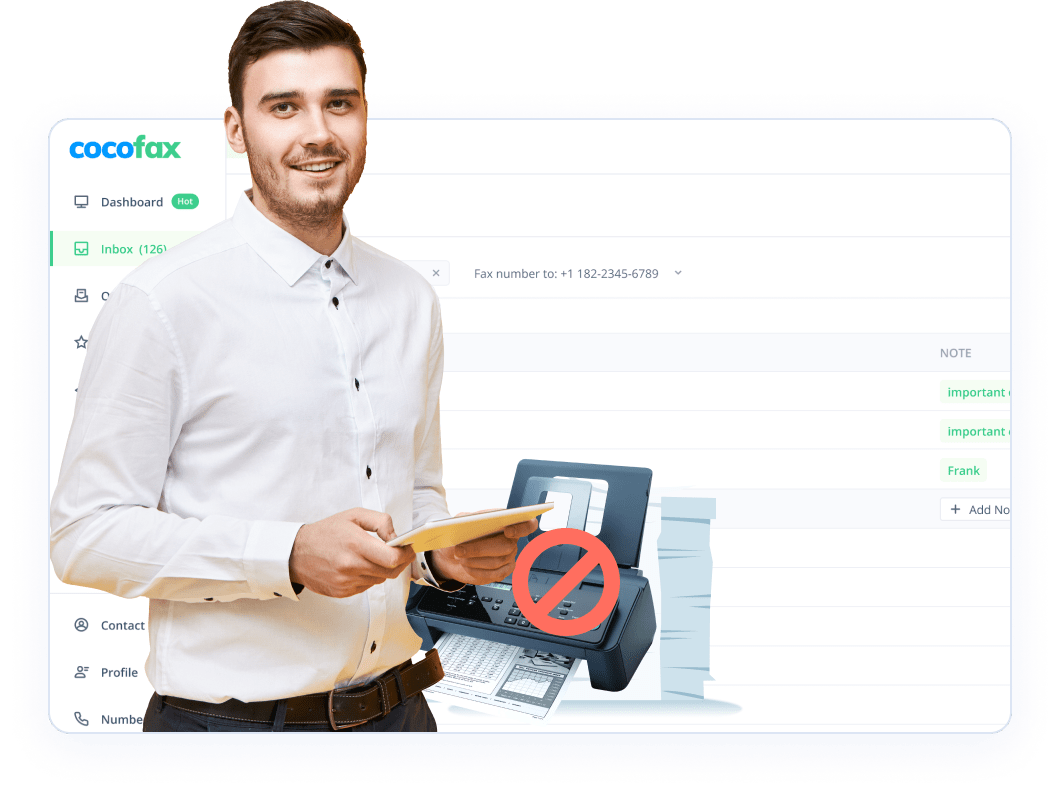 Cut down on operating costs
Pitching your tent with leading online faxing solutions like CocoFax, is eliminating costs associated with replacement of faulty fax machine parts, maintenance of fax infrastructure or multifunctional printers and toners. So why not go paperless and plough this money into more profitable ventures.
Better fax management
Using an online faxing solution like CocoFax helps you better manage faxes. From the platform's interface, you can easily search through archived faxes, store important ones, delete unimportant faxes and easily filter out spam and junk faxes. You can also allocate fax numbers to different team members. CocoFax's interface makes this easy to do even for the least tech-savvy individual.
Multiple fax integrations
CocoFax boosts document workflow management as it could be connected with many workplace apps. You're enabled to fax with Google Docs, Google Sheets, Gmail, and Microsoft Word, helping you enjoy seamless document transmission.
Outstanding Fax Service that Outstrips Its Competitors
Empower your staff to fax anytime, anywhere with just an internet connection. CocoFax is well integrated into various clients, making fax sending and receiving easier and quicker.
Most Affordable ​Fax Service in Comparison for Small Businesses
CocoFax delivers the greatest fax service for small companies at the lowest price.
| Features | | | | |
| --- | --- | --- | --- | --- |
| Fax Pages Per Month | 60 | 100 | 150 | 300 |
| Entry Level Price Per Month | $7.99 | $5.99 | $16.95 | $9.99 |
| Custom (Vanity) Fax Number Fee | $0 | $19.99-$29.99 | $0 | $0 |
| Setup Fee | Free | Free | $10 | Free |
| Total Fee Per Month | $7.99 | $26-$36 | $26.95 | $9.99 |
| Cost Per Additional Page | $0.05 - $0.2 | $0.03 - $0.2 | $0.10 | $0.05 |
Lower cost and improve productivity with CocoFax solution
Online fax services like CocoFax help you cut down on maintenance and operating costs. The money saved from this resolution can then be used to increase your reach, run marketing campaigns, employ more staff and acquire more resources to compete favorably against big brands.
Start Faxing