Team Member Management - FAQ
1. How to add a team member to my fax account?
To add new members into your fax account, simply click the Users tab on the left corner of the dashboard, and hit the button "Invite new users". Enter the email address of the new member to be added in the popup. The new member will need to confirm the invitation in his email box before being added into the fax account.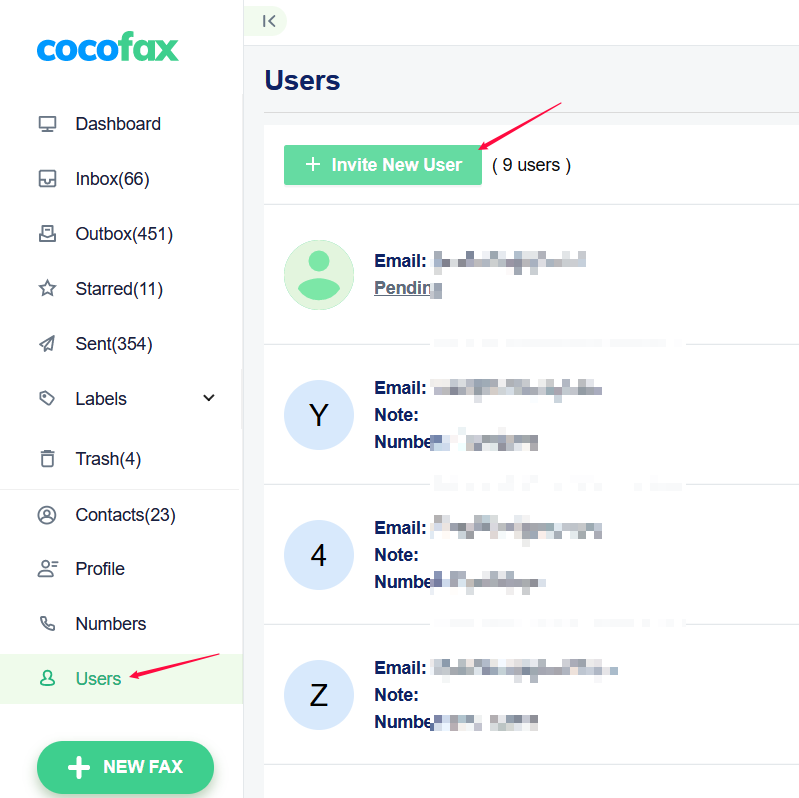 2. How to disable a team member in my fax account?
Select a certain member in the user list, click More and press the button "Disable user". This way, the chosen team member will be freezed unless later re-enabled.

3. How to delete a team member in my fax account?
View the user list, choose a certain member from within and click More. In the popup, you may click "Delete" so as to remove the selected member from your account permanently. In case that you may need to add the deleted member again in the future, you'll need to send the invitation again.

4. How to manage the fax numbers in a team account?
The account manager can assign fax numbers to any team member or choose not to, which allows him to send and receive faxes online. One member can be allowed multiple fax numbers. Simply hit the tab More after selecting a certain member in the user list, and click 'Manage Numbers". Then you can tick or untick any of the fax numbers listed within.

5. What can your team members do?
Team members are allowed to send and receive faxes with the fax numbers assigned to them, yet are denied access to transaction related matters such as changing subscription plans, purchasing credits and adding new numbers.
Didn't find your answer here? Check out our help center.